So I know that I cannot be the only one who thinks this way about the men I date. I would prefer some beefy arms over some frat guy's beer belly. I don't understand the trend of having a 'Dad Bod' and why girls are so attracted to men who have it. Let's start with the definition of burly. According to Miriam-Webster the definition of burly is strongly and heavily built.
Understandably looks aren't always super important when looking for a significant other, but if we are being honest it does play a small roll in our decision making, even if you say it doesn't. I also understand that it is possible to 'body shame' men as well. That is not my intention here, I am simply writing about my own preference of men. You can go have all the dad bods you want because I certainly don't.
No, burly men are not always the clean cut body builders you see in the gym. But when i think of the word 'burly,' I tend to think of your typical mountain man/lumberjack. Someone who is strong but doesn't look like he take steroids and would rather marry his gym equipment than me. He looks like someone who does yard work instead of doing keg stands and playing flip cup.
Burly men are the real men in my opinion. They take care of themselves but they aren't so obsessed about their looks. They like to drink, but they don't parade around showing off their awkward tan lines from socks from golf and their beer belly. I prefer someone with some meat to them but in the right places, not just flab from how much you drank at the tailgate.
The burly man seems to be a good choice in between the two extremes. Like my homeboy Chris Pratt over here (wink, wink).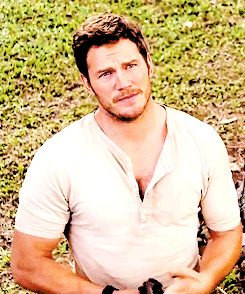 Now, I am also a woman in her 20's living in a mountain town, so I guess you could say that I already have a preference for the type of man I am into as far as looks go. (I die over facial hair) Thinking about my future I would bet that a man who is considered to be burly would have many skills as a handy man around the house than those who spend their time playing corn hole and inviting every single girl in their contacts to come to the darty. *eye roll*

I know that everyone won't agree with me on this, but I am so tired of seeing guys not take care of themselves and their health to achieve this goal of obtaining the great 'dad bod'. I don't understand the point of having one. Aren't you embarrassed to purposely gain weight in order to get the same body as the kid you made fun of before college? That's a goal to you? Help me understand why this is even a thing.
Like I said, I don't understand the fascination behind this beer-bellied trend, andI don't think I ever will. But, I will always have my own preference. Sorry not sorry.