Device-Free Preschool Activities
5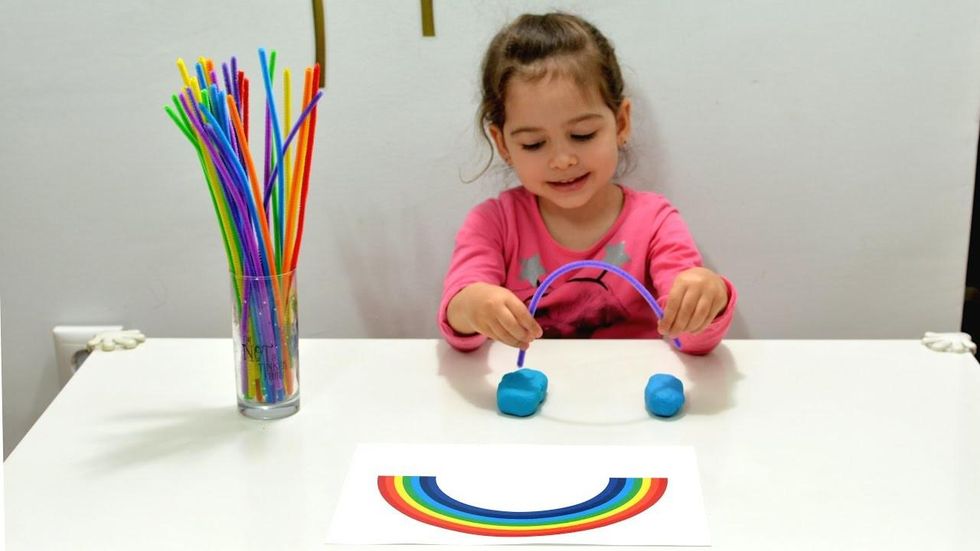 All children have unlimited potential. They can do anything they put their minds to but it's not always the case that all of them live up to their fullest potential. Many things can get in the way and parents taking more active roles in their toddler's upbringing and EYFS learning can help clear out many obstacles. In modern society, learning is not the sole responsibility of teachers. Parents also have a huge say and deservedly so. Let these 7 positive tips help you take a more active role in your child's learning through device-free preschool activities.
Structure Your Learning
A daily routine is ideal, but nothing too rigid as you don't want to be stifling. Plan out simple activities you'd like to do throughout the day, but leave lots of room for flexibility because things rarely ever go exactly according to plan whenever toddlers are involved. Also, include plenty of breaks in between draining learning sessions, because you know what they say about Jack and no play.
If you're having a bit of trouble drawing up a schedule and figuring out what exact activities to put on there, you should consider a device-free learning program you can do at home such as Vaekke. This EQ-centric, home-based preschool initiative serves up a daily activity sheet to guide you, encompassing many fun preschool activities for toddlers.
2. Celebrate The Small Wins
Remember the last time you did something remarkable and everyone was singing your praises? How did that make you feel? You were probably motivated to become better and do even more. So celebrate your toddler's small wins. That could be anything as simple as:
Finally being able to read a letter or write a number
Completing a drawing
Finding you when you play hide and seek
Cracking a puzzle
Making a new friend, etc.
No matter how trivial it may seem, don't forget to recognize and applaud your toddler's progress as you try out different preschool learning activities at home. Tell your child just how proud you're of her achievement, and even reward her with a gift if you can. This will boost positivity toward learning.
3. Make Room For Outdoor Fun
It's easy to spend too much time cooped up indoors since many preschool activities at home can be done in-house. However, remember a little time in the sun can do a whole lot of good. Outdoor play will help your child:
Improve her/his motor skills
Build up muscle strength & immunity
Develop an appreciation for the environment
Explore all her/his five senses
Improve peer-to-peer relationships, and much more.
Some ideas for outdoor play and learning include bug and plant hunting. You could also take your painting sessions outside, go for walks around the neighborhood, and practice tree climbing: an important part of risky play that will build resilience and self-confidence. There are many more ideas for amazing outdoor activities in a real-world-based preschool program.
4. Take The Montessori Path
Systems are great and all, and they work, for the most part, but at such a tender age, rigid systems do more harm than good for your little one as they overlook your child's unique needs. Montessori education becomes the way to go, as this naturally develops your child's interests, which is key to injecting joy into the learning process and tending to your toddler's specific passions. Besides being child-centered, Montessori also unlocks a wealth of other benefits, as it:
Inspires creativity
Imparts real-world problem-solving skills
Enhances mental fortitude
Encourages independence
So it's prudent to try out device-free Montessori preschool at home, and one option you have here is Vaekke.
5. Learn Together
Sometimes parents slip into a more laid-back role, filling the shoes of a teacher while separating themselves from the process. That's not the essence of toddlers learning preschool at home. The most important part of it all is spending time with your loved one, bonding, and cementing the foundations for a more fulfilling relationship.
It can be gutting for your child to be working away at learning, while all that's swirling in her mind is how much fun her friends are having. So take on a more active role. Learn together by:
Collaborating on puzzles
Helping out with the painting
Molding playdough buildings together, etc.
The point is to focus more on parent-child learning. This makes it easier for your child to concentrate and goes a long way in making home preschool more fun and effective, knowing that you're in it together.
6. Recognize Your Role
Didn't like Math growing up? Perhaps it wasn't your forte and maybe believe the world would be a better place without it? Well, don't let it show to your kids. Remember, like parent, like child. Your little one looks up to you for everything in life, including how they should act, what they should or shouldn't do, and how they should perceive various things.
A negative attitude towards certain activities may rub off, so try to be more positive, and open-minded and give out second chances to concepts that were not-so-fun for you. If you feel a certain way about certain subjects, try to look at things from a new angle, and let your child's interests be priority number.
7. Make Daily Chores Educational
Learning doesn't always have to come in a structured format. Life is full of teachable moments. Learning shouldn't grind to a halt when your toddlers learning programs at home for the day ends. It should continue well after, and some everyday activities that are great in this regard include:
Playing ball games and explaining gravity and other scientific concepts at play
Discussing the importance of brushing your teeth while doing it
Practicing simple math operations like addition and subtraction when washing the dishes or when mixing ingredients during cooking
And that's just a fraction of the possibilities. Make learning a part of your everyday life, and learning won't feel like the most natural thing ever. Moreover, you'll help them build an innate drive to find out how things work.
Vaekke Makes Device-Free Learning For Toddlers a Healthy Reality
It's a sad state of affairs. Children spend about 7 hours each day glued to phones, laptops, TVs, and other electronics they can lay their hands on. Active outdoor play is sacrificed for a more sedentary and unhealthy way of life. It's therefore important to build up a culture of gadget independence from an early age and a real-world-based preschool program is a great place to start. Vaekke offers a ton of device free preschool activities and is filled with many opportunities for outdoor play. Start your trial today to begin raising your toddler the device-free way. The healthy way.
Keep Reading...
Show less