Featured
Lehenga is a specialty of Indian brides
5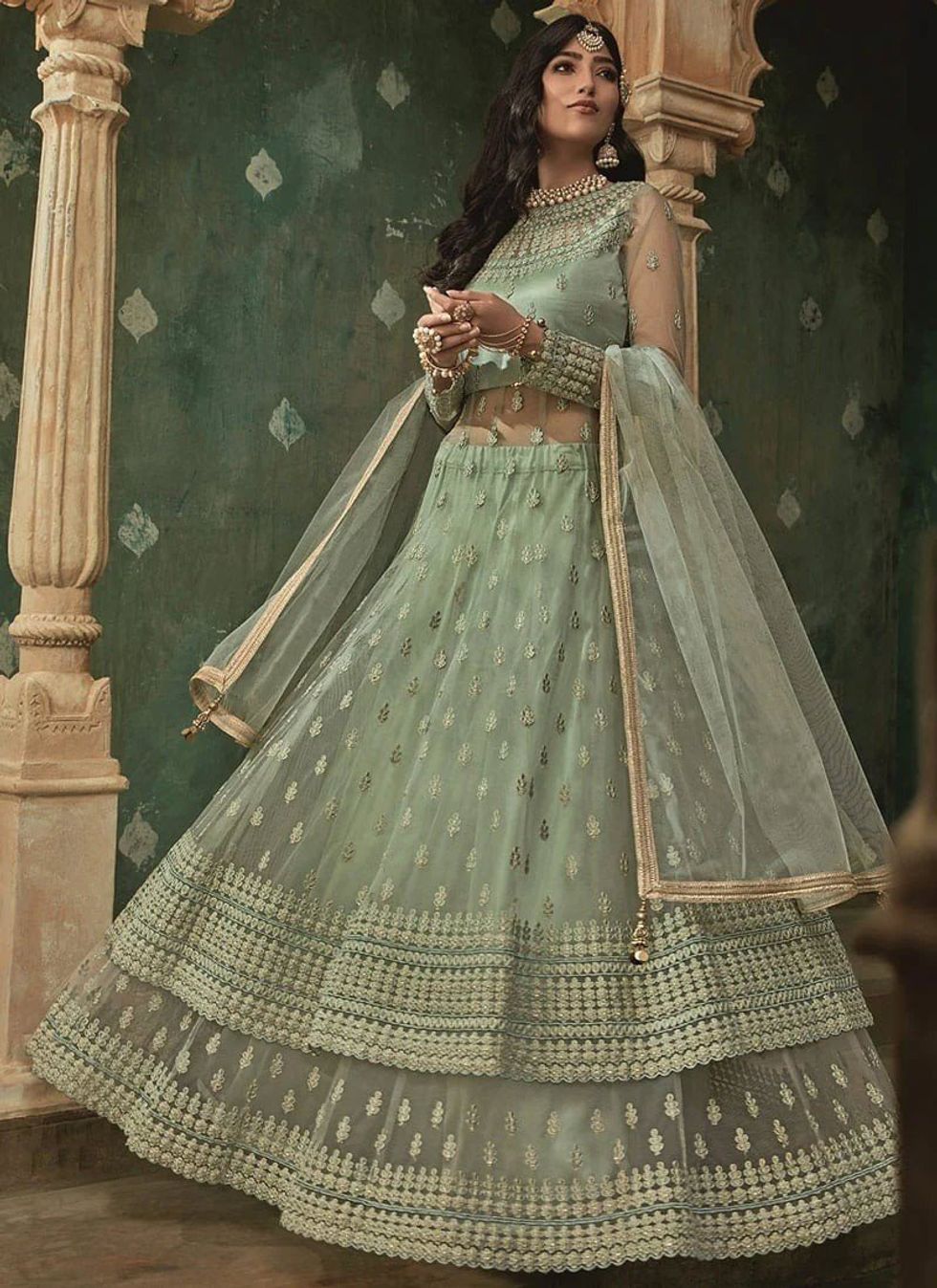 A bride-to-be should always be prepared for the wedding because it is a day that will live in her memory for a very long time. The Indian bridal Lehenga is the most beautiful gown ever made, created to provide the bride with an ultra-glamorous outfit. Although modern brides are all about pomp and circumstance, they still have roots in history and culture when it comes to choosing their clothing. Bridal lehengas are renowned for their exquisite craftsmanship, gorgeous color combinations, and magnificent designs that can make any bride appear absolutely stunning. Because of India's rich cultural background, interstate marriages are more desirable. One of the loveliest items is the bridal lehenga, which differs in style based on your location. Both the magnificent bridal gowns and the wedding lehengas are quite significant. Let's look at what makes lehengas so unique in the following guide:
The special embroidery with new designs

The Lehengas are made with excellent craftsmanship and rigorous attention to detail. You can purchase exquisite stitching, brilliant zari work, gorgeous pearls, and other sorts of one-of-a-kind artwork for your Lehenga. The Lehenga looks much more beautiful because of these great creative patterns. Over time, their designs have undergone tremendous change. Green and red with golden embroidery used to be the traditional colors for lehengas, but today there are so many lovely embroidery possibilities that the Lehenga can seem even more impressive.

Wedding lehengas can be lavish and glamourous

Do you want to come across as charming and put together at the same time? If so, purchasing one of these lehengas would be a wise investment. The same vibe might not be conveyed by other traditional attire. What makes you so obstinate? Get bridal Lehenga from a reputable online retailer in bright hues, flowery prints, or with tassels. These stunning women will make you feel happier and more colorful.
The gorgeous colors

The main and most alluring aspect of lehengas is their bright colors. The traditional color for lehengas is red. Because weddings are considered religious events, scarlet is considered lucky and sacred. Donating a red lehenga is thought to increase the likelihood that the marriage will be happy and prosperous. Red also brightens any complexion and enhances the beauty of the bride. Red lehengas are popular due to their refined and exquisite appearance. The bride looks wonderfully beautiful in today's bridal lehengas, which are also available in colors like pink, orange, maroon, green, and others.
The amazing appearance
The wedding lehenga makes it possible for every bride to realize her dream of being the most stunning lady at her wedding. The diverse hues of the bridal lehengas will draw attention to your attractiveness and give you a radiant appearance. A number of designs can also help your physique look thin and toned. Every bride will feel like a princess with exquisite needlework and artwork. The bride can look great, enjoy the attention, and fully appreciate the celebration by donning a stunning Lehenga on her wedding day.

Easy to carry
Bridal Lehengas are easier to travel than sarees. You can move about quickly and enjoy all the wedding celebrations wearing a long skirt. At sangeets, moving around and dancing while wearing a lehenga is possible. You won't have to worry about any buttons or hooks coming undone because they are built to fit. As a result, you won't have to worry about how to dress and can instead concentrate on enjoying the occasion.
You can genuinely say that you own

The majority of women like to boast to everyone about how they treasured skipping multiple meals in search of the ideal wedding clothing. It is great to know that you are making a difference in the world.

Achieve heirloom status

Several families still insist that aspiring brides wear the same bridal Lehenga. If you want to turn it into a treasured heirloom that you can proudly pass on to the next generation, it goes without saying that you wore it to your wedding.

Comfortable to wear
Lehengas are relatively simple to wear as they are separated into two pieces. A chain or drawstring can be used to secure the Lehenga or the skirt. Use a dupatta with your bridal lehenga choli to add elegance and boost your appearance. Because they are made to fit your body, lehenga cholis are typically fairly pleasant to wear.

Excellent range of options
The range of choices you have when browsing for bridal lehengas will astound you. The lehenga's designs are so different and beautiful that they can satisfy every bride's dream. You can pick from various lehengas, including those with a straight cut, exquisite velvet fabrics, flared silhouettes, fitted mermaid silhouettes, and more. Any bride will be amazed by the variety of choices, and every bride enjoys this specialty as a result.

Shows off your creativity
You need to use a little creativity to decide to continue wearing your bridal lehengas after your wedding. You may start by considering pairing them with waist-length Kurtis. In addition, putting these skirts with regal coats will give them a more classic appeal. It is now exceedingly easy to say yes to the nawab's charm and the bourgeois edge.

Wedding lehengas have a beautiful and youthful appearance
Lehengas have a youthful, fresh appearance. These looks frequently convey a young attitude most attractively. These bridal Lehenga will hug you with a girly look, unlike sarees, which glamorize your appearance and are more traditional and conventional. The lehenga's ladylike and feminine aura has a beautiful impact on the wearer. These bridal clothes easily enhance the wearer's personality. The bodice design and sway of the skirt hemlines softly and lavishly convey sensuality.

The quality of a bridal lehenga is always superior to other dresses
Customized bridal Lehenga is designed to set you apart and give you a distinctive appearance. They are made from high-quality fabrics and materials that are always better than those in other dresses. Better quality gives you more comfort and flexibility, allowing you to choose how you dress. Also, you would not have to worry about motifs, beads, or laces poking out when you danced or moved around in a designer wedding dress. Since that Lehenga are usually used as wedding wear, designers work to give them a stylish appearance that will draw attention to your beauty on any occasion.

Final thoughts
A bridal lehenga is considered a dress for a special event like a wedding. Large fashion businesses engage competent and well-known designers to create these lehengas, which are one-of-a-kind creations. When it comes to your wedding gown, a bridal Lehenga is got to be perfect. So remember to complete the essential study before purchasing these bridal lehengas for your wedding.
Keep Reading...
Show less