May is Mental Health Awareness Month. This isn't new to 2020, but oh man, if we ever needed a reminder about the importance of mental health, now is the time. With different states all over the place in regard to stay-at-home orders, phased reopenings, and a "new normal," we're experiencing conflict, fear, changes, and unknowns that can easily trigger mental struggles we already have or spark feelings we've never had before. Yes, May is always Mental Health Awareness Month, but in quarantine, that need for positive mental health is taken to a whole new level.
---
With all the time we have on our hands, it seems like there are two clear-cut paths we could take: forming new, healthy habits that benefit our mental health and falling into old habits that drag us further down. While some may have stuck to one path, the fact of the matter is that many of us travel back and forth — good one day, bad the next. That's not just a quarantine thing, that's life! But we're all trying our best. For some, quarantine gave us time to revisit hobbies we'd forgotten about, releasing creativity and joy. Others are catching up on sleep (which yes, is good for your mental health).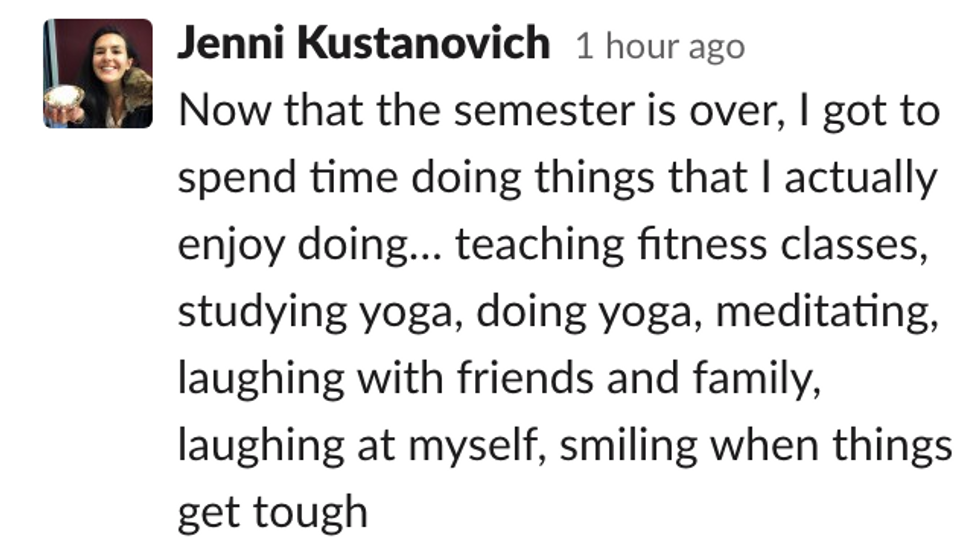 Read Jenni's articles here.
Many have found physical health to directly impact their mental health — a concept our favorite fitness instructors have been telling us for years. Working out in a time of unknown often gives you a sense of control, allowing you to focus on what is directly in front of you instead of the "what ifs." As a whole, people are running more, channeling their inner fitness guru on Peloton bikes, and continuously thanking the fitness industry for providing a good outlet that serves up good endorphins, even if that means staying virtual for now.
Just because you may not feel like sweating it out today doesn't mean you're out of activities that can directly benefit your mental wellbeing. Guided meditation is a great example, asking that you merely sit and breathe through your thoughts — even if you hate the idea of sitting still, a short five minutes a day can make a difference! If you miss your therapy appointments, or have considered going and haven't jumped in yet, you can still begin the habit while in quarantine! Whether you have lost a loved one, or feel the weight of your mental illness — it's just important is that you talk to someone.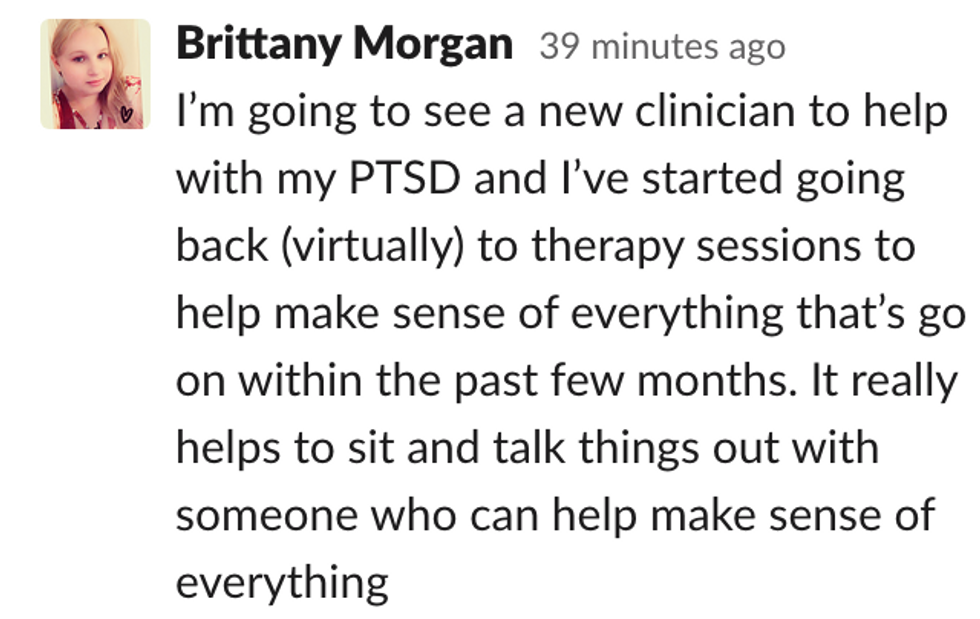 Read Brittany's articles here.
Quarantine has, unfortunately, triggered a relapse in eating disorders and poor body image across the country. With all the time in the world to scroll through social media — from posts that compare body types to "what I eat in a day" videos — old habits individuals worked so hard to get past have risen to the surface. This doesn't mean all hope is lost, it just means that a shift needs to be made — be gentle with yourself, it's not just you experiencing this. Focusing on what you can control is crucial when you find yourself in setbacks — drink some water and remind yourself how far you've come. Even the most complicated problems have simple steps towards a solution.
While we're stuck at home experiencing our own mental health roller coaster, our healthcare workers have been working day in and out to beat coronavirus. From nurses, to doctors, to assistants, to home caregivers, they're truly superstars. They show up to an already-stressful job every single day, experiencing even more stress than before, balancing their personal lives and a global pandemic, and trying to keep all of us calm in the process. While everyone understands the respect and support our healthcare workers deserve, we are not spending enough time talking about their mental health. As a whole, healthcare workers are seeing a huge spike in stress, impacting their overall health. They are a strong, resilient group of people, but that doesn't mean they don't deal with anxiety, depression, and other mental illnesses.
No matter where you were on the mental health spectrum this May, your mental health is worth talking about. We don't know how long this pandemic is going to last, but we do know that mental health is important no matter what is going on in the world around us.
If you want to support organizations dedicated to the mental health of healthcare workers, check out this list from the American Hospital Association.