"You're always so bubbly." "Why are you so nice?"

These are phrases I typically hear, and to tell you the truth, it's because why would you want to be mean? The reason I am nice to everyone is that you honestly don't know what people go through. You don't know if they're giving a fake smile or not because they have problems at home or with their friends. Even if you're having a bad day, don't take it out on someone else because you shouldn't use someone as your own personal punching bag.
People go through so many things in their daily lives. Everyone has their own demons and may be fighting their own fights, so why would you want to add fire to that? Wouldn't you want to be the person that makes someone smile after they have been having a bad day? Making someone's day will honestly make your day because you will feel like you helped someone.
Many people who are bitter at the moment tend to rain on other people's parades, or in other words, they want to stop the positive attitude of someone who is having a good day. This instance has happened to me many times, where people tend to want to ruin the positive attitude I have just because they don't agree with what I say or think that they're above me. When you're mean to a person, you give off the feeling that you think they're less and we live in a country where everyone should be treated equally. Being nice is about being a decent human being and treating the people you meet with kindness and respect, regardless of who they are.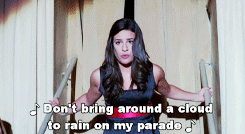 In the past, I have had my share of bullying and people who are closed minded and have negative attitudes. In my experience, I don't even want to continue and engage with them because if you surround yourself with negativity, it will eventually start to rub off on you. Self-care is also choosing not to argue with people who are committed to misunderstanding you, which is exactly why sometimes I just stay quiet and let the other person think they have "won" the argument because, at the end of the day, you believe in what you want. People should know the difference between voicing their opinion and trying to change someone's opinion.

Lastly, being mean doesn't solve anything. As hate crimes have risen in the past couple of years, it is an effect of being mean to people. As a society, we honestly do not need any more hate or bullying or negative attitudes. I understand that some people aren't as friendly or outgoing, but it's simple — if you have an encounter with someone, just make sure to be nice and not put anybody down. Words hurt, too.