Love is the most important thing in the world, but baseball is pretty good, too.
-Yogi Berra



(pictured here: me as the fireworks of Comiskey Park, age possibly four)

*disclaimer: this is a whole lot more lighthearted than my previous article, proceed with caution*
Baseball has been in my life since before I was born. It was fate that this North Side gal wore her Paul Konerko jersey with pride. Some of my friends thought I was absolutely bonkers for rooting for the "enemy". Well, I got some news for you.
There is no rivalry between the Sox and Cubs
I know. Off with my head and all that. But hear me out; the Sox and Cubs are NOT EVEN IN THE SAME LEAGUE!! You do not see Kris Bryant and Chris Sale play for the same team when the All-Star Game comes around. Besides, they only play each other a handful of times throughout the season. You want a division rivalry? Cubs and Cardinals; Sox and Tigers, those are the true rivalries that happen for these Chicago teams.
But I digress. The reasons why I am cheering for the Cubs (besides the fact that I absolutely adore KB and ARizz), is that they have a chance that my team had back in 2005, meaning they have a manager with heart, a team full of different backgrounds, and a franchise (and frankly, a city) behind them all the way (ha, thanks Eddie Vedder for providing the jams). This is the Cubs' year and this Sox fan is (gladly) trading her black and white for Cubby blue. Besides, this is the same girl that kissed Sammy Sosa when he was a Cub. But if you need more proof, here's a picture of my dad and I at the Friendly Confines.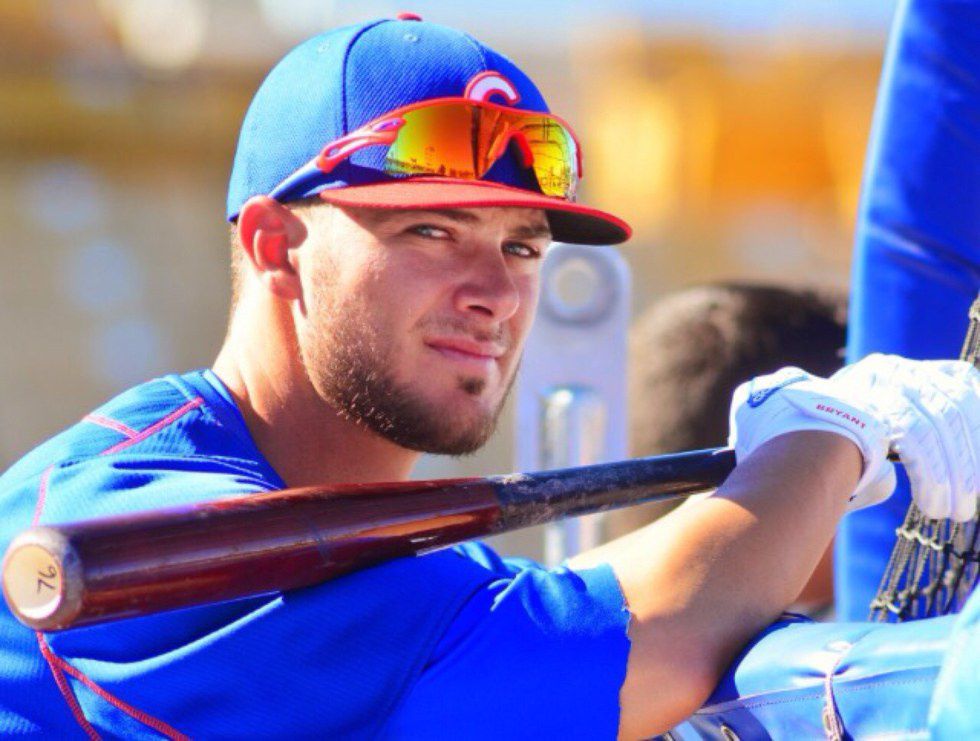 (OK I do have several pics from my toddler self at Wrigley but really do you want to see my bow-wearing face or KB?)
Another thing is that my late grandfather (and my mom) taught me to "respect the game first, love your team second." Papa would be so proud of this year's Cubs team, mainly because his brother (my great-uncle Leo) married a woman from the Dominican Republic (my lovely great-aunt Gilda, who was with me when I kissed Sammy Sosa). Which leads me to my next topic.
It is about civic pride! The Cubs are good this year, no scratch that, AMAZING! My professor (a lifelong Cardinals fan, mind you) genuinely wants the Cubs to go all the way this year. It's not necessary to go as far as I have (s/o to my Rizzo, Maddon, and Bryant shirseys) and wear Cubby blue, but hey, it really brings out my eyes, haha.
The only grievance I have is that god-awful "Go Cubs Go" song that plays after every win. Please replace this with "All The Way" by local Cubs fan from Evanston, Eddie Vedder, or even "Fly The W," ANYTHING BUT GO CUBS GO.
So as I don my Try Not to Suck shirt (s/o to Bridget aka my stepmom for the hookup) and my Cubs hat (inspired by a former Hawk mentioned in an earlier article) I bid you good luck in the NLCS (please beat the Dodgers I strongly dislike LA). Thanks for making Chicago number one in baseball again.
Also, to Joe Maddon, I wish you were the manager for the Sox, but as long as you are in Chicago, you're good in my book.
Love,
Your Resident Bandwagoner since 1997,
Delia