In this election particularly, the role of polls becomes even more important. Even with just a few weeks until Election Day, the results of different polls have affected many aspects of the election, but particularly with the first presidential debate that took place last week.

Polling is crucial because it focuses on people's interactions and engagement with the election and the state of the country. These polls don't have to necessarily cover just who's ahead in the race, but they can cover party identification, attitudes toward the election, reactions about particular events, and more, and they aim at understanding and analyzing different demographics of the population.
Some of the most well-known polls are The New York Times-CBS News, CNN-ORC, The Washington Post-ABC News, and The Wall Street Journal-NBC News, according to Politico. Of these, the CNN-ORC poll was cited after the first presidential debate, showing that 62% of people who watched thought Clinton did better, compared to 27% believing that Trump won. Many other organizations tended to agree and the general consensus among those who watched was that Clinton won the debate. The CNN poll has historically been extremely accurate and is deemed trustworthy by many experts.
Of course, the organization that doesn't agree with these organizations is the Trump campaign. The Trump campaign endorsed online polls that showed Trump having won the debate, referring to them as accurate "snap polls." They were encouraged by pro-Trump Reddit users and other users who bombarded their interest groups with online polls from Time, Fortune, and CNBC. The issue with these polls is that they encourage frequent voting to skew results and don't follow any sort of scientific method to determine truth or validity.
Below is a screenshot of the Reddit thread with the polls that the pro-Trump users were trying to work themselves into: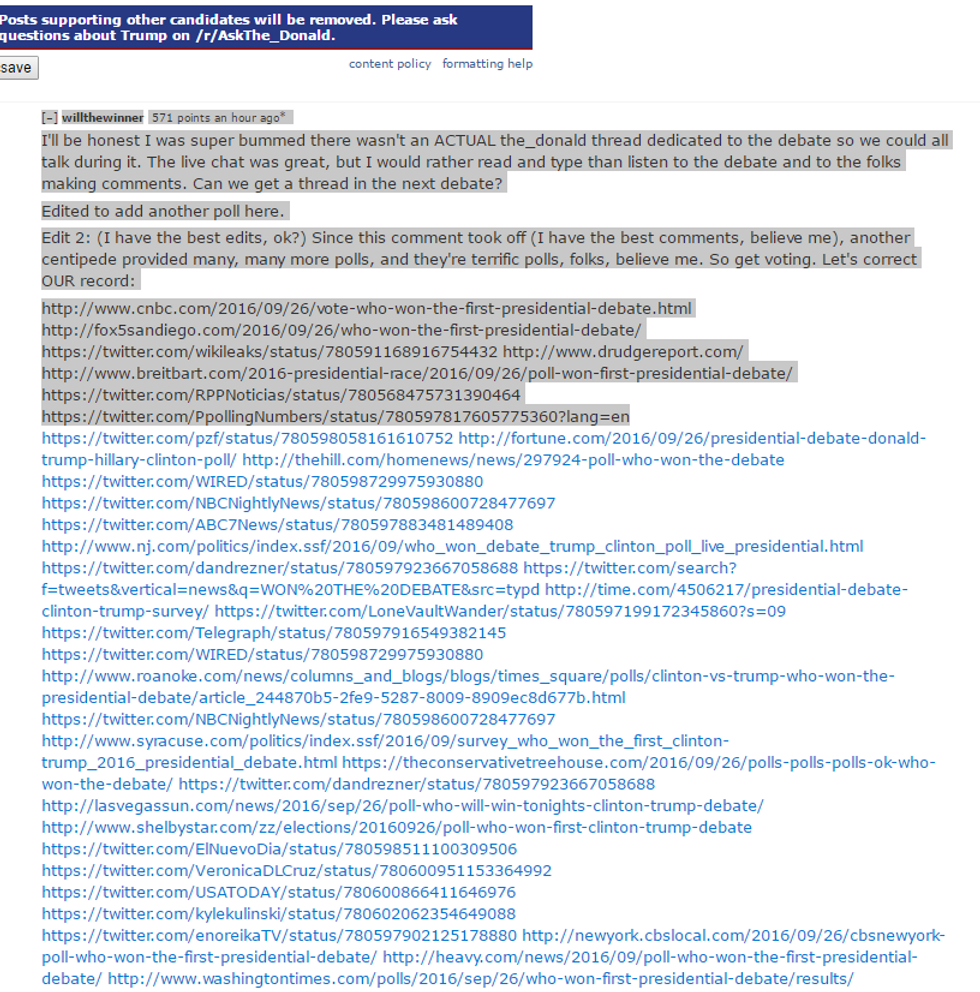 And here's them showing exactly how you can vote multiple times. To skew the results.
On MSNBC on Thursday, Trump spokesman Jason Miller was pressed by MSNBC's Chuck Todd on the validity of these online polls. "All right, I've got to set you straight on that one. The polls that happened that night, the night of the debate, the snap polls? The ones that happened online? Those all showed Mr. Trump winning," Miller said. Todd argued back, "Wait. Wait. What scientific poll had Donald Trump winning?" Todd interjected. "Give me one scientific poll. Everything else — those are fan polls, man! Those are polls that, like, computer programmers can mess with! Those aren't real!"
WATCH: @chucktodd presses Trump campaign spokesman on assertion that "bogus" online polls showed Trump won debate. https://t.co/BdgQrzsecX
— NBC Nightly News (@NBCNightlyNews) September 29, 2016
USA Today put out a Twitter poll that showed Trump winning, 53% to 39%. At Drudge, Trump won at 80%. A CNBC poll showed Trump winning with 67%, as compared to Clinton's 33%. Trump won with 55% and Clinton with 45%, according to Time, and the Fox News poll showed Trump at 50% and Clinton at 34%.
All of these polls have a few simple things in common: they're all online polls that give the ability for people to vote multiple times, are still live, are not an accurate representation of everyone who watched the debate, and just about anyone can vote in it. That includes 12-year-olds, people in Russia, and fake Twitters that aren't run by a single person.
So what's the real problem with these polls? There were plenty of people who saw the live fact checks from the debate and Trump's lies were pointed out. When in an election that's full of lies from both parties, what does it really matter if there are inaccurate polls?
The #1 trend on Twitter right now is #TrumpWon - thank you!
— Donald J. Trump (@realDonaldTrump) September 27, 2016
The issue is that many people, especially undecided voters, might not always trust the candidates and what they're saying, but they will be more likely to trust a poll. These "statistics" that are referred to, including the rigged polls that showed Trump winning, are believable because they have numbers attached to them. You might not always believe a candidate, but if a typically somewhat reputable source like Time or CNBC reports a poll, an undecided voter might be likely to trust the poll and the results that come with it, even if they're completely different from polls conducted in a scientific manner. For some undecided voters, that difference is not clear and could sway their decision on what the public is really believing. That decision could end up being one of the factors that changes the result of the actual election in a few weeks.
And even as much as we'd like to call out the inaccuracies in just about everything Trump says, this is what we get:
[rebelmouse-proxy-image https://media.rbl.ms/image?u=%2Ffiles%2F2016%2F10%2F03%2F636111211156615541-688148133_giphy.gif&ho=https%3A%2F%2Faz616578.vo.msecnd.net&s=391&h=3991cc156f2fd4b495f97dc935fee286a5c056240617e3d908b19677e4ce2b42&size=980x&c=2684199569 crop_info="%7B%22image%22%3A%20%22https%3A//media.rbl.ms/image%3Fu%3D%252Ffiles%252F2016%252F10%252F03%252F636111211156615541-688148133_giphy.gif%26ho%3Dhttps%253A%252F%252Faz616578.vo.msecnd.net%26s%3D391%26h%3D3991cc156f2fd4b495f97dc935fee286a5c056240617e3d908b19677e4ce2b42%26size%3D980x%26c%3D2684199569%22%7D" expand=1]
Happy election season, folks.