It goes without saying a majority of the public is fantasizing about the day our world will achieve some sort of normalcy. People have lost their lives, their jobs, and even their relationships. Couples like Armie Hanner and Elizabeth Chambers, Kacey Musgraves, and Ruston Kelly, and Lili Reinhart and Cole Sprouse have all called it quits during the past few months further emphasizing that love is just another thing the coronavirus is taking a toll on.
We already know the dating game post-COVID is going to change. FaceTime dates have picked up steam during these months in quarantine, and masks may be the chosen accessory over earrings and favored over the perfect shade of lipstick. But what about the twenty-somethings who started quarantine with a significant other? How have their relationships been affected during the past few months? As usual, I turned to social media, asking my fellow 20-somethings in search of an answer. Did they break up, get closer than ever, or possibly spend the past few months alone? Here's what they had to say.
1. "Corona affected my relationship quite a bit in the first months, we had to postpone a few celebrations and even had a few arguments when we were together." - Joy, 23
Here is the full response:
"Corona affected my relationship quite a bit in the first months, we had to postpone a few celebrations and even had a few arguments when we were together - in my defense, he was the one wanting to go everywhere during quarantine, making me worry a lot.

We never had an argument before the pandemic, so this was definitely a shock in our relationship.

I wonder how many couples broke up because of silly arguments during these days."
Joy brings up a really good point, prior to quarantine, she and her boyfriend rarely fought. She also mentioned her boyfriend wanted to go places, which she didn't agree with, this can be a polarizing concept, just like politics. Tempers can fly high while in isolation, something which may have been the cause of some breakups mentioned above.
2. "What romantic life?" - Lauren, 28
Honestly, same girl. I can only imagine how hard it is to actually start a relationship during a pandemic. There is a certain amount of fear associated with going out now and it hard to push that anxiety away while on a date. And what about seeing other people? Safety wise, it is a good idea to discuss these elements of a relationship, but that could lead to an awkward conversation early into dating.
3. "I got a boyfriend during quarantine." - Tiffany, 22
OK, I guess love in the time of COVID does exist. When asked for more details, my friend said this
"We met right before quarantine started, at the beginning of March. We just talked on the phone until like the end of May. Then we decided to see each other again and now we are dating."
4. "It's dead" - Alex, 29
"I wasn't seeing anyone before the shutdown. It's not like I can go out and meet someone either right now. But I just started a new job, so I'm probably too busy to have a romantic life anyway. However, the quarantine was just the final nail."
5. "I moved in with my boyfriend three days before a shelter in place was put into effect and I had to start working from home. I hadn't even unpacked my belongings, and I was now in 'his' house all day every day." - Melissa, 29
Here is more of what Melissa* had to say:
"This was a fantastic opportunity for us to learn each other's boundaries, establish our 'us time,' and our respective 'me time.' I'm thankful that we learned really quickly how to make us work, and being in the house all the time really expedited my transition from 'his' house to 'our home.'"


I think Melissa* makes an excellent point about using this time in quarantine to her and her boyfriend's advantage. Instead of seeing themselves as "stuck" in a house together, they learned more about one another, making these new discoveries work in their favor.
6. "I'm single and I'm sad." - Alyssa, 23
Honestly, we have all been there and you are not alone. So many women right now find themselves in the same position as you. But you deserve more than a man who is limited to FaceTime dates.
7. "I low-key want to kill my husband half the time" - Rachel, 22
I'm not going to lie, when I saw my friend's response, I burst out laughing. My friend, who got married last December, is supposed to be enjoying the "honeymoon part of her marriage. This is the part where everything is new and exciting. They shouldn't be locked in a house and feeling overwhelmed with the challenges this pandemic is bringing like unemployment or health-related scares.
8. "I'm alone because I'm not meeting up with anyone because of COVID." - Beth, 22
While FaceTime and virtual dates are gaining popularity, there is something to be said about physically meeting up with a person. It's great that virtual dates focus of communication, which helps people figure out if there is actual chemistry. However, there is something to be said about meeting a person and getting a physical sense for who the person is.
9. "I met this girl, but can't have dinner with her because of COVID." - Daniel, 27
I completely understand it can be frustrating to not physically be with a person during this time, there is a thing to be said for people who are choosing to be careful during this time.
10. "I've asked a few female friends to coffee, nothing major. I've realized I don't know what I want out of a relationship." - Dylan, 25
One of my male friends shared this with me, and frankly, I couldn't agree more. If anything, we are learning what we don't want in a relationship, and while this may not be the best of times, it is a good time to figure out what we hope for in the future.
"Honestly, I am considering taking a pause on dating because it's already such a weird time for it, but it's a weird time for everything. I kind of wish more people were also open to FaceTime dating." - Liza, 25
After a few matches on dating apps, my friend got a message which she shared with me and seen below.
"One guy made a rant three screenshots long on COVID being a hoax. If you choose to go out and screw COVID, that's your prerogative, but I don't think any first-time conversation should be three screenshots long."


Same girl! if people feel comfortable going out that is fine. But in regard to a relationship, it is important to have some sort of understanding, especially in regard to something serious like this pandemic.
12. "Long story short, we quarantined in our own homes and the separation took away all physical aspects of our relationship. It made me realize how poor our communication was, and it allowed me to gain the strength I needed to end the relationship." - Sara
Read her full response below:
"I was trying to make a very toxic relationship of a combined five years work. We didn't live together at the time and when the pandemic hit, I begged him to quarantine with me. I lived with my grandmother who has COPD, and he lived with his mom who has lupus. Long story short, we quarantined in our own homes and the separation took away all physical aspects of our relationship. It made me realize how poor our communication was, and it allowed me to gain the strength I needed to end the relationship. I spent so much time waiting on him for things that I wanted to move forward in life. I was finally able to just do it all on my own! I packed my life up and moved to Colorado from Florida, and have never felt more free or happy. I spent so much time trying to teach someone how to make me happy and love me in the way that I needed.... when all I really needed to do was make myself happy. As horrible as this virus has been, I can't help but feel blessed for the pause it has given me in my life and the ability to re-evaluate and make those changes."


Reading my friend's response was really powerful. While this pandemic has changed so many lives, she used it to finally give her the push to change her life. Because may people have lost the physical elements of their relationship, it is making us reconsider why we are in certain relationships. Is it the person or the sex? If there is one part of her message which stands out, don't wait for someone to love you, because you are worthy. Don't try to change someone into the person you want them to be. Instead, be the person you want to be.
13. "I haven't been about to get out of the 'talking' phase with anyone." - Isabel, 22
While there is something excited about the "talking phase," it can be frustrating to feel as though you are stuck in this part of the "relationship." However, it is kind of hard to do anything but during this time. Here is more on what my friend had to say:
"I don't feel comfortable meeting these guys out in public. I just don't want to take the risk with my health. Yeah, the guys get it but you can tell it kind of darkens the mood when I say I'm not comfortable meeting them. One guy just didn't seem to think my fear was justified. That was a clear sign we weren't compatible. If he couldn't get my fear, he wasn't worth my time."
14. "We both believe the pandemic helped our communication skills. Also, we've had a lot of sex. He's definitely more involved in my day-to-day life than before, but it just means he's now super supportive." - Lola, 23
How cute is this? While this friend and her boyfriend were living together pre-pandemic, I think there is something to be said for the support they provide each other. My friend also shared her boyfriend surprised her with takeout and a gift after she passed her certification course. I think it is also important to note communication is key in any relationship, whether you live together, or not.
15. "My boyfriend and I did long distance for years. Now we are quarantining together and I love it." - Bethany, 24
Reading these messages helped me believe love during this time is not dead, and some couples are thriving!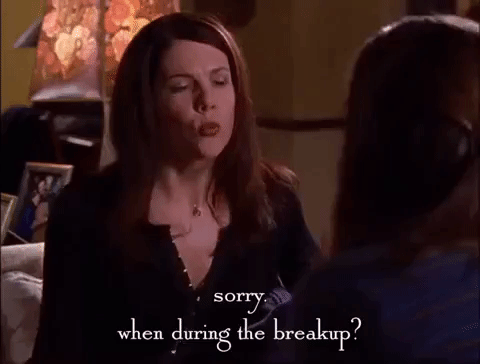 season 2 netflix GIF by Gilmore Girls
Giphy
Relationships are hard and require work. Why should we believe this work gets easier during a global pandemic? It's not like outside forces play a lesser role, nor is this quarantine like a "stay-cation." It would be naive to think that. All one can hope is our loved ones remain healthy and stay optimistic that our dating world will one day have some sort of resemblance to what it was before the coronavirus turned it upside down.
Note: Names* have been changed for the safety and anonymity of the responders.

Follow Swoon on Instagram.