Military life is hard. There is a lot that a spouse has to face, which already can affect a relationship. Deployments, field training, military schools, long hours, and so on.
When the pandemic hit, a lot of military spouses that weren't away on deployments or TDYs were told to stay home almost every day. So, mixing the pandemic with military life, how did it affect their relationships? Did they get better, worse, or stay the same? These are the questions I wanted answers to.
So, I asked 50 military spouses how the pandemic has affected their love lives and the answers were... mixed.
The Military Branch Affiliation of Each Spouse
The first part of the survey was what branch the service member is a part of. Each branch of the military is different in terms of their responses to the pandemic and how they operate. For example, the army often deploys to Middle Eastern countries, whereas the Navy is off at sea. There are so many different circumstances that can affect a relationship, positively or negatively, without the pandemic, so I wanted to get a good idea of where the responses are coming from.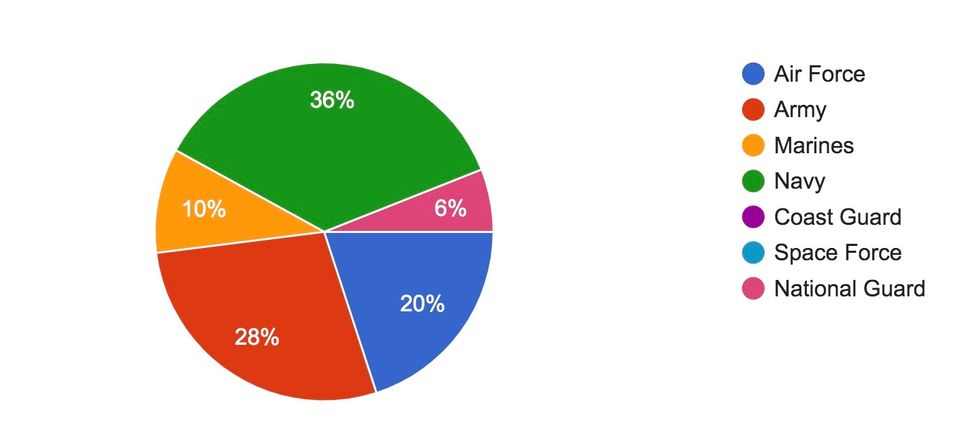 Abbey Macias Survey Results
How Long They Have Been Married

I also wanted to be sure to include the length of the marriages. This is important when examining this data because that can affect how the quarantine and pandemic changed or didn't change their relationships.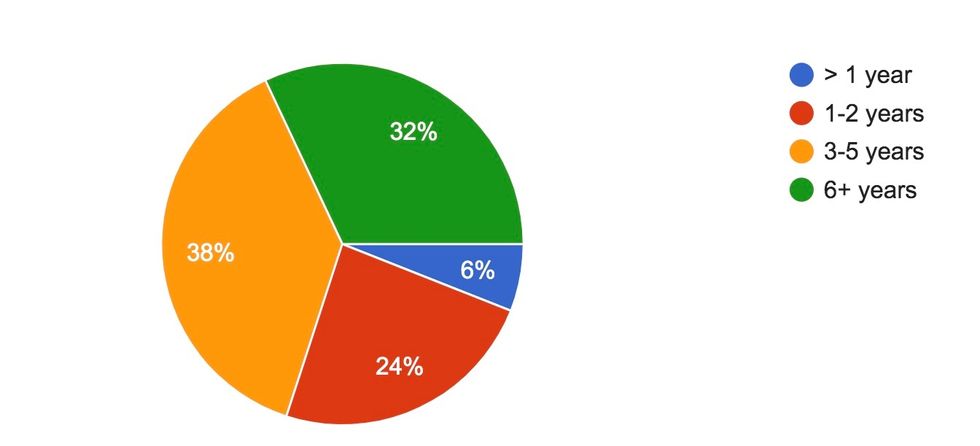 Abbey Macias Survey Results
Overall Results

I asked the military spouses to rate their love lives prior to the pandemic and once it had started. Here is what the overall results look like: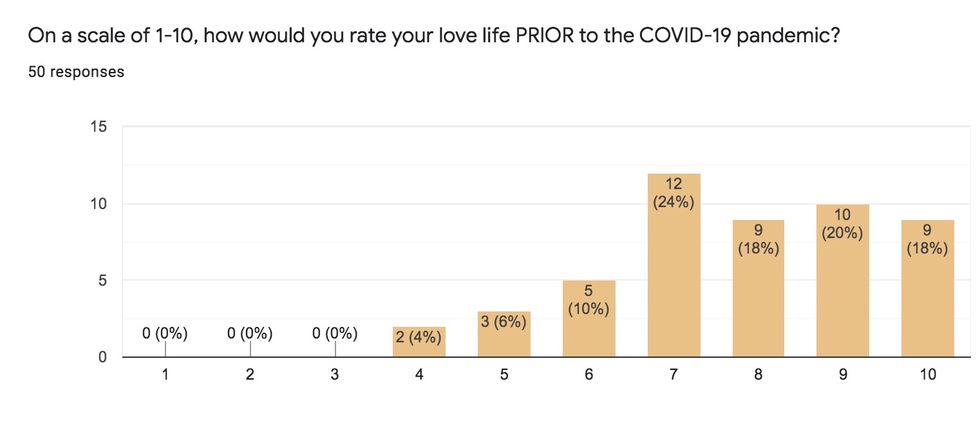 Love life PRIOR to pandemicAbbey Macias Survey Results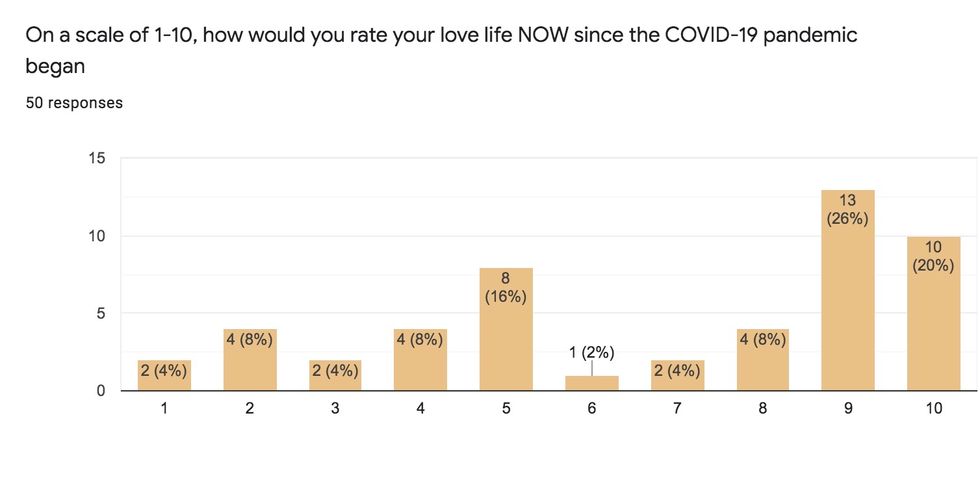 Love life NOW, with pandemicAbbey Macias Survey Results


Some military relationships actually improved due to the pandemic:
Brooke, a Marine spouse of 6+ years, said:
"We have had more time to connect because of him working from home."
Rosette, a Navy spouse of 6+ years, said:
"My spouse and I have been together for more than 18 years, we have gone through several deployments together. This time, it was my daughter and I who left our overseas post while my husband stayed because of his work (our embassy posting went on ordered departure and my daughter and I were mandated to head back stateside). My love life remained the same as we have kept our communication open and as often as we could, thanks to technology! As I have previously stated, being married for over a decade has its advantages. Our relationship remains strong and stable."
Anna, a Navy spouse of 1-2 years, said:
"My husband has been home a lot more since he is scheduled less and it helped create family time as well as us time. The beginning of quarantine sucked as we fought a lot but quarantine gave us the time to begin marriage counseling and that has helped tremendously."
Dayna, an Army spouse of 1-2 years, said:
"Before the pandemic our love was strong, now during the pandemic it tested our patience and gave us obstacles to move around and I appreciate him more than I ever did before. One thing that was positive was that he was able to stay home more than usual; Unless they absolutely needed him, he was sent home. Being married into the military life I've learned to take and appreciate any extra time that he has for me."
Isabella, a Navy spouse of 3-5 years, said:
"Since the pandemic we spent more quality time together. But also when my husband was held in a different state for 4 months it gave us a whole new level of appreciation for one another after 5 years of marriage. The fact that we were separated because of a virus and so many people are dying or sick, made us treasure each phone call, every text or video call. Brought back the meaning of love till death do us part."
There were so many other positive responses about how their relationships have grown, and the pandemic definitely helped bring some couples closer together and cherish each other more.
Some relationships have gotten challenging:
Rebecca, a National Guard spouse of 3-5 years, said:
"Stressors outside and inside the home" had changed her love life in a negative way during the pandemic.
Lisa, a Marine spouse of 6+ years, said:
"The stress levels are high in the household. I've been forced to take a leave of absence from work to care for our school aged children. Now that schools are not opening up in the fall, I have to quit my job to become a full time educator to our kids. Life is so unfair. The fact that his career always has to come first. It's hard to maintain my career as a military spouse. Ok rant over. It just sucks! This whole COVID-19 thing is ruining every household's finances & schedules."
Sarah, a Marine spouse of 3-5 years, said:
"The stress of dealing with the DOD stop movement keeping us from moving in March with orders changing 4 times. This unorganized uncertainty for our future created tension in our marriage."
Erica, an Air Force spouse of 6+ years, said:
"Fewer (i.e. zero) date nights, kids around all the time so less sex."
Shana, a Navy spouse of 3-5 years, said:
"We were suppose to PCS in May and had our baby in February. Because of the pandemic, my husband was not able to leave. Our house is in disarray from having it packed/not packed. We aren't able to introduce our baby to family and still don't know if we're leaving or not. My husband was on day shift but went to shift work once they canceled our orders. So we barely see each and have basically no time for ourselves."
Some relationships have gone downhill:
It is not surprising that some marriages became challenging. With deployments, canceled moves, postponed moves, kids around, etc. it was not surprising to read some of the responses I received.
Denise, a National Guard spouse of 3-5 years, said:
"My husband just left me."
Amse, an Air Force spouse of 3-5 years, said:
"We have zero love life now."
McKenzie, an Air Force spouse of 3-5 years, said:
"My significant other has expressed filing for divorce."
Sarah, an Army spouse of 1-2 years, said:
"Because of COVID-19, the military stopped all movement. My husband has been stuck 1,000 miles away while I did a full move with a puppy and a 4-year old and closed on our first home without him. I have never felt so single."
As sad as some of these responses are, it was also not too surprising to see that some marriages have struggled, or unfortunately, ended.


Follow Swoon on Instagram.
From Your Site Articles
Related Articles Around the Web