It's a crazy time and (pretty much) everybody has to stay at home. Even though everyone appreciates a good lazy day (or few), spending every moment at home can be monotonous; there are only so many Netflix shows you can binge before getting bored. Plus, things can get isolating without the ability to venture out in public and meet up with people.
But, quarantining doesn't have to be painful. There are some hobbies to take up during quarantine:
1. Bake and cook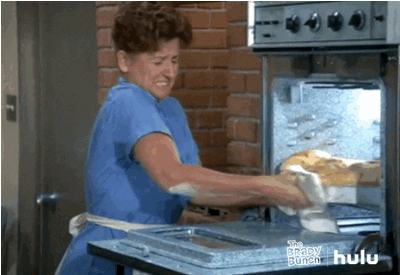 Giphy
Being locked at home doesn't mean you have to eat like a prisoner. The next time you're shopping, buy the most basic, essential ingredients–like flour, eggs, oil, baking soda, and baking powder–so that you always have something to cook or bake with at home. If you find a recipe you want to tackle, bring a copy with you to make sure you have everything you need. You can always make good use of these skills when quarantine ends. Plus, how nice would it be to learn how to make something essential (like bread) so that, God forbid your local grocery store runs out, you can make some for you and your family?
2. Dance
Dancing is a good way to stay active and burn some of those quarantine calories. It's different from other forms of exercise because it's fun and you don't necessarily realize how much of a sweat you're working up. You don't even need equipment, and you can stay in those same pajamas you've been wearing all week. Just put on your favorite Spotify playlist–or scroll through Tiktok to find some dance ideas–and get to it!
3. Add skills to your resume
Bulk up your resume by adding more 'skills' to your list. Even though sitting through a tutorial about Microsoft Excel isn't the most exciting thing, you might as well spend the time you have at home to lengthen your 'skills' list. At the end of the day, it's your choice as to what you spend your time on.
4. Garden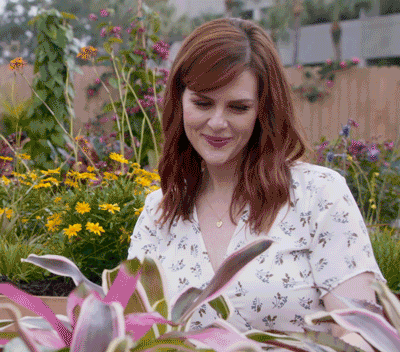 Giphy
Whether it's planting flowers or fruits and vegetables, gardening is a much-loved hobby that's considered to be very peaceful. You can transform your lawn or backyard into your own mini-meadow. Plus, this is a simple way to lower your grocery bill because you'll have fresh produce growing in your backyard!
5. Write
Writing is so therapeutic, whether it's creating your own blog, starting a novel or screenplay, or pouring your heart out into a diary. Regardless of what you're writing, it's a good way to reflect upon your feelings and process your emotions. Plus, you won't be the only one enjoying your work; one of my favorite things about writing is being able to touch those who read my pieces.
6. Meditate
During this scary time, it can be easy to get caught up in fear and anxiety. Not being able to leave the house may increase these feelings. There are plenty of resources–from YouTube videos and phone apps to internet articles and books–that can teach anyone how to meditate, whether or not they already have some experience. An app I use sometimes is Oak.
7. Revamp your wardrobe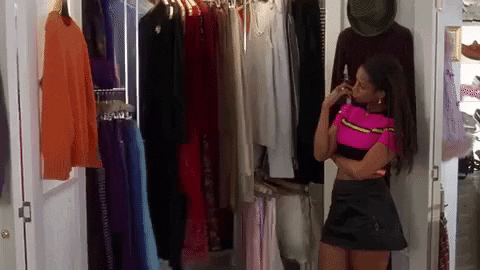 Giphy
You don't have to spend money and take a trip to the mall to give your closet an upgrade. Search the internet for DIY clothing and accessories tutorials to give you some inspiration. You'll walk out of quarantine with a new, unique batch of clothes–without spending money on a whole new wardrobe.
8. Learn a new language
Learning a new language is a bucket list item for a lot of people. Sure, it's difficult and may take some time. Yet, learning more languages is known to improve your cognitive health. Further, workers who can speak multiple languages are known to, in some cases, earn a higher income and receive more promotions and opportunities than workers who don't.
9. Perfect your makeup look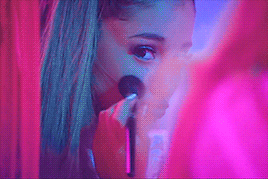 Giphy
Put on a YouTube tutorial and finally learn the makeup look you've always wanted to perfect but never had the time to. You can even FaceTime that one friend who always has bomb makeup. That post-quarantine ~glow up~ is patiently waiting to make its debut.
10. Scrapbook
Reminisce about your pre-quarantine days by making your very own scrapbook (or photo album). Print out pictures and glue them into an empty notebook or binder filled with blank sheets of paper. You can get creative with it and add some drawings, stickers, and other artistic elements. Taking a trip down memory lane might help get over those self-isolation blues.
11. Re-decorate and re-organize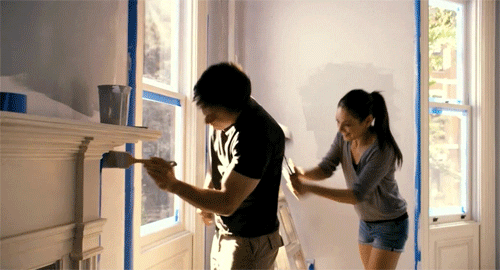 Giphy
Turn on an episode of Netflix's Interior Design Masters (one of my new favorite shows I discovered during quarantine that I WISH would add a second season ASAP) to get some inspiration. You'll be ready to show off your new place as soon as quarantine is over!
12. Experiment with art
If you haven't tried sketching, song-writing, or any other type of art yet, this is a good time to pick it up. All you need to do is peruse social media or the internet to find some ideas on getting started.
13. Take up knitting
Knitting is a pretty essential skill to learn. You can spruce up your living space and your closet by creating your very own unique blankets, clothes, and other items that nobody else will have. If you can't get to a physical store that sells the materials you'll need, you can always order them online to be sent to your house.
14. Photography & cinematography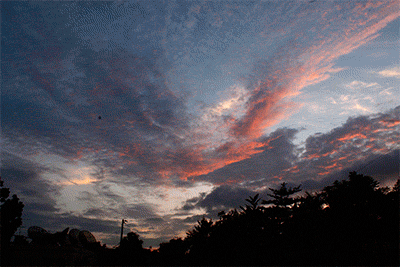 Giphy
Walk outside to your backyard or down the street so you can take some pictures or videos of the scenery–or the people you're quarantined with. You can also take a look at things you shot before being quarantined to create something beautiful. There are plenty of apps and websites that are dedicated to editing photos and film. When you're done, you can share your final products on social media or send them to friends to inspire others; everyone can appreciate a bit of creativity during this time so things don't get boring.
15. Teach others!
This is a great time to pass along your talents and skills in order to teach and inspire others. Aside from social media platforms, you can always start a blog–or vlog–or search the internet for ways to ensure that your passion is being continued and preserved by others.