Ah, it's that time of year again. If you live in Kentucky, the first Saturday of May is always reserved for one event: The Kentucky Derby. The Derby is a tradition that occurs in rain or shine, and unfortunately this year, it was rain. Here is a day in the life of a Kentucky Derby goer this past Saturday!
7:00 am You wake up, excited for the upcoming day. Quickly shower and perfect your thoughtfully picked out derby outfit.
8:43 am You check the weather radar, realize it's suppose to rain all day. You think to yourself, "Is my hat sturdy enough to keep rain out?"
9:27 am You grab your rain jacket and head out the door. It's time to go to derby!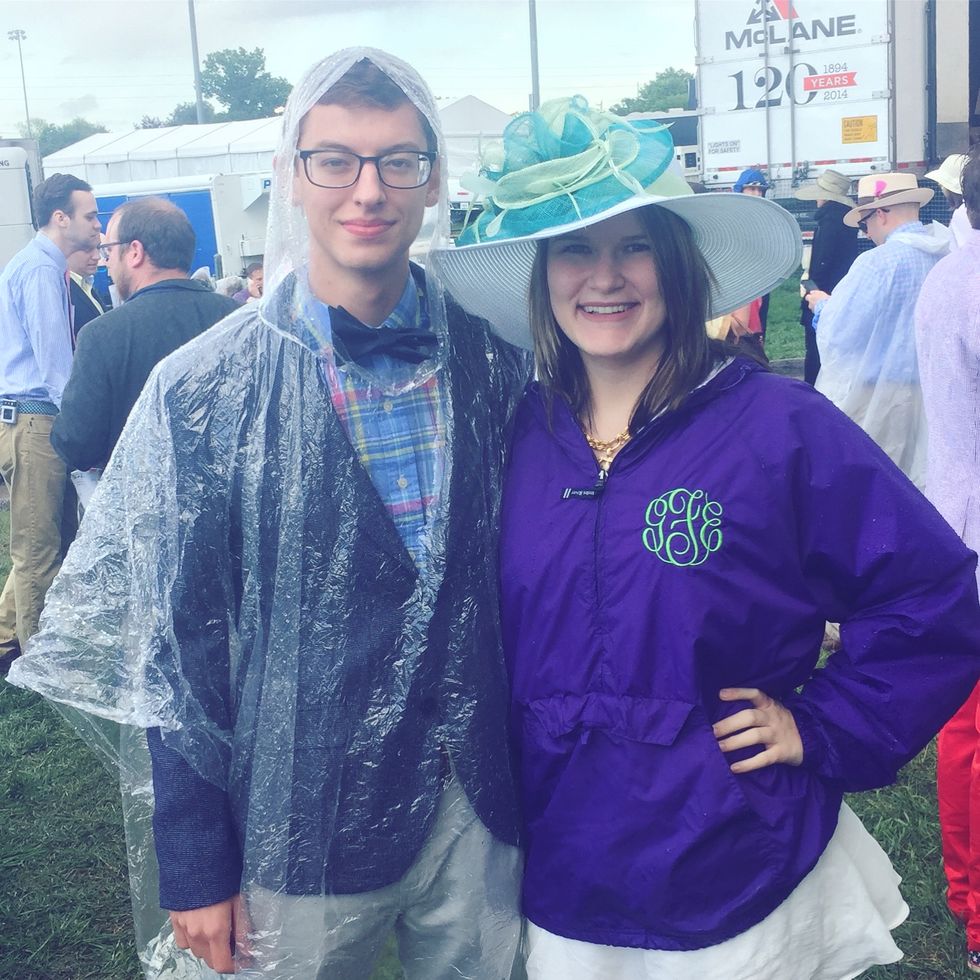 10:18 am You arrive at your friends apartment in Louisville where you park your car and you'll Lyft to and from. You go inside and realize that no one is ready...or even awake. After everyone wakes up, no one wants to brave the rain and they suggest waiting around for a while.
2:29 pm After sitting around for hours hanging out with friends, you decide enough is enough. You're finally ready to go to Churchill Downs despite the weather. You check your phone and it says the rain is gone.
3:02 pm Your Lyft drops you off outside the Downs and you walk over to Gate 3 (the Infield is life). There are hundreds of people and you make your way to what they call a "line."
3:12 pm Some frat guys offer you a drink. You politely decline.
3:31 pm After a lot of waiting and shoving in the admission line, you finally make it though. You're waiting on the other side of the gate for your straggler friends.
3:45 pm You find the perfect spot in the grass to put your chairs. The grass is long enough to cover all the mud so none of your things get too dirty. Score!
4:01 pm Rain rain go away, come again some other day. It starts raining, and quickly grab your rain jacket. You're just sitting there letting the rain fall on you and just try to stay warm.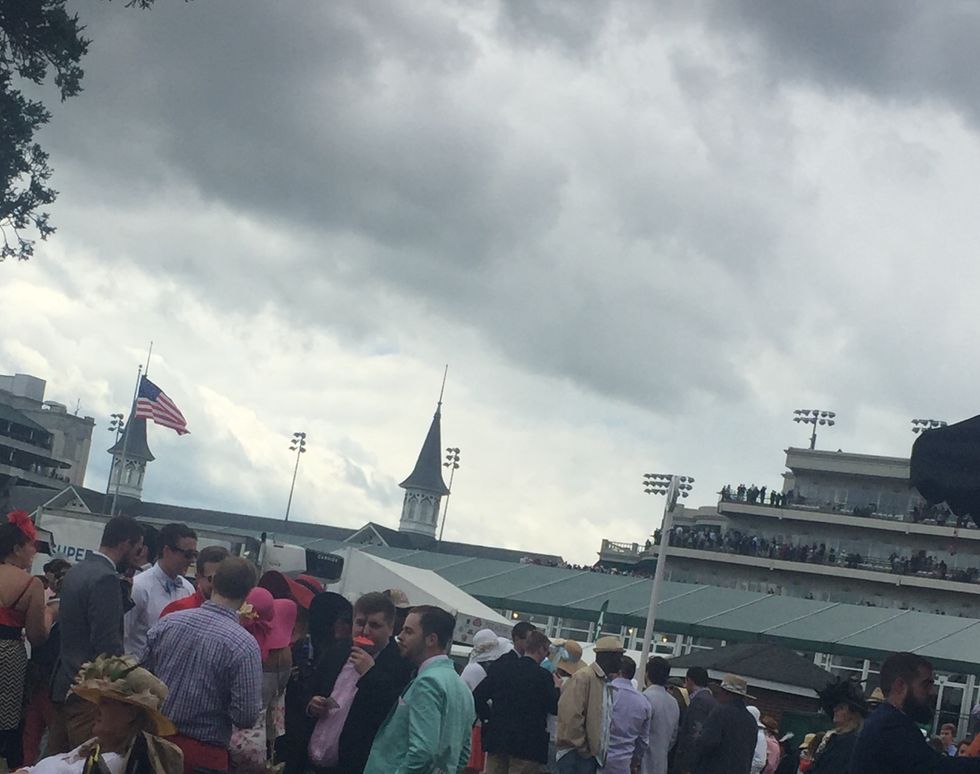 4:47 pm You hear people screaming and cheering. The sun has finally made an appearance and the people of the infield couldn't be happier.
5:21 pm You're bored. You've been sitting for a couple hours now and you're ready to move around. After you gain some courage to leave you chairs, you go into the Infield Derby Store, note that everything is overpriced, then proceed to buy something anyway.
5:28 pm Race 11 has just concluded and everyone is getting more and more exciting with each passing moment for the actual derby race to happen.
5:32 pm Juleps and Lilies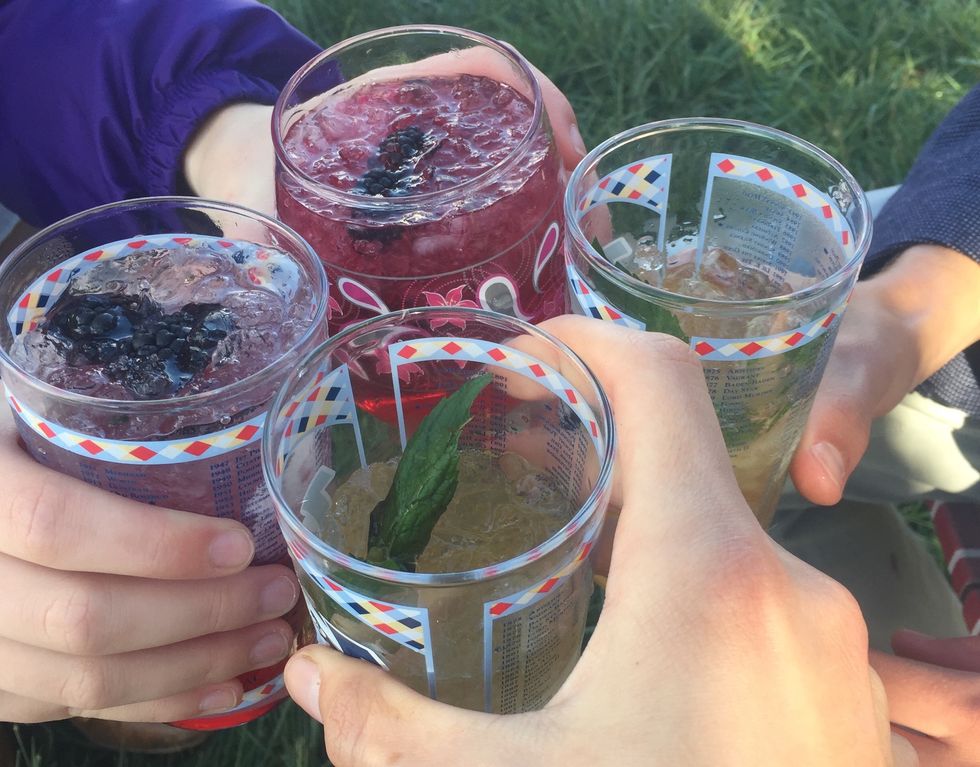 6:42 pm The race is suppose to start in 4 minutes. You leave your chair to go to a prime viewing location: near the giant screen in the middle of the infield.
6:46 pm 0 minutes to the Derby, but nothing actually happens. You stand around waiting along with the thousands of other people.
6:51 pm The Greatest Two Minutes In Sports
6:54 pm Everyone is jumping around cheering. The people next to you are crying because the won the trifecta. You, on the other hand, run back to your chairs, grab them and head to the gate.
7:01 pm Your bottlenecked at the tunnel out of the infield. Shocker. You're standing around, pushing and shoving. This happens every year and every year you decide to try to leave right after the Derby. But hey, you'll probably do it again next year.
7:19 pm You're in the tunnel. People are chanting "USA! USA!" You've never felt more American.
7:23 pm You're out of the gate and out of Churchill. You begin walking, and before you know it, you've walked all the way back to your friends apartment on the other side of the University of Louisville.
Congratulations on a successful trip to the Kentucky Derby!