Memes. Can't live with them, can't live without them.
Well, sort of. Personally, I could definitely live without the Minion memes the over 50 crowd continuously shares on my Facebook feed, but I digress.
As popular sites like Instagram, Twitter, and Vine reached record-setting numbers of active users in 2015, memes were spread around faster than the common cold in a public elementary school. Even the most well versed pop culture and Internet connoisseurs had the potential to feel lost amongst the continuous stream of reaction photos, buzzwords, and cultural catch phrases.
Whether you're a meme queen or you're new to the game, as 2015 comes to a close, consider this your guide to all of the references you may have missed over the last 365 days, month by month. Starting with…
January – Left Shark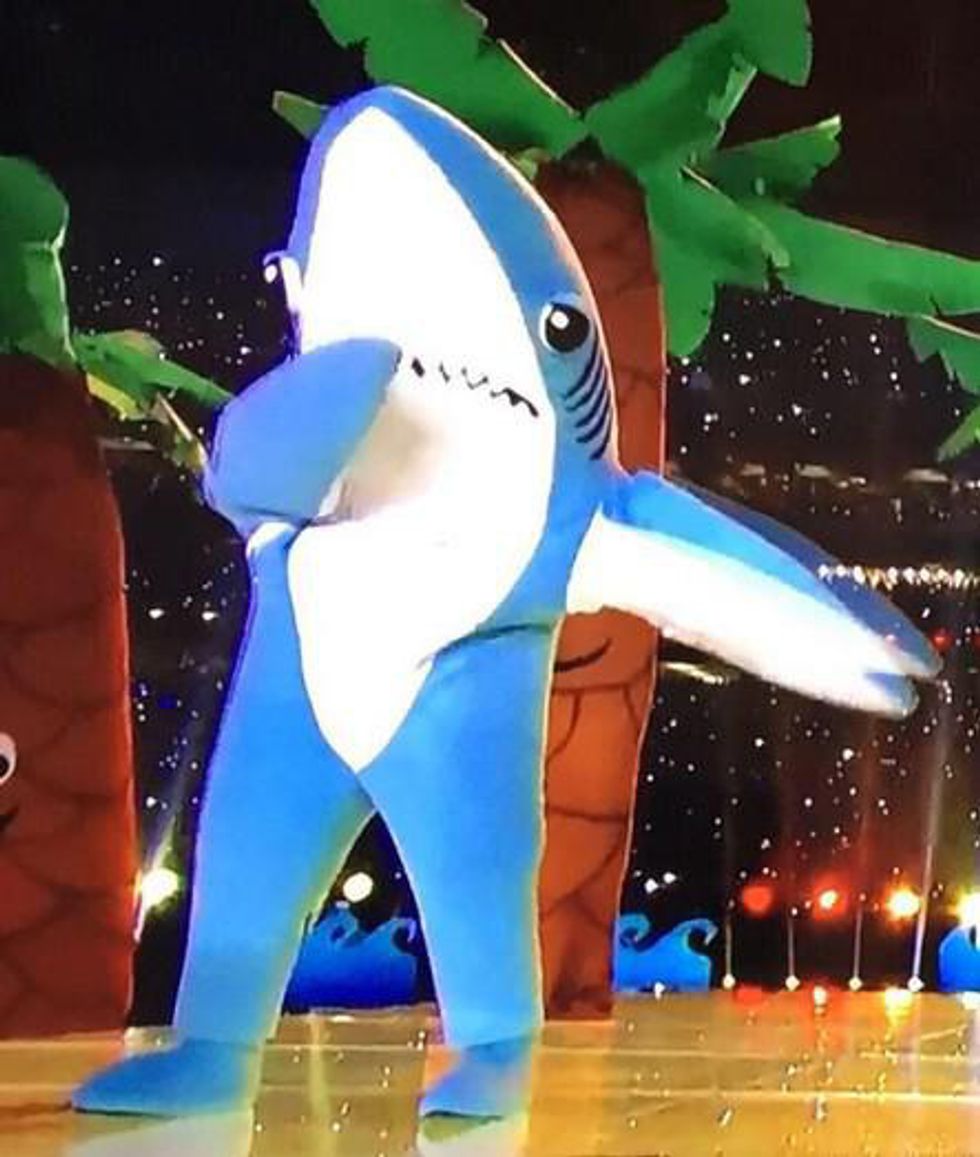 Technically, this meme came on the scene on the tail end – pun intended – of January, but it had such a worldwide presence that the month could be defined by no other. During Katy Perry's live Super Bowl XLIX halftime performance of "Teenage Dream," an anonymous dancer dressed up as a shark caught a quick case of nerves and forwent any planned choreography. Instead, Left Shark danced awkwardly to the beat of their own drum, and subsequently, into the hearts of Internet users across the globe. BuzzFeed created a quiz titled "Which Katy Perry Halftime Show Shark Are You?" which sealed Left Shark's launch to fame, and the rest is history.
February – #TheDress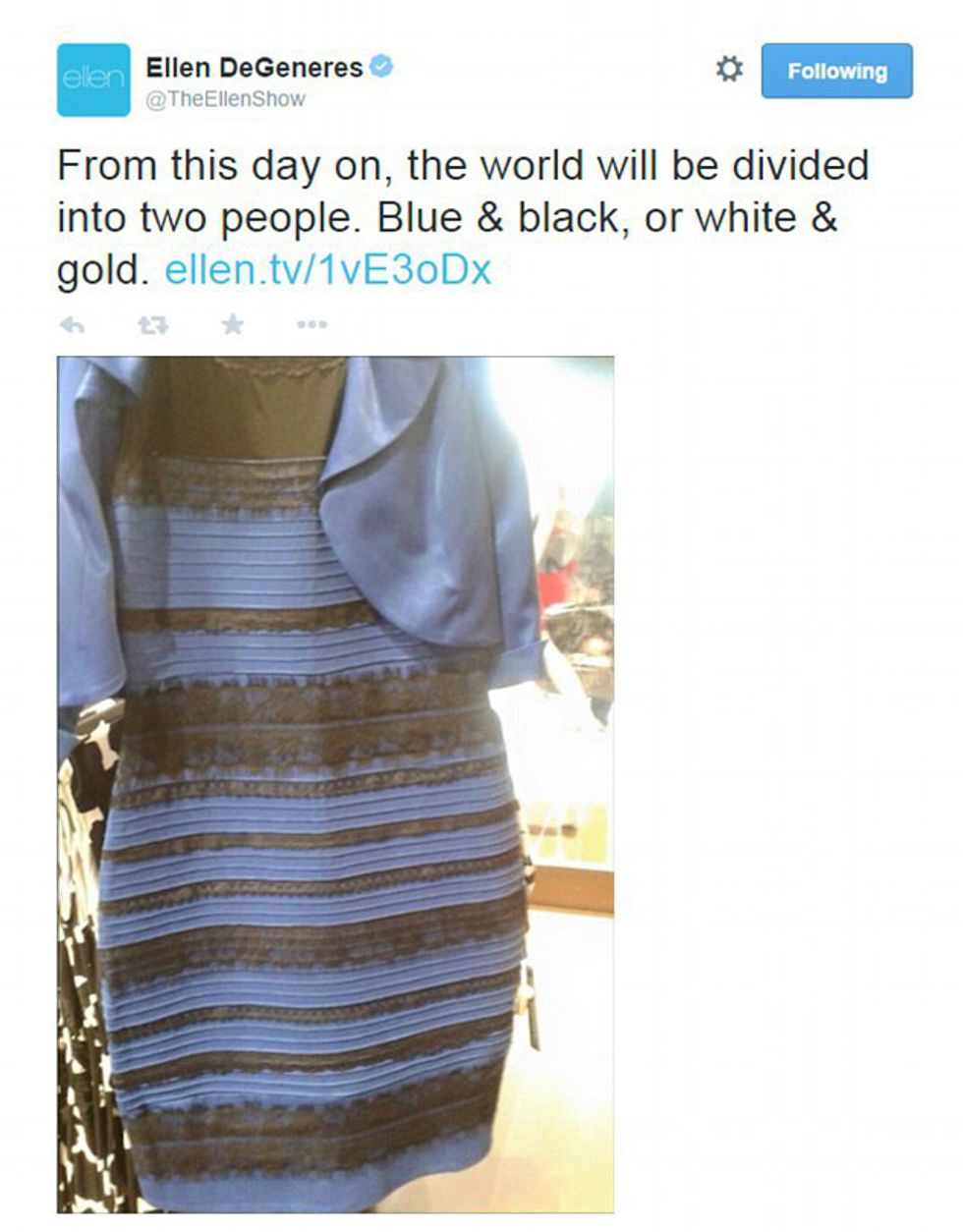 If Shakespeare was alive in 2015, the Montagues would have seen blue and black, and the Capulets would swear up and down that they saw white and gold. It was the meme heard 'round the world. It was a true fashion emergency. This meme's inception came on February 25 when Tumblr user Swiked posted the famous photo, asking other users to identify the dress's colors. Again, BuzzFeed caught hold of the post, which was up to 400,000 notes in less than 48 hours, and World War III officially began. To be honest, I'm still not fully convinced that we as a culture are over it.
It's black and blue, okay?
March – Iggy Azalea Rapping (#StopIggy2015)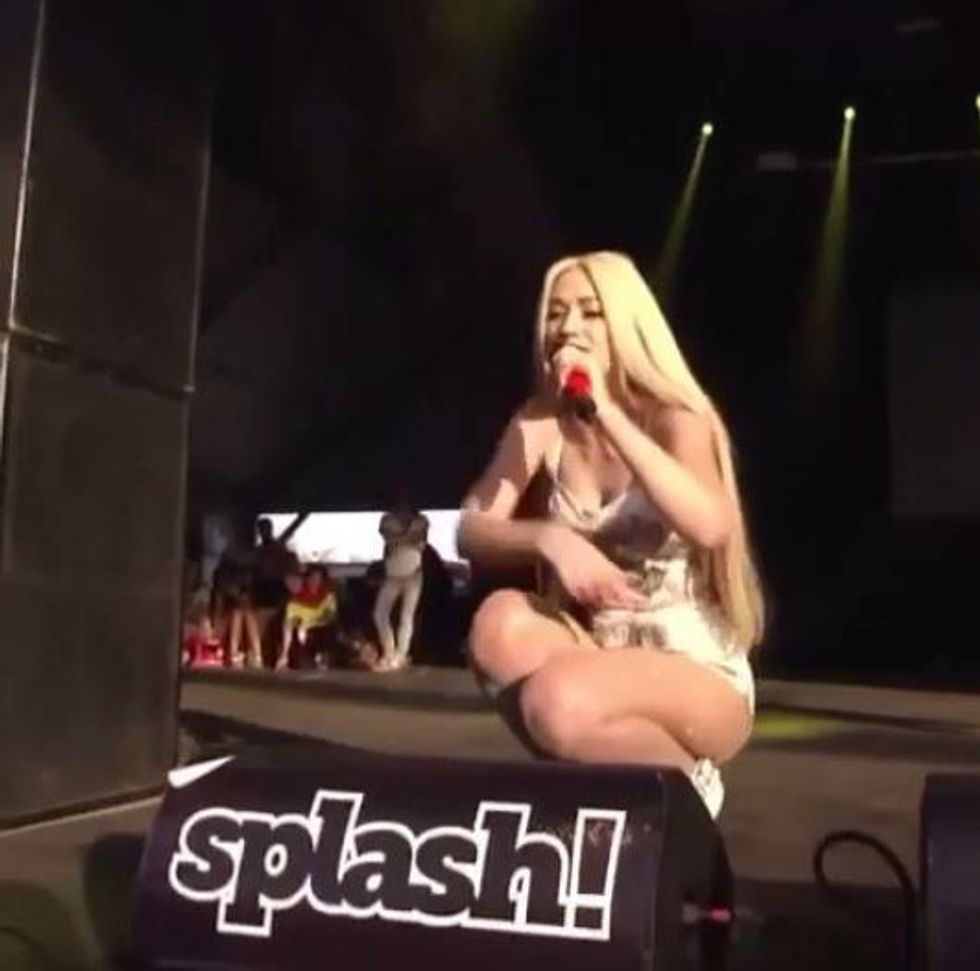 Whether you love Iggy Azalea, hate Iggy Azalea, or just don't care, you've got to give it to this meme. Vine user Damn Tommy posted the six-second clip of Iggy's "D.R.U.G.S." performance on March 16, and in two weeks, it received over 22 million views, 34,000 Revines, and 75,000 likes. What Iggy is saying – I couldn't tell you. Maybe 2016 will be the year that we discover the Rosetta Stone that includes the language she was speaking.
April – Let's McFreaking Lose It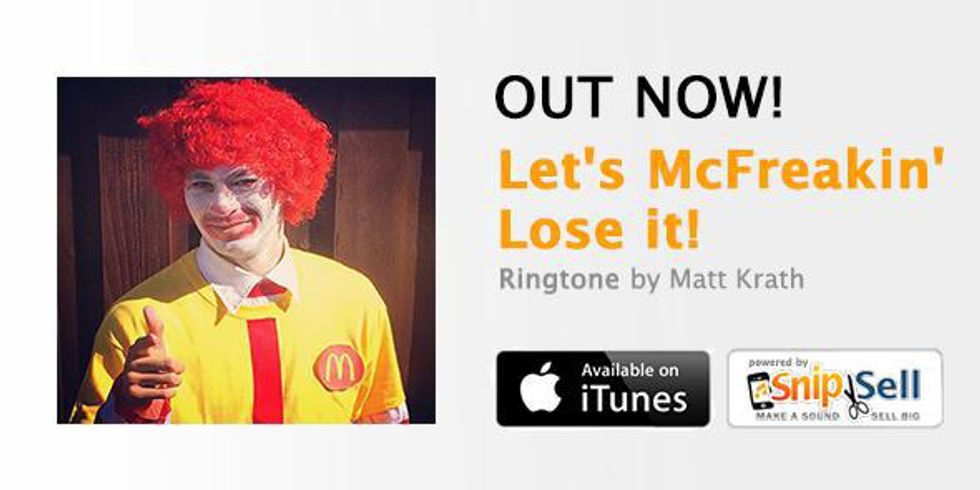 April was a slow month for memes. A meme drought, if you will. However, even in the Meme Famine of April 2015, Ronald McDonald was there to provide a shining beacon of hope. Sort of.
Vine user Krath posted a series of pranks on his account back in February, including one clip of him dressed as Ronald McDonald yelling the now-famous "Let's McFreaking lose it!" catchphrase in front of several shocked McDonald's patrons. The meme didn't catch much attention until Tumblr got ahold of it in April, and to this day, I'm still questioning everything I thought I knew about fast food chain restaurants.
May – Just Do It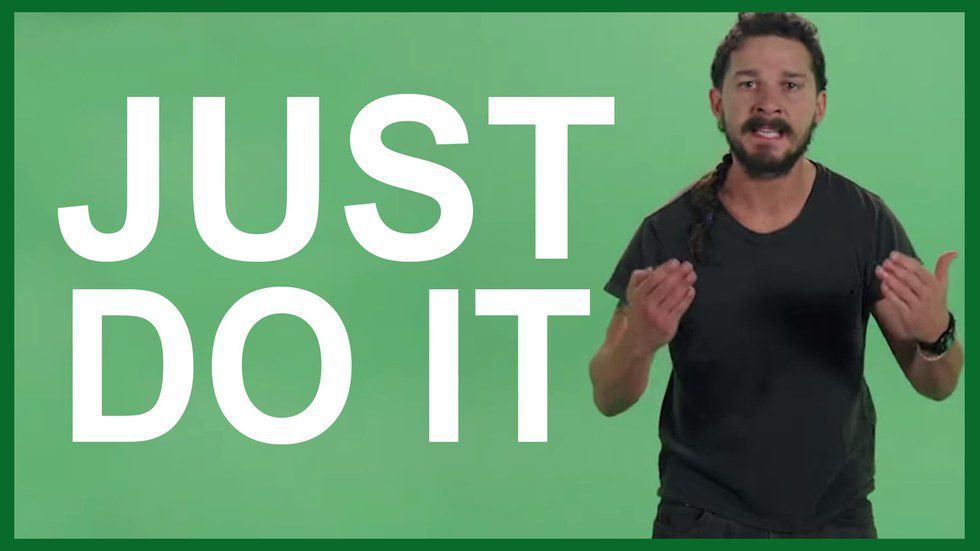 It's the end of the semester, finals are approaching fast, and you're devoid of all motivation. What better way to get whipped into shape than by having Shia LeBeouf screaming inspirational phrases at you in front of a green screen, complete with weirdly vivid hand gestures and grunts? This meme was born on May 27 and garnered 1.4 million views in less than five days. Nothing like a little motivational speaking.
June – What Are Those?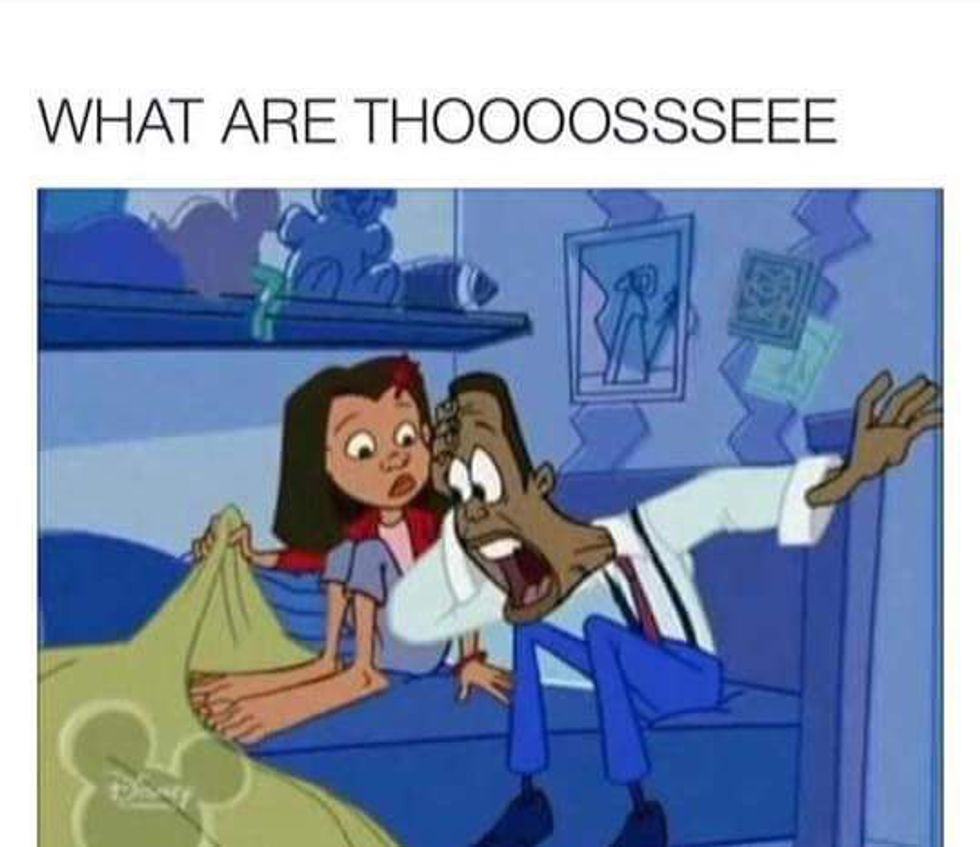 If I had to pick a number one meme of the year, without a doubt, this would be it. Stemming from a
Vine
posted by A-RODney King, the coined catch phrase quickly spawned tons of parodies and remixes pulling in other references, from
Jurassic World
to
Spongebob
to a Q&A by Michael Jordan. It was also one of the longest lasting memes, with the original Vine continuing to pull in views throughout the remainder of the year.
July – Breadstick Meme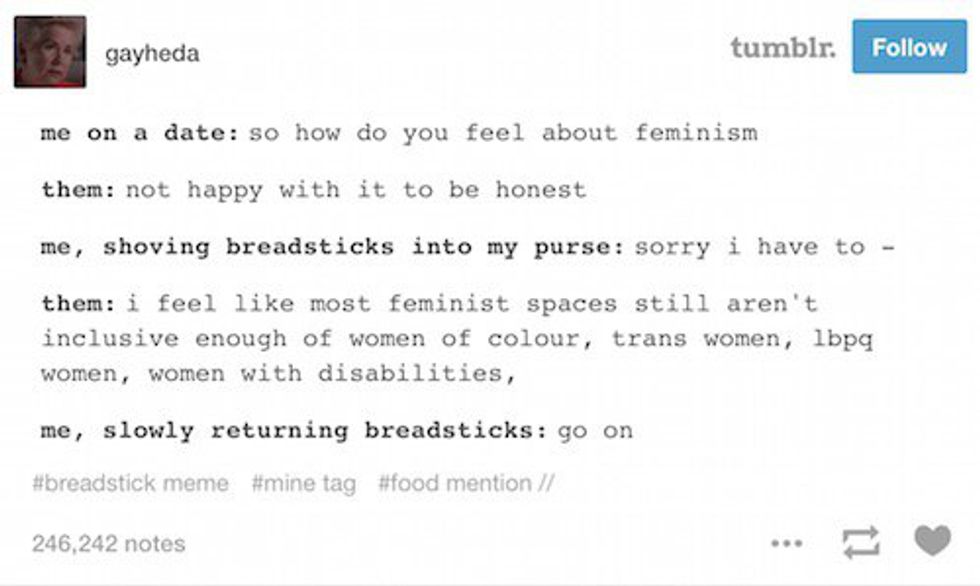 Ever had an awful first date? So awful that you just want to leave, but the food is too good, so you stick it out? Tumblr user chrisprattsgf, the creator of the breadsticks meme, knows how you feel. According to Know Your Meme, this joke is a collection of "mock dinner date conversations in which a person abruptly leaves the table while stuffing complimentary breadsticks into their purse after hearing their date say something offensive." The meme covered all kinds of topics, from being a cat or dog person to the current state of feminism.
August – Netflix And Chill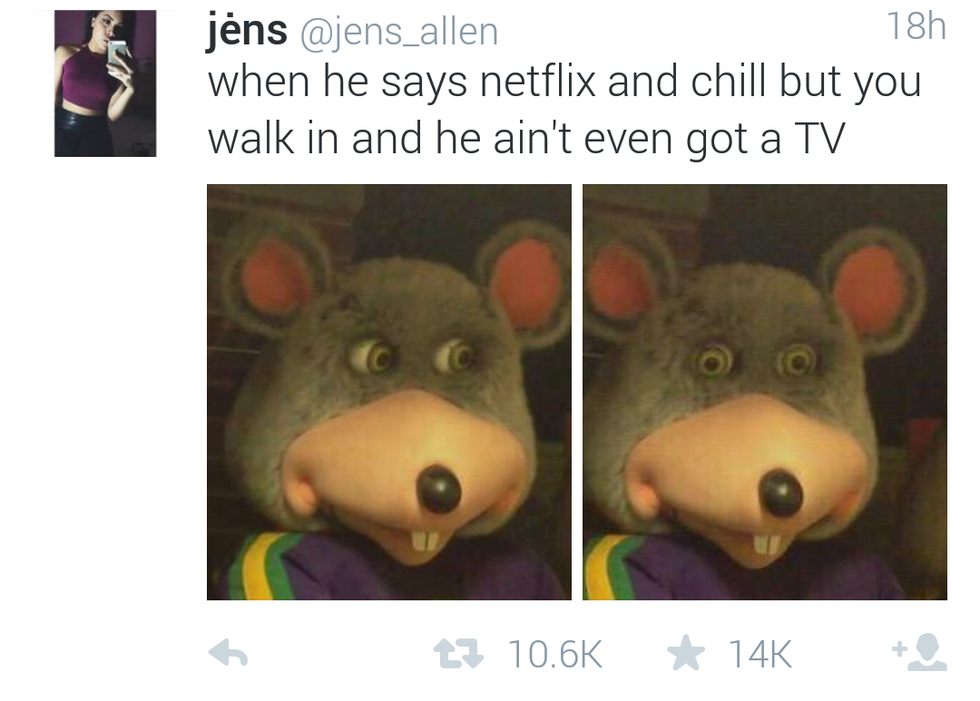 One of the typically defining moments for the end of a meme comes when corporations and large media outlets acknowledge its existence. For Netflix and chill, the exact opposite happened. Netflix and chill, which is a slang term for inviting someone over for sexual purposes under the guise of binge-watching television, came on the scene around April 2015 and blew up by August of the same year. Netflix themselves acknowledged the term, only encouraging its popularity.
September – Why You Always Lyin'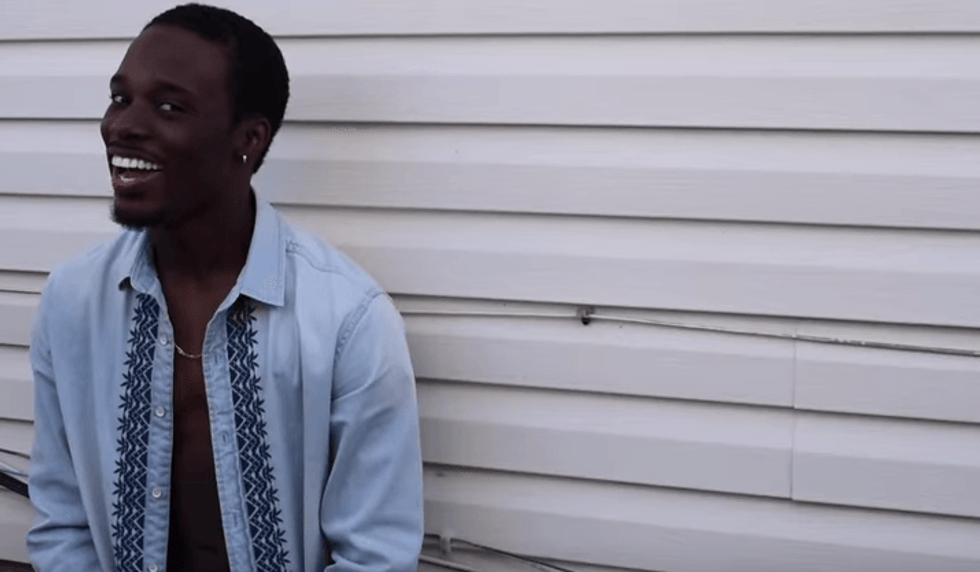 The year wouldn't be complete without at least one parody song worthy of a Grammy. 2015's was "Why You Always Lyin'" by Nicholas Fraser; a Vine clip of the music video he made to accompany the song was reposted with the caption "When she say [sic] she got a cute friend for you", which has been looped over 21 million times since its creation in September. Remixes and parodies of the parody have since exploded all over the Internet, making it one of the most easily accessible memes of the year.
October – Poot Lovato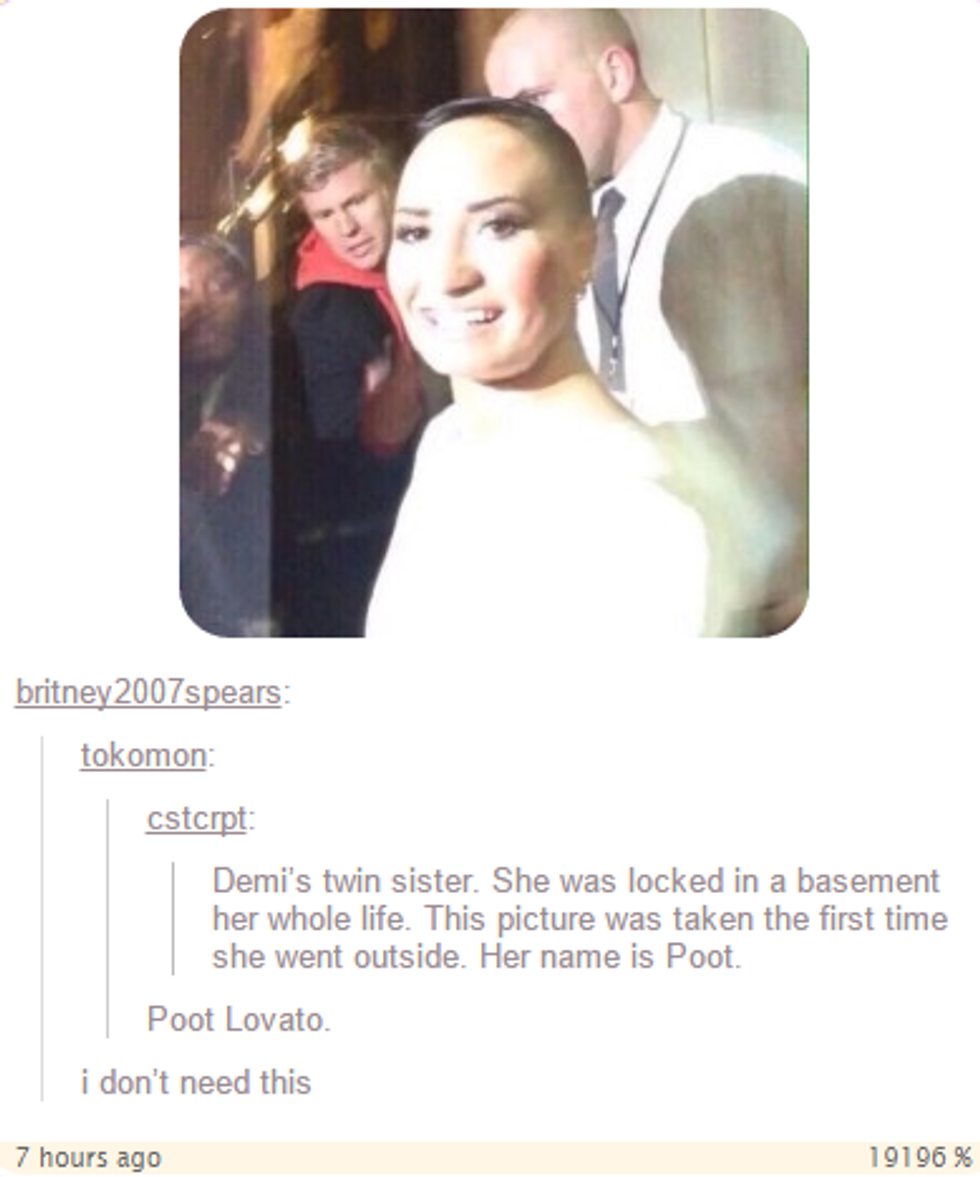 Without a doubt, 2015's greatest breakout star was none other than Poot Lovato herself. Legend has it that Poot is the long lost sister of singer Demi Lovato, and that she hadn't been outside before the day that photo was snapped on October 11.
Or, it's just an unflattering photo of Demi at the 2014 Royal Variety Performance in London.
Or, maybe that's what Demi wants you to think. We'll let you decide.
November – "Hotline Bling"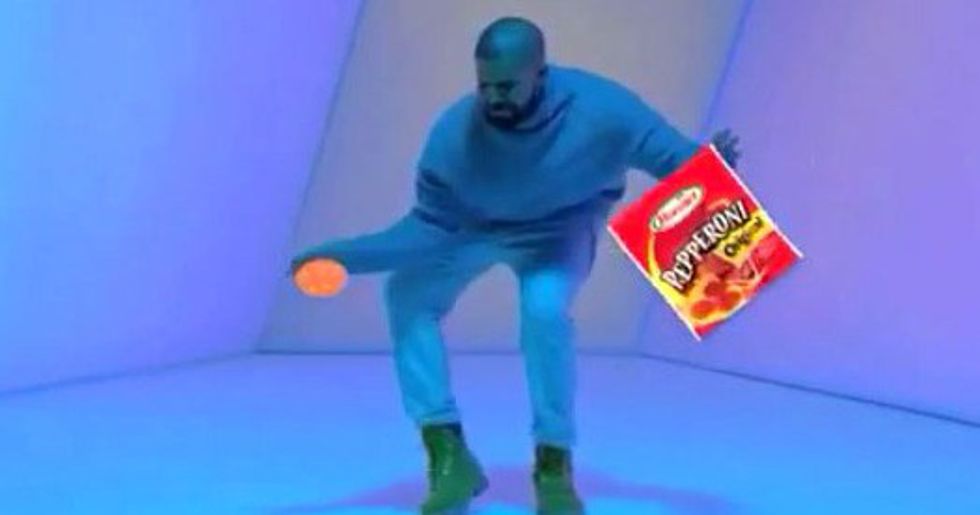 2015 was hip-hop artist Drake's year; whether he was starting Twitter wars with fellow rapper Meek Mill or dropping singles, all eyes were on him. After "Hotline Bling" dropped in July, everyone was highly anticipating the release of the video. And Drake certainly delivered, though not in the way any of us expected. The most memorable part of the music video for "Hotline Bling" was Drake's dancing; it was a cross between your dad after spending too much time at the open bar of your cousin's wedding and something weirdly on point. Obviously, it was the perfect storm for a meme. Vine and Twitter remixes of the video, including Drake making pizza, playing Wii tennis, and dancing to meringue music blew up across the Internet, making the video one of the most unforgettable moments of the year.
December – "Hello"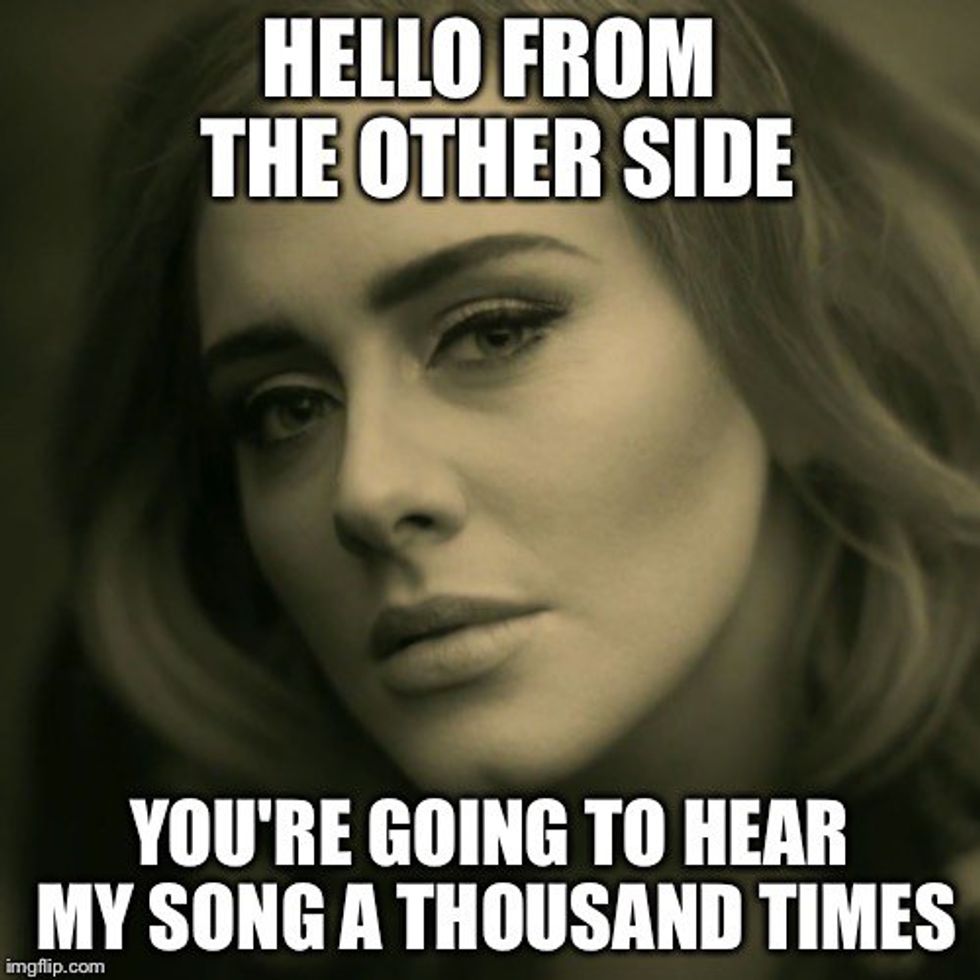 If Drake was the king of the music scene in 2015, Adele was the queen. While she was quiet for most of the year, she exploded back onto the scene as soon as the teaser for her song "Hello" was released on The X Factor back in October. When the actual video for the track was released on Adele's YouTube, it quickly racked up 27.7 million views in 24 hours, breaking the Vevo record held previously by Taylor Swift's "Bad Blood." Parodies, featuring everyone from YouTube creators to celebrities like James Cordon and Ellen DeGeneres, continue to circulate as the year wraps up.