President of the Philippines Rodrigo Duterte has been overrunning his campaign on the war on drugs.
Duterte won the presidential election this past June. Fighting to remove drugs off the streets is one of Duterte's major agendas pushed while running for office.Three months into office, Duterte has been put in a controversial position in his attempts at removing drugs and crime; the main focal point once in his presidency.
The popular illegal drug trade he is trying to remove is a methamphetamine hydrochloride, or "shabu," the street term. Shabu is also used in other Asian countries such as Japan, Malaysia, Indonesia and in Hong Kong, China.
Rodrigo Duterte has kept his vow with his hardline crackdown on drugs. His Anti-Drug campaign got him a strong voter count that put him in office.
Under speculation, the Filipino president is getting global attention from the amount of death tolls and the possibility of human right violations.
Duterte has been criticized by Human Rights Watch for extrajudicial killings. Among the illegal drug trade, street children, drug dealers and users are involved, and it has led to hundreds of killings and deaths.
Besides the police killings during the several operations of drug eradication, a vigilante group called the Davao Death Squad has executed hundreds of petty criminals with any affiliation of drugs in Davao City, Philippines.
Possibilities of Duterte being involved with and tolerating the vigilante group have been raised due to increased killings during his presidential term. Duterte has actually encouraged the police and citizens to adopt a shoot-to-kill policy.
Human right groups have been arguing that the killings fall under an unwritten government policy to deal with crime, and it avoids the lack of due process within the ill-functioning criminal justice system administered in the country.
On August 18, the United Nations human experts called on the Philippines to put a halt to the extrajudicial killings. Duterte's response is threatening UN for his country's removal from the United Nations and cutting alliances with other Chinese or African nations in order to continue this violent venture.
This past Friday, Duterte recently made a comparison to himself to one historical political leader: Adolf Hitler. Duterte was making an analogy on how the Nazi leader eliminated 3 million Jews, and he wants to eliminate 3 million drug addicts.This statement has appalled and upset Ronald Lauder, the president of World Jewish Congress, and it is receiving major attention.
Drug abuse is a critical issue, but the statement of Duterte is being criticized as inhumane and outrageous. He has uttered multiple controversial responses to the media and acted cold-hearted towards the international communities whom are opinionated towards his actions and words.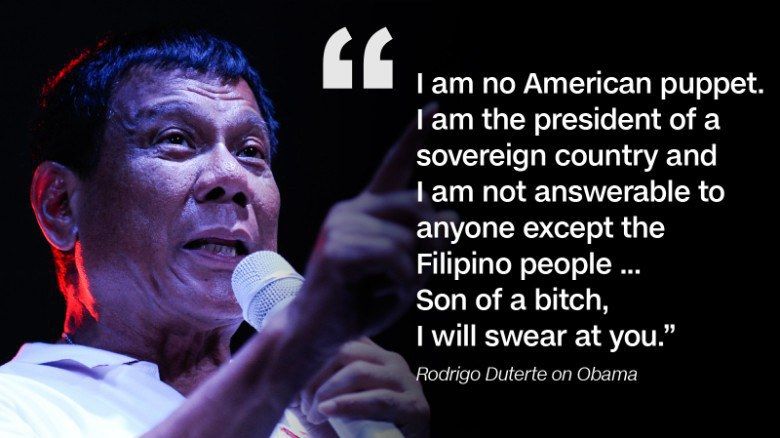 Duterte is trying to eliminate the drug plague within his country. It was never going to be pure or flawless. So far into the drug war crusade, 300 police officers were suspected in the drug trade and have been removed from their duties and will be tried in court.
Nearly 2,000 people have been killed and around 800 have been killed from police operations. There has also been overcrowding in the jails of the Philippines. There are over 4,000 inmates in the Quezon city jail, outside of Manila, the capital of the Philippines.
Duterte's determination is adamant. Behind all the pursuit, he still received a 91% approval rating at the end of July, largely for his inflexible position. The continuation with the war on drugs will remain as long Duterte is still president.