The U.S. Women's Gymnastics team is quite simply incredible. In qualifications, when it was determined who would compete in the team, all-around, and individual event finals, the Final Five (as they have dubbed themselves) qualified first. That they did so was no surprise. What was a surprise was by how much they dominated their competition: a nearly 10 point lead over the second place qualifier, China. And then in the finals, they beat Russia by just over eight points. This is a sport where medals are often decided by mere tenths or hundredths of a point, as was the case for silver when Russia beat China by just .685. The men's all-around was settled by even less -- just .099 separated Kohei Uchimura from the silver medalist, Oleg Verniaiev. That the United States Women could win by such a margin shows the excellence of these young women.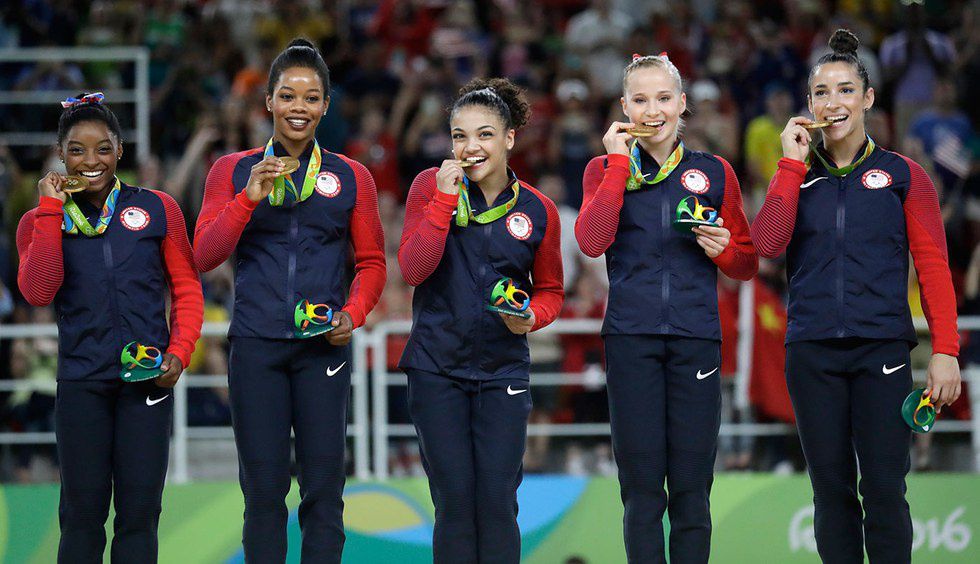 They're a diverse group. Simone Biles and Gabby Douglas are African-American. Laurie Hernandez is of Puerto Rican descent. Madison Kocian is a Roman Catholic (like Simone, actually), while Aly Raisman is Jewish. They come from all across the country. One thing they all have in common is they all have siblings. When they're competing, the differences between don't matter, only their gymnastics does. Biles and Douglas are the last two women's all-around champions, and hardly an article is written that doesn't call Biles the greatest gymnast in the world. One of the gymnastics commentators, Tim Daggett, frequent calls her the best gymnast that ever was. Douglas and Raisman have two team gold medals, the medals from their event finals in London, Raisman has her silver from this Olympics, and both will be in individual event finals. Kocian and Hernandez will also have their shot at individual event medals, in addition to their team gold.
They are the best in the world at what they do and they represent the United States of America.
One can't help but wonder what Donald Trump thinks of these girls. Each of them comes from a group that he has had issues with in the past. Trump's campaign has retweeted posts from white-supremacist groups and on February 28, managed to side-step condemning David Duke, the leader of the KKK, three times. He's also encouraged violence against Black Lives Matter protesters and has been sued by the Justice department for discriminatory renting practices -- twice. His comments on Jews, while not the worst things he's said (and I can only say that because of how many truly horrible things he has managed to say), are still stereotypical and disparaging. Jewish reporters covering his campaign have been the subject of anti-Semetic attacks, attacks unique to this election and this campaign. Also in February, Trump managed to alienate many Catholics as he entered a scrimmage with the Pope himself, although he did try to walk those comments back, eventually.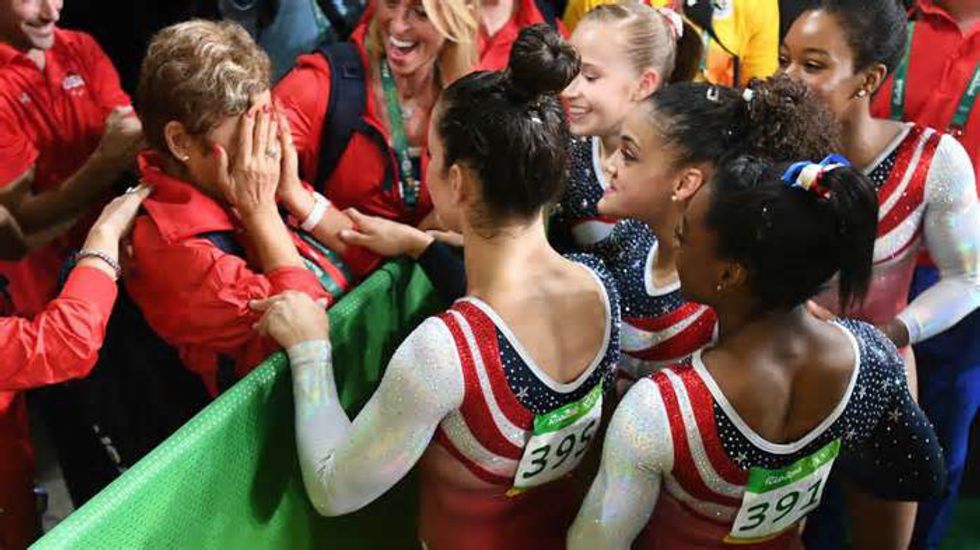 The Final Five -- their name chosen to honor their retiring immigrant coordinator-- are incredible gymnasts from a variety of backgrounds. The diversity in their backgrounds is the diversity of America. When we celebrate their accomplishments, we celebrate them for who they are and where they come from. We celebrate that they look like America, five people very different in many ways, but united as one and all the better because of it. Donald Trump seeks division, and seems to prefer his country as white as his rallies. It seems like we have a choice: support these girls and the united diversity they stand for, or support Donald Trump and the divisive singularity he does.
These girls are the face of America. We should be proud to support them and what they stand for, but we cannot support them and simultaneously support a candidate for president who is anathema to that. So stop and think for a moment as you applaud the American domination of women's gymnastics this year: do you truly support the Final Five?