Colin Kaepernick made history last football season and not because he looks exactly like Larry the Cucumber (Google it if you don't believe me). He made history because he refuses to stand for the national anthem. He explains this by saying, "I am not going to stand up to show pride in a flag for a country that oppresses black people and people of color. To me, this is bigger than football and it would be selfish on my part to look the other way. There are bodies in the street and people getting paid leave and getting away with murder."
He isn't wrong. The database Mapping Police Violence estimates that police have killed at least 189 black people in 2017. And most of the time those officers are not convicted. They are given paid leave while the drama dies down. They are not fired, they are not demoted, and they are sent back to their jobs.
People are infuriated by Kaepernick's protests, and they have been very vocal about it: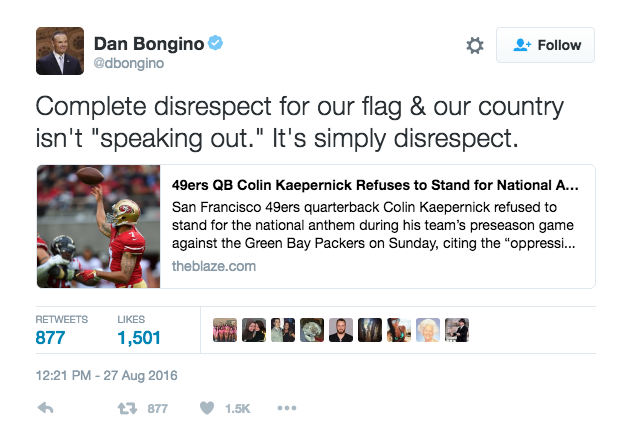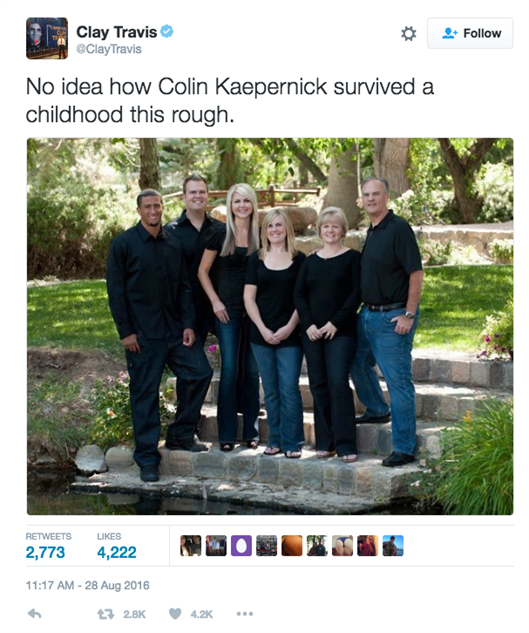 But here's the thing about Kaepernick and those who follow him: their childhood doesn't matter. Whether or not they have been the beneficiaries of white privilege doesn't matter. Hell, whether or not they voted for Donald Trump doesn't even matter.What matters is that they are using their position as highly paid athletes to try and make social change happen. That's what privilege SHOULD BE: using your privilege to help those who cannot say or do these things without being severely punished for it.There's more though -- people are claiming that by not standing for the anthem, he is insulting the people who fought and died for our country. I disagree.
Our troops didn't go to war to maintain the status quo of the world. They went to war and fought and died for our country to change the status quo. In Iraq and Afghanistan, our troops were primarily there to save women and children from the reign of the Taliban and al-Qaeda where they were being raped, killed and in some cases, enslaved.
We were using our position of privilege to help those who couldn't help themselves. Sound familiar?
By not standing for the anthem, you can still support the troops. You can support the idea that our troops have been fighting, dying and serving in an attempt to make the world a better place, where the United States as a nation is using their position to help those who can't.
That's what Kaepernick is doing. He is using his position as a millionaire football player to help those who are getting killed in the streets by police simply for being black. Why are we criticizing him for that?