I hate the Patriots. I always have and I always will. I hate everything about them (except you, Gronk). They are by far and large my least favorite team.
I hate them more than I hate Auburn AND Clemson.

1. Bill Belichick is a less cool version of Nick Saban.
Nick Saban is awesome. He's a wholesome fella. Can he be a horse's butt? Yeah but only when he's provoked. He even does the Cupid Shuffle and Wobbles. Bill on the other hand? He wears cut off shirts to press conferences and he's notoriously ALWAYS a horse's butt.
2. Tom Brady
The man is like 40 years old. He deflates his balls, lies about cheating and only gets suspended a few games. He has the stupid TB12 fitness program that is $200 worth of pseudoscience. He and the stupid dumb "tuck rule" that won the Patriots their first Super Bowl. He's lauded as the "goat" but chokes under pressure. If that wasn't enough he refused to shake Foles' hand after Super Bowl 52. Who even does that?
Oh, yeah, Tom Brady.
3. The refs bail them out all the time
The refs bail the Pats out like Obama bailed GM out. Yeah, that's right. I'm calling them out for their horrible calls that cost my beloved Jaguars the AFC Championship title and a trip to the Super Bowl — WHAT WOULD'VE BEEN THE JAGS' FIRST SUPER BOWL. I H8 U. SIX FOR 98 AND ONE FOR 10!!! Six penalties for 98 yards on the Jags. I'm guessing the refs had to call ONE penalty on the Patriots. You know what other game had the largest discrepancy in penalties? The 2011 AFC Championship between the Patriots and the Ravens. You wanna take a gander on who only had ONE penalty? The Patriots. A coincidence? I think not.
4. The obnoxious boat horn in Gillette Stadium
Excuse me, but I didn't realize the American Patriots were known for their outstanding naval abilities? The stupid boat horn doesn't even make good sense? I could be wrong (I've had a big glass of wine to calm my nerves after thinking too much about how much I hate the Patriots). Like what is the point of the horn? To make the Patriots even more obnoxious. I'm an Alabama fan and the Patriots are even too obnoxious for me. I'd deal with LSU fans any day before I had to deal with some Yankee Patriots fans. Gross. Take your boat horn and shove it where the sun doesn't shine-- up your big arrogant noses!
5. Jimmy Garoppolo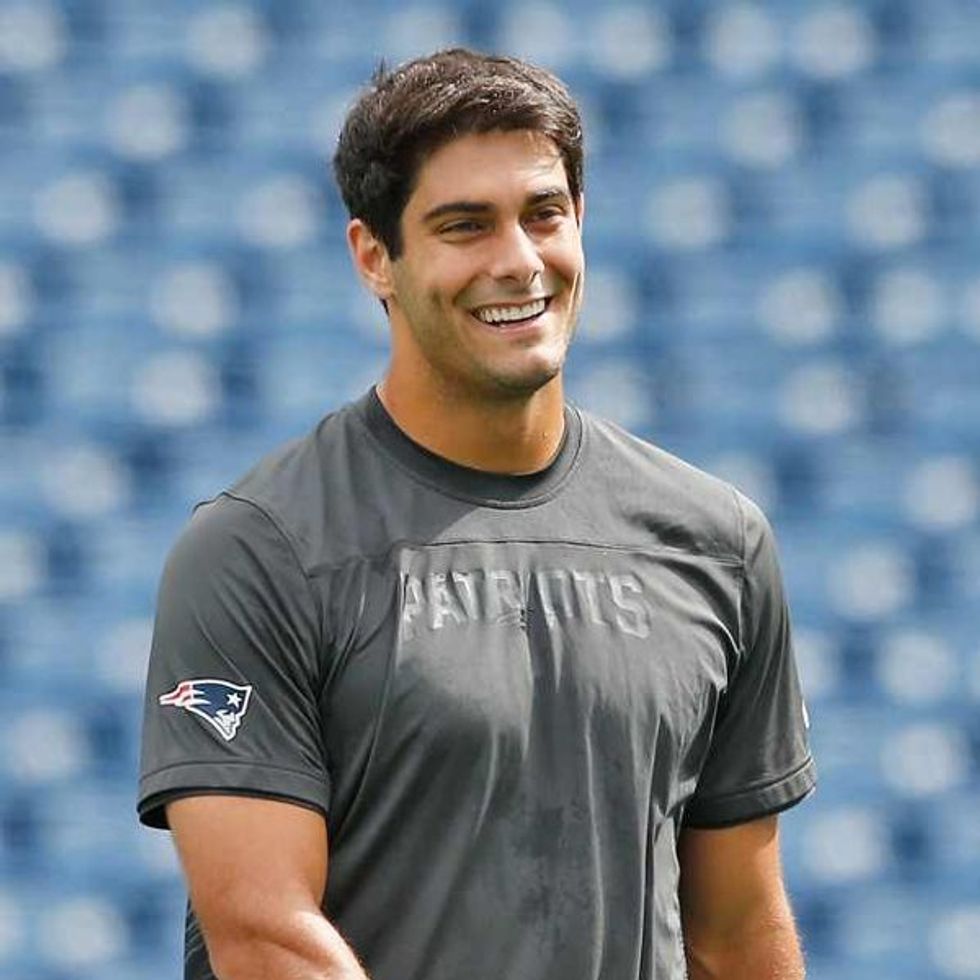 This man is a 10. I'm not one to just hand out 10s either because usually there's something not quite right. But this man, this sculpture of a man… The Lord himself sculpted him. Jimmy Garoppolo is a real-life Prince Eric. Yes, I know Jimmy G plays for the 49ers now. It just makes me mad the Patriots were privileged enough to have Jimmy Garoppolo grace the doors of that god awful place.
6. Pat Patriot is a creep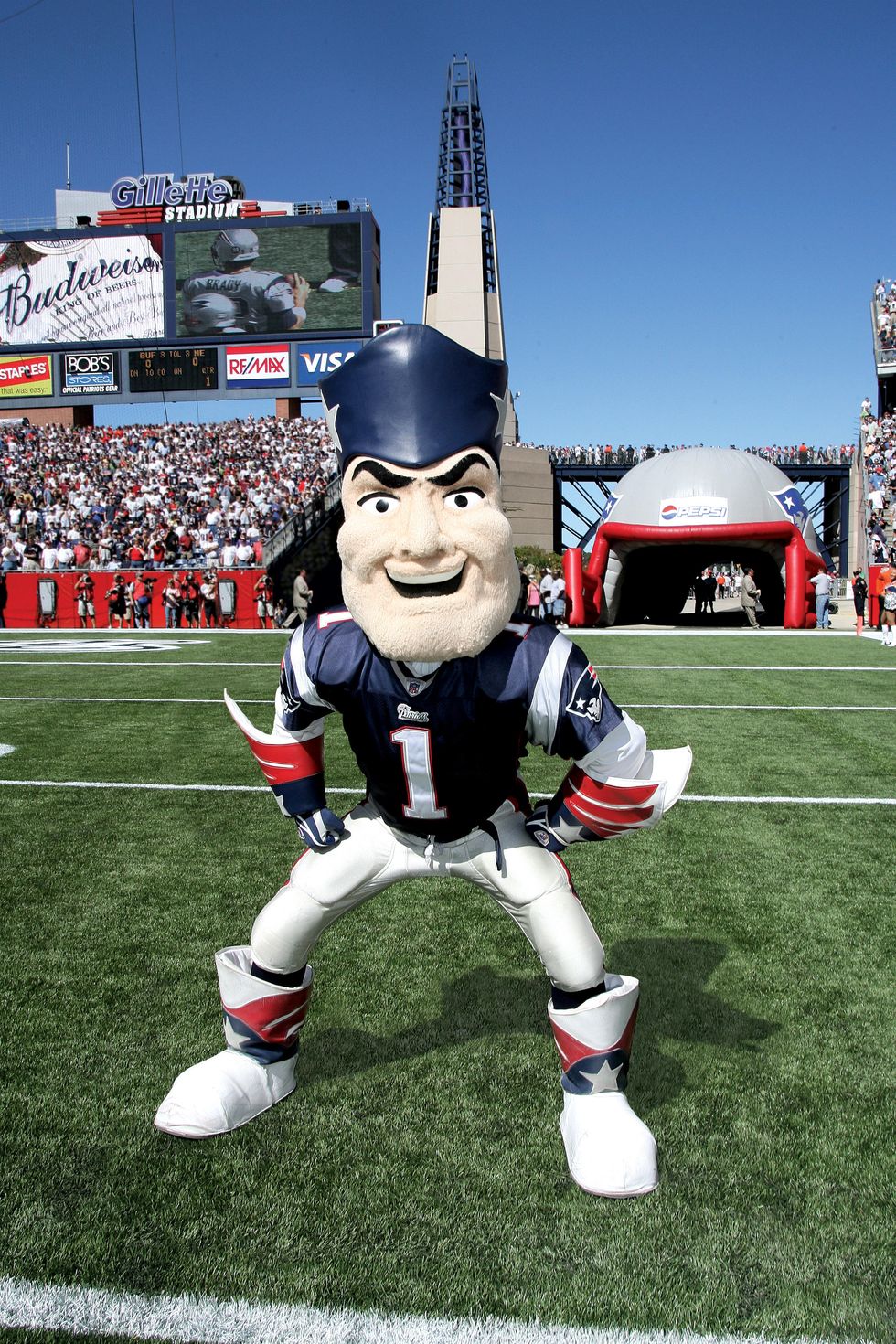 He looks like a cheater.I mean, just look at him with that pasty skin and those sinister eyes. He looks like the perfect mascot for a notoriously dishonest football team. His face looks like a Purge Mask.
* * *
Whatever legacy these jokers have is tarnished due to their inability to play fair. Who even wants to play with deflated balls? Apparently Tom Brady. Their fans will say we're all out to get them, but honestly, no one gets away with the stuff the Patriots do. Deflategate? Spygate? I mean, c'mon. Their dishonesty procedes them.
But hey, if you ain't cheatin', you ain't tryin'.
Call me salty, but at least I didn't lose the Super Bowl to a backup quarterback. Now y'all know what it's like to be so close to something, then have it ripped from you. But on the bright side, at least y'all were outplayed and not robbed.