If you really know me, you'll know that I absolutely love Panic! At The Disco. With their dynamic lyrics, explosive sound, and an image that practically boasts "Look out world, here I am!", you cannot go wrong with this band. I'm not kidding about their dynamic lyrics, by the way. They have a ton of them.

Everyone knows that song lyrics make the perfect Instagram captions, especially if you can't think of anything clever to write for it. So, if you find yourself in need of a new caption to complement your awesome new photo, read on to find the best Panic! At The Disco lyrics for any and every situation.
Note: these lyrics may serve best for quirky and artsy posts.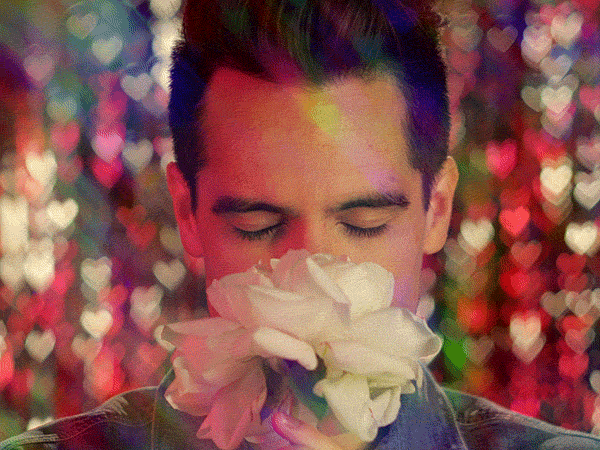 https://gph.is/2O9ZjT3
1. "I'm the new cancer, never looked better, you can't stand it."

2. "Haven't you heard that I'm the new cancer?"
3. "I've never looked better and you can't stand it."
4. "I've never been so surreptitious so of course you'll be distracted when I'm spiking the punch."
5. "I think I'm ready to leap, I'm ready to live, I'm ready to go!"
6. "If crazy equals genius, then I'm a f***ing arsonist."
7. "Come on, this is screaming 'photo op'."
8. "Give me envy, give me malice, give me your attention!"
9. "Darlin' don't be throwing shade now."
10. "Don't you see? I'm the narrator and this is just the prologue."

11. "Dancing's not a crime unless you do it without me."

12. "She's the smoke, she's dancing fancy pirouettes."
13. "Girls love girls and boys, and love is not a choice."
14. "'Cause I just wanna be, your boyfriend/girlfriend, oh yeah."
15. "Does she know my destiny lies with her?"
16. "I know it's mad, but if the world were ending would you kiss me or just leave me?"
17. "All our friends want us to fall in love."
18. "All was golden when the day met the night."
19. "I love the things you hate about yourself."
20. "The lace in her dress, tangles my neck, how do I live?"
21. "With the best of the best, put my heart on my chest, so that you can see it too." [honestly, all the lyrics to Death Of A Bachelor belong on this list.]
22. "I'm king of the clouds, I get lifted, I get lifted."

23. "So pour out some liquor, and make it old-fashioned."
24. "Well this calls for a toast so, pour the champagne."
25. "All my friends, we're glorious."
26. "I'm not as think as you drunk I am."
27. "This is my roaring, roaring 20s, I don't even know me."

28. "There's no sunshine, this impossible year."

29. "There's no good times, this impossible year."
30. "I don't trust anything, or anyone, under the sun."
31. "Northern downpour sends its love."
32. "Hey moon, please forget to fall down."
33. "I know the world's a broken bone, but melt your headaches, call it home."
34. "Haven't you people ever heard of closing the goddamn door?"

35. "Go on, grab your hat and fetch a camera."
36. "Go on, film the world before it happens."
37. "You're a sweet talker, but darlin' whatcha gonna say now?"
38. "Hey look, Ma, I made it!"
39. "It's just cherries, cherries, everything is cherries on top."
40. "Everything's coming up aces."
41. "It's like we fell to the top."
42. "Mama, can I get another amen?"
43. "Tonight, we are victorious."