As I am sure you have already heard, President Trump recently announced that he would be decreasing the size of the national monuments, Bears Ears and Escalante. The most immediate and publicized response to this came from the company, Patagonia. Last Tuesday, they replaced their homepage with the following message: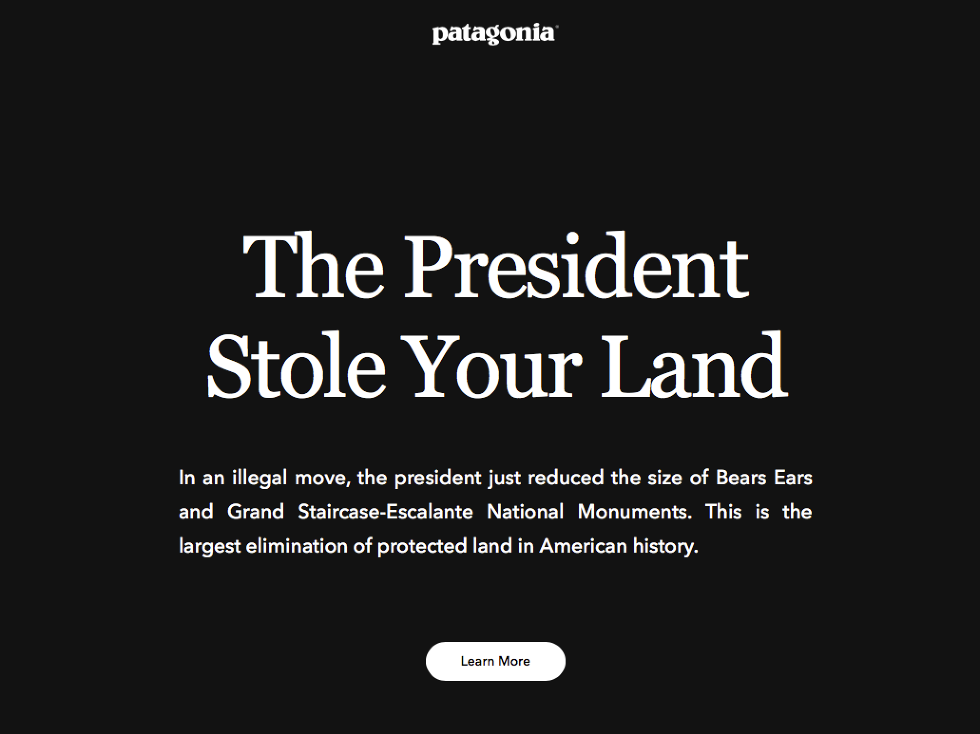 This was the first I saw of the President's decision on the two monuments. Being a person who likes to know as much as possible before jumping on any bandwagons, I decided to do some research.
Low and behold I could find almost no actual facts on the issue. Every result from my Google searches were filled with opinions on the issue, but no actual data. I even caught a segment on NPR about the issue and was shocked that by the end of it I still had no idea which, if any, laws were being broken and what was actually being taken away. I read piece after piece of news media on the subject and once again found only "How dare Trump do this!" and "How dare anyone question the President's decision!" Both of which told me absolutely nothing.
So, I am going to present to you the quick facts of this issue in a non-partisan manor so that we may all have the actual data involved without having to go to 18+ different sites like I did. From there, you are welcome to draw your own opinions.
Fact: Bears Ears was designated as a national monument in December of 2016 by President Barack Obama, and the Grand Staircase-Escalante was designated in 1996 by President Bill Clinton. Both of these monuments are located in Utah.
Fact: The Antiquities Act of 1906 (also known as section 320301 of title 54 in the U.S. code) states that the President may name/declare by public proclamation national monuments, section B of this act also states that the parcels of land shall be confined to the smallest area compatible with the proper care and management of the objects to be protected.
There is also a C and D of this act that you can view using this link, however it is section A and B that are of primary concern to this issue.
Fact: Through President Trump's latest amendment to the size of the two land marks, Bears Ears will be reduced from 1.35 million acres to 201,876 acres and Escalante will be reduced from 1.9 million acres to 1,003,863 acres.
Fact: President Trump's amendment to the each of the original Proclamations proclaims the amendment has been made due to the fact that the President has decided that the originally set boundaries were not the smallest area compatible with the proper care and management of the objects to be protected. In each proclamation the President states which objects he claims are either not historically relevant enough to be considered a national monument, or are protected under other laws and have therefore been deemed by the President unnecessary to be included in the National Monument.
You can read both of these Proclamations, which are surprisingly readable and short for government documents, using the following links:
Bears Ears Proclamation Escalante Proclamation
Fact: Five major lawsuits are currently being filed against the President in response to these Proclamations. The arguments against the proclamations are as follows:
In response to the Bears Ears Proclamation:
1. Hopi Tribe et al v. Trump et al: Under the Antiquities Act of 1906, the president does not have the legal authority to revoke or modify a monument — only to designate one. Additionally, the tribes say the 1.35 million acres set aside by President Barack Obama holds spiritual significance and contains cultural artifacts that deserve protection at the threat of looting, grave-robbing, vandalism and development.
2. Utah Dine Bikeyah et al v. Trump et al: Reducing the 1.35 million-acre monument would threaten hundreds of historical rock art panels, artifacts, pueblos and kivas. For its part, Patagonia insists the cuts would hurt the company financially by taking away recreation areas that provide "some of the best rock climbing in North America" used by its customers. Development in the area, adds Friends of Cedar Mesa, would mean "direct and immediate harm" to the paleontological hot spots within the monument's boundaries, and oil and gas drilling would "result in the destruction and degradation" of the ecosystem.
3. Natural Resources Defense Council Inc. et al v. Donald J. Trump et al: Trimming the monument would threaten "irreplaceable" archaeological artifacts and damage paleontology sites.
In response to the Escalante Proclamation:
4. The Wilderness Society et al v. Donald J. Trump et al: The lawsuit alleges Trump is stripping protection for land that would leave "remarkable fossil, cultural, scenic and geological treasures exposed to immediate and ongoing harm." That includes the Kaiparowits Plateau, which holds abundant coal deposits and is a paleontological treasure trove
5. Grand Staircase Escalante Partners et al v. Trump et al: Removing protection from nearly 900,000 acres in the monument would threaten "sensitive resources located there," including plant and bee species, archaeological artifacts and geological formations. The president's actions were illegal.
For more details on each of these lawsuits, visit 5 Lawsuits Against President Trump's Proclamations
Fact: President Trump's size reduction of the two national monuments is the largest elimination of protected land in American History.

Fact: A President has never reduced or amended the size of a National Monument, as the Antiquity Act of 1906 allows for Presidents to create a National Monument, but does not state that they are allowed to modify or remove a National Monument after it has been instated. (This interpretation of the law will obviously be up for debate in the upcoming court cases.)

There you have it, the hard facts of the "Did the President Steal Your Land?" debate. I hope this was helpful and will lead to a knowledgable debate as to whether these Proclamations were good/bad, legal/illegal.