The cactus means so much to me because it reminds me of him.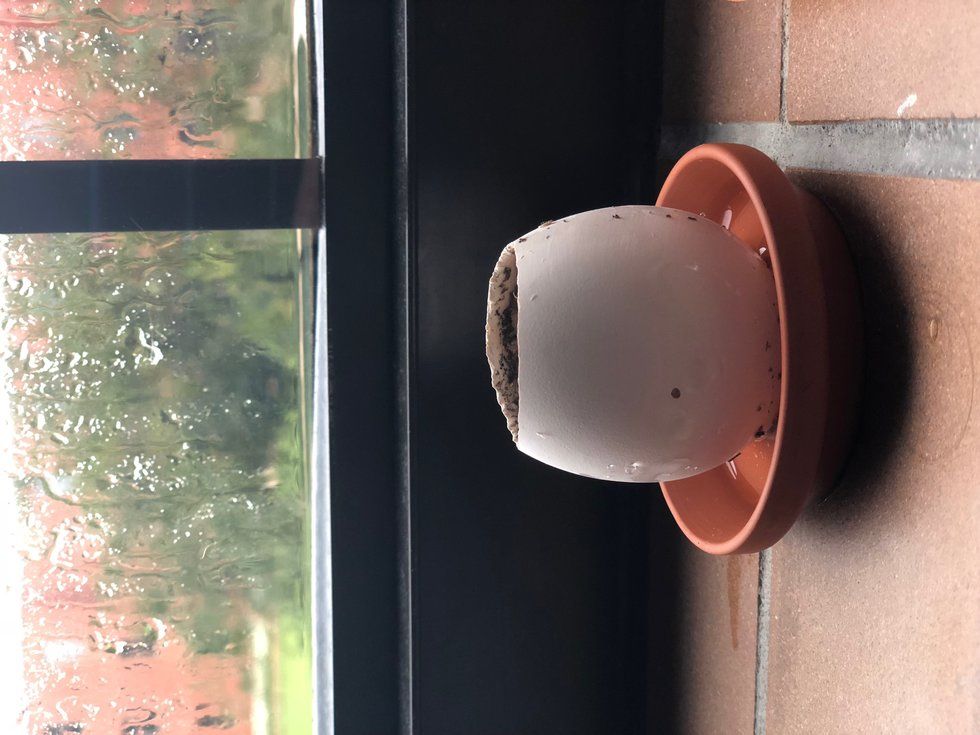 To celebrate his life, I planted a cactus to create a new one 10.15.18Nicole Ma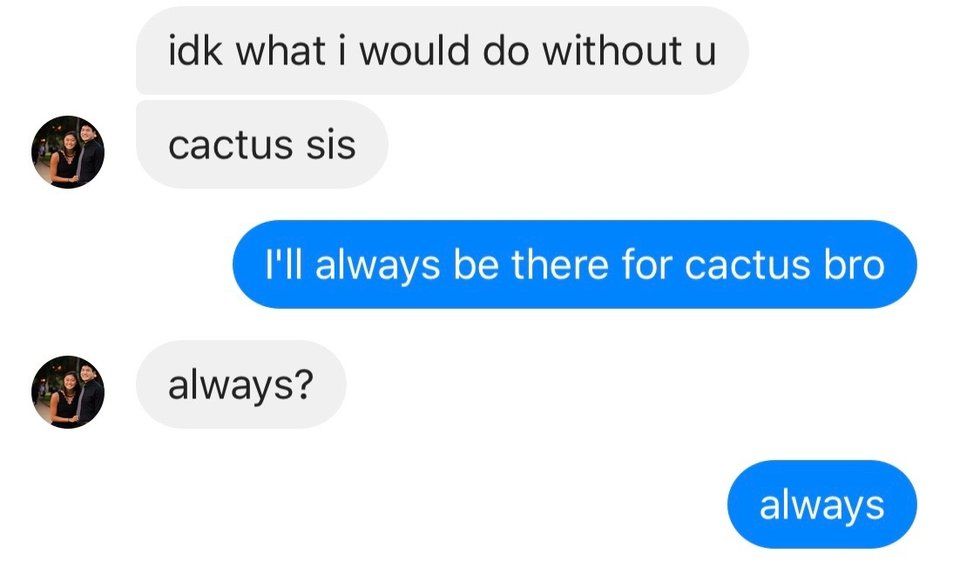 Nicole Ma
Brian was older than me by one year. He went to Clements High School whereas I had gone to Austin High School, so we never saw one another as often after he quit club swimming and continued with track and high school swimming instead. Nevertheless, the distance never hindered our friendship. When I had a difficult time with school work, he would stay up past midnight to help me with my chemistry or biology homework. He always offered a listening ear and the best advice. There has never been a moment where I had seen him sad or angry, he always had a smile on his face. I had been looking forward to his awkward smile after being deprived of it for so long at one of our district meets, Fort Bend Classic.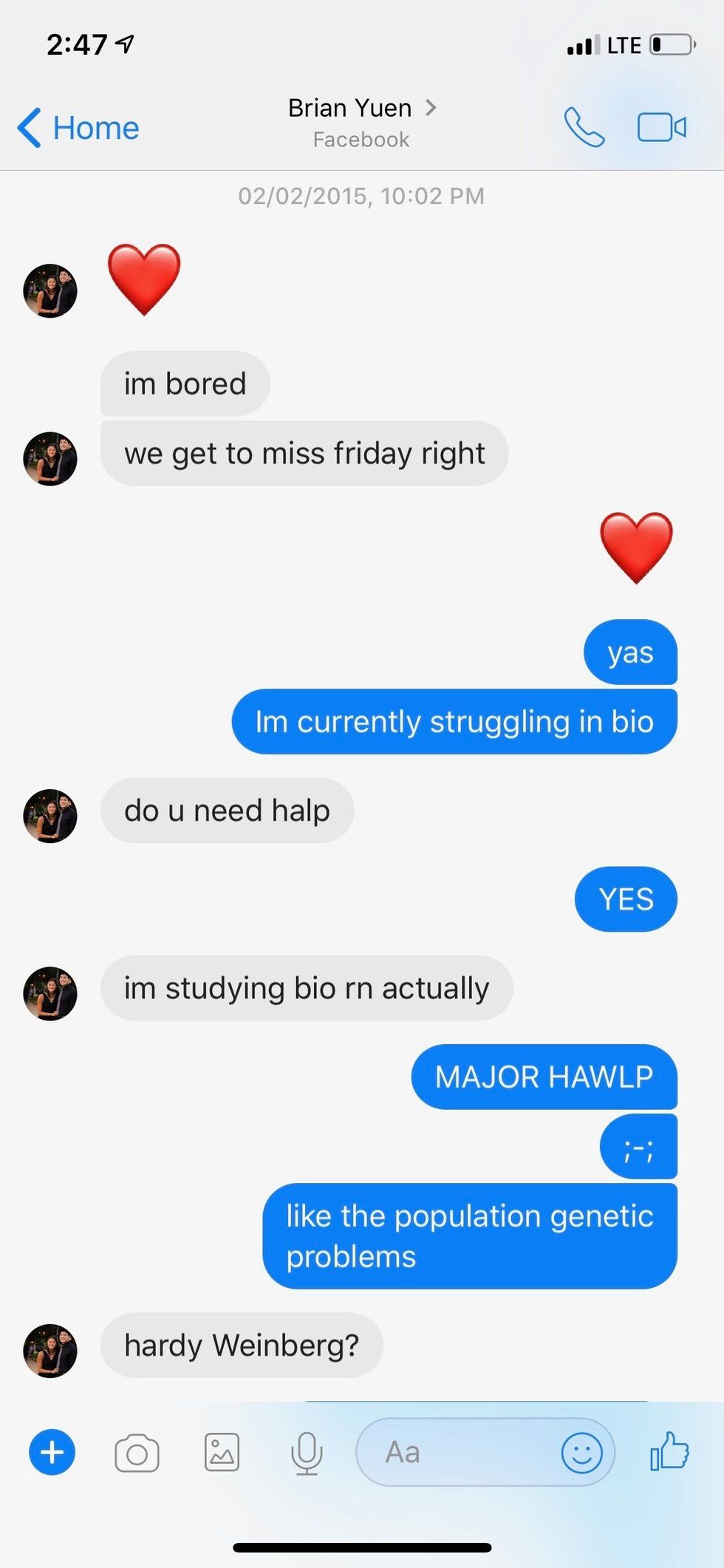 Nicole Ma
During one of the most difficult times I had through swimming, was one of the most rewarding times because I met one of my best friends, Brian Yuen, who never stopped challenging and encouraging me to become the best athlete and person I could be. I remember I used to think he was so intimidating when I had advanced into the same group on First Colony Swim Team as him. But he was so kind. Looking back on that time, it's hard to think that I would think of him as intimidating because of how dorky and compassionate he was. When other people had grabbed partners for underwater racing, we would always be paired with one another and race to the very end together. That's how we became so close to begin with. He'll always be my underwater buddy. I admired him so much for being able to conquer his anxiety with swimming butterfly by continuously racing fly at every meet until he had nothing to fear anymore. He inspired me daily to work hard and keep such a positive and carefree attitude, as I said before, even if we were in different schools and when we were apart. On October 15th, 2016 I watched as he took his last breath before his heart stopped on the deck of our high school swim meet.
I had been so excited to see Brian as they date for our district meet approached. I would always get a Facebook messenger text from him asking me if I was going to be at some kind of event that involved his school. Normally, it would follow up with his disappointment and a sad prickly cactus sticker he sends when I was unable to attend. Or, I would always follow up with the angry cactus sticker, jokingly complaining about how he never wants to see me. The moment he came out of the pool after his team warm-up session, I immediately jumped off the bleachers to meet with him. I gave him the classic slap on the back and told him I was looking forward to catching up with him. Right before I had hopped in the pool for my warm-up session, he came by and slapped me on my back as payback. I commented on how weak he was and how I really missed having my "hobo cactus brother" around. We had always joked about our legs being hairy as swimmers and it was all derived from the first time we met. We stood there talking for a while and I remember promising one another to cheer the loudest for each other in all of our races. "Good luck Nicole, I'll see you later," he said. But later that day, I watched as he struggled to breathe on the side of the pool deck, being pulled away by paramedics.
Multiple people had promised me that he would be okay, and I trusted that. But the moment my friend ran out of the coaches office crying, my entire world shattered. My body felt numb as I was dragged to another room. Brian had passed away. I struggled daily with our last moments being played in my head over and over again. It was rough getting through school and even more rough trying to swim and do the things I loved, knowing that I would not be able to see him again. I knew that he would want me to continue to do my best every day. We honored him by helping his family and raised money with shirts my friend Christy and I designed in memory of him and celebrated his life with a vigil held outside of Don Cook Natatorium.
Part of me saw this as a sign from God. He gave me an opportunity to share one last moment with him before He called him back home. It was a reminder that you really can't take anyone or granted. I saw him bring people together even if he wasn't here anymore. I told my swim coach that I would swim fly at every meet, despite my anxiety. The following week, I swam the 200 IM. I immediately bawled the moment I hit the wall. I knew he would be proud of me, and I'm going to continue to make him proud. I continuously journal and reach out to those people closest to him. To this day, I live on knowing that he would always be flying in my heart.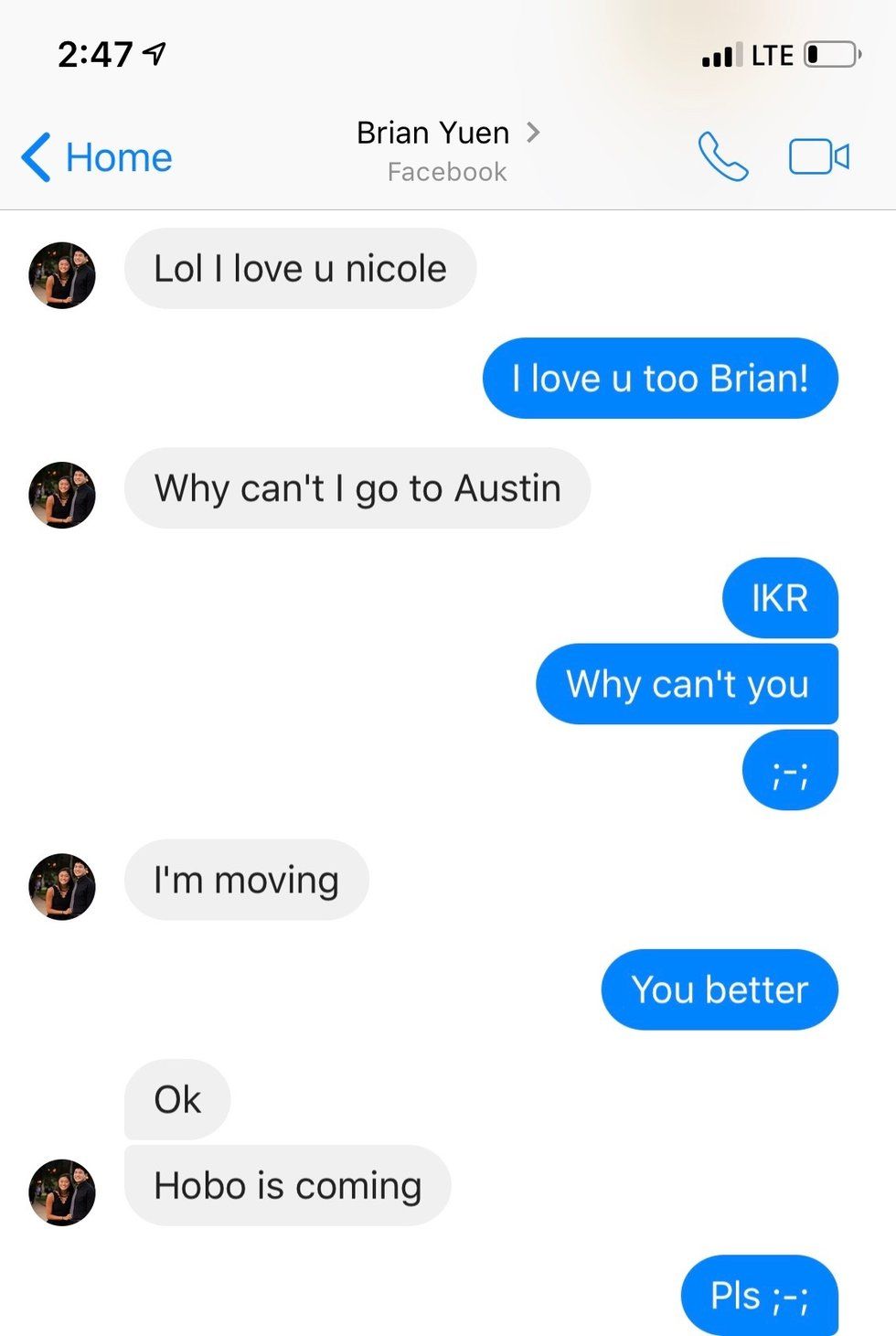 My Hobo Cactus BrotherNicole Ma