Last month, I started this thing where I run 20 minutes right after waking up in the morning.
I know, 20 minutes doesn't seem impressive. On my first day before I started, I thought to myself, "20 minutes...that's less than basically any episode of anything you can find on Netflix. That's going to be a cakewalk!"
Then I actually started the daily runs and I was in for a rude awakening.
Here are some of the thoughts that I've had while putting my body through 20 minutes of my own personal hell.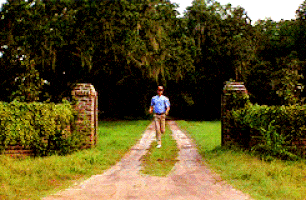 This is going to be a great run, i'm going to beat my personal record and reward myself with a smoothie!
I can totally run five miles today
Jeez, the sun is ruthless today.
Five minutes in and I'm feeling great!
I could be the next Usain Bolt at this rate.
Oh, look, a dog!
I wonder if the owner will let me pet it...
He probably doesn't want me to drip sweat on the puppy
OK, just run past the dog. Do. Not. Stop.
OK, the dog is behind me, I will make him proud by not stopping
I wonder if I would enjoy running more if I took my dog with me.
Who am I kidding? I wouldn't enjoy it more.
How long have I been running for?
I'm probably, like, halfway done now!
Or not… a little less than half way, that's still good.
How am I already sweating? It hasn't even been five minutes.
Wow, my body hates me right now.
Crap! I have a cramp in my rib.
I wonder if this is what it feels like to be stabbed?
OK, good, the cramp is gone.
Halfway through and I haven't died yet.
Why are there so many hills?!
It's like no matter where I go, I'm running uphill.
Oh! I love this song. *starts singing out loud*
Nope, I can't sing and try to breathe at the same time.
Why does my right earbud keep falling out?
Is my right ear shaped funny?
What if someone is following me and I can't hear them because I have my music on?
I'm pretty sweaty, so I'd probably slip out of their hands.
Oh, there's someone playing "Pokemon Go" ahead of me.
What if he doesn't hear me coming?
OK, maybe I should breathe louder so I don't startle him.
Wait, that would be creepy.
OK, maybe just stomp a little harder when my feet hit the ground.
That's not working, he has no idea that I'm coming.
He's going to think I'm trying to attack him
Or that I'm being chased.
Oh, wow, he didn't even seem phased that a panting sweaty person sped past him.
What can I eat after this?
Probably a salad to pair with this healthy run.
… or a cheese burger with an extra large fry and a chocolate shake.
I probably burned enough calories for that.
OK, I know I didn't.
Fine. I'll have a salad.
Oh, look, another runner!
Wow. She looks really good when she runs.
Do I look like that when I run?
What if I look like a baby horse trying to walk for the first time?
*Looks at reflection in someone's car* Oh, yeah, definitely a baby horse.
Maybe if I stand up super straight i'll look better.
*Looks at reflection in another car* Now I look like an uncoordinated baby giraffe.
This is super uncomfortable.
My feet hurt.
I hate this song. Next.
Oh, look, another person.
She's power walking.
Look at me, I'm running!
Zoom! I'm so fast.
I would totally beat her in a race.
What if I went to the Rio to race the Olympians?
I would probably win.
Here comes another runner!
Oh. crap, he's fast.
Shoot, he's gonna speed right past me and make me feel bad.
And there he goes. I guess I wouldn't bring home a gold medal.
It's just because he has crazy long legs.
I can't help that I'm a small person with tiny limbs.
What if I had super long legs like that?
I'd run so fast.
How long has it been?
Only a mile and a half left?
I am killing this run!
Or this run is killing me
I'm pretty sure both my lungs are collapsing.
My hamstring could snap at any second.
My feet still hurt.
OK, yeah, this run is killing me
Why do people even run?
Why do I allow myself to go through this torture?
Oh, right, for bikini season next year.
Is it even worth it?
I could just never go to the beach again.
Ha! Who am I kidding?
My head is dripping sweat
Oh, sweat bead, please don't go in my eye.
I've been running forever.
*Checks phone* Five more minutes!
That's just two 2-minute and 30 second intervals
Just keep running! Just keep running! Just keep running-running-running. What do we do? We run!
I'll cross the street here.
Or not! Hello? Pedestrian crossing, thank you very much.
No, wait. Hit me! Pay for my college tuition!
Last two minutes!
I can sprint the rest of the way!
*Starts to sprint* Nevermind, I don't want to puke.
I can see my house!
Thirty seconds, you can do this!
*Timer hits zero* Done!
OK, let me just sit on the side of the street while my organs fail.
Wow, I can't breathe or feel my legs.
That was awesome, can't wait to do it again tomorrow!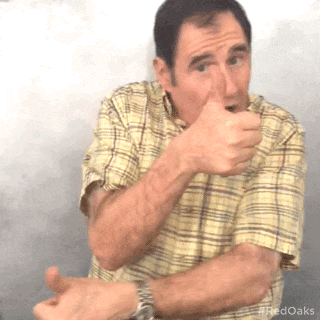 While I have realized that, while the act of running isn't my favorite part of the day, the endorphin rush you get after is worth every step!