Ever since I was a kid still struggling through my larval stages of elementary school and learning unimportant things like how to read and what not to stick up my nose, I've been infatuated with the world of lucha libre. This niche culture is a proud and celebrated tradition in Mexico; known worldwide as the sport that famously cemented the luchador mask into pop culture. And frankly, even now that I'm grown (and actually know how to read), it's still one of the coolest things ever to me.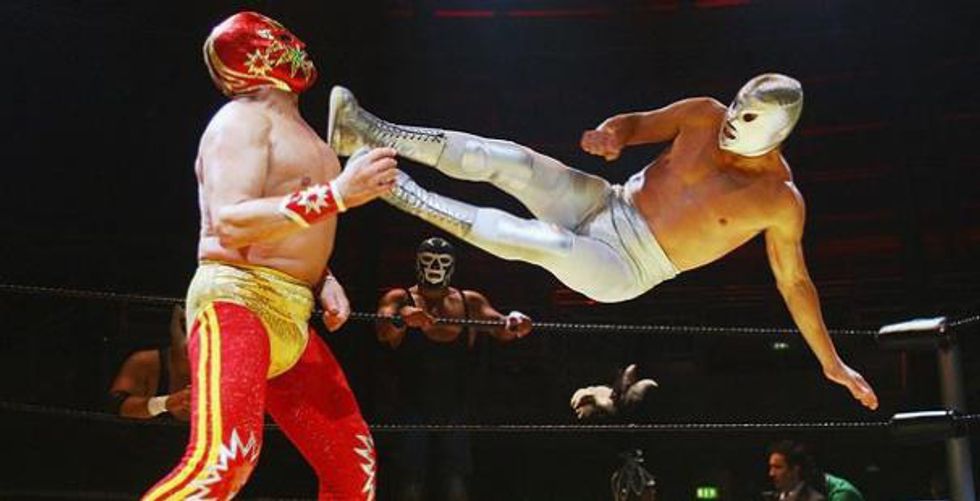 Most of you who clicked on this article are probably already aware of what I'm talking about, but for the uninitiated, lucha libre (which literally translates to "free fight") is a specific form of professional wrestling that originated in Mexico with none of the restrictions of traditional Greco-Roman style wrestling (i.e., the nasty dropkick pictured above). You won't be seeing this stuff at the Rio Olympic Games, no sir. What makes this form of wrestling so iconic is its strong integration with Mexican folklore and the idolization of these men and women, called luchadoras, who don colorful masks that allow the wearers to take on entirely different personas—not unlike a superhero. In fact, many of these masked wrestlers are considered to be of high stature and often praised like gods. So yeah, kind of awesome.

If you are aware of this sport or its bombastic associated imagery, there's a good chance you became so back in 2006 when the Jared Hess film "Nacho Libre" came out. Naturally, I was screaming my head off when I saw this movie for the first time. It was the most heartfelt, hilarious and joyously put-together film I could have ever dreamed of at the time, and to this day is still a movie I put on whenever I just need a pick-me-up. Regardless of whether you were a fan of it or not (I can hear the Jack Black haters already sharpening their pitch forks), it fueled my burning love for this insane world of masked, muscly men and good-versus-evil combat, resolved only with high-flying strikes and incredible athleticism.

It's hard for me to really put to words what it is that draws me to this culture and the colorful cast of characters that inhabit it; it isn't all that different from traditional American wrestling in terms of its good guy (tecnicos) versus bad guy (rudos) mythos and the different personalities that exist within. However, something about lucha libre just shouts above every other combative sport I've been exposed to—it's almost like watching a performance from another that has just enough eccentricities and unique facets to it to differentiate. It's these little eccentricities that give me a rush anytime I happen to see it on somewhere.
Maybe it was the idea that I could almost be like a real superhero someday—don a mask and become something more powerful than myself. I could become an image, something that inspires individuals (like myself) who look up to the same thing I did when I too was young, impressionable and brimming with hope. Plus, I could break chairs over people's heads. That's a sweet gig in itself.
Since my first lucha libre fantasies, I've grown up and pursued other dreams of mine that were far more realistic but still leave me with a sense of satisfaction about what I do. Though in a way, I still did don the mask, with the suspension of my belief in the work that I produce as an artist. It's not the real thing, but I still get just as giddy and feel libre at the thought.
I hope you fine folks have taken away an appreciation for the world of masked wrestling after reading this, or at the very least, taken away learning something new. Or, maybe you think I'm crazy, and that's fine. Just don't be surprised if I barge into your house at night wearing a mask and suplex you into submission.