I have never looked at myself in the mirror and thought that I am beautiful. I have never seen myself in a reflection and thought that I was a prized possession. I cope with jokes about self-hate and acting like I don't care, but the truth is, self-love has never been easy for me. I know I'm not alone when I say this. I know there are millions of other people who don't see their own worth, and that blindness we direct toward ourselves can be detrimental to our health and our futures. When the phrase "I love myself" becomes foreign to you, know that you are not alone.
We live in a world where body image isn't always presented in a positive way. Both females and males are pressured to look a certain way, depending on what is portrayed in magazines, in Hollywood, on television, in movies, and in everyday life. Lacking confidence when it comes to your personal image can begin at a very young age. All it takes is someone more attractive than you to waltz down the school hallway, and that one thought that speaks, "I wish I could be like them."
I recognized my lack in confidence early in the middle school years when I was never the one that boys were flocking to. So many girls had boyfriends and first kisses already, and I was the weird girl that was too loud for her own good and had literally no sense of fashion. Any guy I ever had a crush on always had a crush on my best friend, whoever it was at that time. I wasn't even a second or third choice, it was like I wasn't even considerable enough to be a choice. I still feel that way sometimes.
It's when we recognize these flaws or mistakes, as some consider them to be, and we let them control us, that we enter the danger zone. We see there is a problem that we cannot fix and do not know where to turn. Some of us resort to self-harm, some of us resort to self-medicating and some of us resort to something much worse. The narrative surrounding self-worth becomes the only topic we're ever thinking about. We begin comparing ourselves to just about anyone we can. We beat ourselves down and tell ourselves there's no point.
Insecurities aren't easy to discuss. You're basically telling someone, "Hey, I don't like this about myself, and I think that damages my self-worth." It's embarrassing. Especially because that person will either tell you that you're wrong, you're crazy or they'll take pity on you. Allowing your insecurities to control your self-worth opens the door for other people to start preying on your insecurities and your vulnerability. The bullies get what they want and you're left feeling empty inside because you aren't what you consider perfect.
Sometimes support isn't easy to come by. Your family looks down on you, your friends aren't equipped to handle that level of self-hate yet and you certainly don't know how to ask for outside help. How can you continue to go on living when you don't feel comfortable in your own skin? How can you go on living if you feel like a stranger inside your own body?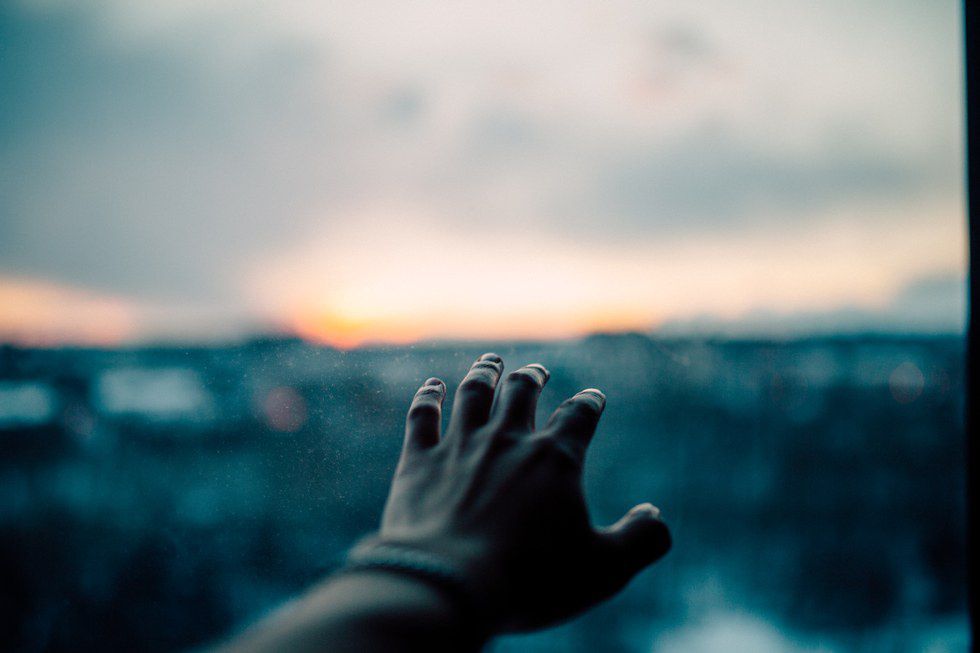 You reach out and take a hand. Any hand that you can reach and grasp, you take and you take it hard. It's not easy, it never will be easy, until you figure out a way to speak for yourself. Do not let your insecurities win. Fight for yourself, fight for the self you aspire to be. You deserve to love yourself. You deserve to accept yourself. You deserve to be someone you're proud of.
When you own up to your insecurities, the first thing anyone ever says is, "Well why don't you just change yourself then?" While it may be easy for some people to make a change about who they are and escape their insecurities, this is not the case for everyone. It can be difficult to untangle yourself from the roots your demons have instilled in you. That's when you need to fight as hard as you can to get what you want.
I've always had an issue with my weight. I've tried exercising, I've tried body positivity, I've tried to stop caring. Someone told me to 'fake it 'til you make it' and that didn't really work either. I got to a point where I was tired of hating myself. I didn't have the capacity to hate myself anymore. I didn't have the time to dwell on self-pity. So I stopped. It wasn't easy and I still don't love myself, but I don't hate myself anymore. Maybe this is what acceptance is like?
I recently saw a video from The Scene, a news platform that reports on fashion, food, culture, and comedy across the world, that inspired me to write this article. Two best friends write down their insecurities about their bodies, then say them to one another and direct them to one another. The video not only made me tear up, but also made me want to immediately share it with my friends whom I know also struggle with insecurities.
When you are saying all those terrible things about yourself, all those hateful things your insecurities drive you to project onto yourself, imagine you are saying it a best friend. Alternatively, I once saw a campaign that asked you to imagine you were telling your younger self all the things you hate about yourself.
I think ultimately the best way to tackle a positive personal image is to treat yourself like you would someone else. Be a best friend to yourself. Be a positive role model for yourself. All in all, take it day by day. Embrace yourself whenever possible. Celebrate the way your body looks, even when it changes. Erase the word 'perfect' from your vocabulary. Become someone you'll be proud of, and become that person for yourself, not for anyone else. Love parts of yourself, even if you can't enjoy the whole thing. Take it step by step.
Maybe today we don't like ourselves, and maybe tomorrow we won't like ourselves either. When we do finally get to the day where we can drop that L word to the mirror, it'll be a mountain climbed and conquered. We'll know it was well-worth the trek.
We'll get to that comfortable place someday, and we'll get there together, as long as you continue to reach out and grab that hand. Fight for yourself and your future. When the phrase "I love myself" becomes foreign to you, know that it won't be like that forever. It may take time, it may take space and self-love, but there will come a day when you'll feel comfortable in your own skin.
When the phrase "I love myself" becomes foreign to you, remember that it will become familiar again. Remember that you deserve the right to love yourself. Remember there are always people willing to support and love you, every step of the journey.