Something that I've been coming to grips with lately is that I'm out of shape. I'm actually a pretty skinny guy, but in terms of fitness, I'm by no means near the peak of my physical condition. The lack of working a job that requires physical labor and sitting in front of a desk for my career-oriented activities has robbed me of the physique I once had right out of high-school. I ran marathons quite frequently, and was never short on endurance back then. However, my professional practices have kept me glued to the chair for the past several years, and I've been noticing a decrease in my ability to push my body to its limitations. It's been a slow decline, but one that I'm starting to take seriously. About a month ago, I decided to try something new and see if I could break the cycle. The funny thing about this whole ordeal, however, was that my inspiration for getting out the door and trying to push myself was brought on by a satirical action anime.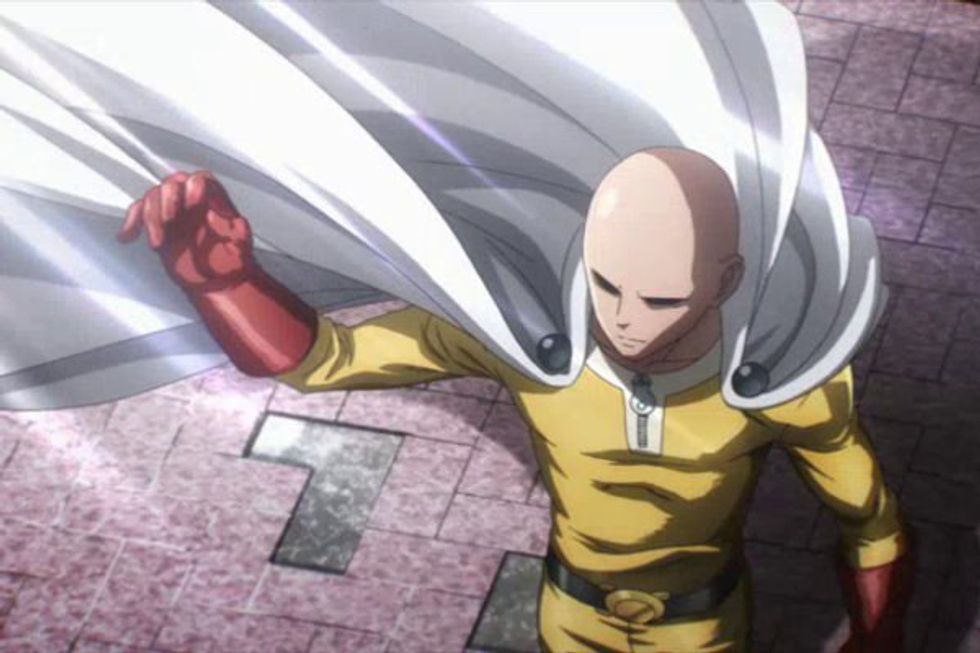 Enter the world of "One Punch Man," an animated series inspired by the webcomic/manga of the same name and written by the author known by the pen-name "ONE." The story of OPM focuses on a man named Saitama, an average Joe who manages to defeat a powerful monster and realizes his life has been a meaningless drag until said confrontation. After this, he devotes his life to becoming a hero, and after only three years, ends up becoming the strongest being in existence. They call him One Punch Man for a reason, because he literally defeats any opponent he faces with a single strike. It's nuts.

Skip over the first few episodes of the show and Saitama finds himself confronted with a genetically mutated being who has immense destructive power. After he flexes his strength before the fight, the mutant creature asks Saitama how he managed to become so powerful without the use of mutation or mechanical enhancements. After a great deal of anticipation, Saitama reveals the secret to his power: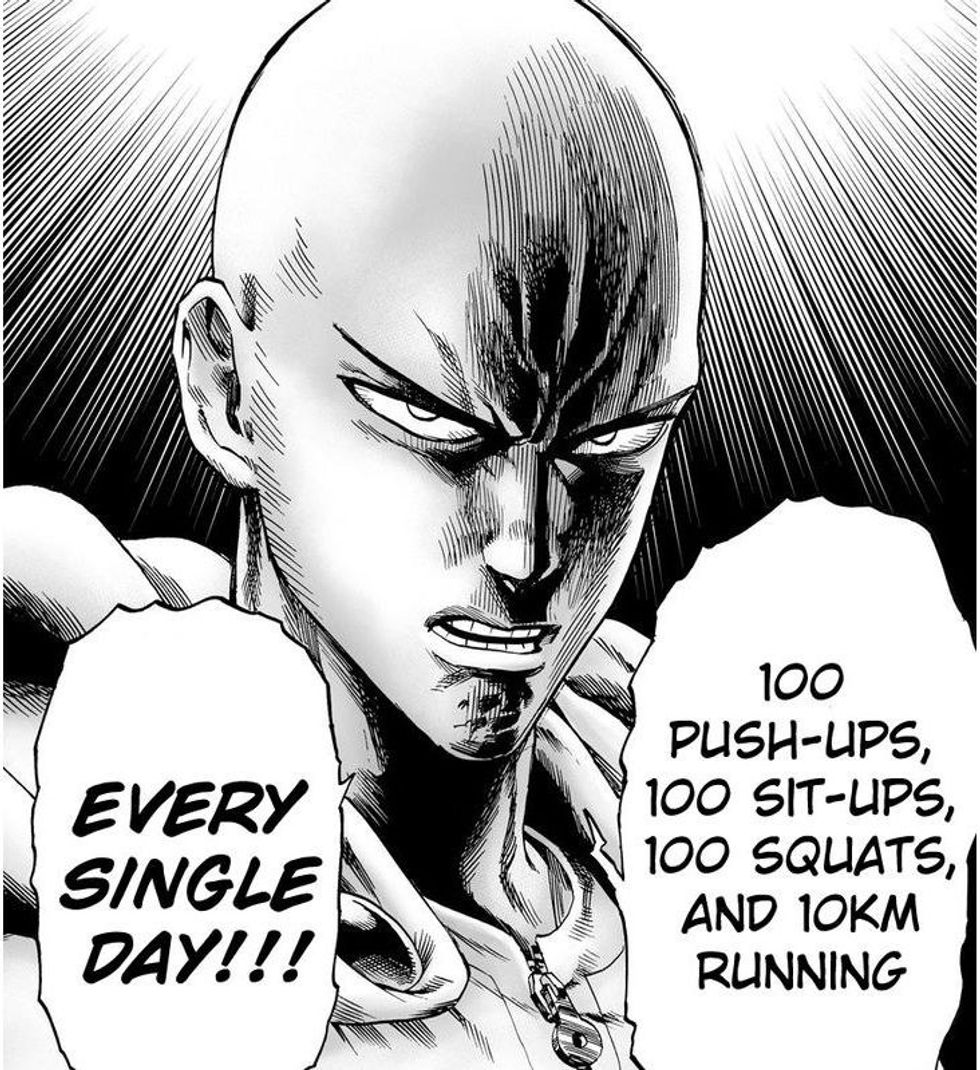 100 push-ups, 100 sit-ups, 100 squats, and a 10 kilometer run. Every single day.

Considering that Saitama has the power to literally punch meteors into pieces (that was a wild episode), it's kind of laughable that a basic training regimen like this is how he obtained so much strength. One Punch Man is meant to be a slap in the face to the action anime genre as a whole, but there was still something so appealing to me about this concept that I couldn't help but wonder. This character who started out as a dissatisfied run-of-the-mill loser started working out and essentially became a god of near-infinite power. I'd be an idiot not to at least give it a shot...Right?

So the following morning I leaped out of bed, laced my running shoes up for the first time in what felt like decades, and stormed out the door. I was ready. I felt strong, determined, and anxious to start making a change in my life and become a healthier, more fit individual.
Well, I felt that way for the first kilometer or so, anyway. Then I pretty much felt like death. I knew this was going to be no easy feat, but I guess I overestimated my own abilities, because I ended up spewing my breakfast on the side of the road at around the four kilometer mark. That certainly put a nail in my pride. At 6.5 km I knew I was spent and reluctantly walked back home, unhappy with my inability to go all the way. I picked myself back up though as I knew the day wasn't over, and I had a large number of stationary exercises still left to perform.
Breaking the exercises up into sets of 20 throughout the day, I reached a grand total of 80 sit-ups, 80 squats, and 62 push-ups. My arms started to crack when I went down to the floor to start that fourth set, and I just couldn't stabilize myself long enough to lower myself to the floor. This workout was rough. Regardless of not being able to complete the run or all the reps (my arms and legs couldn't take anymore without me toppling over), I felt good about the progress I was able to make on my first day, and went to bed smiling, eager to try again when the sun came back up.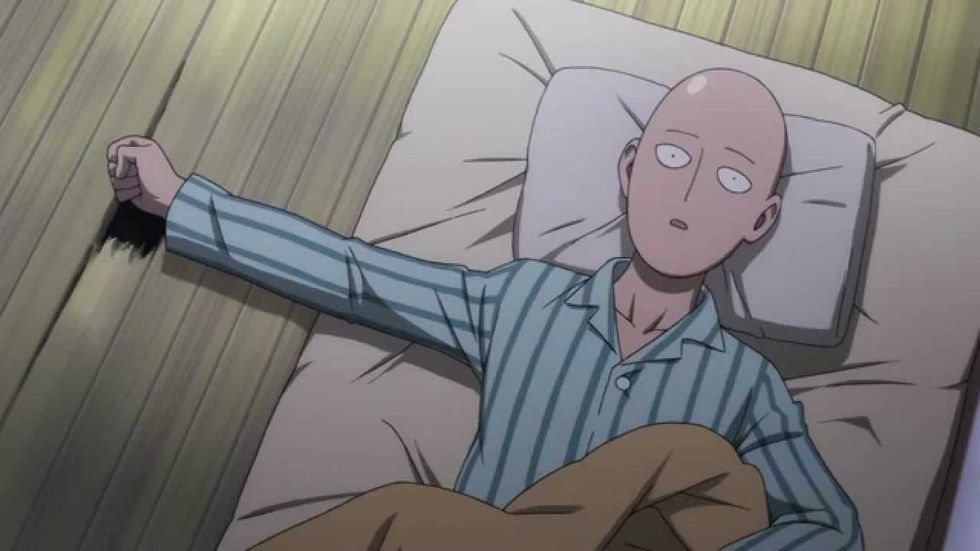 What I hadn't anticipated was the fact that my body was furious with me after putting it through hell the day prior, and was giving me the payback I rightfully deserved. Trying to raise my arms over my head was a near impossibility, and the stairs became my arch-nemesis. I couldn't take a step down without my hamstrings screaming at me as I clutched lamely to the handrail in an attempt to keep myself from tumbling down. "No big deal," I thought, "I'll just try again tomorrow."

Ladies and gents, it took me a solid three days before I was even able to start walking up and down the stairs again without hanging on for dear life, let alone getting back to my workout. You health nuts out there are probably scoffing at me, thinking I didn't stretch enough or that I'm a sad little duckling for being incapacitated for that long. I'll say it again, I'm out of shape. This workout made me dreadfully aware of that.

Needless to say, I probably pushed myself too much on the first attempt considering my almost complete lack of exercise up to that point. I wasn't ready to go full-blown Saitama on this workout yet, but I'm okay with that. This regimen made me realize something about myself that I probably wouldn't have had a direct measure for without pushing myself to my limits like I did that day. Saitama is One Punch Man because he had the self-discipline to endure that kind of physical labor for three whole years. I couldn't imagine having the focus to do something like that, but that's okay. It gave me a push in the right direction, and taught me that if I'm at least putting forth an effort to exercise and train my body, I don't have to destroy my muscles to get in shape.

Currently I'm only doing the Saitama work-out regimen once a week, which is plenty for me. It doesn't eat up too much of my time and gives me the rest of the week to recover from the pounding I'm giving my physique. I don't have to be One Punch Man every day of the week to feel better about myself, which is a good thing. So I won't be able to destroy my adversaries with a single attack or level mountains with a flick of my wrist, but that's fine. Just as Saitama says himself, being the strongest person in existence is kind of boring anyway.