I love Lana Del Rey — her music, her personality, her writing and just her raw, creative soul. She may as well be my spirt animal. I first discovered her when I was watching the newest version of the "Great Gatsby" movie (yes, the one with my boy Leonardo DiCaprio) and I fell in love with Lana's song, "Young and Beautiful," which was written specifically for the film. I appreciate how she writes 99 percent of her music and says what she feels. I have now listened to all of her songs and my dream is to watch her perform live (I sadly failed at convincing my dad to let me and my sister drive to Detroit to watch her perform last summer, apparently he didn't understand my need to see her in the flesh). But I'll see you one day girl, I promise. I love how tragically sad she allows her music to be, and how her music ranges from the best of each decade, starting with the 1950s, and on top of that she always makes it edgy. She's the definition of a badass, and a true artist; she takes her work seriously but doesn't give a damn about the haters. Since I probably should do something productive with all my love for her, I'm going to give you a countdown of my top five Lana Del Rey songs from the "Born To Die" album — enjoy!

I wouldn't tell you the first song I heard by her and then leave you hanging! "Young and Beautiful" is the only song on this list that isn't on "Born To Die" because it is on the "Great Gatsby" soundtrack. The song is highly relatable, but has a classic sound since the song is about Daisy and Gatsby's love affair. The lyrics (that Lana helped write with Rick Nowels) show the fear Daisy's character has: wondering if Gatsby will love her after the glitz and glamour and beauty fade. This song dabbles with the question of death, and if love is stronger than life itself. Or are Gatsby and Daisy just stuck in the perpetual past?
I enjoy this song partly due to my love for Fitzgerald's work, partly because I can relate to the lyrics and partly because the pure sound of the song resonates in my ears. Lana has this great deep register she taps into for this song, and it sounds mystical yet hauntingly beautiful. I love the eeriness the song carries with it — it's not so much depressing as it is thought-evoking. The song has a synthetic orchestra in the background with strong string instruments, making it sound powerful and exhilarating. But as the song progresses, the tempo gets faster and the sounds grow heavier, leaving the song dripping with treachery and disaster. It's beautiful and magical. You end the song feeling as if you've just been hypnotized.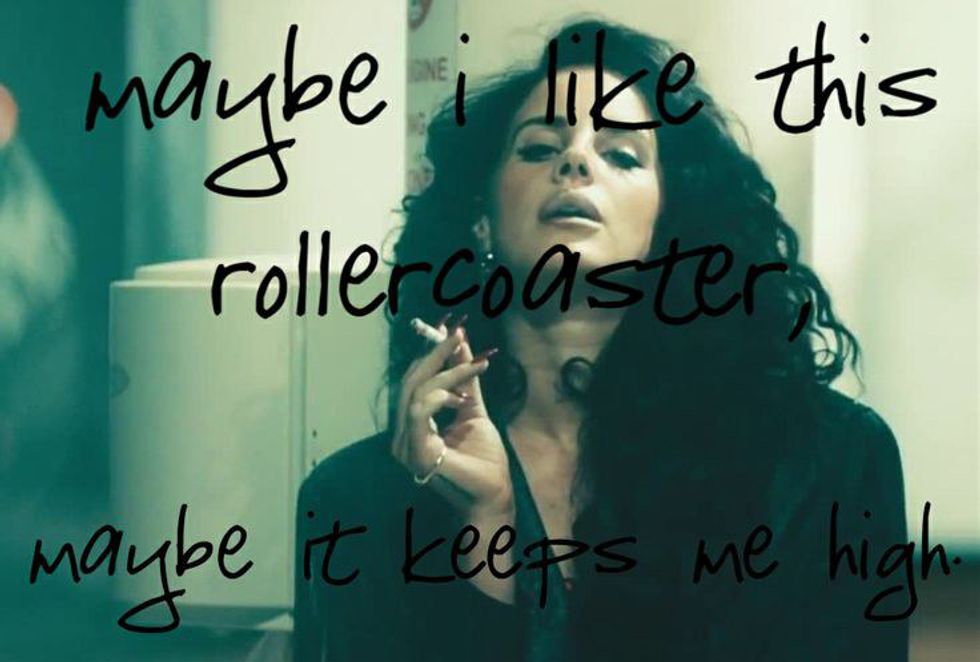 "Diet Mountain Dew" has a totally different feel than "Young and Beautiful." The last song was more theatrical and organized, but this song mimics a classic '80s pop sound that I adore (probably because I grew up listening to some '80s music under my parent's influence). But the old era of pop has a fresh spin on it, with a new style of rapping that Lana introduces to us in this song. One commenter on Genius says the eclectic rap style almost sounds "chatty." My favorite verse of "Diet Mountain Dew" has to be the first one:

"Baby, put on heart-shaped sunglasses
Cause we gonna take a ride
I'm not gonna listen to what the past says
I've been waiting up all night
Take another drag, turn me to ashes
Ready for another lie?
Says he's gonna teach me just what fast is
Say it's gonna be alright"
It reaches the heart of my inner kid and the heart of my inner Madonna — not the Madonna now with her new/fake British accent, no, I'm talking about Madonna's iconic songs that were made years before I was even born. Lana's lyrics are dark but the music is loopy, fast, and more upbeat. So it leaves me with this lovely complexity that feels like an incredible melodious high, mixed with a lyrical drunkenness. The song is about her wanting a man that she knows is no good, but she's saying screw it, maybe this time it will be different. She can't lie to herself, though, so she wants to make it clear to everyone that she knows he's bad, she's sussed him out, and yet she's still going to choose him because she can. Sometimes it's hard to resist, I understand your pain, Lana, no judgment here.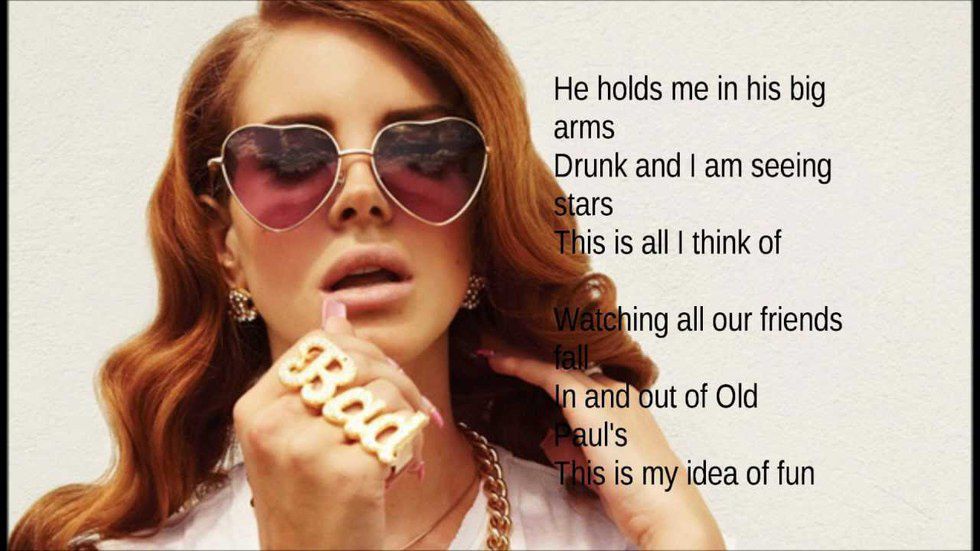 First off, I dig the name of this song. For me, it's a great ballad to express my generation — it's the serious sound and her undeniable love that makes the unsophisticated act of her boyfriend playing video games almost arbitrary, leaving one to experience a collage of emotions that aren't normally reached by listening to other artists' songs. In an interview with NME, Lana Del Rey talks about the inspiration of for this song, "He would come home from work and play video games. I would write and watch him. When I was writing that song I was reflecting on the sweetness of it but also something else I was longing for at the same time." She reminisces about a time that was fun but it was also easy, predictable, safe. I think we have all been at that point before — where things are comfortable so you don't try to change them but at the same time the comfort tries to keep you there, stifling growth. This song is about trying to settle down, and live that normal life, but it's almost impossible to tame a wondrous soul, and a curiously wild spirit. I'm glad she didn't stay in that world forever, I can't imagine not having her songs on my playlist!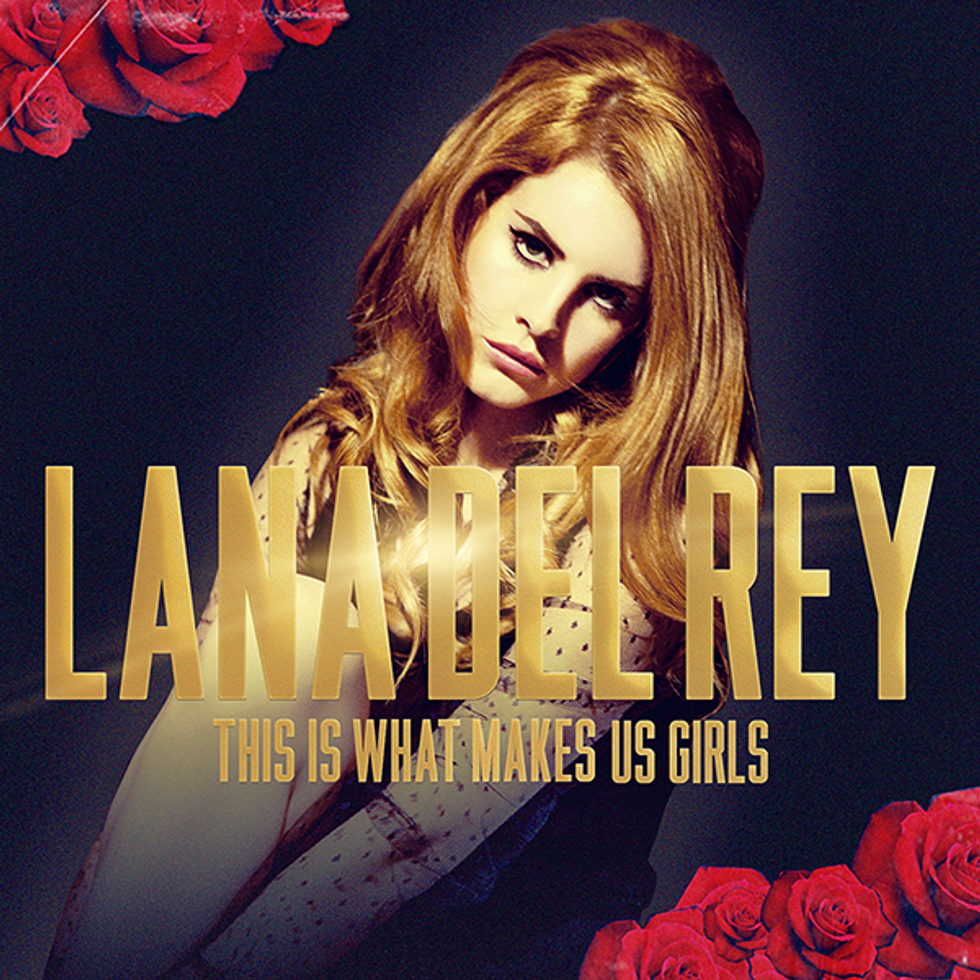 "This Is What Makes Us Girls" is an alternative pop song that goes into the life of 16-year-old Lana and the bad girlfriends she hung out with. As with most of her other songs, she doesn't hide or sugar-coat her drinking problems and drug usage. This song references her being sent away to boarding school. The way she uses her voice in a sultry, conversational way breaks up her jazzy/blues verses from the hushed singing and soft whispers. When she changes the pitch, style and tone of her voice multiple times throughout the song, it's almost like I'm watching a movie through the imagery the lyrics conjure. "This Is What Makes Us Girls" reminds me of a more extreme version of my high-school years — dealing with the girls, the boys, the partying — and at the end of the day knowing your parents are still in charge of you. It's a hard time, a confusing time — a period that is hard to capture in a four-minute song. And yet she captured it all; why am I not surprised?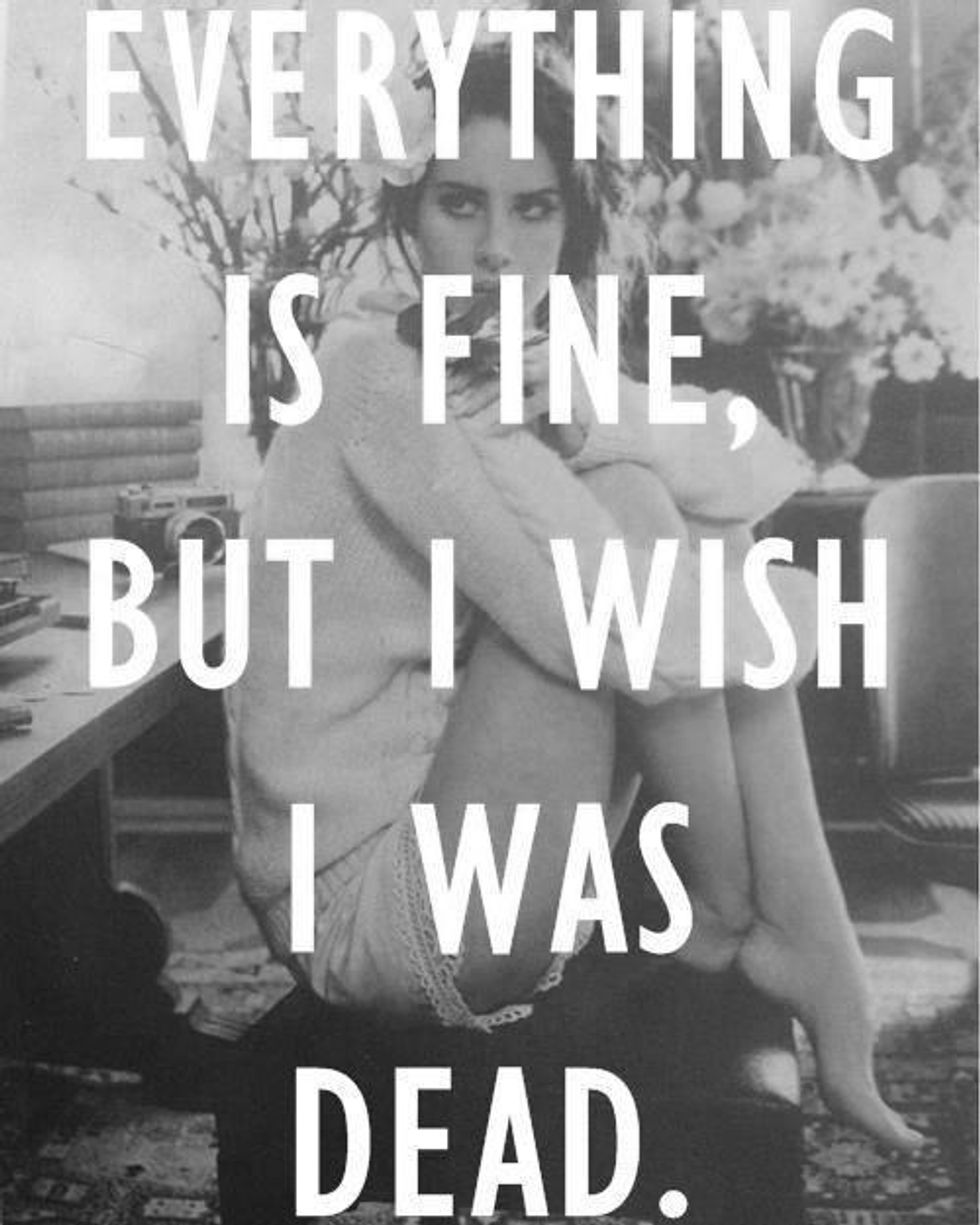 So here we are, my number one. I know this might not be everyone's favorite Lana Del Rey song but I figured it's my article, I get to choose it, right? I connect to this song on a personal level and I think that's why it's my favorite. She has never said specifically what this song is about, but fans speculate it is about a late boyfriend, and the pain and wondering about being able to see him again in some type of after-life. The song does a great job of explaining the pain that someone has when they are grieving, and the real, dark thoughts that are hard to say out loud but are still happening nonetheless. The song is written to show the state of being truly alone — to love someone who is no longer part of this life. But what is comforting is that listening to this song makes me feel less alone. It's more than Lana Del Rey capturing a feeling that I have, or having a line I find catchy; it goes way beyond that. "Dark Paradise" brings my thoughts to life and makes me feel more understood. So I figured if this was the Lana Del Rey song that did it for me, there must be that song for every Lana fan — that's artistry right there. If your fans have a variety of 'favorite' songs, then you must be doing something right to reach so many people on different levels. It's just another reason why I love her so much.It's hard to stop at just 5 songs, but this gives a nice sample. The way Lana's music is addicting and not the usual radio, top-100 songs appeals to me. With her edgy lyrics, uncensored way of sharing her feelings, and the beautiful instrument she is lucky enough to have as her voice, I feel like she is an old soul paving the way in a heavily modern world. She is often quoted saying she is a poet first, a singer second. I think that is a strong point she wants people to know, that her writing — her lyrics — is the most important thing to her. Some may call her a phony, a fraud, just another manufactured singer, but I disagree. I think she is beautifully raw, a tad crazy, and a wildly talented artist who has a knack for capturing feelings through the medium of music.