The title might sound dramatic but truly, this song shook the nations. Thank You, Next broke the Spotify record and not to mention, that music video made me feel every type of way. But… what was the actual message behind it?
Ariana Grande has obviously been a "hot topic" the past few months and it hasn't always been in a positive light. It must be hard to have every important relationship you have been put "on blast" by the media. Ariana Grande has had a rough year and we can all appreciate her strength through it all. An important thing to remember is that she is young and learning, just like the rest of us. She is only 25 years old and is set for life, so let's not get hung up on the live-action drama with her ex's.
This is not supposed to be a biography about Ariana Grande, but more a thank you note to her. Thank u, Next did not only become my favorite car jam but helped me appreciate my past a little better. I would like to say I have always been one of those people who think that every relationship or passing is either a blessing or a lesson. I am sure you have heard this from your mom, but we are talking about it again because it is so important. After a terrible breakup, a missed opportunity, or a sad goodbye to a friend, I try to think back on what was the bigger picture or purpose of the relationship in God's eyes.
For example, time to get vulnerable here, I was in a relationship with a person of a different religion and chose to give up my faith to pursue his. Please do not think of me as a coward, there was more to the story that does not apply to this article. If you would like to know more, let's get coffee! Anyways, I was planning on graduating a semester early (December 2018 and I did) because I wanted to marry him and be with him while he finished school. That relationship ended because I found my faith again and the importance of it. I'll skip ahead quite a bit and say that God used the fact I was graduating earlier for better things… I applied for the World Race (an 11-month mission trip to 11 different countries). Guess when my launch day was? God is crazy good.
I am telling this story because, without this relationship, I wouldn't have questioned my faith and strengthened my relationship with the Lord, I wouldn't have fallen truly in love for the first time, and I wouldn't have even considered graduating early and going on the journey of a lifetime. I am beyond thankful to say my ex is a true friend whom I still talk to about my trip, school, and anything I need friendly advice on. That is the thing about exes… unless something truly awful happened, why do we feel the need to cut them out? At first, we barely spoke, I felt as if people would assume we would get back together or we were secretly dating… I am 21 years old, if I want to be friends with an ex, I CAN be. If I feel it is unhealthy, I WILL leave. I am so thankful for him and all he taught me. Without him, I truly wouldn't be where I am right now. Thank you, next.
Thank You, Next did not only teach me how to appreciate this relationship, but how to bask in the blessings of what my other past relationships have given me as well, and they are not always romantic.
My ex's helped turn me into the person I am today. Like, seriously. I wouldn't be me and I wouldn't be here if I did not go through the heartbreaks, the anxiety, the late night fights, the first dates, the first awkward kisses, the last kisses, the meeting of my parents, sometimes the cheating, sometimes the learning to forgive, the coffee runs, the long car rides, and most of all, the quality time together, good or bad.
Each conversation has a purpose. God doesn't do things by coincidence. I am not asking you to go text each ex and say "thank you for your time" but I want you to learn to forgive yourself and give yourself some credit for being as strong as you are. This is about learning to appreciate life instead of dwelling in the sadness. So, Ariana Grande, I will be Thank You, Next-ing for the rest of my life. Thank you for teaching our society to fall in love with ourselves first before starting something new.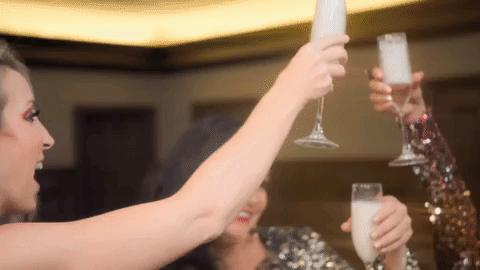 media.giphy.com