As the summer breezes by, the pleasant weather provides an opportunity to get outside and get some exercise. For some, running is as routine as brushing teeth, while for others, the mere word sends a chill down the spine. If you are like me, you fall somewhere in between, always having a strong love-hate relationship with the concept of running. By that, I mostly mean that I hate to run, but I love the way it feels when it's over. Despite this, it would seem to be a waste of amazing weather if I didn't get out there and go for a run every now and then. After all, the more I run now, the more I feel justified in eating an entire bag of Cape Cod potato chips in what would seem to be record-breaking speed. If you are anything like me, you might have also had some of these thoughts while running.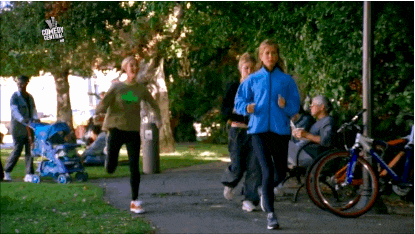 0.0 Miles.
Alright, I can do this. People run all the time. No big. It's just like walking, but faster. Maybe if I wave my arms really aggressively while walking, it will seem like I'm running. Let's do this.
0.1 Miles.
Wow, I'm doing it. Running. I was born to run.That's a song, isn't it? I should have added that to my running playlist. Too late now, I'm moving too fast to add songs to my playlist. Can't stop, won't stop.
0.2 Miles.
I should really do this more often, this is awesome. If I pump my arms like this, I feel like a peppy soccer mom. I even have a track suit, it's perfect. Well, I suppose I would need kids that play soccer to be considered a soccer mom, but that seems like a minor detail.
0.3 Miles.
"Shawty had them apple bottom jeans, boots with the fur." Wow, I'm so fast I actually ran back in time to 2007, when this song was popular.
0.4 Miles.
I wonder how many miles I've run so far. Oh, that's seriously it? My pedometer must be wrong. It's been at least five miles.
0.5 Miles.
Ugh, I remember why I don't do this more often now.
0.6 Miles.
I. Am. Sweating. In. Places. I. Did. Not. Know. Could. Sweat.
0.7 Miles.
Did that person just speed up when I sped up? I think they did! Not today, friend. I think I have just been issued a challenge. I accept.
0.8 Miles.
My head says run, my heart says why did you just pass by that Dunkin' Donuts without getting anything?

0.9 Miles.
I doughnut like to run. Heh, doughnut puns. Looks like I'm fit and funny. Either that, or I have been running so long I'm starting to lose it.
1.0 Miles.
One mile down. Where is my sponsorship from Nike? Do it, just do it.
1.1 Miles.
Just keep swimming. Just keep swimming.
1.2 Miles.
I am still moving, and yet I can already feel my muscles getting sore tomorrow.
1.3 Miles.
Ah, I am passing by attractive people. SOS, abort mission. This is not a drill. I repeat, this is not a drill. Maybe they'll find the fact that I'm wheezing somehow charming.
1.4 Miles.
Why does anyone do this? I'm never moving again.
1.5 Miles.
"3, 6, 9, mile 1.5. How have I been running this whole time? Get low, get low, get low, get low, get low, get low, get low. To the window, to the walls (to the walls). When my legs give up, I'll fall. All the way home, I'll crawl. All the way home, I'll crawl." This playlist is killing it.
1.6 Miles.
Why did I not realize there was a mountain in this town. Please, anything but uphill. No, no, no, Uphill, no, no, no. Alright, here we go. Downhill. I can hang with downhill. Me and downhill are tight. I got a need for speed.
1.7 Miles.
Ooh, I'm getting pretty close to the end. Think of all the food I'll be able to eat when I'm done.
1.8 Miles.
This is the end. Goodbye, cruel world.
1.9 Miles.
Ugh, I can see the end in sight. This is awesome. Wow, I can actually run a lot faster now that I know it's almost done. Could I have run like this the whole time? We can do this.
2.0 Miles.
I am done, and it feels so good. I should run more often. Rio 2016, here I come.