Recently, my husband and I have been talking about how everyone has a "type" when it comes to who they're attracted to. It made me curious as to what people other than ourselves would consider to be their "types." I know for me personally, I've always seemed to end up with brown-haired, brown-eyed guys (my husband being one).
So, I shared a link to a survey with my Odyssey community here at UH Manoa, social media followers and friends, other Odyssey community reps, an Army spouse's group on Facebook, and the bachelor nation group Brett's Bachelor Buds on Facebook (which I highly recommend joining if you love watching any show of "The Bachelor" franchise).
I ended up gathering a total of 950 responses total before I closed the survey. Here are the results:
1. Taller or Shorter?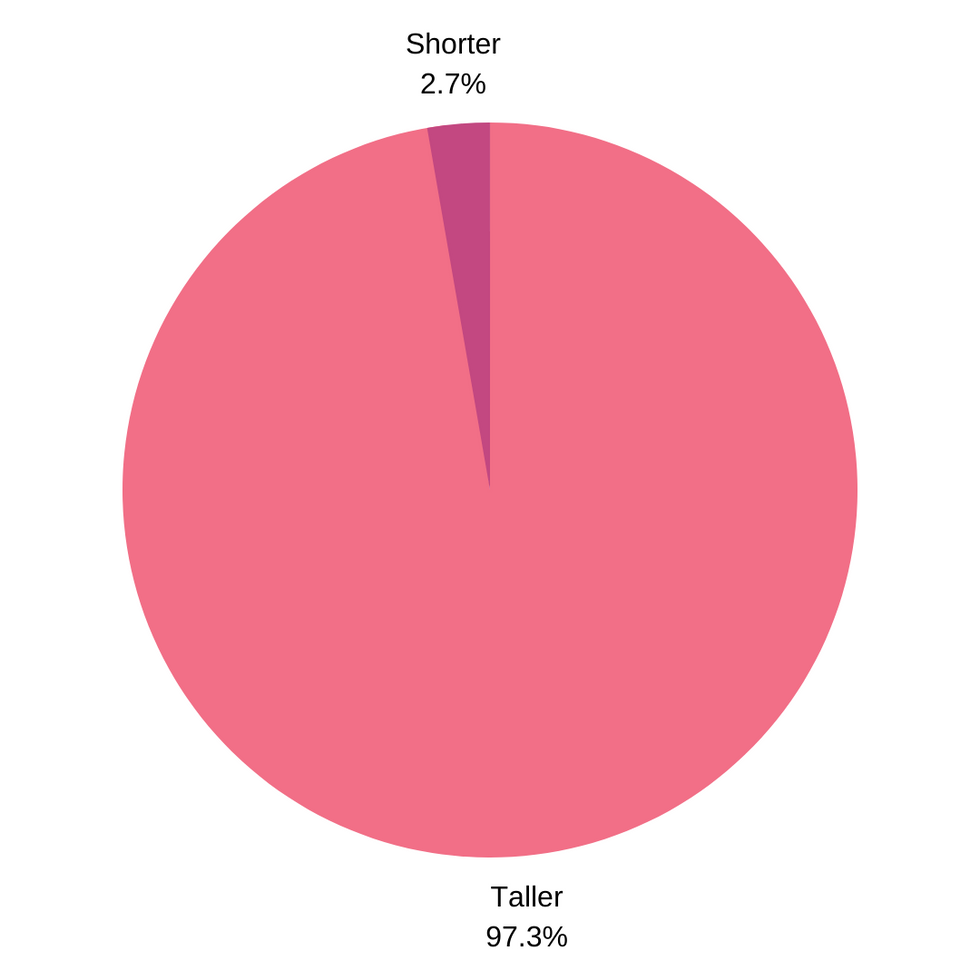 Most people definitely said they have a preference for this one. Do you prefer someone to be taller or shorter when looking for a significant other? The majority of women I meet say taller, whereas the majority of men are mixed about it. Personally, I've always been more attracted to taller men. I don't think I've ever dated someone shorter than me!
The Results
Taller: 97.3 percent (924 people)
Shorter: 2.7 percent (26 people)
I am not surprised that the result favored taller by a landslide. This is the most common answer I hear when having conversations with people about their "type."
2. Blonde Hair or Brown Hair?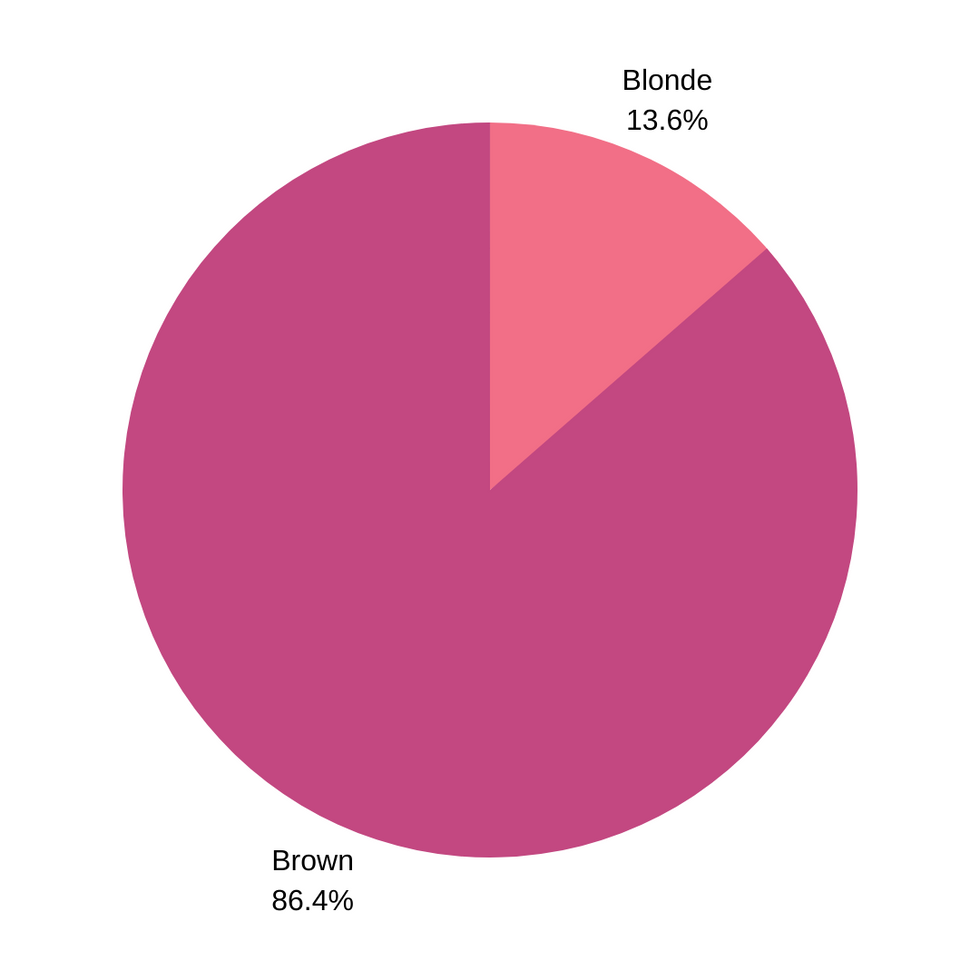 Yes, I am very aware there are other hair colors besides blonde and brown. But, since the whole point of the survey was to make it "this or that," I only picked out two. I decided to go with the most common preferences I hear people say when they talk about their type. I personally have dated people with both of these hair colors, but only 1 out of the 6 had blonde hair, and the rest had brown hair. So it's safe to say brown hair is what I am naturally attracted to.
The Results

Blonde Hair: 13.6 percent (129 people)
Brown Hair: 86.4 percent (821 people)
I am actually surprised that the result favored brown hair over blonde. Most of the time, I hear people say they LOVE blonde hair in a significant other!
3. Blue Eyes or Brown Eyes?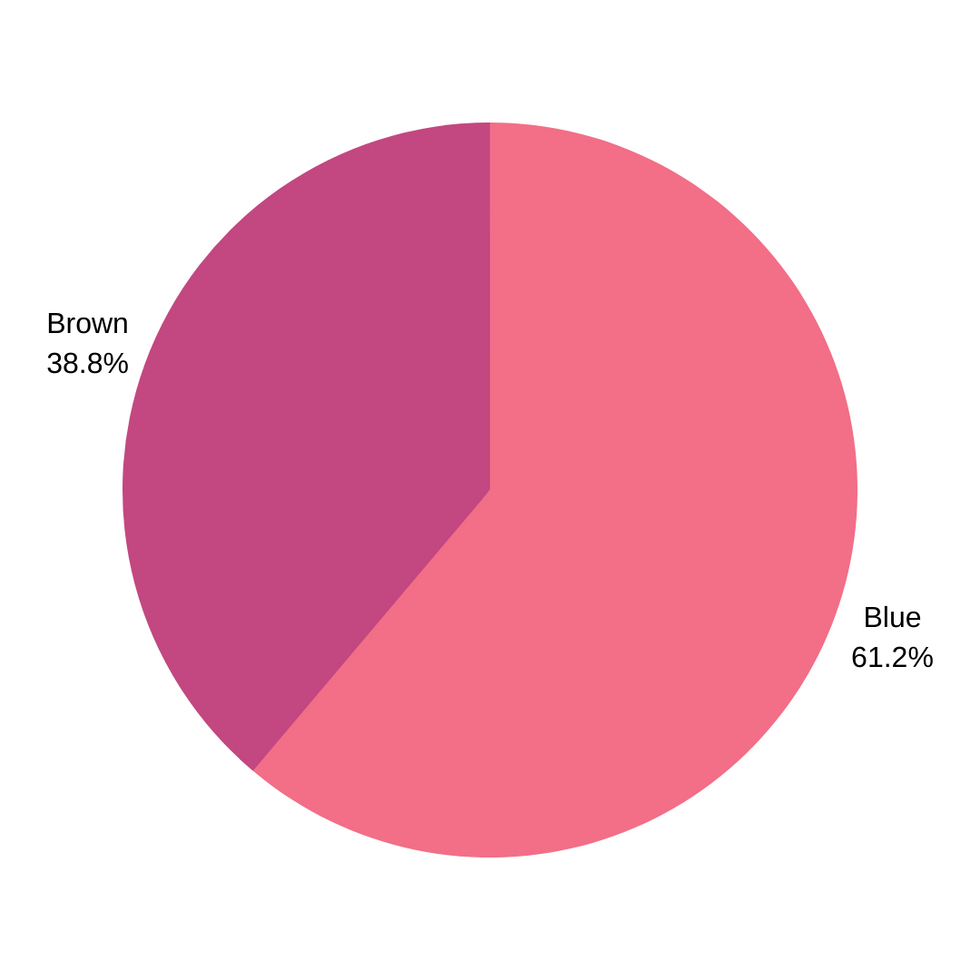 Again, another category that has more than just these two options. The two most common eye colors I hear people say they are naturally attracted to are blue and brown, so I decided to stick with those two. Growing up, my dad always talked about how people "love blonde hair, blue eyes," so it was interesting to see if that was true with the survey. Again, I've dated people with both of these eye colors, but out of the six guys I've been with, 4 of the 6 had brown eyes. One had green and one had blue. I'm just overall naturally attracted to brown eyes.
The Results

Blue Eyes: 61.2 percent (581 people)
Brown Eyes: 38.8 percent (369 people)
I am not surprised that the result favored blue eyes over brown eyes. Blue eyes are just so dreamy!
4. Loyalty or Honesty?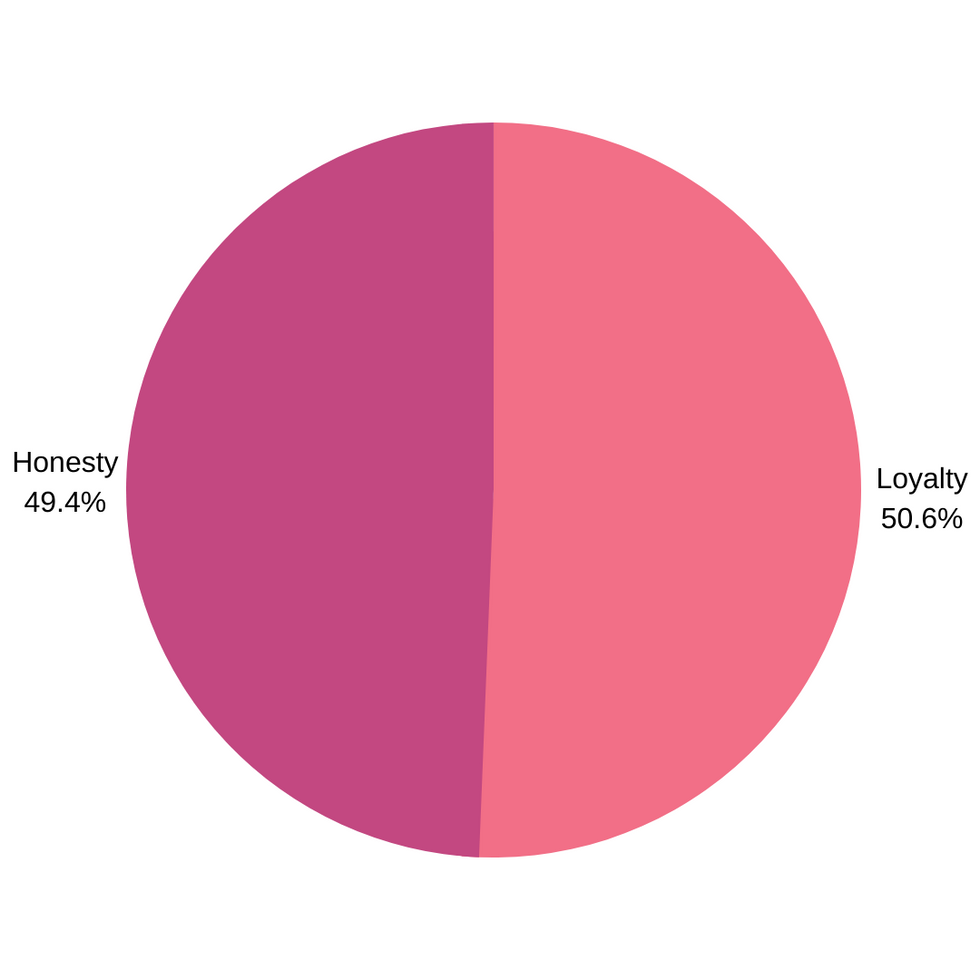 A lot of people told me this was the hardest question. Others said there's no difference. When creating the survey I debated putting these two together, but bear with me for an explanation as to why I did. If your significant other is loyal but not honest, you wouldn't have to worry about the honesty when it comes to cheating. Although, they could be dishonest about other things. If your significant other is honest but not loyal, it gives them the ability to cheat on you but they'd be honest about it. You would also hear anything else, good or bad, out of honesty.
Personally, I would say loyalty. I would obviously prefer both like most people, but if I had to choose just ONE that's what it would be.
The Results
Loyalty: 50.6 percent (481 people)
Honesty: 49.4 percent (469 people)
I'm genuinely not surprised the statistics on this one are so close. Since they are so similar with only little difference, I expected it to end up this way.
5. Communicative or Punctual?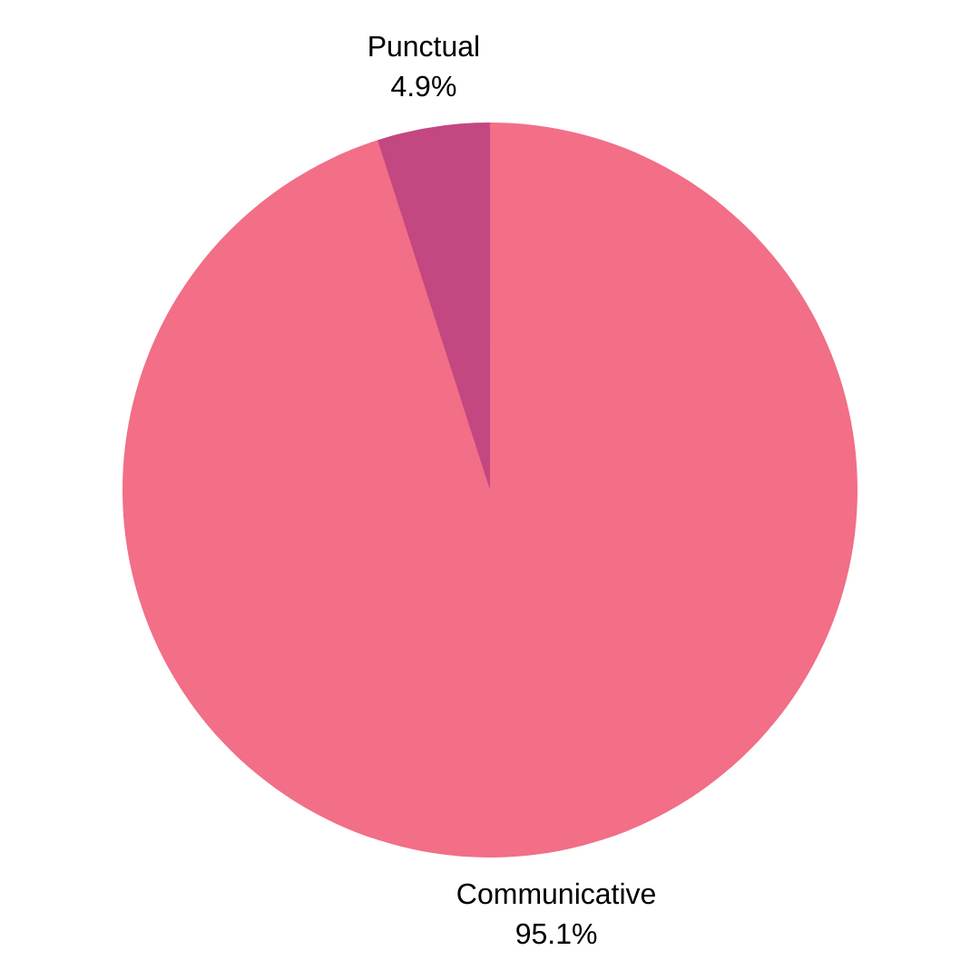 I thought this one would have closer results, but surprisingly most people said the same thing. When making this question I was thinking, "would someone want someone who may be late but would communicate that, or would they prefer someone who's always on time to things like dates but suck at texting or calling back." Personally, punctuality isn't a deal-breaker to me like it is to some people, and communication is super important to me, so I'd go with communicative.
The Results
Communicative: 95.1 percent (903 people)
Punctual: 4.9 percent (47 people)
Another result I am not surprised about. Communication seems to be more important in relationships now more than ever since we have cell phones accessible to us at almost all times.
6. Funny or Smart?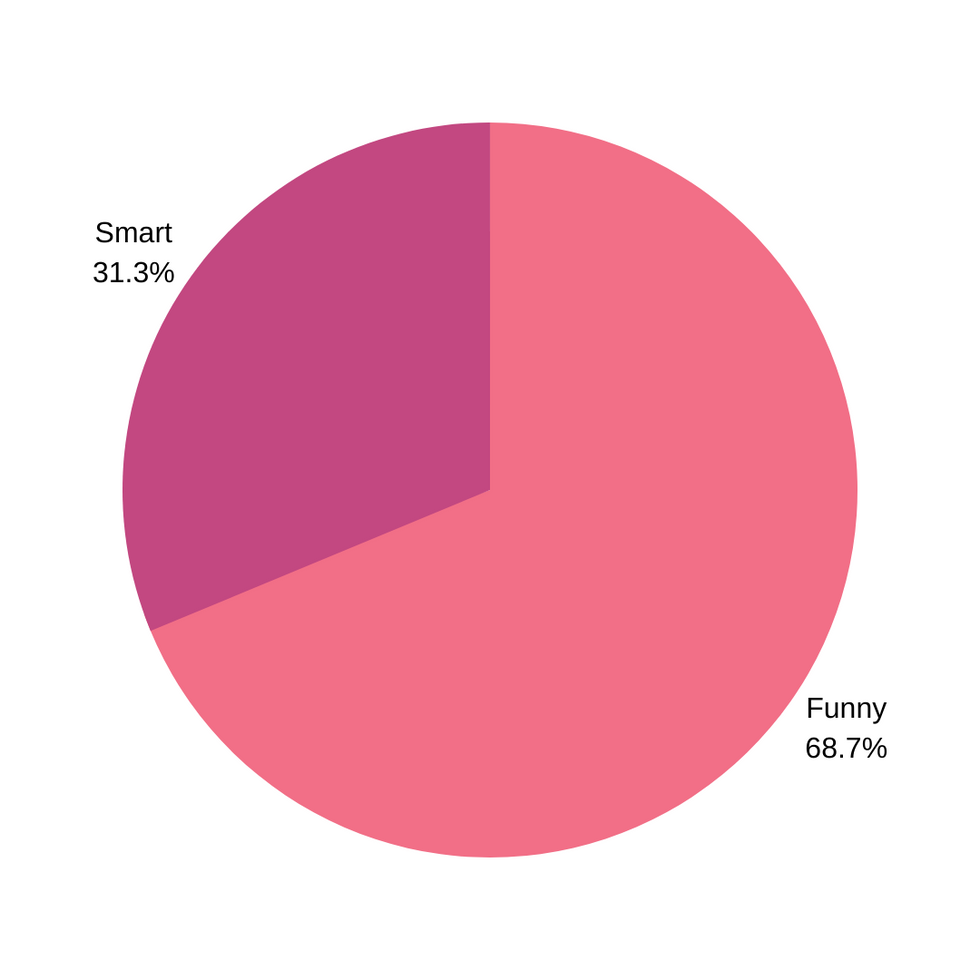 Some people like a good laugh, others like someone with brains. It's common for these two to be a "this or that" kind of question. I love to laugh and being around someone with humor, but I also like being around someone who is smart, so this was hard for me. I think at the end of the day, I'd personally say I prefer smart over funny.
The Results
Funny: 68.7 percent (653 people)
Smart: 31.3 percent (297 people)
This one I was surprised by. I had expected to see smart win this one, but it was funny! I guess it makes sense...having someone to cheer you up with some laughs!
7. Liberal or Conservative (or No Preference)?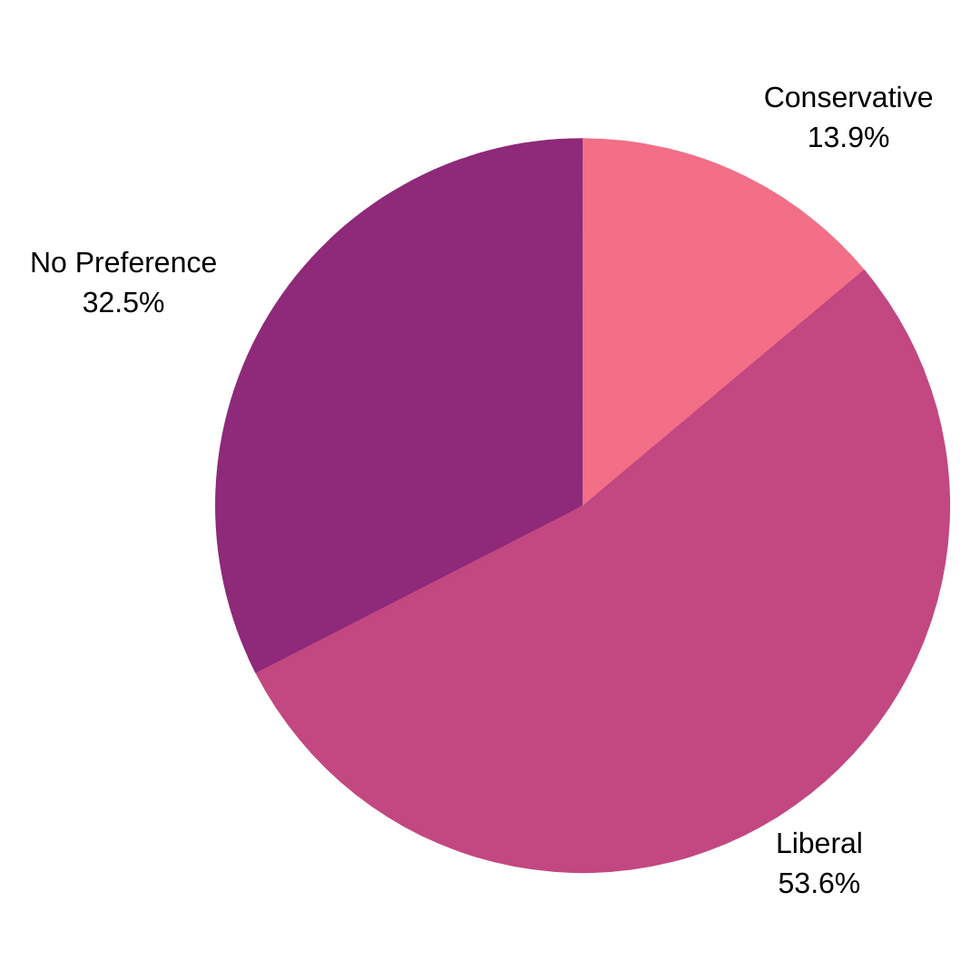 So I know I said the questions were only going to have two options, but I felt like this one would be interesting to see with the 'no preference' option. Politics are becoming a huge make-or-break topic in relationships in our current society, which is why I added it in. I don't think I really have a preference personally... I've dated both.
The Results
Liberal: 53.6 percent (509 people)
Conservative: 13.9 percent (132 people)
No Preference: 32.5 percent (309 people)
The one thing that surprised me the most about these results was how high the "no preference" option was. It's cool to know that even with our current issues, 309 people out of 950 still have no preference... which is totally OK!
8. Cat Person or Dog Person?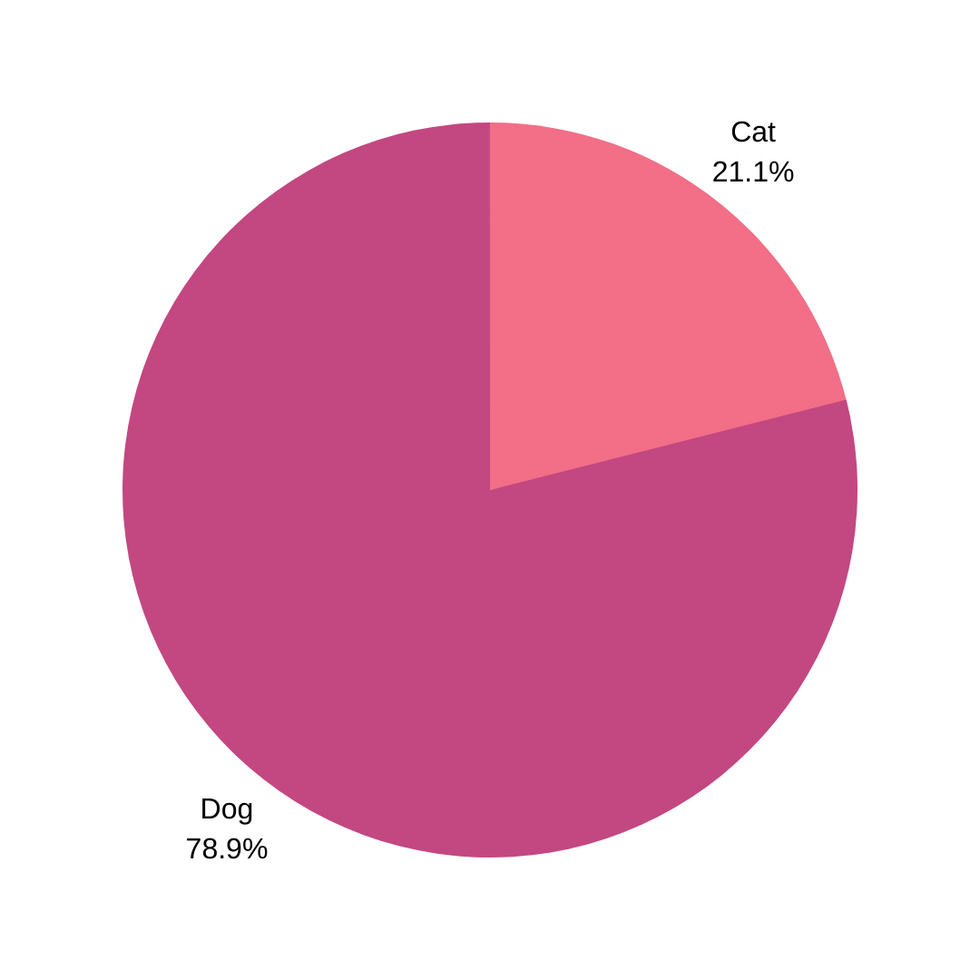 Here is a question even I struggle with, as many others did as well. I grew up loving dogs and my family has some pretty awesome cardigan Welsh corgis (they have Instagrams. Here is House's and here is Itsy's. They're cousins). Then college hit and I cat-sat my sister's cat one summer while she was gone, and I got cats of my own after that (my current cat Penny has an Instagram, too). I think I've become more of a cat person, so I'd prefer someone that likes cats. Too bad my husband doesn't like cats but likes dogs.
The Results
Cat Person: 21.1 percent (200 people)
Dog Person: 78.9 percent (750 people)
Yeah, definitely NOT surprised on this one. Dogs seem to be superior when given the "cats vs dogs" question in any situation.
9. Emotional or Logical?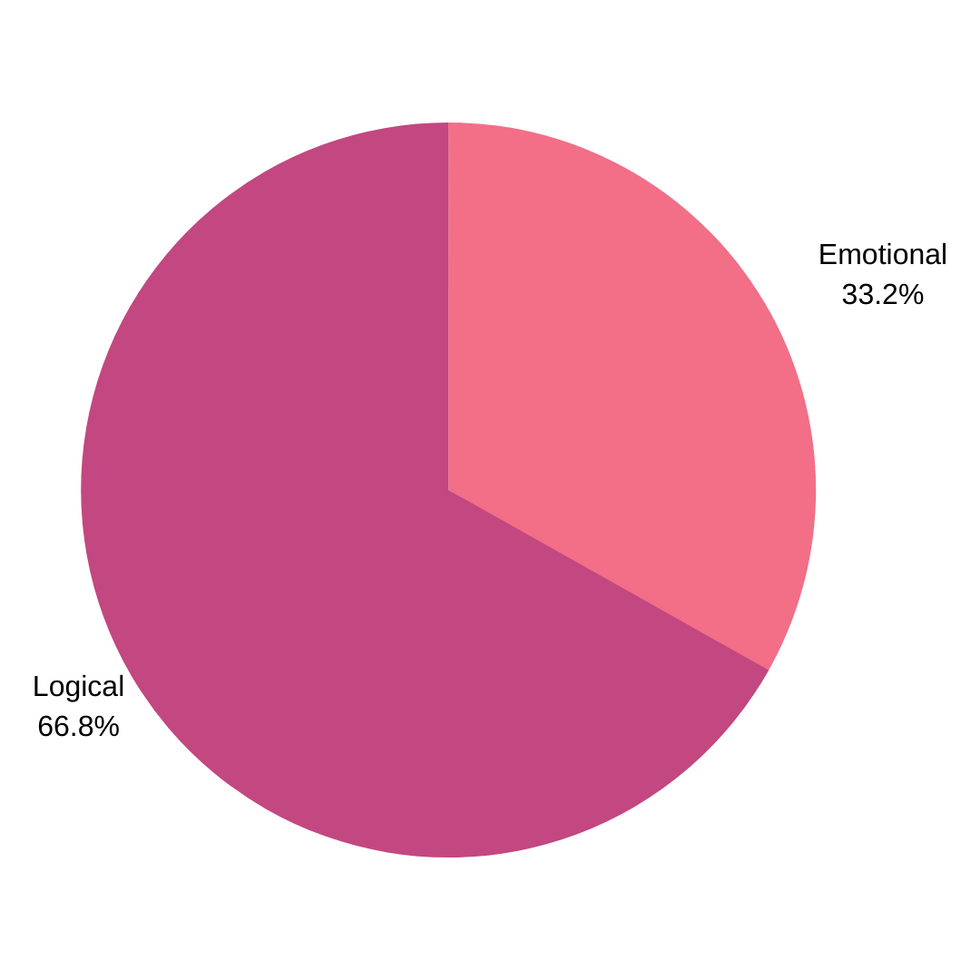 This one kind of hits on the Myers-Briggs test. I know that I am definitely a more emotional person and my husband is a more logical person. In other words: I act on emotion, he acts on logic. Some people prefer someone who is the same as them, others prefer the opposite. Thinking about my past relationships, I think I lean more towards someone more similar to me, so in this case, emotional.
The Results
Emotional: 33.2 percent (315 people)
Logical: 66.8 percent (635 people)
I expected this. A lot of people tell me they prefer someone more logical rather than emotional when it comes to a significant other.
10. "Go Out" Type or "Stay In" Type?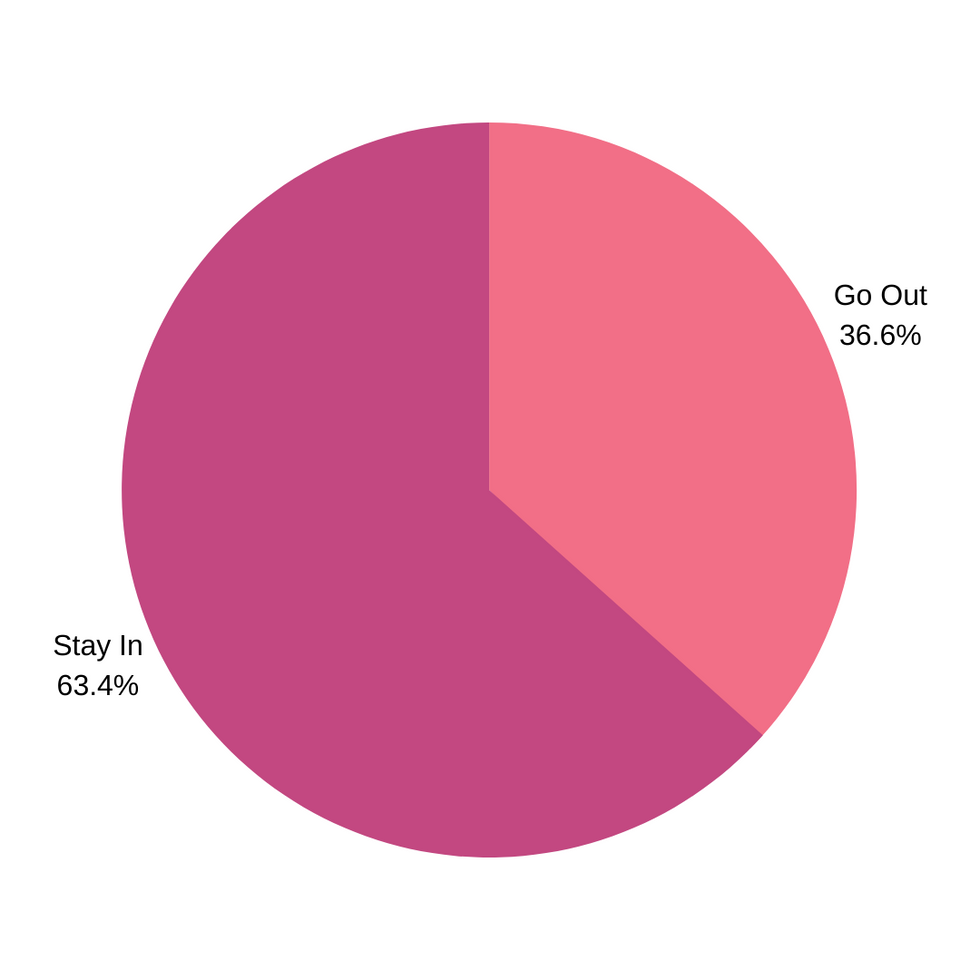 Simply put: would you rather have someone that wants to cuddle up to you and watch a movie on a Friday night or someone that wants to go out to a party or the club on a Friday night? If I was asked this two years ago, I most definitely would have said go out. Since then, I've had a baby so I'm always tired at the end of the day and would prefer to have some alone time at home with my husband, cuddled up watching "The Bachelor."
The Results
Go Out: 36.6 percent (348 people)
Stay In: 63.4 percent (602 people)
I didn't know what to expect on this one. What I was surprised about was how the results weren't as close as I had expected!
I was super excited to see from my own survey results what people are more attracted to between two different options in a category. I know there are people who may prefer red hair or green eyes, or maybe they don't naturally tend to gravitate toward one specific category, but with the most common options, I was surprised with most of the results!
Some people have one specific type, some have multiple, and some have no type at all... and that's completely OK! Stop and think about people you have dated or you have been attracted to and ask yourself: what are the things they have most in common?!
To see the full results, click this link.
Follow Swoon on Instagram.