I remember the first time I've ever dealt with a fuckboy. It was senior year in high school. I met him because we had gone to the same school briefly, but then he moved away. We remained in contact off and on, but rekindled whatever romance we had during the time he just so happened to be in town during the holiday. He was very flaky most of the time when making plans and mostly seemed to be interested in hooking up which, for me anyway, definitely wasn't going to happen anytime soon.
However, I put up with it because he was my usual type.
After we Netflix and chilled at his house one night he blew me off and our conversations got shorter and shorter. I was wondering what the problem was and then finally I saw what I needed to see to answer my curiosity. He had posted a picture on his Insta profile with a girl who clearly looked like more than a friend. The crazy thing is, despite getting a girlfriend so suddenly, he still tried to flirt with me through text! It was unbelievable.
At that point, I promised myself that I'd never give in to the fuckboy agenda, but if I'm being quite honest, to say that I've had a myriad of experiences with fuckboys even after that situation in high school is an understatement. From guys who secretly cheat on their girlfriends to get something on the side to purposeless, emotionally incompetent men who don't have much going on for them in life to the typical big shot player on campus, you name it. I could be considered a fuckboy connoisseur. I've mastered the perfect comebacks in response to their tactics and now you can too!
1. "Without me?"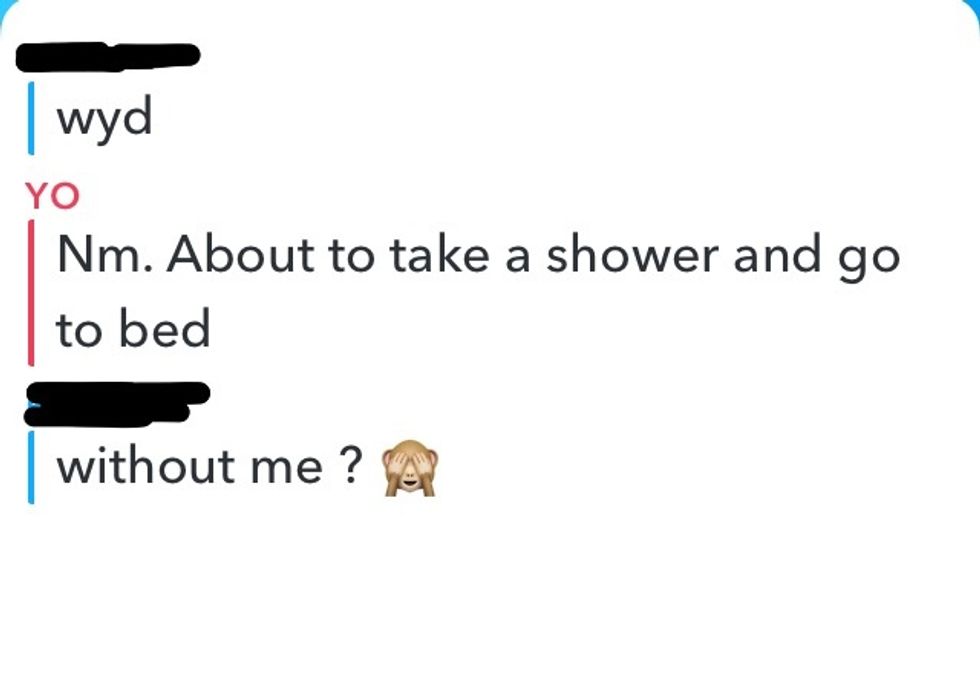 There is nothing more cringe worthy than a fuckboy who uses this line. It's a clear sign that this dude has absolutely no game at all. If a fuckboy texts you this, just simply respond saying "Yes. Without you."
2. "Unsave the messages."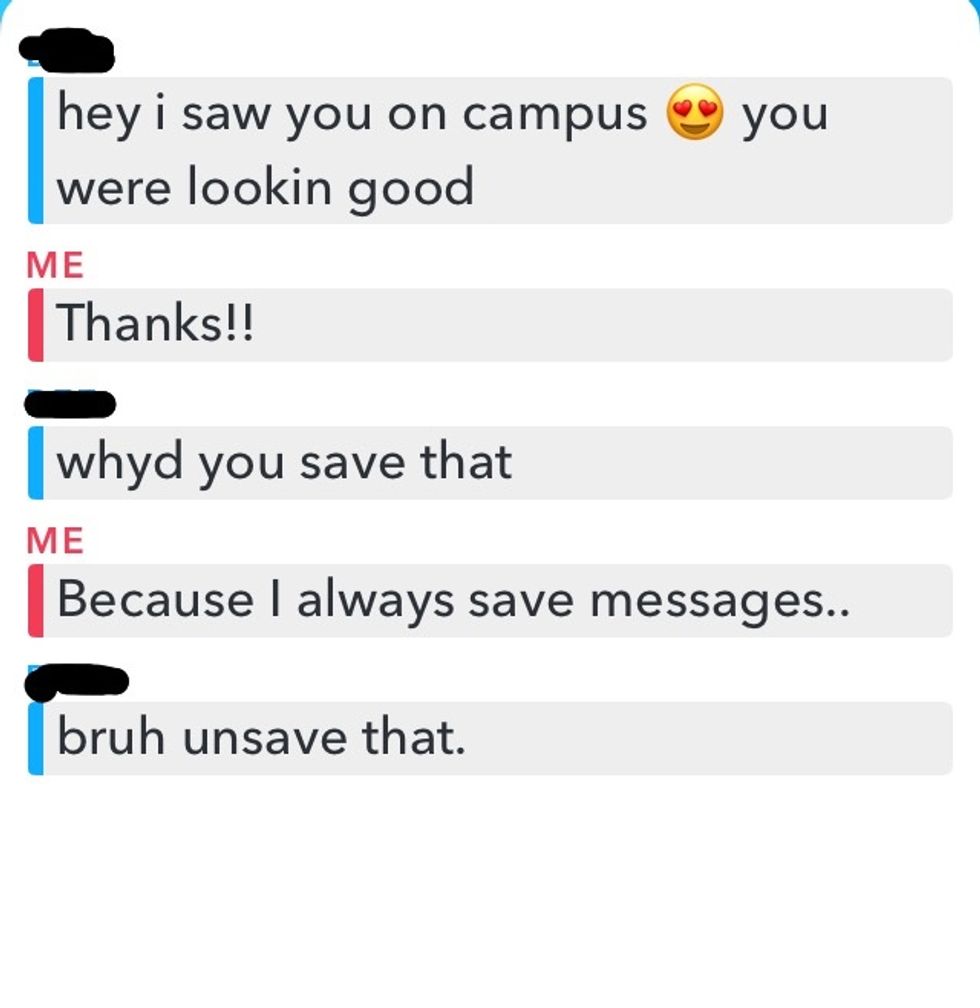 We've all been here before. A guy starts to flirt a little bit too much so you save the messages because you're 90% sure he has a girlfriend, and you want to keep the receipts just in case. Then out of the blue he either asks or straight up tell you to unsave the messages. That's when you know he has something or someone to hide. In the event that this happens, ask him why he wants you to delete the messages. If he doesn't reply or blocks you, then you have your answer.
3. "I've never had sex with a [insert race] girl before."

This is grimy on so many levels, and women of color can especially relate to the occasional fuckboy scenario when he just wants to try our race like we're some free sample at the damn food court in the mall.
If you ever get that kind of text, answer him back saying "I will not allow the color of my skin to be your fetish."
4. "You up?" (sent after 1 a.m.)

This is probably the most common text you'll ever get from a fuckboy. It's his way of trying to impede while making sure what he's said has minimal retaliation. At that point you can go for the sarcastic approach and text back saying "No." You could also just say "Whatever you're trying to get at, I'm not interested."
5. "Wanna go drink?" (also sent after 1 a.m.)

My usual answer to this is "Yeah! You can get me a drink, bring it to my place, and then leave while I enjoy the drink by myself."
6. The eye emojis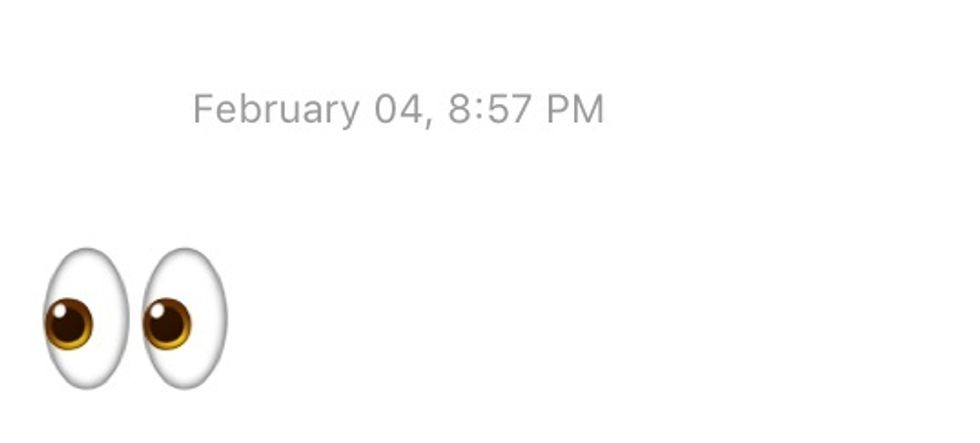 Let's be real here. This kind of weak ass excuse of a pickup line doesn't even deserve a response.
7. A number of messages, talking to himself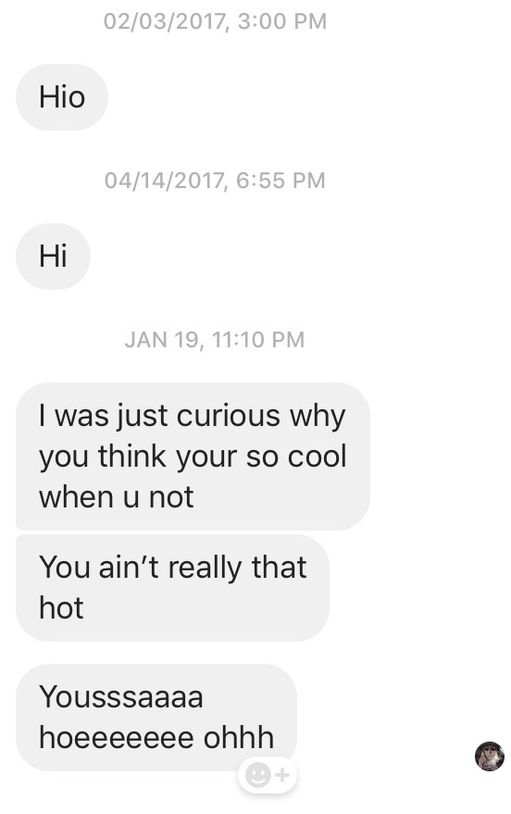 Every girl in the world has a dude in their DMs talking to himself. I'm not sure why being left on read makes guys want to continue a conversation, but it's definitely annoying yet slightly entertaining to see how they'll carry on before they FINALLY get the hint. This kind of foolery only calls for one response and one response only: "Are you done talking to yourself now?"
8. "Send me a pic."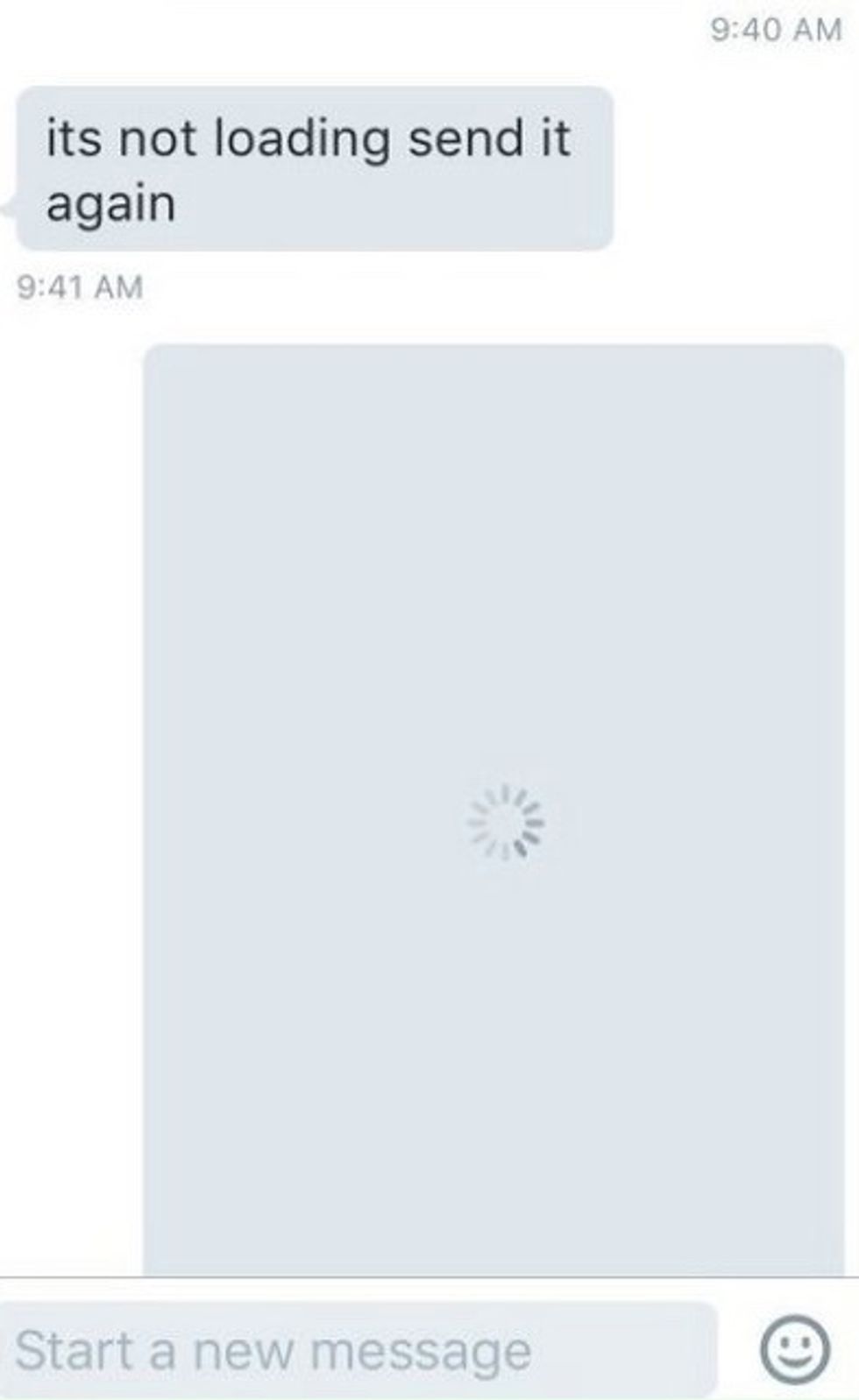 There are a few ways you can get out of this situation unscathed. You could say "Look me up on insta and you'll see pics." if you two already follow each other there. If he insists that he wants a picture that's different from what you've posted on social media then send him a picture of the loading sign to leave him confused.
9. Sends unsolicited dick pic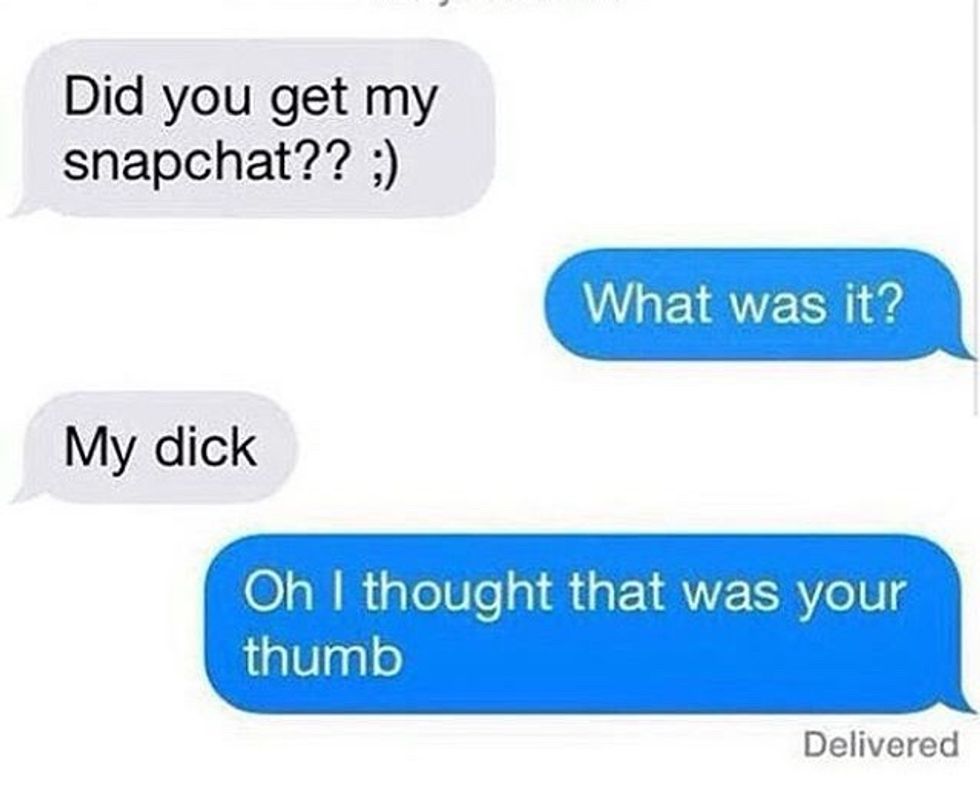 At this point just block him. Maybe you can curse him out beforehand if you want, but definitely block him.
10. "So your boyfriend won't let you have friends?"
Bruuuh 😬😬 never ask a girl "so your boyfriend won't let you have friends anymore?" 😂😂 https://t.co/DBDKRnI9m9

— Kwaku Agyemang (@Kwaku Agyemang)1542254679.0
The most annoying thing about being asked this question is that we know the fuckboy is not trying to just be friends. Per the idea above, create a groupchat with the fuckboy and your boyfriend. Then see if the fuckboy still wants to be friends after that.
11. "I'm just not looking for a relationship right now."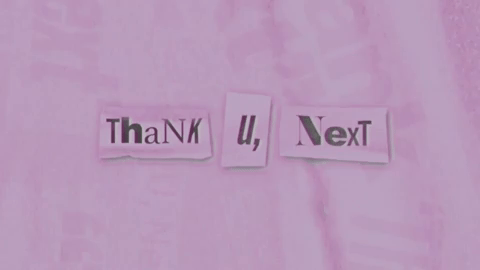 Now this statement isn't inherently deceptive. There are some guys who genuinely aren't in the right place mentally to be in a relationship. That's okay. However, a lot of guys who say this aren't saying this because of that reason. They just want the benefits of you being tied to them, but don't want to put in the effort to be what you need them to be. The only thing you can really say to that is "Thank u, next" and keep it moving.
12. "If you ever want someone to hook up with, I'm available."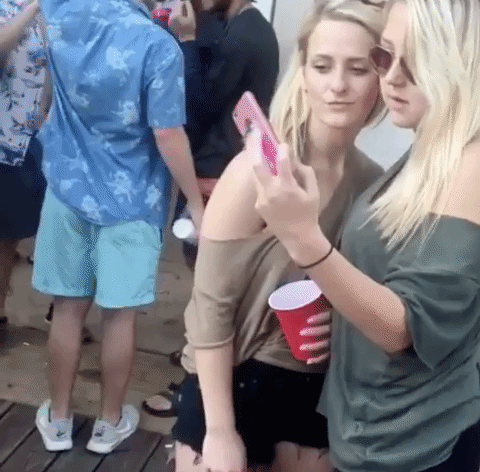 I don't know why guys like to slide this line in there as if we gave off any impression that we wanted be to involved with them in any way. Just tell them "The unsolicited offer is nice and all, but even if the continuation of the world's population depended on me sleeping with you, I still wouldn't do it."
13. "I bet I could rock your world. You're not ready for this."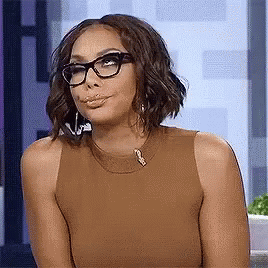 Ladies, If a man has to go out of his way to hype his sex game up then that's a huge sign that his moves are straight garbage. Basura. 垃圾 . Tell him "All of this hyping yourself up stuff is doing is turning me off. Bye."
14. "I don't give head. I just don't find it pleasing to me."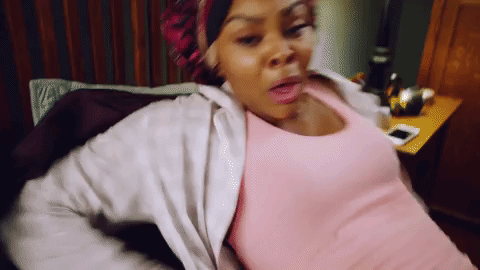 Out of all the guys I've met in my lifetime thus far, there are only two who have been open about choosing not to go down on girls even though they still demanded blow jobs. I can't completely knock anyone down for not wanting to do something that doesn't make them feel good partaking in, but I'll be damned if we allow ourselves to waste our time on guys who don't go down on girls, but still expect for girls to go down on them. If you've ever met a guy like this, tell him "You're exuding small dick energy right now" or "Welp. Good luck keeping a girl interested in the future."