Every day since the opening ceremonies, the media coverage of the Olympic Games in Rio has been blasted for being sexist. Female athletes were asked stupid questions, shamed for things that male athletes were not, or their husbands were given credit for their accomplishments. This is not to say the media doesn't exploit male athletes, because it does. For example, Cosmopolitan wrote a post all about the "Best Olympic Bulges." Male athletes are also objectified, and it's wrong, but society is still drastically failing female athletes. Here are just a few cringe worthy examples from this year's Olympic Games:
1. Commentator Dan Hicks stated that Hungarian swimmer Katinka Hosszú's husband, who is also her coach, was responsible for her success.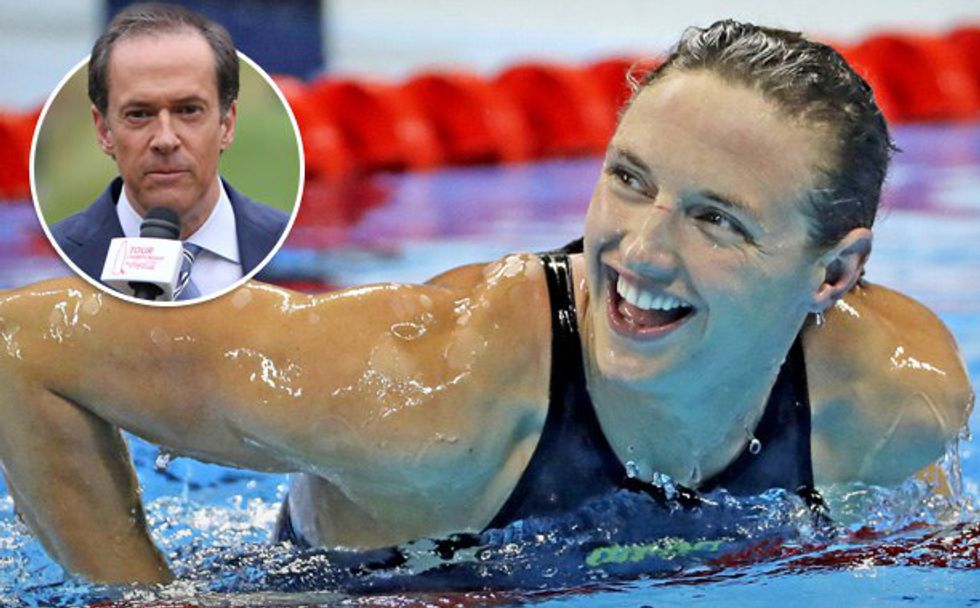 Yes, Shane Tusup deserves credit for the work that he has done with his wife. After a disappointing turn in the 2012 Olympics, Hosszú turned it around and won a gold medal in the 400-meter individual medley and smashed the world record. The camera then cut to her husband and Dan Hicks said he was the "the guy responsible" for her success. While coaches do deserve credit for the work that they do, and spouses deserve credit for the emotional support they provide, he is not the sole person responsible. He played a part in it, but when was the last time a man's success was credited to his wife? Without Hosszú, there is no talented swimmer to train, there is no gold medal. She was not allowed to have a moment of airtime before the media turned it around and focused on the man on the sidelines. Because apparently he's more important than the woman in the pool who actually won the medal.
2. Corey Cogdell won her second bronze medal, but the Chicago Tribune only referenced her as the wife of an NFL player.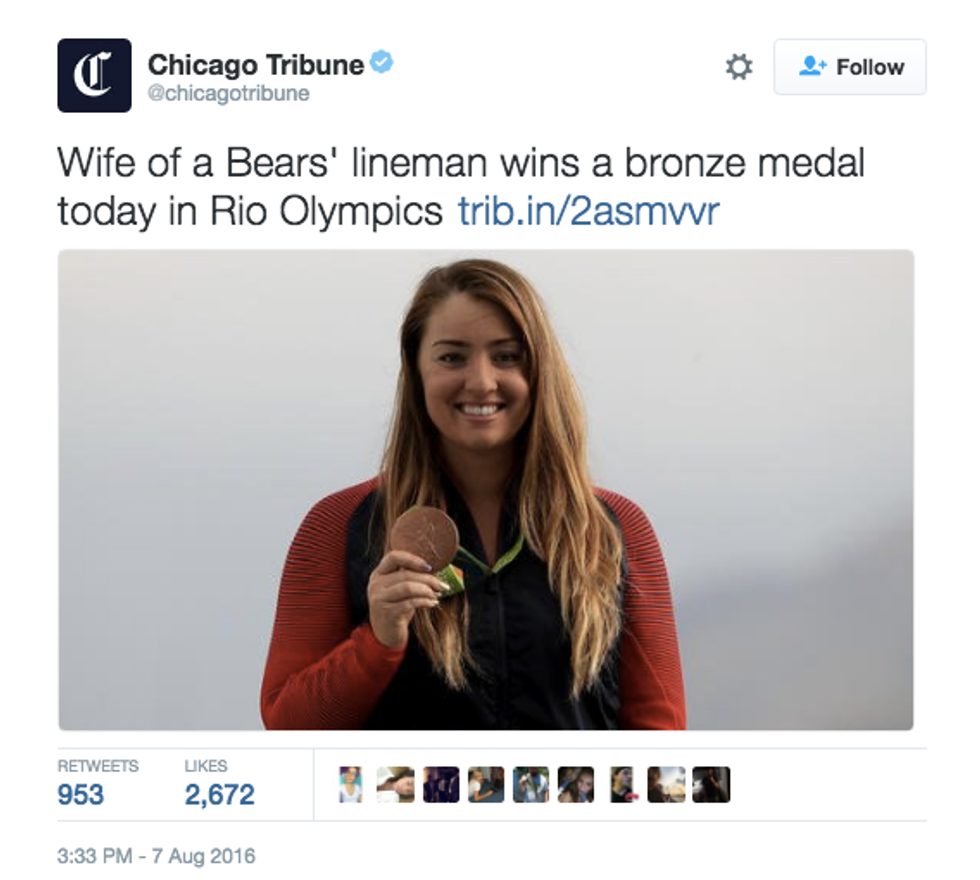 Don't worry, the headline of the article starts with her name before going on to highlight the fact she's the wife of an NFL player. But the tweet about the article, which is supposed to be about her, DOESN'T EVEN MENTION HER NAME. Or the sport she plays. Apparently, her husband's profession is more important than that. To make it worse, the article spends more time focusing on her relationship with her husband and the fact that he didn't attend the Olympic Games because he had football training camp. He wasn't even there, but he still gets mentioned as many times as her.
3. This headline.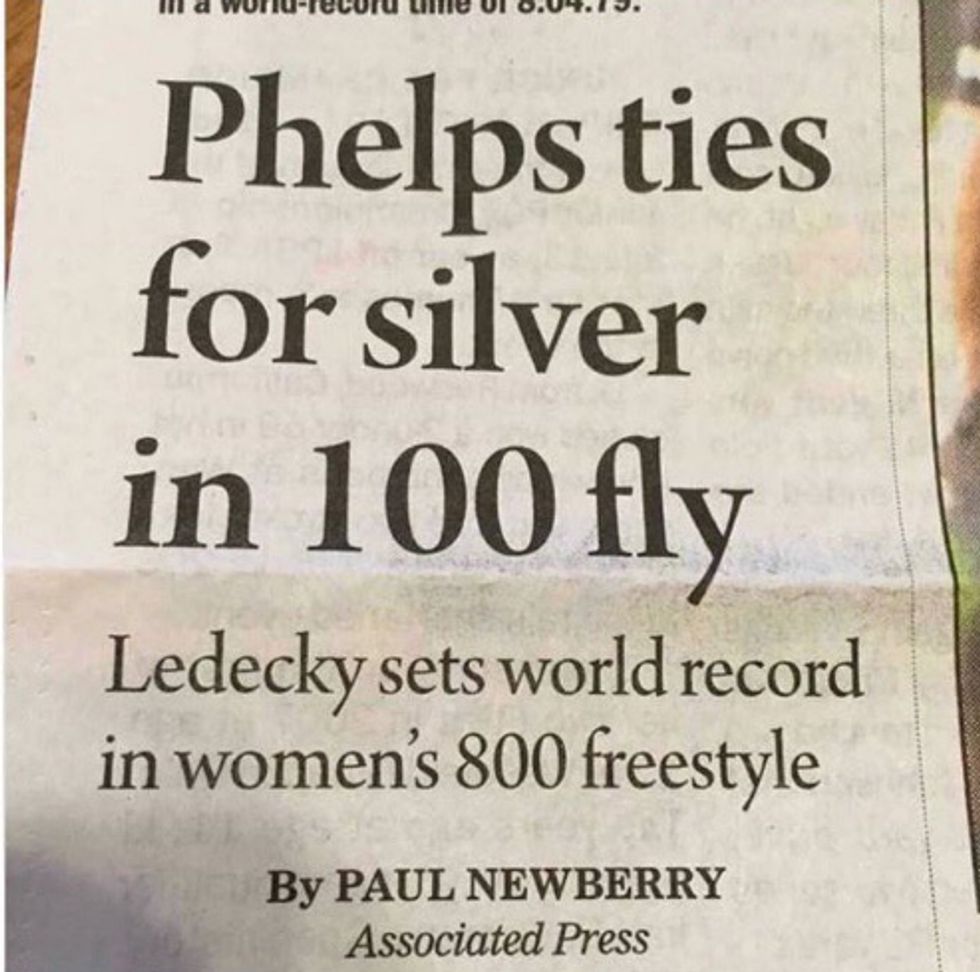 With this record, Ledecky became the first woman to win gold in the 200, 400, and 800 meter freestyle races since 1968. But Michael Phelps came in second in a race, so that's obviously more important.
4. John Inverdale tried to give Andy Murray credit for something women have already accomplished.
Murray was sure to fact check himself, and corrected the reporter that while he is the first to win two consecutive gold medals for the singles title, he is not the first to win two Olympic gold medals overall. Because, in fact, Venus and Serena each have one gold in singles and three in doubles.
5. Everyone making a big deal that Dana Vollmer had a baby over a year ago.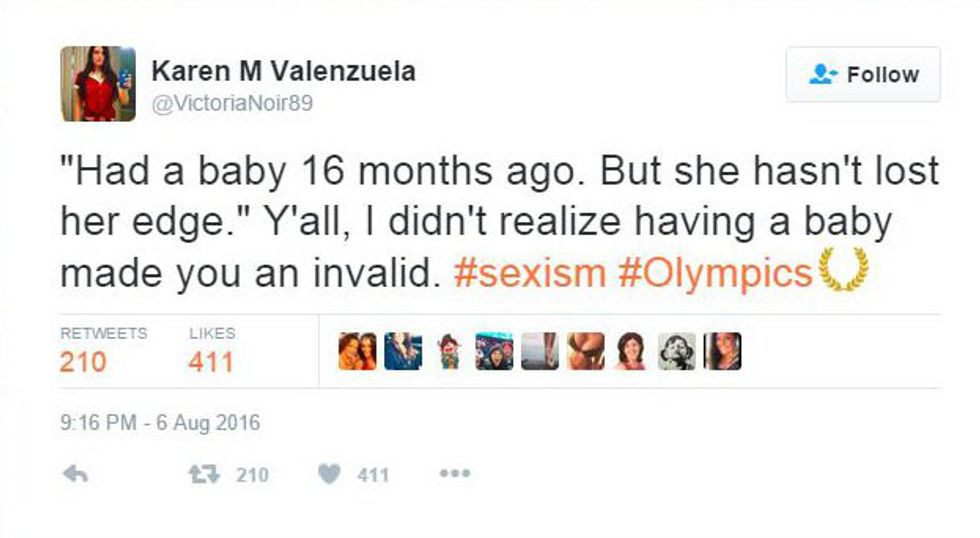 It's hard to find an article about Vollmer that doesn't mention her being a new mom or her post baby body. And while being a "momma on a mission," is in fact part of her personal brand, she is still an Olympic athlete, and she was one before she had a child. It's an incredible feat to train for the Olympics after giving birth, but newsflash, women aren't incapable of doing things after childbirth.
6. This comment.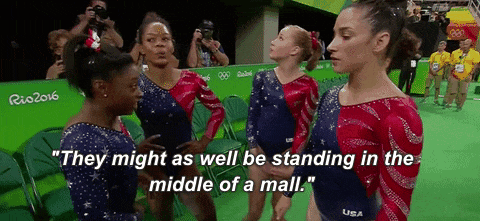 Or, you know, they should be standing at the Olympics. Where they are competing. Plus, they were probably just talking about how they were leading the rest of the world by almost 10 points. Because they train for 30 or more hours a week, and look like this. Good day, sir.
7. Claiming Katie Ledecky is successful because she "swims like a man."

No, she swims like Katie Ledecky. She is not the female Michael Phelps, she is Katie Ledecky. It's not a compliment to say that a woman is only succeeding because she is "like a man." All this does is play into deep rooted misogyny that masculine traits are equivalent to being successful, and feminine traits are a weakness.