Field hockey, fhockey, FH or whatever else you want to call it. It is an intense sport. It can be a very rewarding sport, but it also comes with its own struggles.
[rebelmouse-proxy-image https://media.rbl.ms/image?u=%2Ffiles%2F2016%2F08%2F17%2F636070703226502577-2103703597_FH.gif&ho=https%3A%2F%2Faz616578.vo.msecnd.net&s=332&h=ec89bf7f0f31b6cb900fb90a0ca2b4b7e6358ed986da099902ccd34b4f9b7fee&size=980x&c=1740114290 crop_info="%7B%22image%22%3A%20%22https%3A//media.rbl.ms/image%3Fu%3D%252Ffiles%252F2016%252F08%252F17%252F636070703226502577-2103703597_FH.gif%26ho%3Dhttps%253A%252F%252Faz616578.vo.msecnd.net%26s%3D332%26h%3Dec89bf7f0f31b6cb900fb90a0ca2b4b7e6358ed986da099902ccd34b4f9b7fee%26size%3D980x%26c%3D1740114290%22%7D" expand=1]
Nobody knows what field hockey is.
It is like a combination of soccer and lacrosse but also hockey...it is easier to see rather than explain.
It is confusing to anyone who does not know the basics of field hockey.
Introducing new people to field hockey is fun, until you are answering their every question. They will have a lot of questions.
Shin guard tan lines.
You play and practice in the heat of the sun. Those shin guards (for the most part) are your form of protection from a 5.5 ounce ball leaving bruises on your legs.
And razor back tan lines.
Your razor back tan line may never go away. You will have a permanent sports bra tan line. It is nearly impossible to even out and ever harder to avoid.
Your skirt and spandex are your best friend and worst enemy.
Of course, you love the freedom of wearing a skirt rather than shorts but your spandex comes with its own issues. It rides up or is too tight or just not the right length.
Field hockey comes so easily for men.
It is like, they do not even have to try – totally unfair. They can perfect a drive in an entire practice.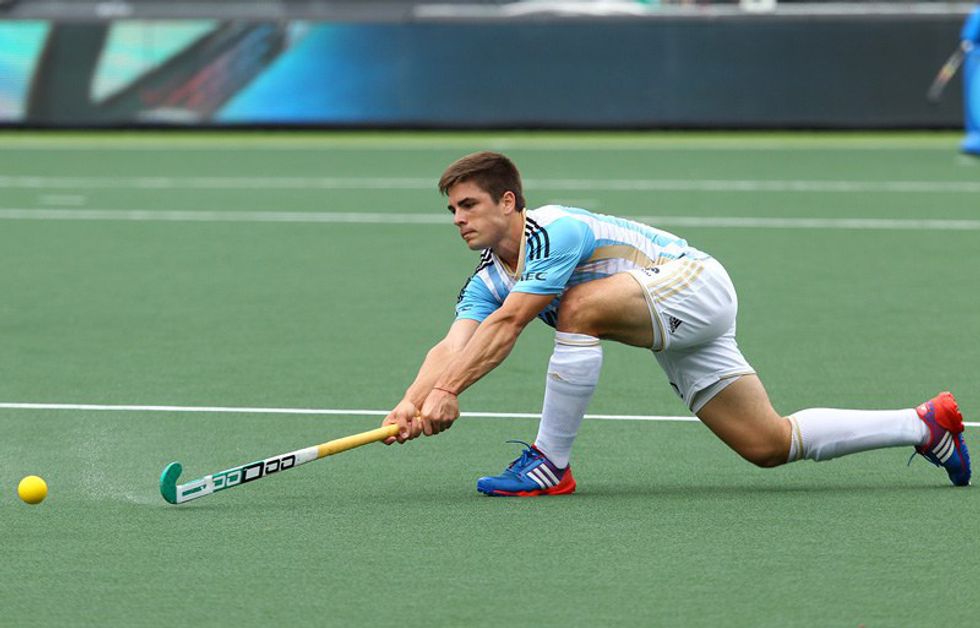 You have to worry about getting hit with the ball.
Whether someone has just done a nice drive up the field or the ball is coming up high during a corner, you always have to protect yourself from being hit.
Back pains.
If you are not using your legs right to get low, your back will be extremely sore. Better hope you do not have arthritis when you are older.
Your hair is constantly being thrown into more than one braid.
You have perfected the post-game messy braid. You are drenched in sweat with hair from your braid flying out in every direction.
Your new stick never stays looking new.
Flash forward to you angrily wiping skid marks off of your stick after the first game using it.
Mouthguards. Enough said.
They are frustrating to deal with. If you are lucky, your school does not have strict rules on the appearance of your mouthguard.
Wearing a mask.
Masks are good for face protection, but when you can barely see the ball on the field, you get over them very quickly.
Practice and games become your everything during the season.
Say goodbye to a social life while you are in season.
Corners raise your blood pressure.
One mistake and the other team could score so easily.
Playing field hockey was one of the best things I have ever done, I could not imagine my life if I had not played. Every sport comes with it's downfalls and field hockey is no exception. I loved the sport, and I still do. Even after you stop playing, it will leave a permanent mark on you.