Everyone has watched sports and whether you like it or not, you have to look at the players. Let's be honest, if you're like me, then you'll agree that sports are always a little more interesting when the "Eye Candy" is present. What's "Eye Candy?" It's kind of like a little treat whenever you see an attractive player run across the field or run to the next base. They're just really attractive and you can't wait until the camera is on them! I watch soccer and, quite frankly, the World Cup was far more intriguing when I saw these men on the field!
1. Neymar Jr. - Brazil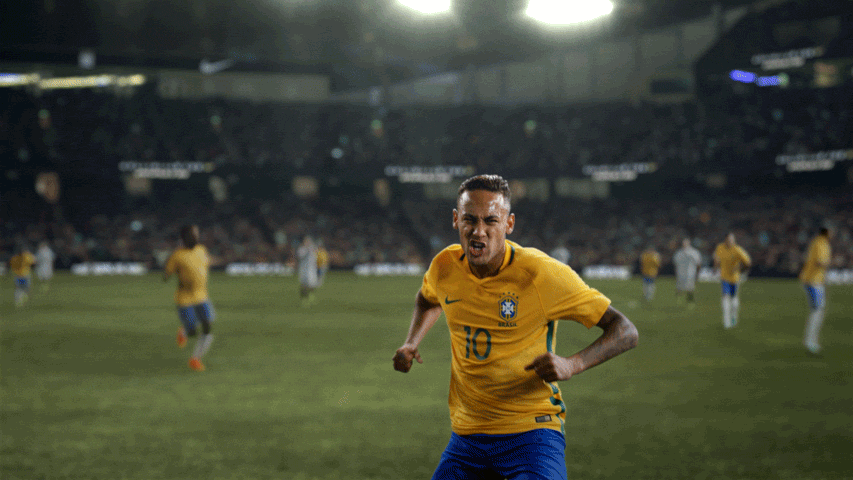 Giphy
Neymar Jr. has been well known in this World Cup and rightfully so. As the third highest player in the game (and the most attractive, in my opinion), it's only fair that everyone knows his name. He played very well this year and his hair change in the middle of the competition really made me happy.
2. Ramadan Sobhi - Egypt
Unfortunately, we didn't get to see too much of him this World Cup, but doesn't mean he's still totally a cutie! He played very well and I was really sad to see him go. Lucky for us, his Instagram page is just a few clicks away. @ramadansobhi51 is where you should look if you really feel like you want to see more of him off the soccer field!
3. André Silva - Portugal
Portugal played well, but Silva was where my eyes really went! How could you not stare at him all day? Besides the fact that he's a great player, his Instagram account (@andresilva9) is to die for! Go check it out, if you really love yourself.
4. Raphaël Varane - France
Raphael Varane was not only a great player and lucky enough to win the World Cup 2018 with the rest of his France team, but he was also lucky enough to have great looks with it! His latest Instagram post with his wife and son is just too cute to handle. Definitely go check out his Instagram @raphaelvarane. You'll thank me later.
Sports are such a big part of our world and our culture today and so many people say that they can't watch it because it's just not for them. Personally, I think there's something for everyone and maybe there is a perfect sport for everyone to watch, but we'll never know until we really try to test that theory.
For now, I'll stick to watching my Club Soccer and World Cup whenever it comes around! If you're waiting for the next matchup between the teams, get ready for the United States v. Brazil in September at MetLife Stadium! I know I'm pumped!