Dominating the news lately, Russia has been an influential stronghold for many years. Considering Russia's history, it is no surprise Russia interfered with the U.S. elections. This is not up for debate. In fact, Lindsey Graham reported that 99%, or 99 out of 100, U.S. senators agree with the C.I.A. report that Russia interfered with the U.S. election. This is particularly alarming due to the president-elect's initial rejection of the C.I.A. report and more recently, the downplaying of Russia's actions. President-elect Trump claims it is time to move on from the Russian hacking. It is not time to move on, Mr. Trump. It is time to be aware of Russia's power and take steps to protect the United States.
Democrat or republican, all Americans should be concerned about Russia's interference with the U.S. election. This is a bipartisan agreement that is not questioning the legitimacy of a Trump presidency but instead is concerned about America's safety. The coming together of the parties on this issue is a silver lining.
Aside from the cyber attacks, Putin has been making waves in Russia and other countries for a while. In 2013, Putin undid a Russian reform so he could directly appoint regional governors. Although Russia granted women the right to vote before the United States, Putin's government continues to suppress homosexuality and bans "propaganda on nontraditional sexual relationships." Restriction of speech extends to protesting, often heavily penalized.

Cuba, Nicaragua, Venezuela, Syria, Afghanistan, and North Korea are the six countries that have shown support for Russia's annexation of Crimea. The United States would not be in good company to accept the annexation as suggested to President-elect Trump. Even after the annexation of Crimea, Russia has continued to attack Eastern Ukraine with no end in sight.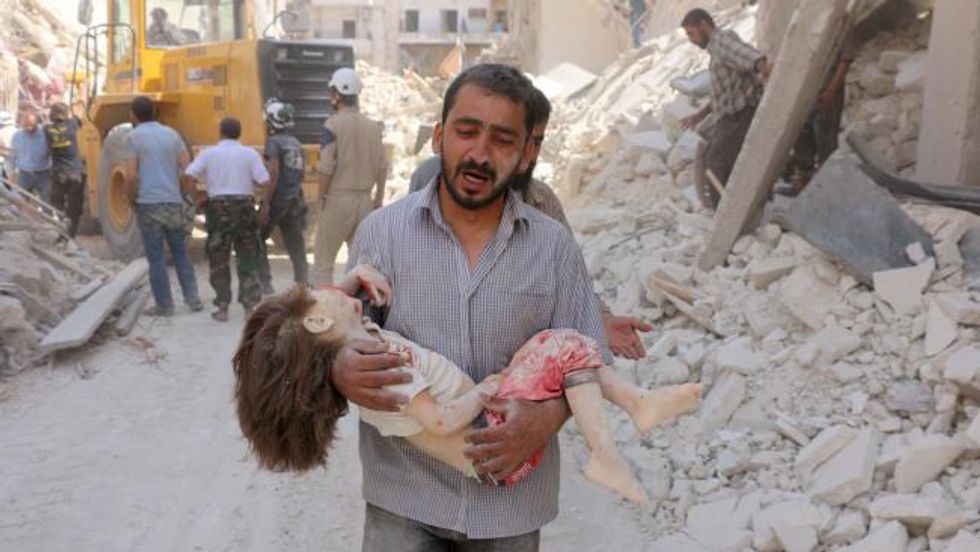 A Syrian man carrying a child after Russia breached international conventions to attack Aleppo

Russia has been bombing Syria since last year for economic and military purposes, masquerading their attacks as helping the country. It is speculated that Russia desires to show other countries that it is a key world power. More civilian lives have been lost due to Russian attacks than to ISIS. U.S. officials reject that facade, claiming Russia's attacks on Syria break international law.
So, what are we doing about Russia's cyber attacks?
Obama is striking back at Russia for interfering with the U.S. election with the placement of sanctions. Obama ordered 35 Russian diplomats to leave the United States; U.S. intelligence agencies noted that these diplomats are believed to be spies for the Russian government. Besides online insults in response to the U.S. sanctions, Putin has said he will not retaliate until Donald Trump officially takes office in January.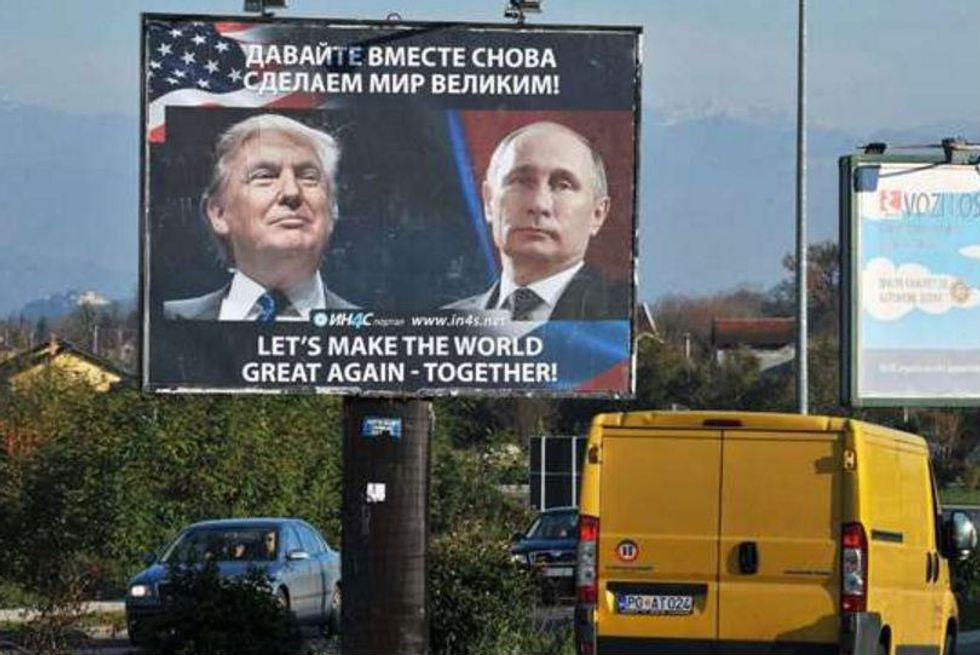 A chilling billboard in Russia (It's real; click the picture for more information.)

A lot is resting in the hands of Donald Trump going into this election. It is predicted that Putin will ask Trump for help in bombing Syria, and Donald Trump has displayed strong support in doing so. With tensions growing high, another cold war is a possibility. Let's hope Trump's acquiescent approach to politics does not entangle the U.S. in undesirable relations with foreign countries.
Going into 2017, we can only hope that President-elect Trump takes a stance against the Russian hacking and does not stop there. Syria and the Ukraine deserve peace and safety, and so does the United States.