Mr. Teal,
You have written an unabashed piece of commentary on this photograph by Ed Freeman, which you have described as a disgrace to our country because in your opinion, it defaces an important monument belonging to our country. For your eloquence in speech and bravery in sharing your views, I commend you. However, I have to respectfully disagree with a large majority of what you have said.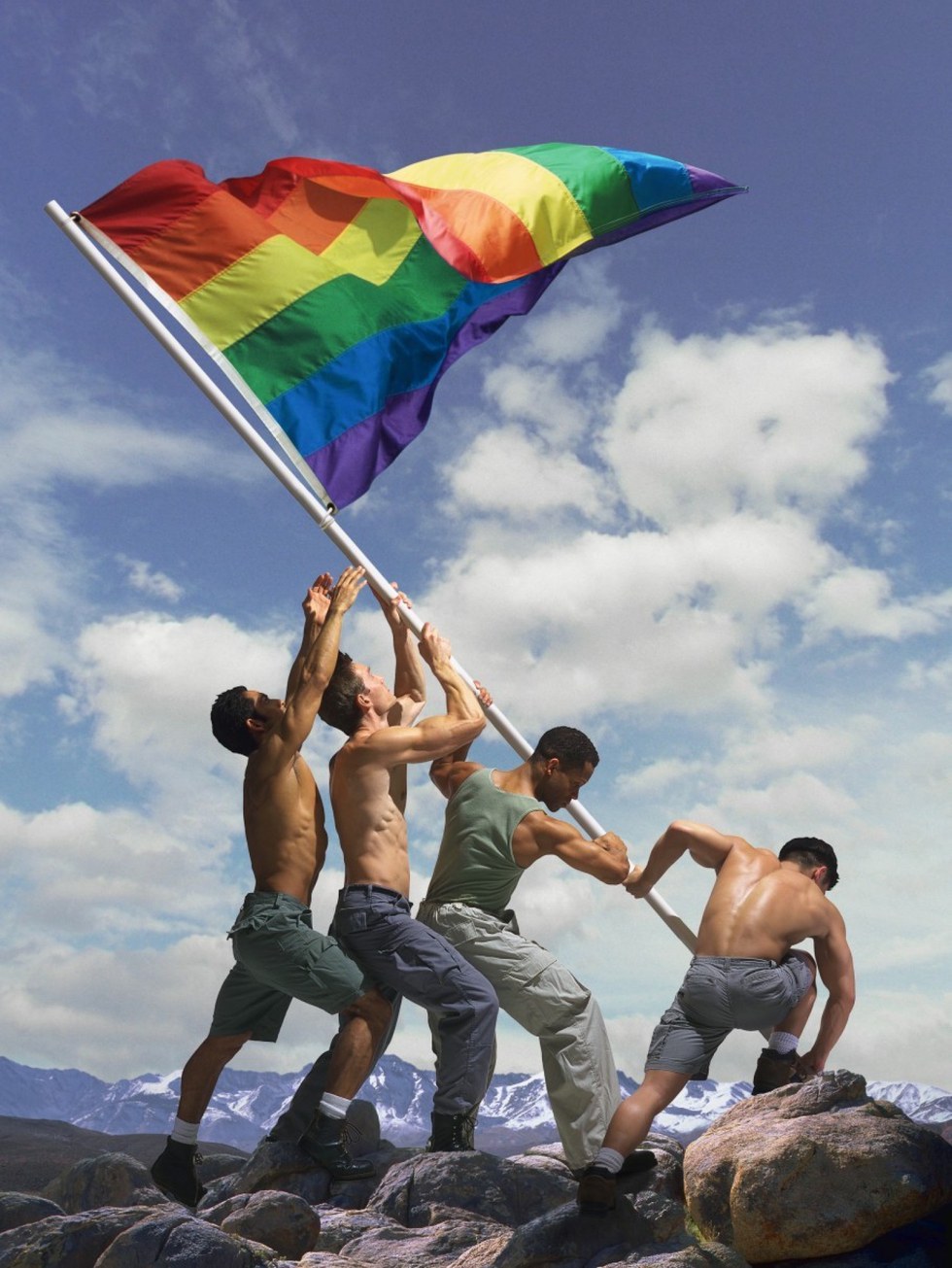 I fully agree with your views on why the Iwo Jima memorial and photograph are so iconic and scared to our country. It is with a great respect that I, and countless other Americans, honor our fallen heroes who fought for our country and freedom. They deserve immense respect and I stand in salute of them, as I know you do, too. I do agree that the blood shed on the battlefield does not compare to the less violent and more legal battles that wage on here. (However, you yourself have stated that blood has been shed over the LGBT equality fight--they were victims of hate crimes, and that shed blood is not insignificant, not even when compared to our brave and steadfast soldiers' blood.)
But, what you have failed to recollect is that these fallen soldiers, and the soldiers who walked off of the battlefield, were fighting for our victory, our freedom, our rights. Our means all of us Americans, including those of all classes, creeds, colors, religions, genders and sexualities. ALL. You can be damn sure our armies consist of every color of every rainbow out there. When our soldiers represent all of us, they are fighting for everything the American flag represents, and the American flag does not discriminate among its people.
You say that you "have nothing against the LGBT community," but I find this hard to believe, since you attempt to distinguish "our" America with "their" America. There is no such thing. There is no "us" and "them". They are us. We are one. Our Supreme Courts--in which we invest our undivided, unfettered trust--have declared it so; they are equal, and they deserve equal rights. They deserve every right that our fallen soldiers have fought for, including those at Iwo Jima.
The photograph that you and many others claim is disrespectful had no intention of being as such--as is very clearly stated in Freeman's comments in the very article that you linked in your writing. (Perhaps you forgot to read it in its entirety because your anger was misdirecting you. I highly encourage you and everyone to read the article in its entirety, so you may understand the artist's intentions behind the picture. You say that this picture makes a "mockery of what that statue stands for," but I do not believe this to be true, and neither does Freeman, the creator of this picture. The Washington Post article quotes Freeman saying about his photograph, "'This is not meant as a sign of disrespect. For God sake, no. I totally support people in uniform. There is no comparison going on here.'"
This picture was intended to be a celebration of a victory, a victory for the pride community and their freedoms. The photograph of Iwo Jima and the memorial serve to remind us of the fight for our freedom, and it has been reproduced many times to honor this fight for freedom and to show how the fight continues on. (It has been put on pumpkins, beer cans, even been redone for Funkadelic, which appears on an album cover for the band.)
(By this comparison, the gay pride flag was at least for a more noble, less commercial cause. This album art is more along the lines of things we should be outraged at for disrespecting the memorial.)
It's not freedom for just you and other white males--it's freedom for us all: women, people of color, people of different sexualities and many more. And unfortunately, those battles wage on even after the fighting on the battlefields in other countries are over. This doesn't intend to disrespect the sacrifices that our soldiers are making--obviously, we could not be fighting those battles of equality if we didn't have the freedom that our America promises us and that our soldiers are fighting for. But the battles for equality are not made insignificant by the sacrifices of our soldiers. Rather, they are made more hefty, more important, because our young men and women are dying for all of our freedoms. Reproducing the iconic picture of Iwo Jima serves to honor it, not disgrace it, and the memory of those soldiers AND our freedoms, as we continue to fight for them.
You have to realize that telling the LGBT community that their flag, the symbol that they have chosen for their fight as Americans for the freedoms that the Constitution of America grants them, is not as important as our flag is wrong. They fly the gay pride flag along with the American flag. Their American flag. They hold both in equal reverence. Your disgust isn't with this picture, it's with what this picture represents. This picture of the pride flag represents a victory for a community that maybe you don't support. I can understand that. But artwork is a form of expression. The day we equalized gay marriage was a victory for America. It allowed us to bring America one step closer to the freedom and equality that it promises, just as Abraham Lincoln did when he emancipated slavery, and just as the Supreme Court did during Brown vs. The Board of Education. You might remember that from history class, separate but equal is inherently unequal. This photographer aimed to capture this victory of America, using inspiration from something revered and meaningful to our country. It was not disrespected, but rather respect of the utmost kind. Freeman chose this image of Iwo Jima as the victory image for the fight of his community, a fight he no doubt felt strongly about. It's not like he went up to the actual memorial and defaced it by spray painting it. No, he created a new image, inspired by the old one, to capture for him and his community all of the sentiment of their victory which was, for them, akin to the victory at Iwo Jima--the victory for our America. And I remind you again, our soldiers fight for OUR America, which means OUR freedom, OUR America, OUR rights. And that includes our LGBT community.