Guys hear it all of the time from their female counterparts, especially good guys: "My guy is rude and we're going to break up," or we hear, "Now that I'm single and have had my heart broken, I'm wondering if there really are nice guys out there." Yeah, well there's something to this and it might surprise you.
First off, the numbers game, because if you have read any of my articles, you know I like to use numbers and statistical data to make my points and arguments. Here is one that will blow your mind: as of 2017, the last time they actually processed the numbers, we had 7.53 billion people on Earth. 7.53 BILLION! That's a real number-look it up! Google it! I promise it is there and let's face it, Google is so advanced now, it finds everything and practically knows everything. Dig a little deeper in this and you will find that 49.5% of the world are females. That means that there are more guys than girls on planet Earth and the numbers game is actually more in your favor than ours.
So, what's the problem? Well, there are a few avenues we can take in asking why. First and foremost, the standards you have set might not be the same kind of standards that are truly in your heart. It's true: girls like bad guys for whatever reason, but c'mon you don't marry the bad guy if you really want it to last. Secondly, you might be settling with that kind of attraction and you're better than that and you probably don't even realize it!

That is a truly scary part because chances are, you're worth way more than that and you just haven't realized your self-worth, at least on the surface. That's not bad though, that's part of life. Finally, it isn't all about you and your faults, nice guys have them too.
We've been burned by girls we've adored, and we've been hurt by them too.
We have experienced toxic relationships just like you have and you're not wanting to see guys like that. Chances are, you've already friend zoned a guy that has always wanted to date you or is really worth your time and you just didn't pay attention.
Timing is everything and if he isn't shy, he hasn't asked you out yet because he either has reservations that he's not the guy you're looking for at the moment or he's got his own stuff going on trying to better himself. These guys love being your friend, but chances are have wanted something better because he's already seen you on the other end of being in the same position he has. It's not that he isn't trying to be assertive, he would be. However, he's thinking "well even though she's my type, I'm clearly not hers" and that's a real thing, ladies.
Nice guys may not be jerks but that doesn't mean they are betas. Some of us like to hunt, fish, go to the beach, drive really fast, ride rollercoasters, shoot guns at a range, or going to the bar to have a couple of beers. There are a lot of alpha males that do manly things (such as grow a beard and listen to metal music) and still are just genuinely nice.
Here's a huge disconnect in relationships: many women consider a nice man, is a weak man.
That's not true either. You cross a nice man, you'll know it and you'll see a different side of him when he's angry. He'll be temporarily the guy you broke up with before him. The difference is he'll apologize to you and actually mean it. You'll realize he was just mad and that was a temporary thing because in the back of your mind you understand that you finally achieved in getting what you were looking for.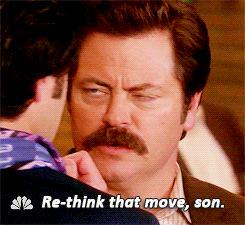 Giphy
There are nice guys who fit both of that criteria that will adore you for who you are, spoil you in a way you've probably never experienced before, and love you as much as a boyfriend can that in some ways (not the creepy way) remind you of that care that your father has for you. Because ultimately that's what you want right — a guy you know your dad would like and an ultimately a guy that you'd be proud of introducing him to your dad? You don't want your dad second guessing your choice like when Brian Cranston gets pissed at his daughter for bringing James Franco home in "Why him."

What I'm saying is for whatever the reason you might not realize, you have absolutely been settling. I'm telling you to STOP! Stop settling and showing yourself you don't deserve better because you do. You want that cheesy happily ever after and ending you see in romcoms and Hallmark movies? Realize how valuable you are and what you can bring to a relationship with a nice guy. You're not settling by picking a nice guy if that's truly what you want, you're getting a forever, not a Friday.

Unless there's something special about you, people do tend to not open up too fast and there are reasons for that. If I do, then you're extremely special and when I mean extremely special, I'm talking you're a pearl in a mountain full of empty oyster shells. Sometimes I come off bored or disinterested. That means that I'm playing my hand or I'm debating on whether this is gonna go anywhere — try harder.
Nothing worth having is easy: you gotta fight for it.