It's no secret that the "Harry Potter" franchise has a large fan base that has spawned movies, video games, multiple lines of merchandise, and even a theater play in author J.K. Rowling's universe. Universal Studios Orlando decided to give Potterheads close to the real experience of Hogwarts when they announced a Harry Potter-themed park back in 2007. The Islands of Adventure park is home to The Wizarding World of Harry Potter: Hogsmeade and as of June 2014, a replica of the esteemed Hogwarts express was built that provides transport to visitors in the Universal Studios Florida park which has The Wizarding World of Harry Potter: Diagon Alley. Best of both worlds.
There are no words that express how a young (or older) witch or wizard feels when they first enter either of the parks. The only word that I would use that could accurately describe how I felt was magical. There was such intricate detail where ever your eyes landed on and one felt like they were actually walking through a wizard village. The train ride on the Hogwarts Express encompasses the Dementor attack from Harry's third year.
In both parks, there are sensors in certain areas that react with different interactive wands that can be purchased. You have the ability to create magic within yourself with a little swish and flick. You don't have to say the incantation out loud because of the sensors, but who wouldn't? I received my interactive wand has a gift the Christmas before I went and it came with a map with all of the areas to cast spells. While not interactive, the theme parks have replicas of wands used by an array of different characters in the movies. The theme park of Diagon Alley is home to Ollivander's Wand Shop (it is also in Hogsmeade, but supposed to be in Diagon Alley in canon) where Harry Potter received his first wand and wands can choose their witch or wizard.
Fans can try butterbeer and pumpkin juice! I can say that I have tried both and ended up not liking either of them (which made me super upset), I am still happy to brag that I had the experience. For witches and wizard above legal age, there is also themed alcoholic drinks at The Hog's Head. There is also the candy shop Honeydukes which sells sweets relative to the books and movies (Cauldron Cakes, sugar skulls, Acid Pops, and Bernie Bott's Every Flavour Beans) for those with a sweet tooth. Has I am not much of sweets person, there is The Leaky Cauldron located in the Diagon Alley park and The Three Broomsticks in Hogsmeade. As The Leaky Cauldron is also designated as an inn, when you sit down to enjoy your meal, you can hear footsteps and luggage on the floor above your head. There are "potions" sold by vendors that are actually flavors to put into your Gillywater which is just bottled water.
A variety of shops adorn both Diagon Alley and Hogsmeade with "Harry Potter" toys, souvenirs, and collectibles. Most of the stuff is expensive like it would be at any theme park so spend your money wisely. A collection of "Harry Potter" Christmas is popular, with House Pride stockings and ornaments. No matter if you are a Gryffindor or Hufflepuff, you can find it. However, I wore cheaper "Harry Potter" merch from Hot Topic and Target so I could still represent and not make a huge dent in my pockets.

The rides are to die for. With a total of four rides between both of the theme parks, my favorite would have to be Harry Potter and the Forbidden Journey. The line queue is entertaining for guests (like must rides at Universal Studios) with Harry, Hermione, and Ron heading the adventures. I went on it more times than I should've because I had early access to the parks and there was no line. I did close my eyes when the Dementors came up the second time though because they scared the crap out of me the first time. Harry Potter and the Escape from Gringotts has the Ukrainian Ironbelly on the exterior of the ride that shoots fire (safely) on a timer into Diagon Alley. The ride is an actual roller coaster although it is hard to see the track because of the size of the seating and the special effects. If you get motion sick, I recommend taking medicine beforehand as I almost hurled when I got off.
Even if you're not a fan of "Harry Potter," I guarantee the experience will be magical. If we can't attend Hogwarts, at least Potterheads have the creativeness of Universal Studios. There was so much thought and detail put into both parks that I am glad I had the experience to go and hope I can go again sometime in the future.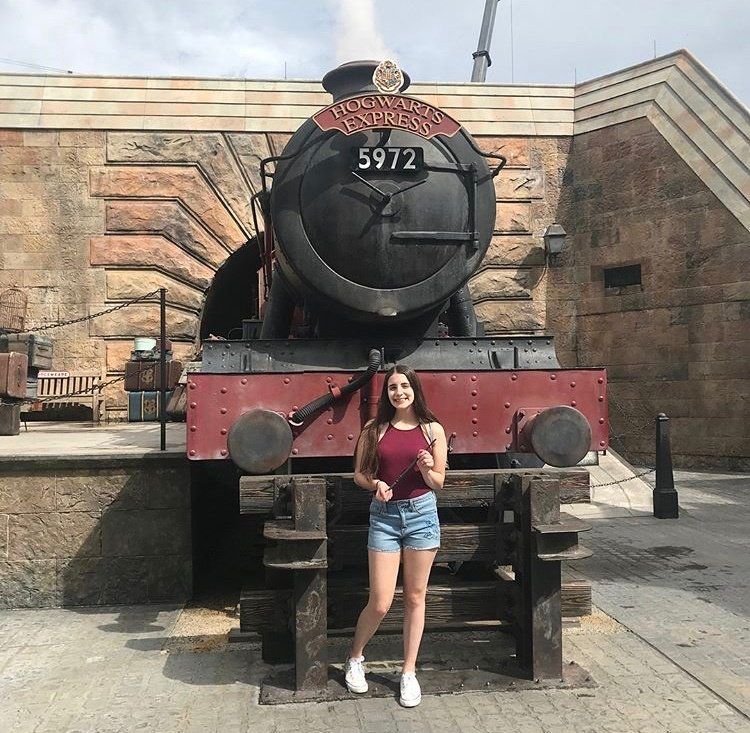 Cara Campanelli