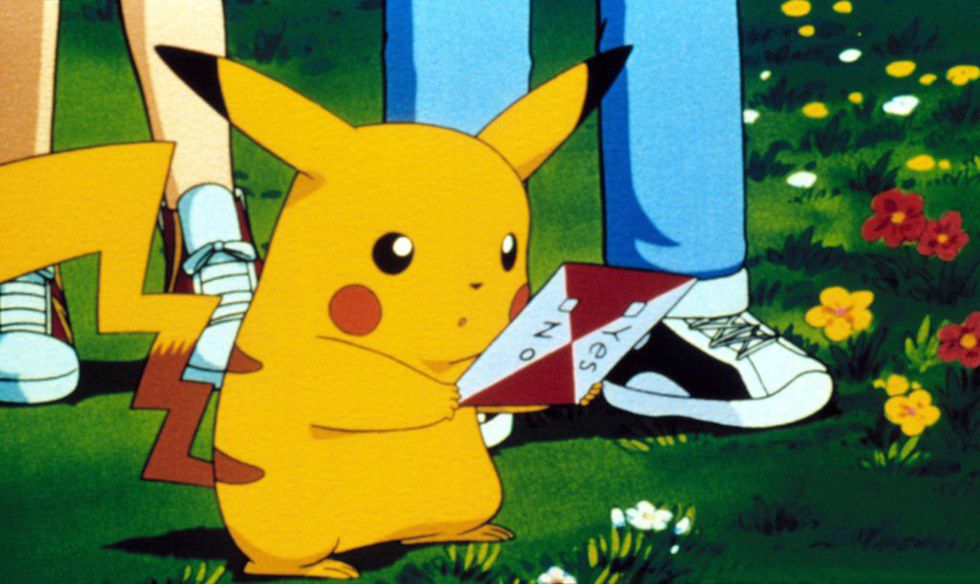 Health experts are calling Pokémon Go an answer to every fat man and woman's prayers; I call it BS! It's nothing more than another a stupid game that's going to make us even more irresponsible, a conspiracy against our social lives, a cancer that's going to eat up whatever is left of our sanity, it's nothing but absolute BULL SHIT! So here's what I have to offer as a counter argument to some of the ooh-so-holy claims that are being made about this game by health and fitness experts.
It's trying to get you outside
Oh really? But I thought the point of that was getting outside WITHOUT your cellphone. We've all complained about how technology has ruined relationships, brainwashed everyone, and reduced us into nothing more than an army of anti-social social animals connected through a virtual network, and how we all need to put our tech on our bedside actually engage in normal human conversation. All that Pokémon Go is doing is making us go outside with our cellphones on a hunt of ridiculous looking pocket monsters so that we're just running around the city even more engrossed in our gadgets. Great going Nintendo! Added that, the docs say "Ooh you'll go out, breathe fresh air and get some Vitamin D." Dude, you only need just about 10 minutes of sunlight to replenish your daily requirements, not an extended Pokémon hunting marathon!
The game makes you walk
So now health experts are going to add Pokémon Go to your prescription in case you're suffering from heart disease. Yea sure, the game makes you walk… and by that I mean walk a lot; but do you really need a cellphone in your hand while doing that? Isn't an iPod with your favorite playlist good enough, or even a friend to give you company? There's a really big difference between going out of the house for a morning or after-dinner walk to keep your cardiovascular and musculoskeletal systems working properly and just wandering around slowly looking for freakin' Pokémon. Firstly, you'll most likely be walking briskly if not jogging while on a fitness walk, which is a lot healthier and how you actually be doing it, and secondly, what will you do when you've caught all the Pokémon in the game? Yea… that's exactly what I thought… find another game or go back to you couch… or laptop… or whatever! The point being, you'll stop walking once you're done with the stupid game.
A rise in weight loss
Hmmm… I'm pretty sure that just might actually happen. The wandering, the walking, the running, the stress of catching THAT Pokémon before your best friend gets it, skipping meals for a hunt, say yay to weight loss! But I'm also pretty sure that the number of trespassing incidents is also going to rise. I don't know how we feel about random people walking over our front lawn for no apparent reason! Also, I'm pretty sure that after you come back after an hour of hunting Pokémon on the streets, you'll be so hungry that you'll start hogging even more food. So… I guess we're back to square one?
Of gyms and Pokéstops
Ok so everyone's going crazy about how your local gym is now a Pokéstop and how it makes perfect sense because you go to a gym in the real world to battle it out with your rivals and bla bla. Even fitness freaks and gym enthusiasts are like "OMG this game is going to build your muscle for you." Normally when I hit the gym, I prefer not to take my cellphone because I don't want to risk it being stolen from the locker room, or falling out of my pockets when I'm on my back and my legs are up in the air. Oh wait… normally when I go to the gym… I EXERCISE and follow a fitness plan! Here's a reality check for you; if you're thinking that you're going to go to the gym and walk out with killer abs and biceps just by tapping your cellphone for two hours playing a children's game, think again; you'll only get fatter sitting on a bench pressing your ass!
It helps beat stress
Oh really? Health experts say that Pokémon Go allows you to take those much needed breaks during strenuous work routines for having a healthier work day. There's no denying that, but I thought Facebook and Twitter did just about the same thing. Now the argument is that you apparently end up wasting a lot more than just five minutes on social media sites scrolling down through random shit that's happening all over the world be it failed military coups or honor killings. Well, I wonder how long it takes you to walk around looking for Pokémon and collecting goodies. Yea… probably a lot more than what you'd be spending on Facebook or twitter. Not only are you going to be all stressed out when you don't have as many Pokémon as your friends and colleagues, but you're going to be even more stressed out when you realize that you're horribly late on your deadlines for the day. Goodbye efficiency and big fat employee bonus, and hello late sit-ins.
So do you still think Pokémon Go is going to make you healthier, sexier, and get more sex? HELL NO!