As we wrap up 2018, I have been reminiscing on all that this year has encompassed. I recall setting my intentions for the new year; I was eager to devote the upcoming year to becoming a stronger, happier, more confident version of myself by myself. Yet, unexpectedly, by the end of January, what was initially a solitary endeavor, has now become a unanimous adventure together. I truly met someone who made my journey towards a better me more prosperous than I could ever have imagined.

I'll say this till I'm blue in the face: I'm so grateful that I never settled or lowered my standards because I found you. And man, were you worth the wait. Thank you for all the laughter, endless support, and your loyalty to making me smile every day (even from 250 miles apart). You have stuck by my side through thick and thin and we've made so many memories in 2018 that I'll cherish forever. I am so eager to see what other adventures the future holds for us together.
However, I have to mention that what I'm most appreciative for is not what you've given me but what you've taught me. Your sweet messages, surprise visits, and corny jokes melt my heart but what I cherish most is your character and the principles you have unintentionally instilled for me. For one, you have consistently shown me the significance of dreaming big. You embrace and support my ambitions while you encourage me to continue tearing down my self-imposed boundaries. Thank you for patiently showing me who I am through your eyes because you know I tend to be my own hardest critic.
Side by side there is nothing we cannot accomplish.
To anyone reading who has felt or is feeling like they just can't seem to find the 'one':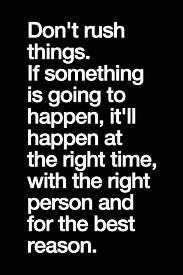 Have a little faith.
Please don't settle for anything less than your heart desires. Don't just be in a relationship for the sake of it. Know your worth and have some faith because there is someone who will treat you as a priority and never make you question their loyalty to you. If no one has ever told you, I want to sincerely tell you that you deserve to be with someone who inspires you to tear down your self-imposed limitations and supports your wildest dreams.