As a mother, when you're pregnant, you may hope for a boy or a girl. You may envision names and outfits. But most importantly, you wish for your child to be healthy. When Lauren George went into labor with her little girl she had so much anticipation after having three boys but anticipating that her baby would be born with no signs of life was not part of that. The moment that was supposed to bring about pure happiness, brought about pure panic.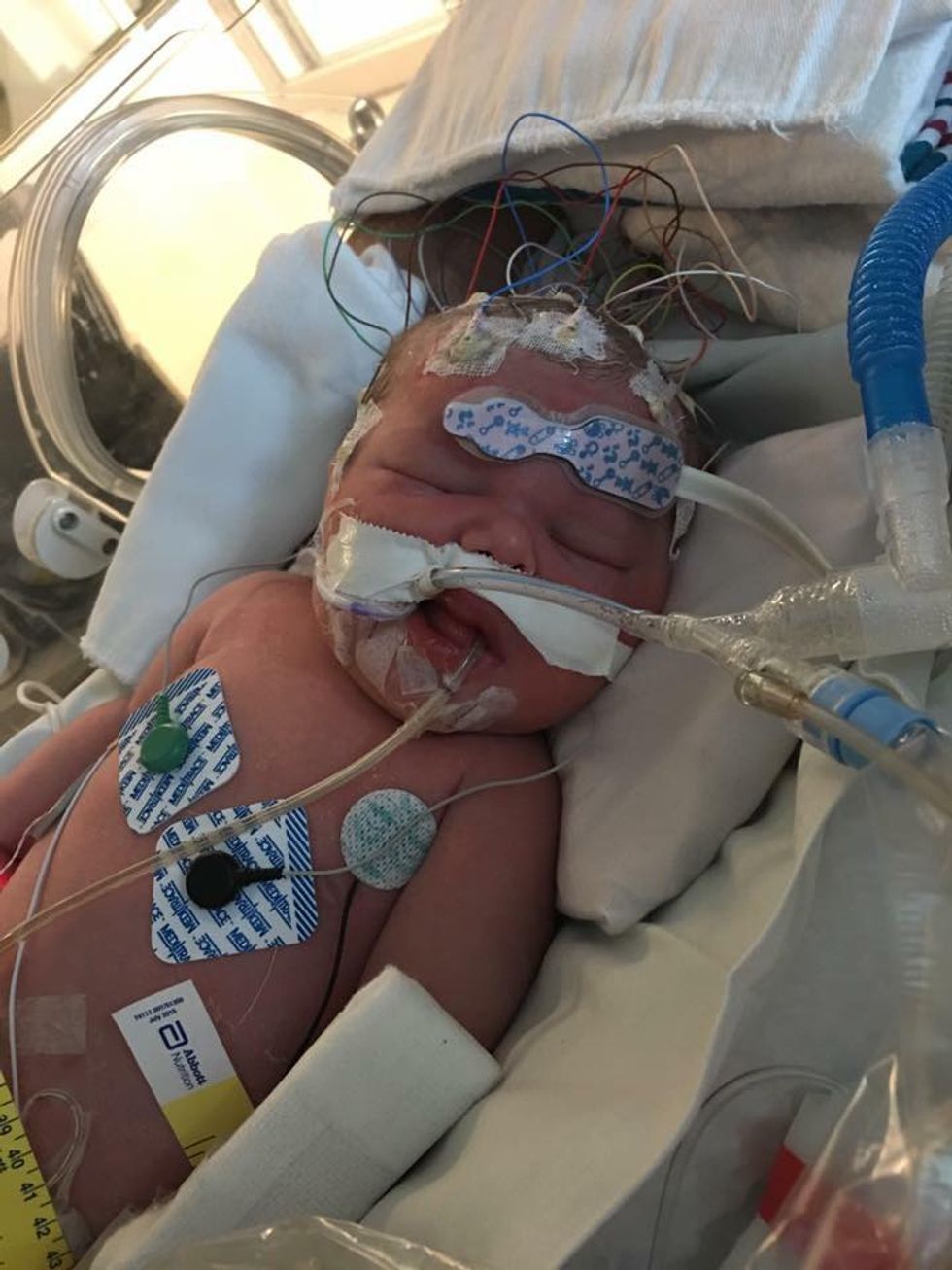 On November 6, 2016, Lauren was extremely ill. The next day she went into labor. Lincoln was born full term with no signs of life and immediately put on a ventilator. From there, the doctors started the process of figuring out what was wrong. "After a day of frantic tests, the hospital tested my blood and found fetal cells which meant we had a placental abruption and she had lost almost her entire blood volume into my body," said Lauren. That is why Lauren was so ill the day before she delivered. With the lack of blood flow comes a lack of oxygen to the brain, which happened anytime within 24 hours of birth. Lauren said there's no way to tell when she started losing blood and oxygen to her brain.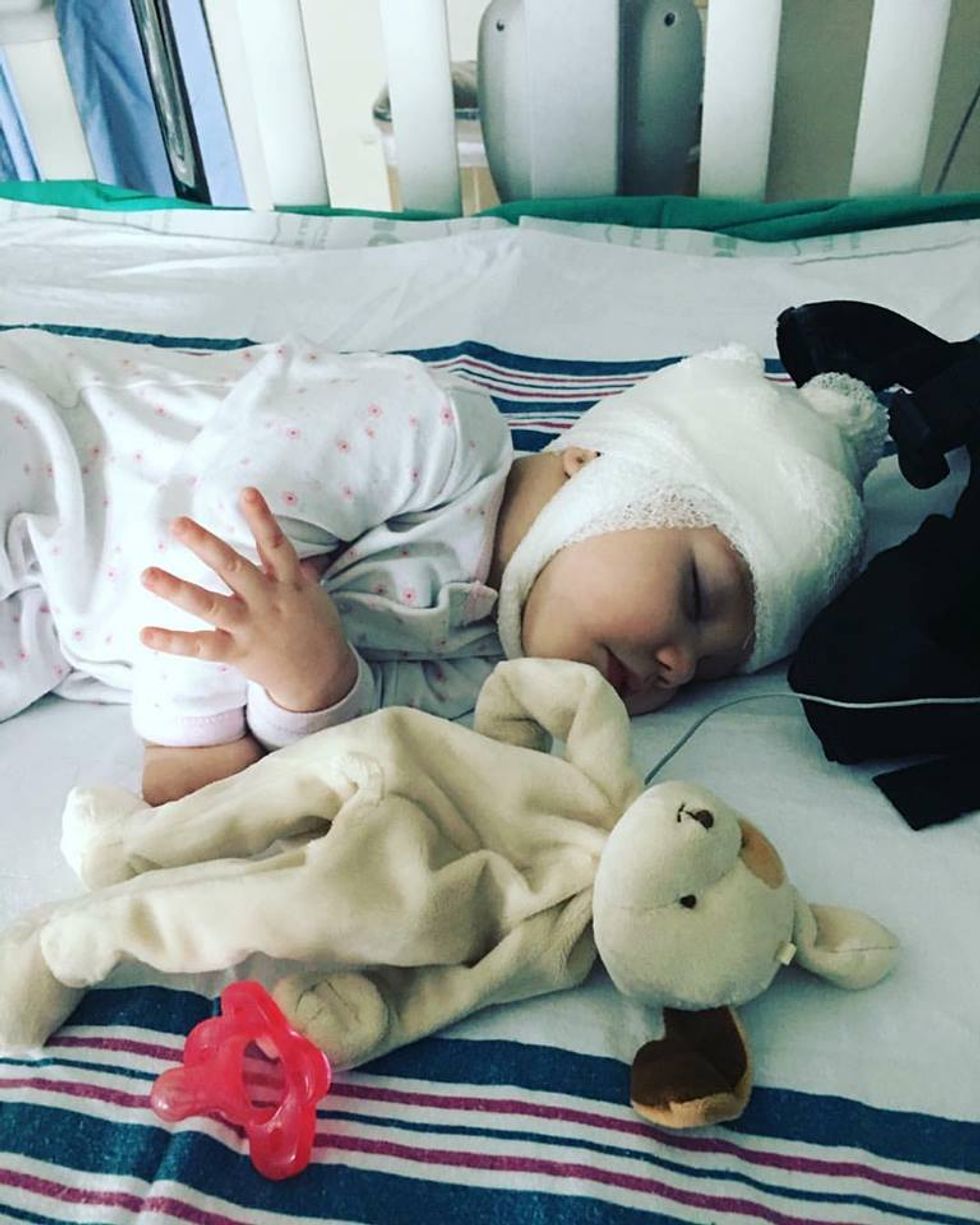 Lincoln spent a month in the NICU undergoing a full body blood exchange, blood transfusions, platelet transfusions, MRIs, EKGs, EEGs, and numerous procedures. When she was 14 days old, the doctors told them she had a condition called periventricular leukomalacia which would severely impact her quality of life. Lauren was told that Lincoln would never walk, talk, feed herself, or live a 'normal' life. "I went from elated to finally have a daughter to completely devastated," said Lauren. Lincoln was also having intense seizures and had a stroke due to the lack of oxygen which resulted in a brain bleed and cerebral palsy and epilepsy.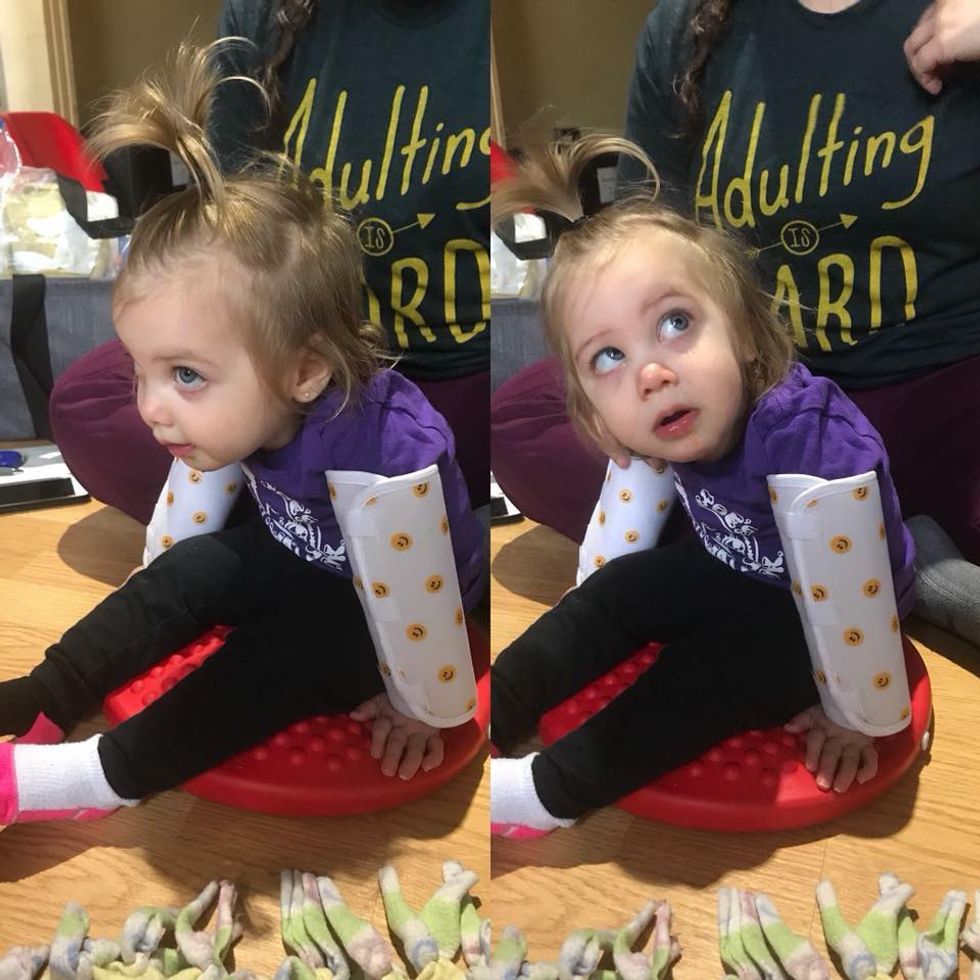 Lincoln is now 18 months old. From what they can tell, she is cognitively intact but her motor ability is very delayed. Lauren said, "Lincoln is still working on physical abilities that of a three to six-month-old which means she doesn't sit and play with others or walk and run like a typically developing toddler."
[instagram https://www.instagram.com/p/Biz33JLhfUP/embed/captioned/?cr=1&v=8&wp=575&rd=muse.theodysseyonline.com#%7B%22ci%22%3A0%2C%22os%22%3A1140223.100000003%7D expand=1]As a mother, it is hard for Lauren to watch her baby struggle but she works diligently to help her improve every single day. Part of that includes a large amount of therapy. Lincoln started therapy when she was 3 weeks old. She currently receives physical therapy, occupational therapy, speech therapy, vision therapy, tape therapy and massage therapy. They've also tried water therapy. "All of these treatments have helped her tremendously and we're lucky that we've been able to keep her on a vigorous therapy schedule because early intervention is key in kids with C," said Lauren. Although her motor ability is delayed, without the knowledge of her team of therapists she would be even further behind. Lauren said The therapists are constantly teaching her new techniques to try with Lincoln and they see a lot of forward progression with the use of therapy. "Her entire occipital lobe (where your brain communicates with your eye) is damaged almost entirely, but through vision therapy and A LOT of prayer, she has great vision according to one of the leading pediatric ophthalmologists in the state," said Lauren.
Working hard today on handling toys 💪🏼 #cerebralpalsy #therapy #occupationaltherapy #epilepsy #strong #work #donutworrybehappy
A post shared by Lincoln Pool (@lincolnpwithcp) on

Even though they are thankful for the progress Lincoln has made with her various therapies, Lauren still wants to see more growth opportunity for her sweet little girl. Like any mother, she hopes to give Lincoln the best quality of life possible. The newest endeavor for Lincoln will be stem cell therapy. Stem cells are great for a host of ailments but recently people with CP have been seeing a vast improvement after the use of stem cell therapy. Lauren said when someone has a neurological condition, stem cells will go into the brain and repair damage by forming new neurons and with a stem cell transplant, they hope to see an improvement with her motor ability.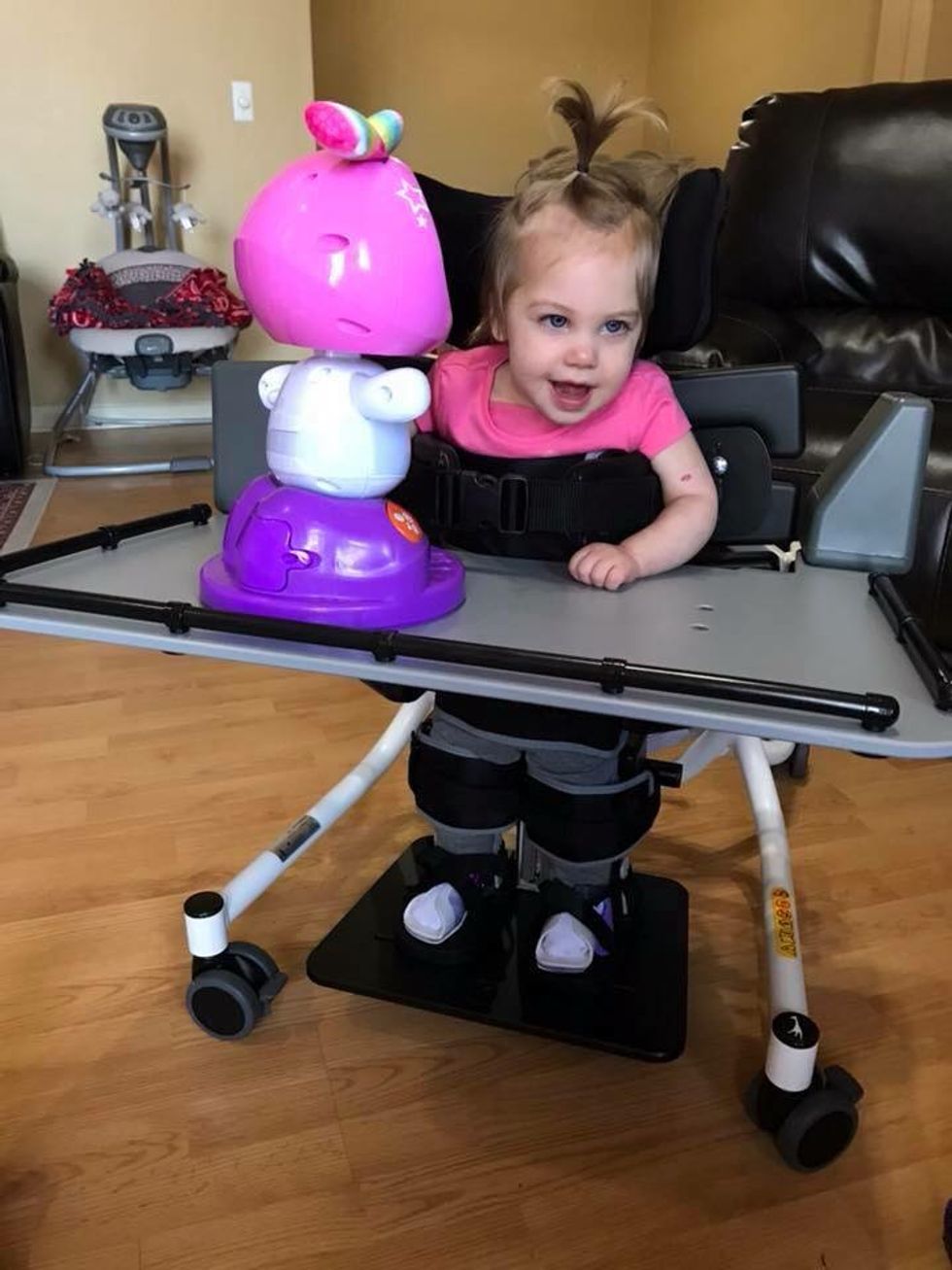 "Of course we're thrilled that she talks to us and is cognitively on track, but we'd love to see her walk, run, and play with her siblings someday and that's obviously not going to happen overnight, or by stem cell treatment alone, but the hope is that the stem cells with transplant themselves where they need to be and regenerate brain activity where there is none or minimal, said Lauren. Unfortunately, this hope for their baby comes with a very large price tag. The cost of treatment is
$9,000
plus
$1,000
for a microcurrent machine that would basically direct traffic in Lincoln's body. The machine makes sure that the cells go to the brain, where Lincoln needs them. Lauren said that none of the stem cell therapy or the machines is covered by insurance because it's still in the "research stage" for CP and it's elective.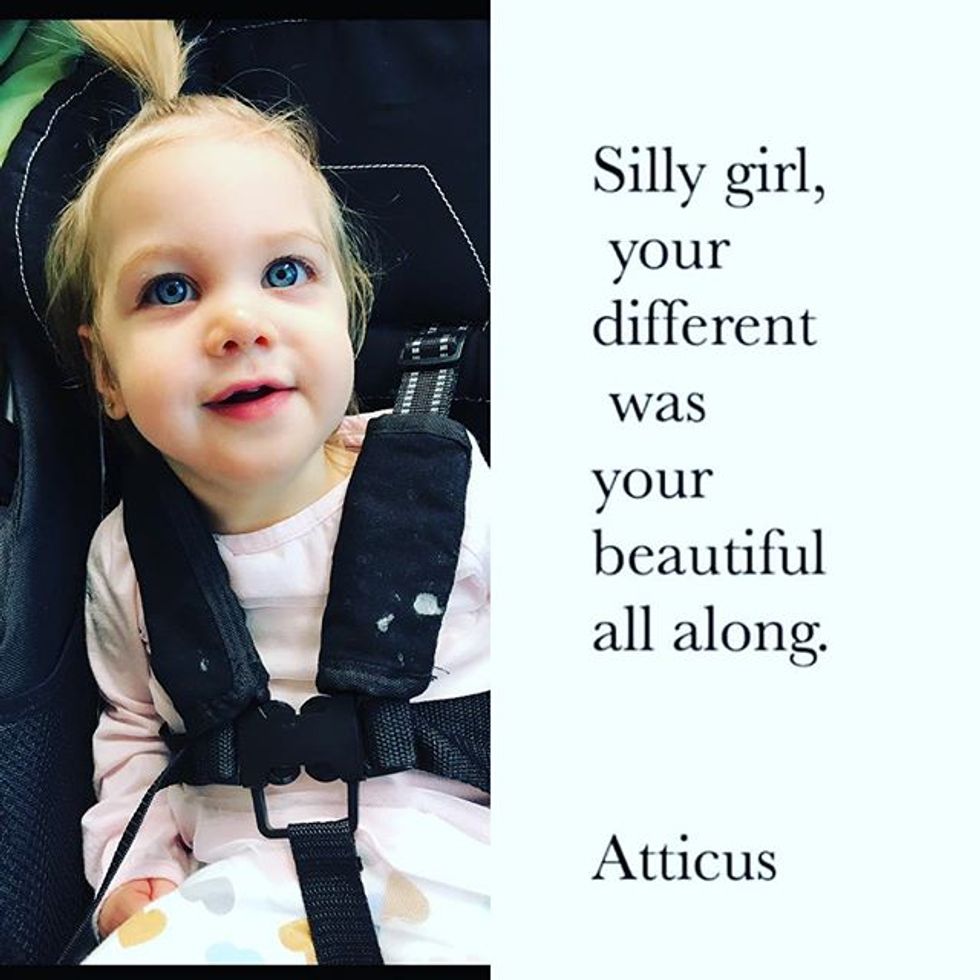 Lauren knows that people have preconceived notions about many children and especially those with any type of physical impairment. Lauren said, "I think the main thing I would like for people to know about kids with CP is that having CP doesn't mean that you are intellectually incapable. I used to ignorantly view anyone with a physical disability as probably having a mental disability as well and I should have educated myself. Kids with CP are so resilient and strong and fight so hard to do everyday tasks that we take for granted."
Lauren said,
"Being a CP mom is an exhausting, thrilling task. I'm constantly researching treatments and therapies to bring Lincoln to her full potential. From the moment Lincoln was given her diagnoses, I promised her that I would fight for her every day and we would face the challenges together, and that's exactly what we do. Lincoln has three brothers (Karson, Jason, and Cash) and as a mom, I've tried to always teach them to be kind to people who are different than they are, but as a CP mom, I think it's enabled me to really bring that point home even more so. I involve them in Lincoln's therapies and make sure they're interacting with her as much as possible. CP has been the scariest and the best thing I've ever dealt with as a mom and I honestly wouldn't trade it for anything in the world. Lincoln has taught me so much about life, the world, and myself. I've really learned how strong I truly am through her."

Somebody is awfully happy about having all 3 of her brothers home for spring break 😍 #cerebralpalsy #epilepsy #talk #giggles #specialneeds #specialneeds #tulsa #oklahoma
A post shared by Lincoln Pool (@lincolnpwithcp) on

Lauren teamed up with an online boutique, Jumping Jack, to host a fundraiser for Lincoln. They are selling sweet shirts and tanks with a positive message. They read, "You're different is your beautiful." I recently ordered a tank from the site and if you'd like to order one, here is the link.
I posted a while back about a different treatment we were looking into for little miss and we've decided to proceed with stem cell therapy! The cost of stem cell treatment for cerebral palsy is extremely high so we've decided to team up with Jumping Jack to do a fundraiser to help alleviate the cost. We're looking at roughly $12,000 out of pocket as this is not covered by Insurance at all. Our hope is that stem cells will improve Lincoln's quality of life and show us some forward progression in her physical capabilities 💚 Feel free to share this post!! The link to shop is below! https://jumpingjackapparel.com/collections/threads... #cerebralpalsy #epilepsy #therapy #stemcell #tshirt #fundraiser
A post shared by Lincoln Pool (@lincolnpwithcp) on

If you're interested in donating to Lincoln's journey, here is the link to her GoFundMe account. Lauren just recently said she swallowed her pride to create this. She didn't originally want to do this but after the urging from many, she agreed as it is an avenue that can help them help Lincoln. On the page, Lauren said, "I set the goal of this fundraiser under the cost of treatment because I don't want it to be perceived that we're asking for a handout because we aren't. Anything over our goal will be put towards Lincoln's future treatments because hopefully, we can get more than one round of stem cells for her eventually. If aren't in a place to donate, please pray for us to meet our goal and for this treatment to go as smooth as possible!"

Additionally, if you'd like to keep up with Lincoln's journey, follow her on Instagram with the handle @lincolnwithcp


Allow me to introduce myself! I'm Lincoln Riley Pool. I am 16 months old. I was born with no blood in my body. Somehow I lost it all into my momma's body the day before I was born 🤔. We still don't know why but the doctors call it a maternal fetal transfusion. Anywho, it caused a grade 2 brain bleed and some of my brain is damaged and filled with cysts because of the blood loss. I have cerebral palsy, epilepsy, peeiventicular leukomalacia, and hypoxic ischemic encephalopathy. I take CBD and another medicine to control my seizures and I've been seizure free for almost a year! My momma is @laurplusfour and my dad is @rileypool and they post about me too, but I wanted my own Instagram so you can all watch me win at life. Cerebral palsy can't keep a strong girl down 😘💚. Oh and March is #cerebralpalsyawareness month so what better time to start following me than now?! #epilepsy #queen #fightlikeagirl #lincolnriley
A post shared by Lincoln Pool (@lincolnpwithcp) on