Disclaimer: this is a story that discusses topics of mental health.

Anxiety doesn't just pop up one day and decide to stay with you for the rest of your life, but for me, it manifested itself in high school. I was in an intense sport, trying to take rigorous classes, and my otherwise incredible family was, let's say, struggling a bit. This was the perfect storm that turned me into a *very* fragile human being.
With time, the catalysts of my anxiety disappeared; my family figured itself out, I got into college, and I retired from my sport. Despite this, the constant state of worry and distress stuck with me. Usually it takes me about half an hour to compose a single text to someone I even remotely value until I'm super comfortable texting them. Sometimes I'll spend hours regretting a single word I used in a conversation with someone. I've done the panic attack thing a few times, and it's definitely not my favorite. Once I started crying because I couldn't handle the task of replying to my Instagram post's comments. Needless to say that if I can't respond to someone's "So cute!!" on Insta, I'm not really a joy to have at parties.
So you could safely bet that I'd be pretty eager to vanquish these less-than-ideal qualities if the opportunity were to present itself, right?
A few months ago I went to the doctor. After the usual check-up, she asked me if I had any other questions. Naturally I brought up all the little things that I'd written down in my notes on my phone. I asked about the miraculous speed at which my fingers prune. Obvs, cuz that's like the weirdest issue to ever bring up, she didn't have an answer. I gave it another shot asking if my insurance would cover an earlobe surgery so I could get my ears pierced again. Again, because that's a strange request, she couldn't help me out.
The poor woman was desperate to solve at least one of my problems, so I threw a bone at her and talked about some of my ~quirks~.
"Well, I shake constantly, I sweat profusely, my heart beats fast in practically any situation, and I get so nervous about talking to people that I feel like my body is going to implode. Even in a situation that I know there's nothing to be worried about I can't do anything to stop it."
"Sounds like anxiety," she responded.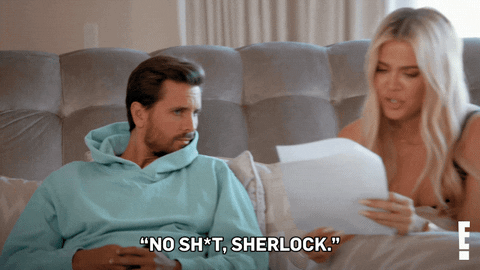 GIPHY
Before I knew it, my lovely doctor had sent off a prescription to my local Walgreens, and within the hour I was holding onto a little orange bottle of tiny, white pills.
Six years of unsolicited mental breakdowns, irrational worries, and crippling social anxiety, all fixed by taking one pill an hour before the anticipated anxiety-provoking event. Problem solved, right?
It doesn't take a rocket scientist to recognize that there were a lot of red flag behaviors indicating that I am an anxious person. But there was something about having a doctor diagnosis and label me with "anxiety" that made me resistant to taking the potential antidote.
I couldn't grapple with the fact that I had a problem—which I felt in many ways I created—that I couldn't take handle myself. No one pressured me to do well at my sport, succeed in school, and be the child my parents could be proud of, except me. If I'd gotten myself into this state, surely I could fix it on my own.
I don't know if this speaks to the power our brains have or my unique anxiety situation, but with time I've managed my anxiety to a functional level by taking pressure off myself - both academically and socially. Essential to this was reinforcing the belief that embarrassment does not equate to failure. As my favorite podcasters remind me, there are always bigger idiots than you.
In the process, I've come to realize that being authentically Bea, anxiety-and-all, is kinda her best form. She's loud, messes up a lot, and overthinks everything, but she'll do whatever it takes to make her friends happy, is super conscious about everyone's feelings, and (for the most part) makes smart choices.
These two factors have helped me put my anxious tendencies on the back burner and, for the first time in years, really appreciate life.
Still, I can't help but think I'm neglecting some utopian mindset I could be tapping into.
Those pills might be the solution to my problem, and it's my anxiety itself that prevents me from taking the medicine. There's literally no harm in giving it a shot.
Then just as quickly as I've hyped myself up to go home and try it out, I talk myself right out of it.
Who isn't a little bit anxious? Get over yourself.
The same internal dialogue, everyday.
I'm not telling this story because I came to a resolution. I didn't. I haven't. Honestly, I might not ever. I stare at the little orange bottle on my dresser and it stares right back. But here's what I've come to so far. All in all, I like who I am, and as of now I'd rather not change a thing than change one thing and risk it all falling apart.