A few weeks ago, inspired by my good friend Jess, I wrote my first Friend Spotlight article. I explained further in the previous one what the idea is and how it came to be, but basically they are a way to celebrate positive relationships with the people in our lives. Jess and I had been talking about the possibility of writing articles like "obituaries but for the living", because although we recognize that obituaries for the dead are valid and necessary, we don't see it happen very often that people write articles to just celebrate their loved ones that are still living, at least without a specific purpose behind it.
I'd hoped for the idea to spread around, and it seems to have happened so far, as another friend of mine has requested an article written about her. This friend's name is Martene and she is another one of my closest friends.
Martene and I met about 4-5 years ago through Alexis, a mutual friend of ours. I'd met Alexis when I worked at my first job as a Giant cashier, where she and Martene both still work. Shortly after that, she introduced me to Martene when we all hung out together a few times. Over the years Martene and I have talked more and grown closer to each other. I'm very grateful to have met both of these girls.
Martene is originally from West Chester, PA (where Alexis and I are also from), however as of the past year or so she lives in an apartment in Downingtown. She attended East High School and then Delaware County Community College, from which she graduated about 3 years ago. She currently still works at Giant, although from my understanding from a few years ago she has had a few other jobs too, some of which she had at the same time. Right now, she temporarily works at a different Giant, as the one she originally worked at has shut down for remodeling until this fall. She loves her family, her cats, friends, God, volunteering, painting, and shopping.
A very notable quality about Martene, which I admire about her, is how friendly she is. She is very warm and welcoming to everyone she meets. I know she tends to get on very well with people she becomes friends with at work, different religious groups she attends, or any other social environment. At my current Movie Tavern job, I have a coworker who also happens to be one of Martene's coworkers from her Giant job, and I've heard a lot from him about how kind he thinks she is and how friendly she acts at work. She has the God-given ability to make everyone she meets feel loved, people and animals alike.
Another one of my favorite things about Martene, as well as something I've connected with her on, is her unabashed dedication to her faith. She is devoutly Catholic and always gets genuinely excited for a chance to talk about God or attend a church-related event. Not only this, but she is very genuinely kind about it. Although I'm Greek Orthodox and not Catholic, I appreciate that we share this factor in common. I've had a lot of great discussions about religion with Martene and I appreciate how open-minded and humble she always tends to be. While we may have some differing stances on social and political issues, I have only ever seen Martene be open-minded and understanding about those things. I believe she embodies the definition of a true Christian. That is a strong value in a friendship for me.
Something I love about our friendship-- perhaps where the aforementioned qualities come into play-- is that she is always so willing to be there for me. She'll always go out of her way to help me out or hang out with me. Whenever I'm home on a break from school, Martene is always excited for a chance to see me. Since I currently don't have my own car, she has helped me out a lot by driving me around when we hang out or when I have work at my Movie Tavern job, even when I don't deserve or ask for it. I'm always there for Martene whenever I can be, because I know she has been more than willing to do the same for me-- from being very excited and supportive of me when I studied abroad, to being angry alongside with me during the heat of my relationship drama.
And we have had some amazing adventures together. Including but not limited to: spur-of-the-moment sleepovers, Starbucks and Panera outings (some of our favorite places to go!), Applebees half-apps, spontaneous Walmart runs for random items, Pokemon Go adventures, and Black Friday shopping. I consider myself fortunate to have such a generous, caring friend. I know we sometimes dislike each other's views on topics that may come up between us, but I am lucky to have never gotten into any serious arguments with Martene, unlike most of my other friends. Because in the end what matters is that we support each other. I have many other lovely friends, of course, but I have rarely ever met someone who is always so incredibly generous and willing to go out of their way for me.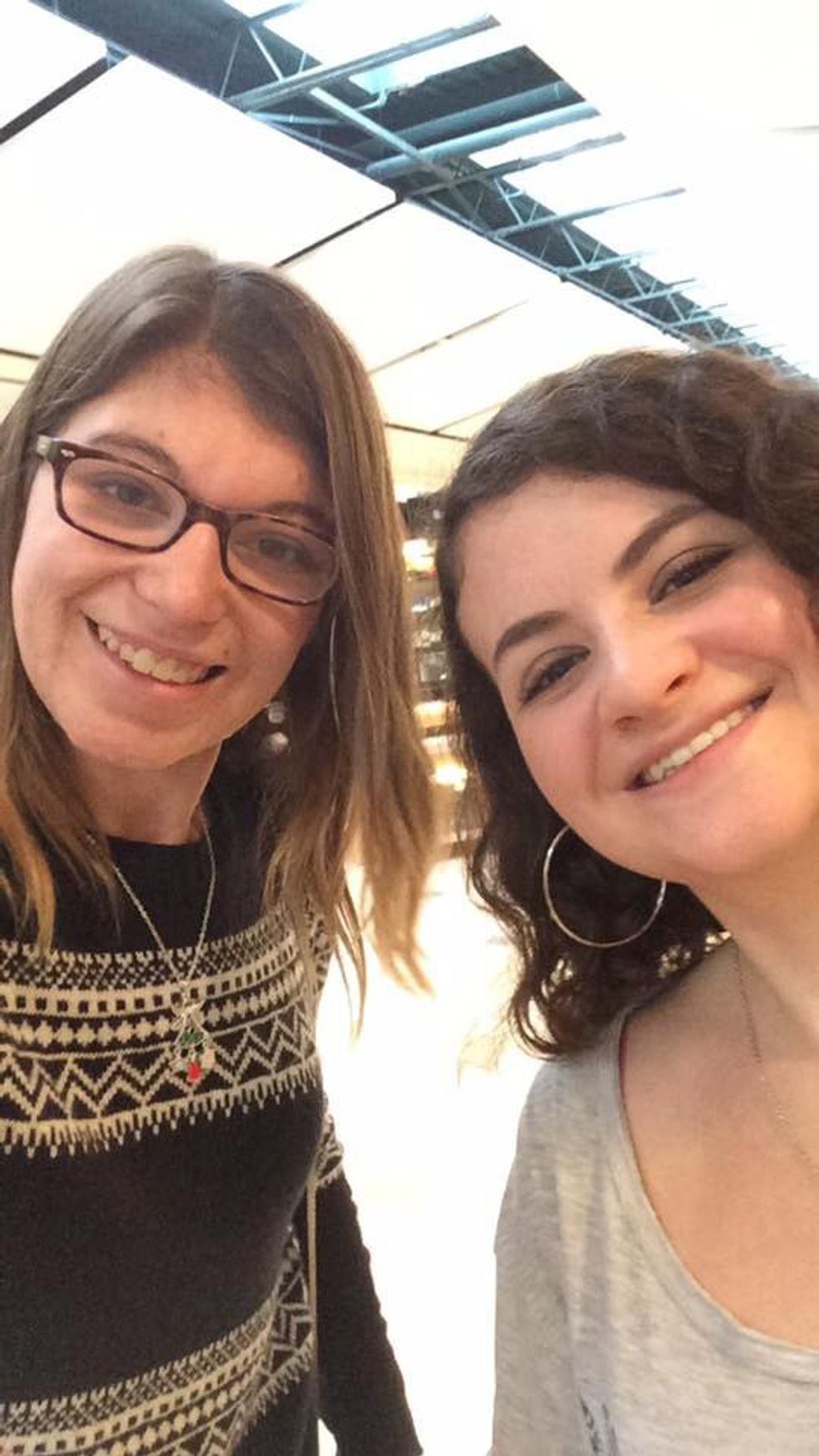 I love you Martene and I'm so glad to be blessed with your friendship.

Thank you for always being a wonderful friend, and for volunteering as the subject for my second Friend Spotlight article!
And once again, if any other friends of mine want me to write about you as my next Friend Spotlight, let me know and I'll gladly do so.