"This is Jade, get to the nearest safehouse and wait until dawn... Good night, and good luck." The radio goes off as your watch beeps. It is now 21:00, and you are in danger. In the night, things are never the same...
Dying Light is one of the most iconic zombie games of this era, featuring never before seen concepts in its genre. It also features one of the most scary features of all, drawing inspiration from Minecraft. Here are all the things that makes Dying Light terrifying. Beware, violent images ahead.
A better "Dead Island"
"Dying Light" was developed by Techland - a company famous for its prior zombie game: Dead Island. Dead Island was a hit due to its new mechanics involving heavy emphasis on melee combat and weapon crafting. This put players in a tough spot because unlike its predecessors of "Left 4 Dead" or "Killing Floor," guns are a rarity and survival depends on resourcefulness.
After the failed release of "Dead Island: Riptide" - a low effort expansion - Techland parted ways with their publisher Deep Silver, in pursuit of a game that they can formulate on their own.
Dying Light - Launch Trailer | PS4 Youtube
Flash forward to 2015, and "Dying Light" was released with massive success. It featured functions not available in "Dead Island" while debuting a new feature: parkour. Yes, you read that right, parkour.

Parkour?
Parkour was an interesting system to be implemented in a zombie game, but it would make total sense when you think more about it. Imagine the streets being filled with mindless zombies. One bite, and you're infected. Leave untreated, and you're gone. The rooftops is the only safe option, and you need the athleticism to scale buildings and run away from danger. In Dying Light, you're not a hunter. You're the hunted.
The night
Fear not the day, for night is your true enemy. In "Dying Light," zombies are infected with a special virus. This strain of virus is afraid of UV light, meaning that during the day, the zombies' motor functions are extremely suppressed, making them sluggish and dumb. But when night comes, the virus unleashes its full potential, turning slow zombies into athletic and crazed chasers that can pursuit you for miles at incredible speeds.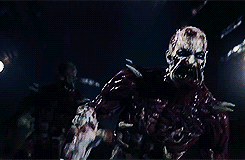 Run and pray they don't catch you Giphy
Other than that, at night, a special mutation of zombies appear called "Volatiles." They are athletically superior, incredibly strong, and are terrifying. They usually emit a gargling sound and makes clicking noises, both of which join together for a scary combo. Plus, in the night, you are vulnerable. Sneaking while watching out for monsters in the dark isn't exactly easy.
Equipped with a UV Flashlight with limited battery life, you are left with only one weapon for self-defense if you ever find yourself in a pursuit. And in all cases, just run.
Noises
"Dying Light" has an interesting approach to noise. Zombies are very sensitive to noises. A gunshot, an explosion, a car alarm, or a loud crash onto a crumbling building could attract hordes to your position. In this game, noises determine your survival at night. Know when to throw a firecracker for distraction or when to trip car alarm traps could mean the difference between surviving a night and not seeing the day.
Dying Light Noise Attracts Virals www.youtube.com
Closing words
"Dying Light" promises a unique zombie experience different from most games. It's gritty, it's scary, and it's fun - these standards are those that game developers could only dream about when designing a zombie franchise. Nothing is more bone-chilling than hearing a volatile scream as the night comes, an explosion going off nearby, or when the sun sets gently behind the slums of Harran. But zombies aren't the only threats. Humans are an entire different ball game, but that's up to you to explore.
Good night and good luck...
From Your Site Articles
Related Articles Around the Web