I'm a girl's girl through and through, and as long as I can remember I've always surrounded myself with big groups of my favorite girlies.
I get along with a lot of different kinds of gals, that I've learned over the years don't always get along with each other.
I have this complex where I want everyone to be friends, and if you are someone who knows me in my personal life you're probably nodding your head thinking "yeah girl, you did this to me!"
For a long time, I couldn't understand how all my favorite people couldn't see each other as amazing as I saw all of them. So I would constantly be taking all of my very different friends and throwing them into situations where everyone was together, thinking there's no way this could go wrong.
Spoiler alert: More often than not, it went wrong.
Whenever you have groups of girls together that are more than just two, you can expect some drama. I think this is why I've always found myself in the mix of all the drama, even if it's not necessarily mine, because of clashing between friends.
Everyone has their own opinion on the decisions everyone else makes and girlie girls love to gossip, so you can imagine how extreme things get when the whole friend group doesn't love each other unconditionally.
Whether it was pool parties, homecomings, birthday celebrations and even a vacation house or two when the whole gang was together, you knew you were in for a treat. And when I say "you" I actually mean me because half the time when I look back I think I'm the only one who had any fun at those things.
I was always the hostess with the mostest so I decided the guest list, and though I thought I was being super inclusive and awesome with inviting everyone, on more than one occasion it backfired.
Within the large group of friends, everyone would divide into smaller groups, so even when we were all together, the only one that felt like we were a collective unit was me. It's hard to hang out and actually have fun when, on occasion, the number of friends all together was in the double digits.
That's a lot for any girls night with your "closest" friends.
So, if you're like me and you have this need to bring people together, remember that not everyone is going to be friends, and that's okay.
I still try to do that today and it's a miracle when it works out seamlessly, but miracles do happen.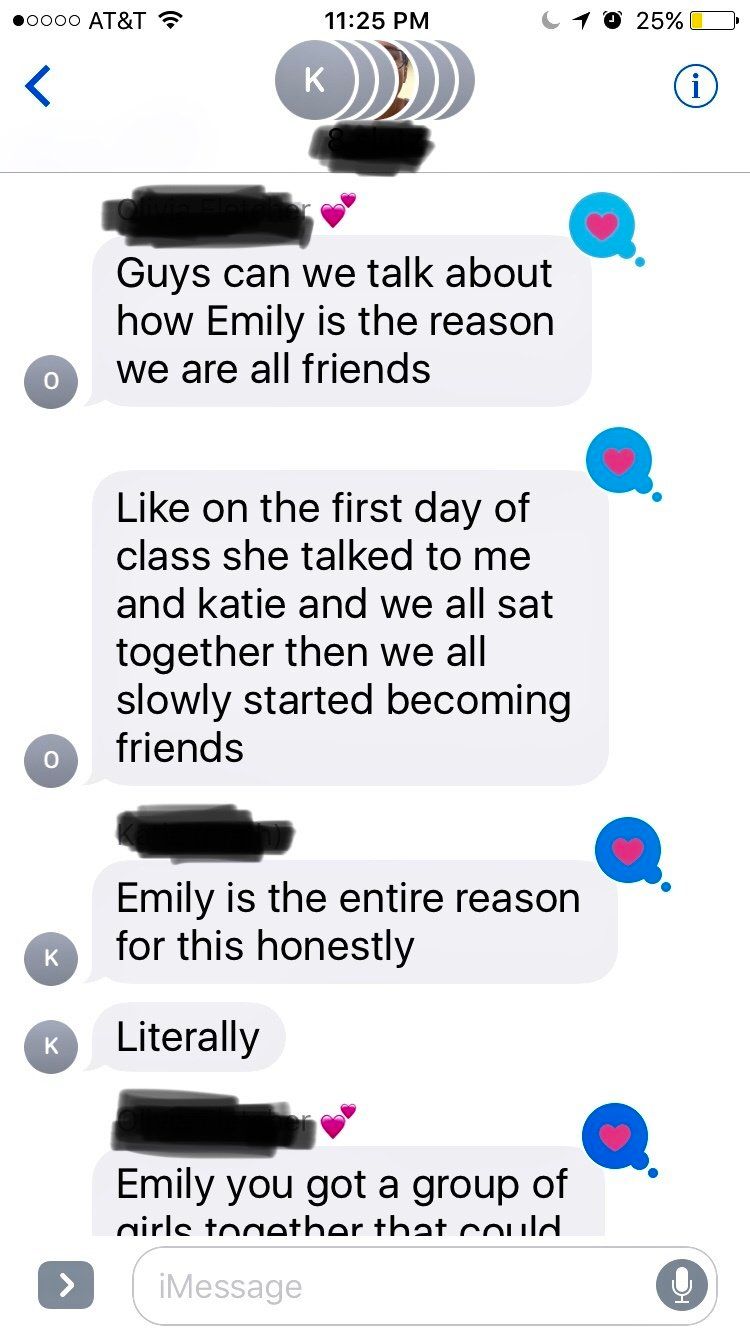 Emily Beltran
Don't let anyone try to influence you to value one friendship over another if that's not how you really feel.
Like any relationship, friends have their ups and downs, but it's up to you to decide if its something worth fighting for.
My friends are my family, so with them willing, I will always fight for them.