After 13 seasons with the Miami Heat, former shooting guard, Dwyane Wade, has decided to return home. Wade has accepted a two-year 47 million dollar deal with the Chicago Bulls, the very team he cites as awakening his passion for basketball. While with the Heat, Wade helped secure three NBA championships and five conference titles, as well as aided in the operation of Heat Camps for South Florida youths in the summer (which he will also be doing this summer despite his departure). Though bittersweet, Wade's decision is comprehensible and felt not only by fans, but also by Wade himself.
Dear Miami,
This has been an extremely emotional and tough decision to come to. After 13 years, I have decided to embark on a new journey with the Chicago Bulls. This was not an easy decision, but I feel I have made the right choice for myself and my family.
I started my NBA career with the Miami Heat in 2003 and it has been an honor to have played with them and help build a winning franchise with three NBA championships. I look back with pride and amazement at all we have accomplished together. I want to express my gratitude to the Arison family, Pat Riley, Coach Erik Spoelstra, the coaching staff, and the entire Miami Heat organization.
From the bottom of my heart, I want to thank the Miami community and especially #HEATNATION for all of their love and support over the years. It has been truly incredible. I am deeply moved and appreciative of the positive messages from my fans expressing that they want what's best for me and I know they will support my decision. The memories including championship parades and five conference titles are incredible moments we have shared that will always remain close to my heart as I begin the next chapter of my life.
Growing up in Robbins, Ill., I never dreamed that an NBA career could have even been possible and that one day I would wear a Chicago Bulls jersey. Watching the Bulls growing up inspired me at an early age to pursue my dream of becoming a basketball player. My most treasured memories were watching my dad play basketball on the courts of Fermi Elementary School and developing my game at the Blue Island Recreation Center. I have never forgotten where I came from and I am thankful to have an opportunity to play for the team that first fueled my love of the game. Many of my family members still live in Chicago and I am excited to return home to a city very close to my heart.
I look forward to returning to my roots and to what lies ahead.
Much Love and Respect,
D. Wade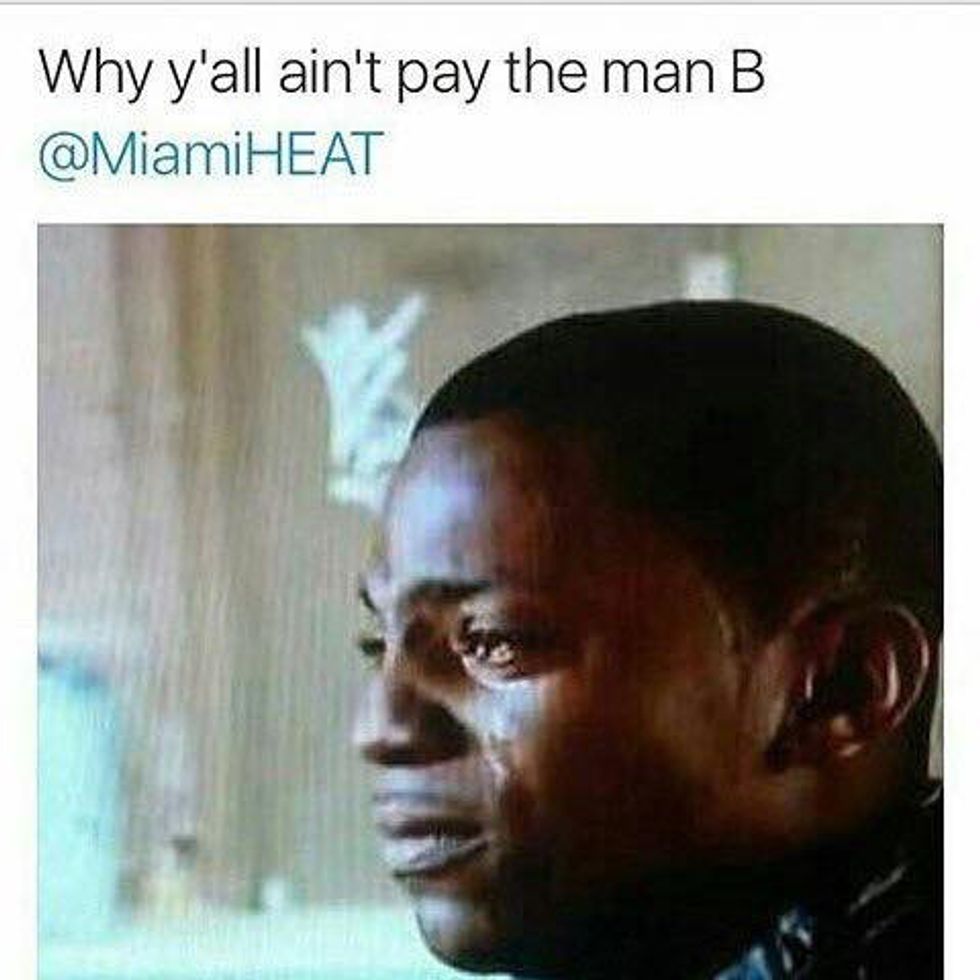 Social media responses have been generally understandable with many being more upset at Pat Riley for pressing Wade's departure, than at Wade for actually leaving. Initially, Wade was offered $10 million annually for the upcoming season; half of what Wade made the season prior. Obviously no one would take a 50 percent pay cut, especially after being made the face of the Heat Lifer campaign, never being the highest paid Heat member since his coming to the team in 2003, taking prior pay cuts to build up a stronger team (such as LeBron's addition in 2010), and undoubtedly being the face of the Heat franchise in general.
Despite all speculation, Wade says he holds no ill will towards Riley and realizes that further than friendship, the industry Riley is in also means he needs to do what's best for the team as a business.
To honor Wade's exodus, the Heat will be selling Wade gear for $13 a piece to pay homage to his 13 years with the team.
While I will definitely be securing some #3 jerseys, I'm urging that no one burns their current Dwyane Wade paraphernalia. Wade has done more than enough for a city he's not even originally from, and words enough can't ever repay him for all he's done.
#WadeCountyForever