I have seen many people denounce Trump after hearing his recorded "locker room" conversation from 2005. Lots of people, even some big-name Republicans, have sternly condemned his use of vulgar language and his obvious disrespect for women. These people didn't just disapprove of Trump's conduct. They were APPALLED by it.
I think that the overwhelming response to the newly released recordings says something important about how our society links that which is unacceptable with that which is vulgar.
The Donald expressed all of the following prejudices and disrespectful comments. You cannot find examples of recent past presidential candidates saying things like this. These are unprofessional, offensive things to say. However, you will see that none of these expressions directly involve vulgar language.

1. When two Trump supporters beat a Hispanic homeless man because, as they put it, "Donald Trump was right; all these illegals need to be deported," Trump didn't condemn the act. He defended the brothers, reveling in the fact that such "people who are following me are very passionate."
2. He did say the following quote about Mexican immigrants, although some people have argued about what he meant by saying so: "When Mexico sends its people, they're not sending their best... They're bringing drugs. They're bringing crime. They're rapists. And some, I assume, are good people." Even if Trump meant to say that "a few of them are rapists," that isn't what he said.
3. On his show "The Apprentice," he demeaned female contestants. For instance, he said, "It must be a pretty picture, you dropping to your knees," to Brande Roderick. He also showed his complete lack of understanding when it comes to women's agency, saying in an interview that "All of the women on The Apprentice flirted with me - consciously or unconsciously. That's to be expected."
4. During this presidential campaign, Trump has made gross generalizations about what it's like to be an African-American, saying that their neighborhoods are "war zones" and that black people only see failure in their communities. Matthew B. Platt, a political scientist quoted in the New York Times, pointed out that "Someone like George W. Bush, to his credit, actually went to black audiences with people who had real connections to black communities. He actually made those kinds of connections to then filter down to regular black people. Trump is not doing anything of that sort."
5. He tweeted this about his opponent, Hillary Clinton.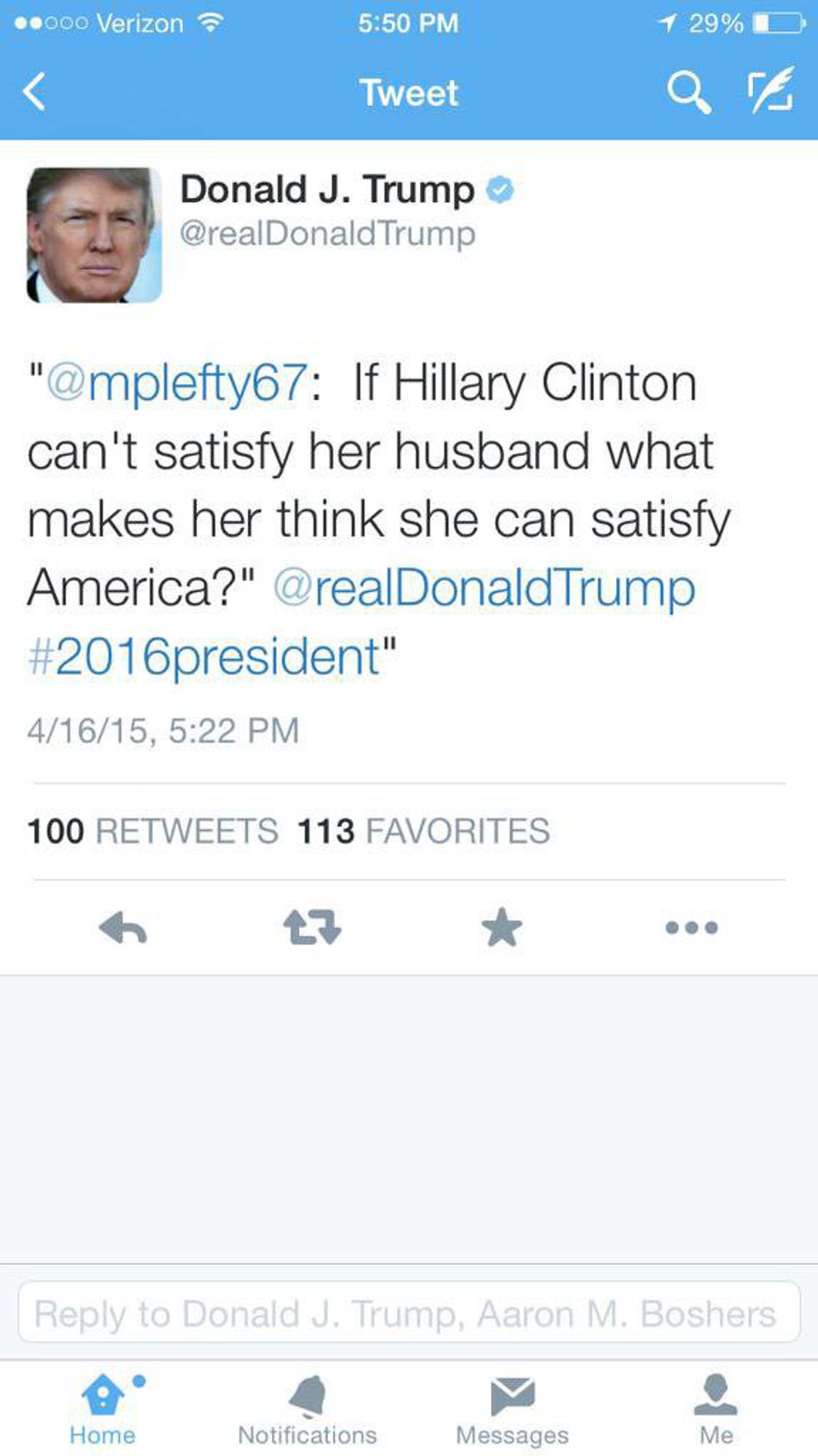 And the list could go on forever. These statements didn't involve "bad words." Therefore, many Trump supporters celebrated them as the purest pearls of free speech. People got excited about Trump's devil-may-care attitude... until the "locker room" conversation leaked, and then people started caring about the disrespect evident in his words.
Vulgar language denotes disrespect. But it isn't the only thing that does. The way that Trump has conducted himself day after day denotes disrespect for not only women, but for many other groups.
Our society seems to be withdrawing its support from Trump after this conversation was leaked... and honestly, it makes it seem like we're punishing Trump for using curse words on his day off. Not because it's okay to speak of women the way that he does... but because we already knew that he regarded women that way. We were fine with the sexist narrative until we heard it with ugly, yucky words embellishing it.