Growing up, many of us adored Disney movies and probably wanted to be our favorite character in the movies at some point in our lives. These princesses and princes, however, are rather difficult to relate to. Until recently, every princess wore a beautiful dress and heels and needed a prince to save them in some way, and every prince was expected to wait on the princess' hand and foot. When I was younger, I wasn't running away from an evil stepmother and sisters, or spending my childhood in a forest with three fairy godmothers. I was doing what many young children do, exploring my interests. Being into sports caused me to be rather disconnected from the characters in these movies (besides Ariel since I was a swimmer). Below are a few of the most popular Disney characters reimagined as Olympic athletes.
---
Elsa: Figure Skating

Born with the talent of creating ice from the palm of her hand, Elsa decided to take up figure skating as a way to put her talent to good use. After all, the cold never bothered her anyway.

---
Kristof: Bobsled
Ever since he was little, Kristof was been riding his sled delivering ice to customers. What sport combines ice and sleds? Bobsled of course!
---
Mulan: Taekwondo
Even as a little girl I wished I knew how to do some of Mulan's moves. Martial arts, though not an official Olympic Sport is similar to the already popular Taekwondo.
---
Cinderella: Curling
Cinderella spent her days cleaning floors for her evil stepmother. Once marrying the prince, she decided to take up the sport of curling. Cleaning ice and cleaning floors are not too much different.
---
Pocahontas: Diving
A 10-meter platform is nothing compared to the cliffs Pocahontas is used to diving from.
---
John Smith: Rifle Shooting
John Smith, a seasoned shooter, only seems fitting to join the Olympic rifle shooting team. Maybe instead of hunting he should stick to targets instead.
---
Belle: Equestrian
The beast wasn't the only animal Belle loved. Horses soon became her new passion as she decided to join the equestrian team in France.
---
Ariel: Swimming
Last time I checked, the Olympics Committee did not have a rule against mermaids competing at the Olympics. Ariel's tail may give her a slight advantage in the 200 fly, maybe she will be able to keep up with Michael Phelps!
---
Beast: Weightlifting

The Beast's large build and strong muscles allowed him to become a high-class powerlifter. With continued training and conditioning there's no doubt he will be the swole'st in the land.

---
Merida: Archery

Merida became a seasoned toxophilite (professional in the field of archery). Which is probably not a surprise since her shot is as straight as an arrow *pun intended*.
---
Tiana: Track and Field (High Jump)
Who has ever heard of a frog that couldn't jump. While transformed as a frog, Tiana learned to jump rather well causing her to become one of the best high jumpers in the United States.
---
Rapunzel: Artistic Gymnastics
Dancing and spinning are some of Rapunzel's specialties. After discovering the luminaries in Carona, Rapunzel decided to take up gymnastics. Look out for her in August at the 2016 Olympics in Rio!
---
Aladdin: Track and Field (Sprinting)
Being chased through the market and running all over town. Let's see if Aladdin can give Usain Bolt a run for his money.
---
Snow White: Rowing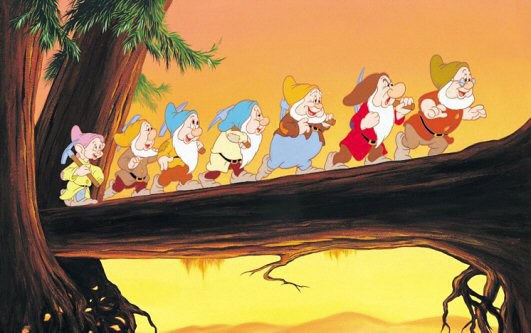 Seven Dwarves plus Snow White herself make for an outstanding 8+, that is, if they can find themselves a coxswain.
---
Looking back through some of my favorite Disney movies, I found that a lot of these characters are much like children and young adults today. Although some may not be as clear-cut or as easily depicted, Disney princes and princesses all have their own unique qualities that remind kids to be themselves and to keep dreaming whether they are athletes, writers, or anything in between.