Cleaning isn't a favorite pastime for many people I know, so when it comes to housekeeping it isn't high on the "I do this for fun" list. While this task can be overwhelming and be difficult to start, the end results make it worth the slow (or if you're lucky, speedy) process of creating a space that helps you, rather than hinders you. A clean space not only looks good, but it makes you feel good.
A clean space:
1. Makes you feel accomplished.
Finishing any task (especially one as large as cleaning a home) can feel impossible, but little by little it can be accomplished. The feeling you have afterward makes you want to keep it that way.
2. Helps you declutter.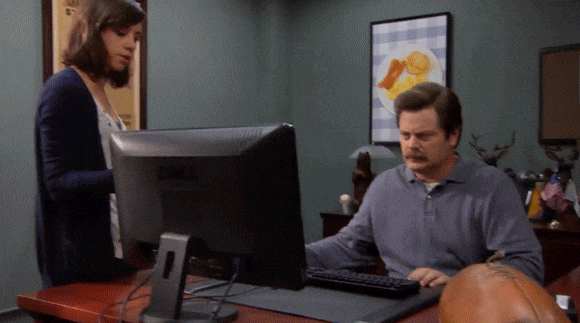 People tend to have a lot of stuff, and quite a bit isn't useful or it tends to be shoved to the back of the drawer for the one time every two years you deem it necessary (or actually remember you have it). Not only can getting rid of things declutter the space in general, but it can also help you declutter your life. Some say that your room is a physical representation of what goes on inside your head and if your space is put together...
3. Puts things in perspective.
A clean space shows a person that they are able to complete what they set their mind to. It gives a person the opportunity to start their day in a fresh, clean place, it can help them see the day in a new light.
4. Allows you to do things.
When you don't have to spend endless hours cleaning and digging through things to find what you`re looking for, it gives you time to get out and enjoy the world.
5. Feels less busy.
Clutter makes people anxious and when you add school and work to the mess at home it can be a bit overwhelming. Help yourself out and take care of your space which will help make everything else more bearable.
6. Helps you be able to find things.
This is a no brainer, but when there aren't piles everywhere, finding your book, pen, paper, and so on becomes much easier.
7. Helps you be okay with bringing people over.
When you have visitors, you want to feel proud of the space you're in, not be stuck apologizing for the disarray before them as they step through the door.
7. Encourages you to stay organized.
Keeping things neat allows you to find the receipts, important documents, and other key pieces to your life without causing you to worry about their location when you need them.
8. Leads you to feel motivated.
When you have this accomplishment sitting in front of you, it makes you want to go out and do more. There's laundry that needs to be done? Well let's get to it! Your friend wants to go to the gym? There's nothing holding you back!
9. Allows you to breathe.
Looking around a messy room can give a person unnecessary anxiety. There is a lot to do and not enough time. Seeing a mess like this increases a person's stress level, even if it is unintentional. With a clean space you feel more at home and safe in your environment, and you have space to do activities that help overcome other issues in life.
10. Helps you to be calm and happy.
I don't know about other people but when I come home to a messy room, any sense of calmness begins to disintegrate. I want to feel comfortable coming home and be able to lay in bed knowing that I don't have any pressing matters to deal with and just destress for a few minutes after a long day.
Having a clean space allows a person to have more peace of mind. Achieving a clean space can seem impossible but with a little work every day, it becomes more and more possible. Take some time, fifteen minutes a night, and focus on one area, straightening, dusting, sorting, whatever it is and stick with it until the timer goes off. Then do it again, and again. One night you'll come home and the mess will be gone, leaving you with a clean space for you to simply sit and breathe.