When someone mentions the 2016 Rio Olympics a year from now, what will you remember? Michael Phelps taking home his 24th Gold Olympic Metal, Helen Maroulis receiving USA's first gold in Women's wrestling, Puerto Rico winning their first gold metal because of Monica Puig's or how about Simone Biles taking home four gold metals for gymnastics? All of these are impeccable examples of the beauty of the Olympic games. By definition Olympic Games can be defined as "the world's biggest sporting event that is divided into summer and winter games held every four years by a single city". These games demonstrate an athlete's ability while also showcasing pride to their country. It's refreshing to see athletes from all over the world coming together through their god given abilities. Though there were many memorable events in athletics this year, USA's Gymnastic team stood out the most to me.
"The best athlete of this time." How many times have we heard this said in regards to an athletic figure? Can one really define the best or is it merely another's interpretation of that definition? Some may argue it is is indefinable and perhaps that is true, but one thing is clear; Simone Biles, Laurie Hernández, Gabby Douglas, Aly Raismen and Madison Kocian were just five athletes out of a numerous amount of individuals that captured an audience's attention though the skill sets of their craft. Summer Olympics of 2012 was when I was first introduced to Gabby Douglas, or, as they like to call her "The Flying Squirrel". The way her body moved in the air was intriguing to watch, and what was even more extraordinary to witness was to see someone who looked like me, an African American teenager winning metals and receiving recognition for her craft.
[rebelmouse-proxy-image https://media.rbl.ms/image?u=%2Ffiles%2F2016%2F08%2F22%2F636074384219600138-962638751_gabby.jpg&ho=https%3A%2F%2Faz616578.vo.msecnd.net&s=148&h=b47833293341b4f952c713a9a9d26fed56824f64da96d5309f7578de18f11133&size=980x&c=454926974 crop_info="%7B%22image%22%3A%20%22https%3A//media.rbl.ms/image%3Fu%3D%252Ffiles%252F2016%252F08%252F22%252F636074384219600138-962638751_gabby.jpg%26ho%3Dhttps%253A%252F%252Faz616578.vo.msecnd.net%26s%3D148%26h%3Db47833293341b4f952c713a9a9d26fed56824f64da96d5309f7578de18f11133%26size%3D980x%26c%3D454926974%22%7D" expand=1 original_size="1x1"]
Gabby Douglas was and still is pleasing to watch when preforming. Though some like to argue that Gabby didn't preform as well this year, I rebuke those claims. Her performances were still extraordinary and flawless on the uneven bars, however media was overly critical of Gabby this year. Some of Gaby's routines were not nearly as difficult as her teammates or competitors due to her knee injury that she is still healing from, and as a result I feel it took away from some of her creditably or possibility to have more medals. Despite the obstacles that presented itself this year, Gabby is a phenomenal athlete who has three Olympic metals and has made history in both summer Olympics that she has attended, something media can never take from her.
Laurie Hernández, Ally Raisman and Madison Kocian were three other gymnasts that were fascinating to watch. All three girls were smooth and crisp with their routines; whether it was through the beams, or the bars, you became entrapped from reality as you watched their graceful body movements. I loved seeing the strength in the girls as they persevered through the obstacles of their routine but were still able to come out on top, it was truly a time to be proud to be a woman.
"Simone Biles is the best American gymnast." Though some can argue this claim; I think she merits this title. Simone is exceptionally talented and has the ability to harness any gymnastic skill that she puts her mind to. When you watch the young woman, it is impossible not to become enthralled by her swift and crisp body movements. Most athletes, whether it is in gymnastics, swimming, basketball and so fort are strong in certain points, but are weaker in others; however Simone exemplifies skill in all gymnastic events, which makes her an astounding athlete. Her routines are invigorating and enjoyable, while still challenging. Like Gabby Douglas, Simone is extremely intriguing to watch preform. I think my favorite routines to watch for her are the uneven bars and the floor exercise because you can really witness her flawless technique and the ability she posses as a gymnast; it is quite beautiful. The way her body moves smoothly with the bars or music is indescribable. I also love that Simone is another African American teenager who is getting recognition for all her hard work she has put into her skill.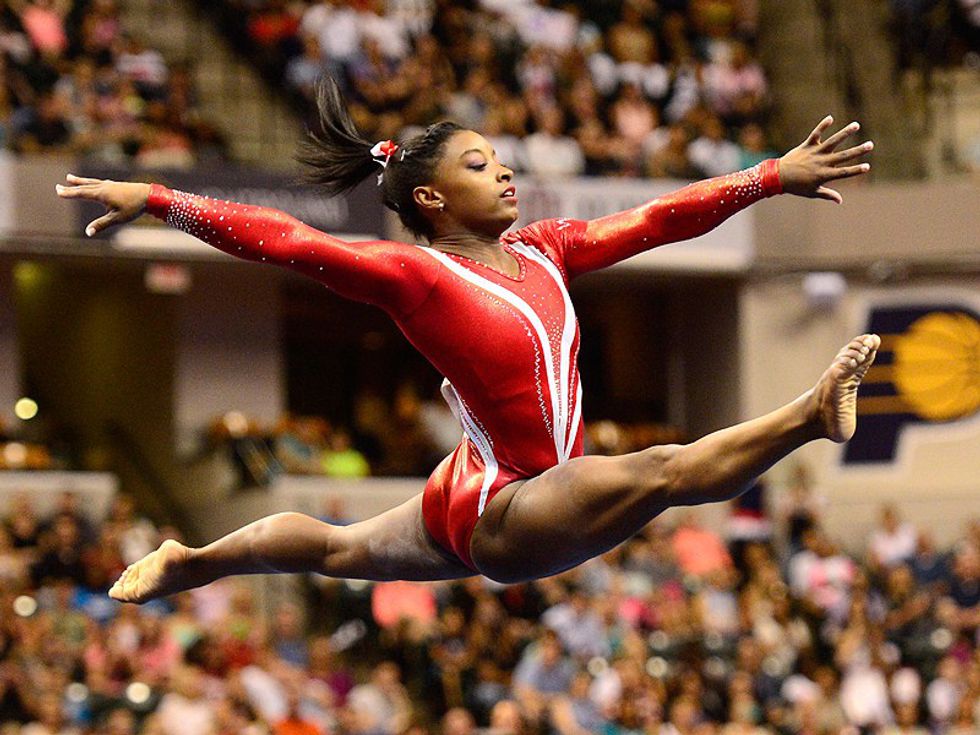 One of my favorite aspects of The "Final Five" was how different each gymnast was. All five girls had their strengths, which truly made them captivating to watch, as well as a stronger and more unified team. "The Final Five" was a prime example of diversity in our country. It was beautiful to see strong women from different backgrounds working together out of pride for their country and craft that they obtain, especially in such a trying time in America. Diversity is beautiful, and through the Olympics you are reminded that we all are one in the same, fighting for a better life.