Since the Olympics started in Rio last week, I have been dedicated to live-streaming each gymnastics competition and watching as much as my time has allowed. As a result, I have found myself reminiscing more than usual about my three years in competitive gymnastics* and realizing exactly how much I miss and appreciate the sport. Therefore, here are 6 nostalgic musings from a former competitive gymnast on what she misses most about the sport.
*(I trained 3 days a week on the Novice Optional team from 6th through 8th grade.)
1. Leos (Leotards)
The iconic one-piece uniform of a gymnast. Despite the wedgies, gymnasts love getting new leos-- there are so many fun colors, designs, styles, patterns, materials-- oh, how great it felt to fall in love at first sight on the rack. Once, after a meet, a couple of my teammates and I picked out matching neon zebra print leos (mine was green, and it was/is still probably my favorite), and we always loved it when we would wear them to the same practice. Finally, let us not forget about the sleeved competition leos complete with rhinestone details-- putting those on for meets definitely helped with confidence in terms of "look good, feel good," which can be very important in a sport like gymnastics.
2. New Skills
Depending on the skill, the average gymnast can take anywhere from weeks to years to learn and perfect a new skill before performing it in competition. After countless falls, stumbles, and weeks upon weeks of frustration, nothing is so gratifying as finally hitting that new skill. It's like a "Take THAT!" to the apparatus, as though the equipment had been taunting you the entire time (because it was... hater...). When you have been doing the same routine with the same elements over and over and over for so long, updating just one skill provides a refreshing change of pace, keeping the sport interesting and challenging. If anything, new skills are "living" evidence of your progress as an athlete, constant reminders of how far you have come; for example, once upon a time, this was Aly Raisman's most advanced skill--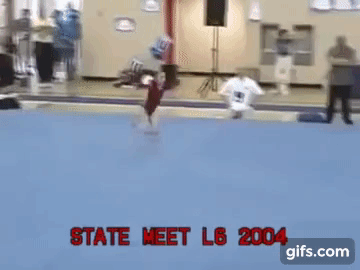 and now she is competing one of the most difficult tumbling passes in the world, and sticking it: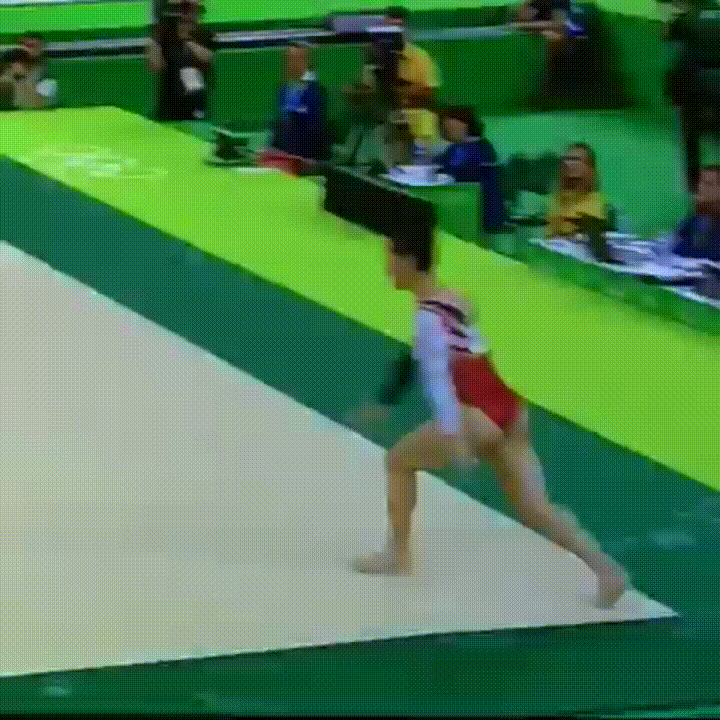 Every time she lands this famous pass, she can think back to her humble beginnings and remind herself how far she has come.
3. Meets
There is just something about the atmosphere of a competition that is exhilarating, and that, for me, cannot be matched by a typical sports match. Additionally, I loved the adventure of traveling to different gyms and cities, and I did not even mind the 6 a.m. drives because of destination. Of course, meets are also great for finally showing off what you had been working on so diligently and for improving on past performances, because there is always room for improvement, but again, the atmosphere added excitement. I love to perform, so simply performing my routines for so many new eyes was thrilling for me, no matter how I scored (and I averaged 6th and 7th place, if I medaled). Furthermore, I got to experience it all with my teammates as we cheered each other on, went out to post-meet dinners and sat together on the floor goofing around until awards started, not to mention participating in the fun themes at each meet.
4. Strict, Structured Conditioning
I was in the best shape of my life when I was in gymnastics, because I was conditioning consistently-- 3 days a week at gymnastics practice. (I need structure to be consistent-- I'm not very good at working out on unstructured time due to lack of will power...) At first, the rigor can be intimidating, but it requires you to push yourself and build your strength. If we were assigned 25 reps, we did all 25 reps, no matter how much of a struggle it took, we had to power through and finish. My coaches taught me that cheating in your conditioning is cheating yourself, and I never forget that.
5. Coaches & Teammates
I made some great memories with an incredible group of girls over those three years, and my coaches were some of the most influential people in life. At gymnastics, I was known as "Tashy," and to this day no one oustide of gymnastics has called me that; it was and still is unique to the gym and it makes me smile as I think of my coaches saying it and then my teammates, and other various memories from my time in Novi Op. Furthermore, my coaches genuinely cared about me and wanted me to succeed, they saw all of my portential and ability and pushed me to points that I did not think I could reach, they encouraged me when I was frustrated or being hard on myself, and they made it very clear when I had to quit Novi Op that they wanted me to stay and loved having me on the team. That kind of coach is not easy to find, and I am thankful that I had the privilege of training under them.
6. Discipline
The discipline involved in gymnastics is unlike that in any other sport. As previously mentioned, gymnastics is challenging, strict and rigorous and requires endless hours of running the same routine again and again, resulting in triumphs only after many failures, which were always quite draining both physically and mentally. Physically, my coaches would always say, "Perfect practice makes perfect"-- you do your routines at practice the same way you would do them at a meet. Mentally, gymnastics can be a b*tch-- every gymnast experiences loads of frustration and exasperation, as well as mental blocks that, much like writer's block, can be a significant setback for a gymnast when trying to perform a certain skill. The sport demands incredible determination, perseverance, and endurance. We were never to be caught sitting during practice-- if we had nothing to do, we had to find something productive to do, whether that be conditioning or drilling or something else, we were not to stand around doing nothing-- we had to work. Once, I had to do my floor routine to someone else's music because I did not have my back-up CD, and my eyes were wet from salute to finish because this was the consequence of my ill-preparedness, but it also taught me to find solution and do what I needed to do.
Gymnastics helped to shape the work ethic I have today, and made me mentally and emotionally strong. It taught me to work hard for what I want, to always get up and try again, no matter how long it takes, to always follow through and finish. It helped me learn so much about myself and was a part of my life for which I will always be grateful.