For the past few years it has been difficult to be a Buffalo Sabres fan, but don't fear, change is on the way. Living in Buffalo we are no strangers to losing but behind all of the losses there are flashes of greatness. These flashes of greatness add up and will soon become shear greatness. With players like Jack Eichel, Ryan O'Reilly, Kyle Okposo, Sam Reinhart, Evander Kane, and Rasmus Ristolainen it's hard to not be excited. There is also the eighth overall pick in the 2016 draft pick Alexander Nylander. Nylander has impressed many at the Sabres development camp and will most likely spend most of the year with the Rochester Americans. I will not be surprised if Nylander is called up frequently, a player with his skill set is as close to NHL ready as it gets. Overall this 2016-17 season should grab the attention of many around the league as of right now let's just say the Sabres look "good, scary good".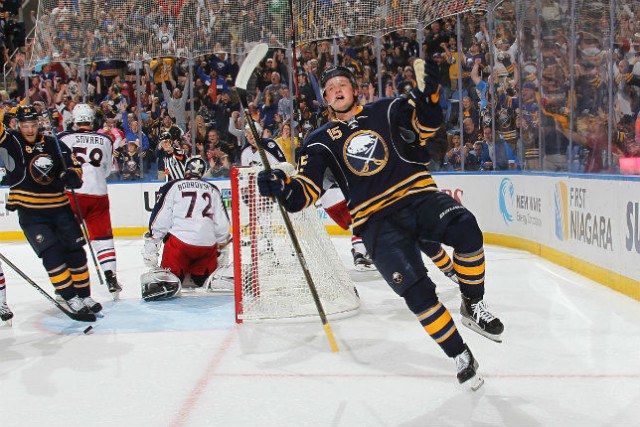 1. Jack Eichel's Sophomore Year
Jack Eichel did not disappoint last season, putting up 24 goals and 32 assists for a total of 56 points in his 81 game rookie season. Eichel has something that no other player has and it is very hard to explain. The skill set that Eichel possesses is one of the best in the game with his elite skating and unpredictable wrist shot. Eichel has something to prove this year, the sophomore slump is just a common misconception. There are new pieces inside of the Sabres organization that are going to help Jack Eichel excel more than any other player on the roster. There is a one two punch putting Eichel and Reinhart on the same line so look out for a lot of that this year and don't be surprised if you see Eichel playing with Kyle Okposo. The National Hockey League will be watching to see if Eichel sinks or swims; my prediction? Eichel will swim, he will swim with the best of the best and his sophomore season will send a cannonball effect throughout the NHL.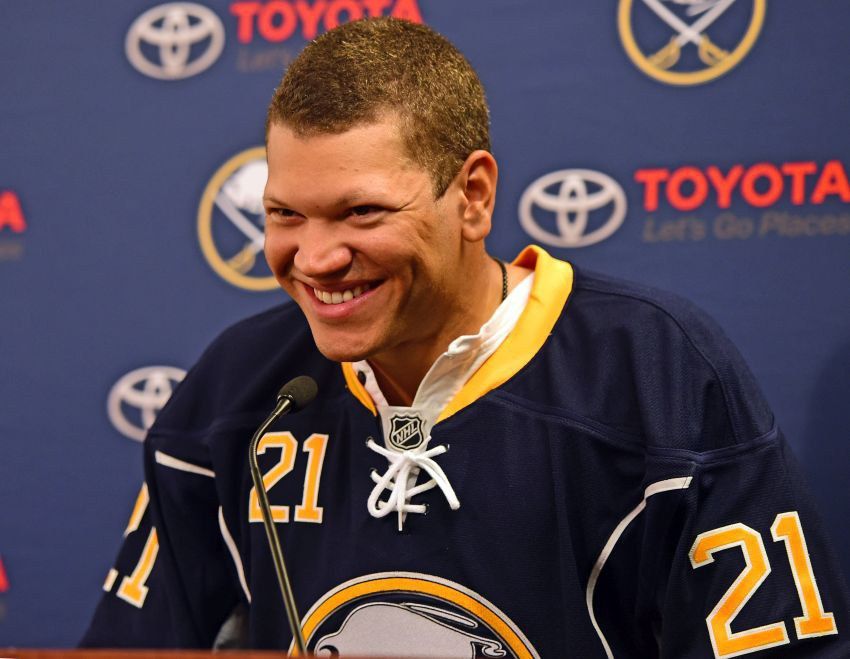 2. New Additions Look To Add Hope To Playoff Dreams
With the new additions of Kyle Okposo and Dimitry Kulikov the Sabres are starting to look more like a playoff team. The Sabres have not qualified for the playoffs since 2011 and the people of Buffalo are starting to get impatient. A promise can only go so far until it is fulfilled. Terry Pegula, the Sabres owner has promised playoffs and a Stanley Cup and has said that is his sole purpose. Sabres General Manager Tim Murray has proved again that he can fight with the best minds in the NHL. Murray has acquired many players in his seasons with the Buffalo Sabres. Kyle Okposo could be one of the best free agent signings that Murray could've dreamed of. Okposo, a 28 year old right winger who spent his whole career until now with the New York Islanders looks to add depth to a already solid Sabres roster. In his nine seasons with the Islanders Okposo scored 139 goals and had 230 assists for a total of 369 points. Okposo will look to produce in the upcoming promising Sabres season. Dimitry Kulikov is the left handed defenseman that the Sabres have been looking for. In Kulikov's seven seasons with the Florida Panthers he has 28 goals and 110 assists for a total of 138 points. Kulikov is a physical hard hitting defenseman and will most likely be a fan favorite. The Sabres also added 6'6" goaltender Anders Nilsson. Nilsson coming over from the New York Islanders looks to add depth in the goaltending department.
3. Newly acquired prospects look to make a NHL/AHL Impact
The 2016 NHL draft proved to be one of the strongest drafts for the Sabres in recent years. With the 8th overall pick the Buffalo Sabres selected from the OHL's Mississauga Steelheads, Alexander Nylander. Nylander has an unbelievable skill set and is very close if not already ready for the NHL. Nylander's brother William is currently playing for the rival Toronto Maple Leafs, this will be a rivalry for years to come. The Sabres held their annual training camp at the harbor center in downtown Buffalo this year. The venue was packed and most were excited to see Nylander. He did not disappoint pulling off some unreal dekes and dangles and ended up finishing those moves with goals. Nylander will be a huge part of the Sabres in the future and I see him playing in the NHL this season. In the second round the Sabres selected Rasmus Asplund a highly skilled forward from Sweden. Asplund was a huge steal for the Sabres. Other picks included the 3rd round pick going to the London Knight's Cliff Pu a soon to be fan favorite. It's always conveient to pick up hometown players and Austin Osmanski was exactly that. Osmanski grew up in East Aurora and ended up getting drafted 189th by the Sabres. One of the biggest steals of the draft could actually be seventh round draft pick Vasili Glotov. Look out for this name in the future as he could become a big part of the Sabres depth.
4. NHL Experts Predict Big Things
In the NHL.com's 30 teams in 30 days series the Buffalo Sabres were one of the teams with the most upside going into the 2016-17 season. NHL.com's senior writer Dan Rosen had some bold predictions on the upcoming season. Rosen stated that he had talked to Sabres head coach Dan Bylsma and he said his goal for the team is 95 points and a playoff berth. Rosen stated that this may seem like a lot but it is definitely possible with the depth this team has. In the end of the video Rosen agreed with Bylsma and said he believes the Sabres will make a playoff appearance in the upcoming season. If that isn't something to be excited for than I don't know what is. Buffalo has such a passionate fan base and to see playoff hockey back in Buffalo would be more than a dream come true. This city will be electric and hopes will be brought to life once again. Hopes of one day hoisting lord Stanley in the heart of Buffalo. In my opinion the Sabres will win a Stanley Cup within the next 10 years. When that day comes be ready Buffalo, be ready NHL because the Sabres are back and their swords are sharpened.