During the in's and out's of life, responsibilities can pile up over time, making it difficult to maintain what can be a called a "good mood". Staying positive and care free in the midst of over whelming, or even mild stress, can seem impossible and out of our reach. While most of us find it hard to carve free time out of our schedules, doing just that is one step in the direction of improving your overall mood and well being.
Improving your state of mind starts with a vow to treat yourself better, whatever that may entail for you specifically. Being someone who is easily overcome by anxiety, many of the items on this list are everyday regimes that work to keep me balanced and manage stress- something we could all admittedly use, right?
1.) Drink more water!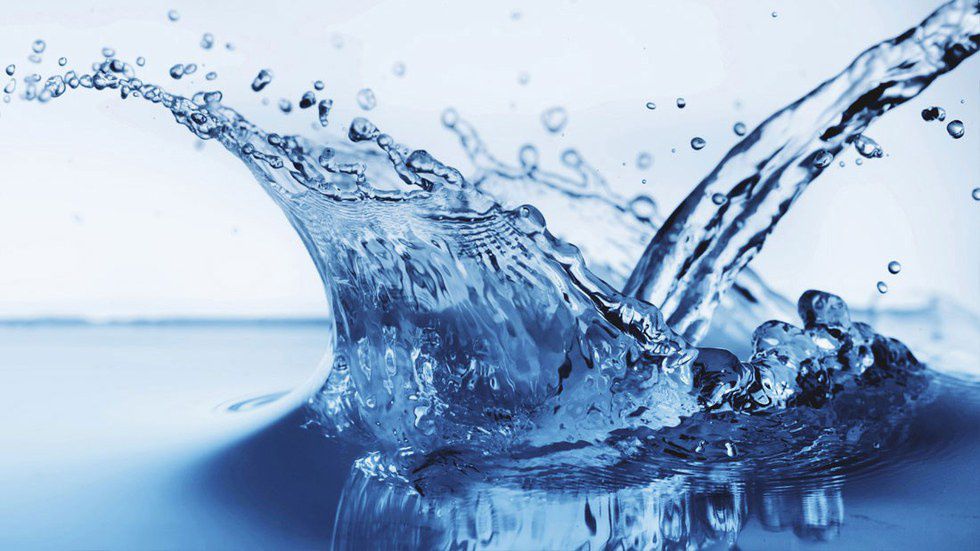 Drinking water has so many ridiculous health benefits it's insane. It helps to clear skin, regulate our system, and keep us hydrated. Dehydration leads to poor mood and uncomfortable side effects, and get this- water stops hunger cravings! Most times when we think we are hungry our bodies are really just thirsty and our mind is trying to trick us into eating more. Bad mind!
Don't be afraid to overdo it on the water consumption, it's great for you! It also relieves headaches, too!
2.) Get a solid night's sleep.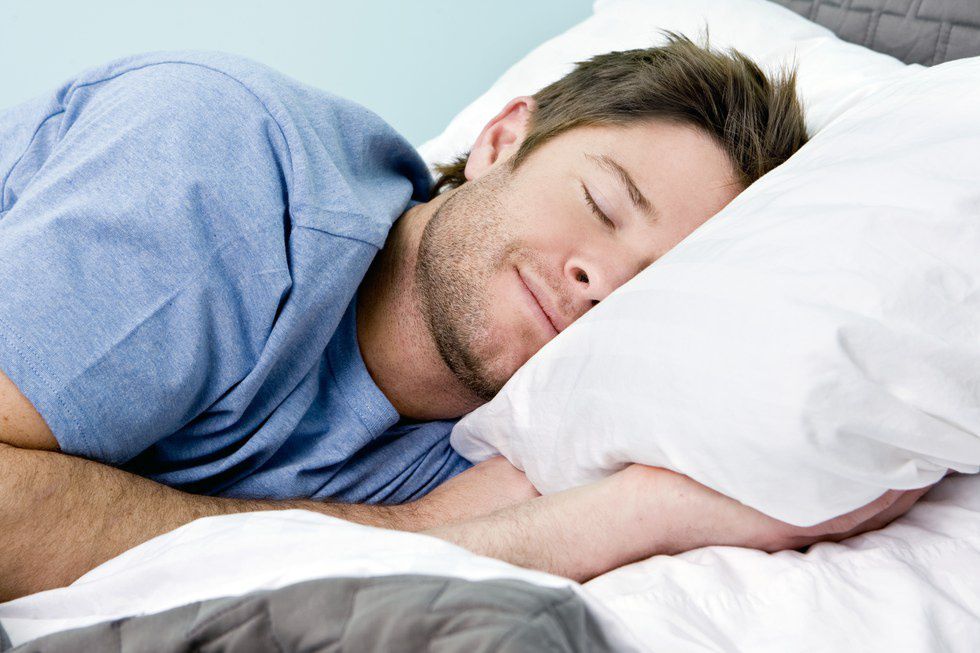 This one's really obvious, yet we all do ourselves the dishonor of trolling the internet at ungodly hours of the night, or taking three day Netflix bingers. Your body needs rest, and the more shut eye you get, the more relaxed and alert you will be.
3.) Eat clean!
Not saying you have to go crazy and never even look at a slice of pizza again, but really consider what you're putting into your body. Highly greasy and sugary foods have negative affects on your skin and mood. (We've all babysat a child whose had one too many soda's to see it's affects). Don't deprive yourself of good food, but be mindful to eat in moderation and in proper portions.
*Note - avocados and almonds are good for your hair and skin- I'm just sayin' ya look good, ya feel good.*
4.) Get active!
You don't necessarily have to go for a run or work out, although it's known to release endorphin's which improve mood, but experts say you should be getting at least 20 mins of some form of excersize each day. Going for a walk may be a perfect way to get some you time, take in the fresh air and scenery, and recharge your batteries.
5.) AROMATHERAPY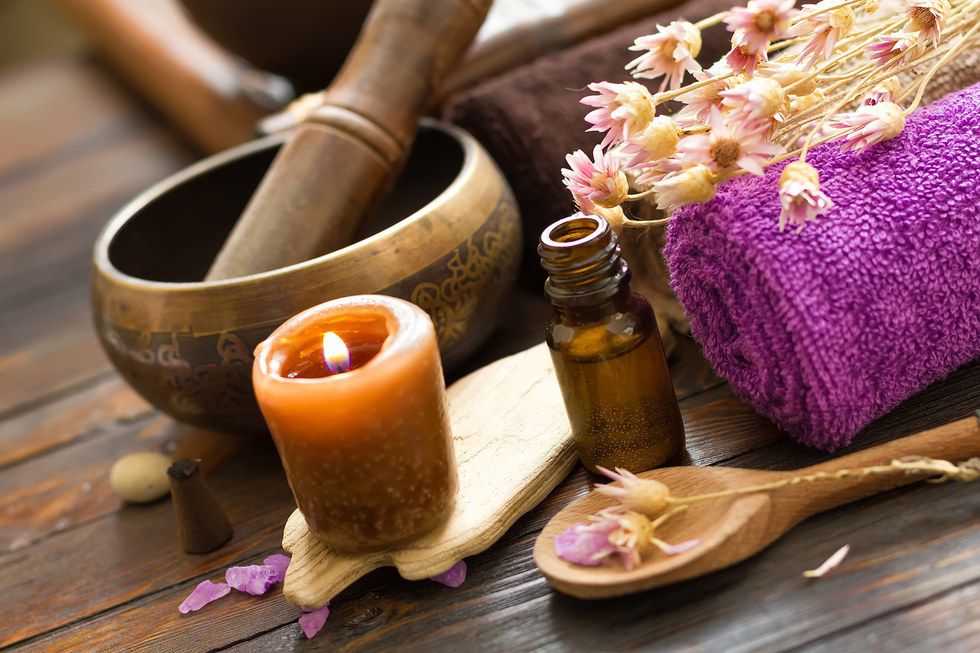 This is in caps because it's a personal fav. Many essential oils like chamomile, rose, lavender, and eucalyptus have healing properties and are known to calm and soothe. Grab a diffuser, a candle, or even one of those cheap $1 air fresheners in a calming scent to surround yourself with, and you'll feel yourself unwind in no time.
6.) Meditation and yoga.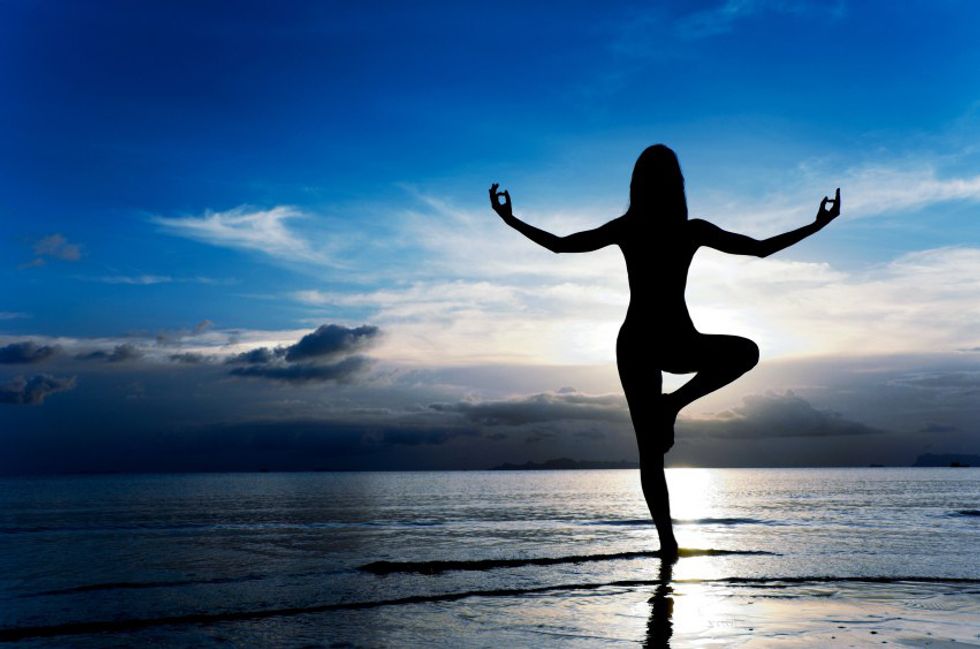 If you are a high-stress individual and haven't tried meditation yet, I eagerly suggest that you do. Go into a dim room, designate your Pandora station to something earthy (I suggest Pandora's "meditation by the sea" station) and simply lay or sit peacefully and think. Begin to stretch and adorn the room with those scents we just talked about. Allow yourself the free moments you deserve without external factors that agitate you- let them all go and practice breathing techniques.
If you don't feel better after that; I don't know what to tell ya.
If you are interested in yoga, multiple classes are offered everywhere, instructional videos can be found online, and on demand even offers programs for beginners and beyond. You can even incorporate some yoga into your meditation for more powerful results.
7.) Stay clean.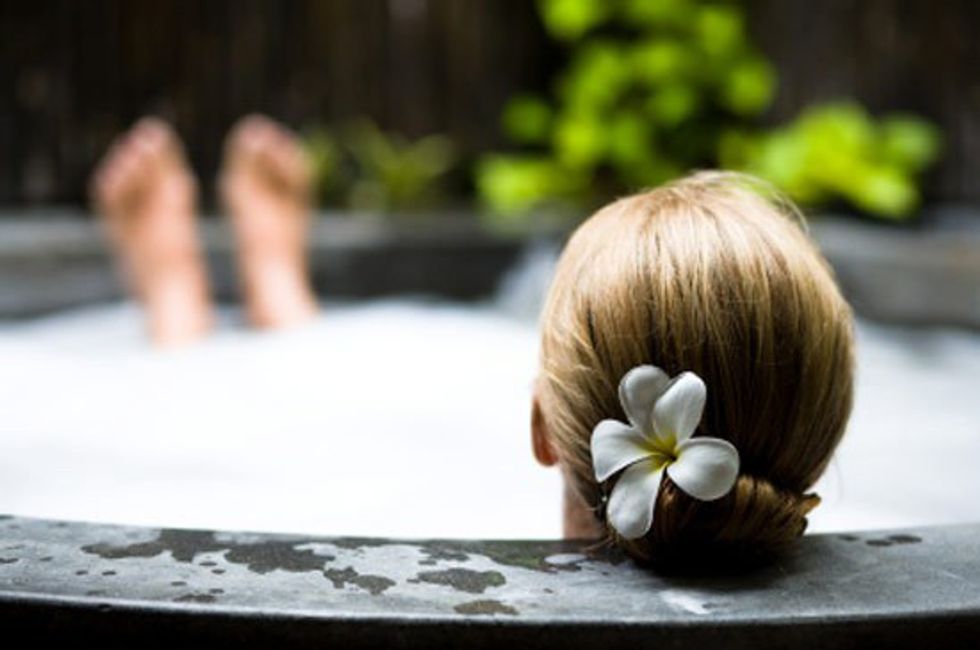 Really, I would suggest this to all humans at all times, but if you're in a particularly stressful period in your life, make sure you are staying clean, and doing your best to pamper and groom yourself. Wash and change your sheets every week, de- clutter your room, and make sure both you and your surroundings are fresh. Environment plays a big role in how we feel, so make sure your living quarters promote relaxation.
*Note: experts (whoever they may be) say that your bedroom should only be used for the two S's, sleep and sex, not even TV! Otherwise, you may disturb sleep and relaxation by associating your sleeping area with work and other unrelated activities.*
*Experts also say that checking your phone or laptop before you go to bed disturbs sleep and makes you wakeful. Instagram can wait. Charge your phone in the other room and buy an actual alarm clock to remove the temptation!*
8.) Get a salt rock lamp!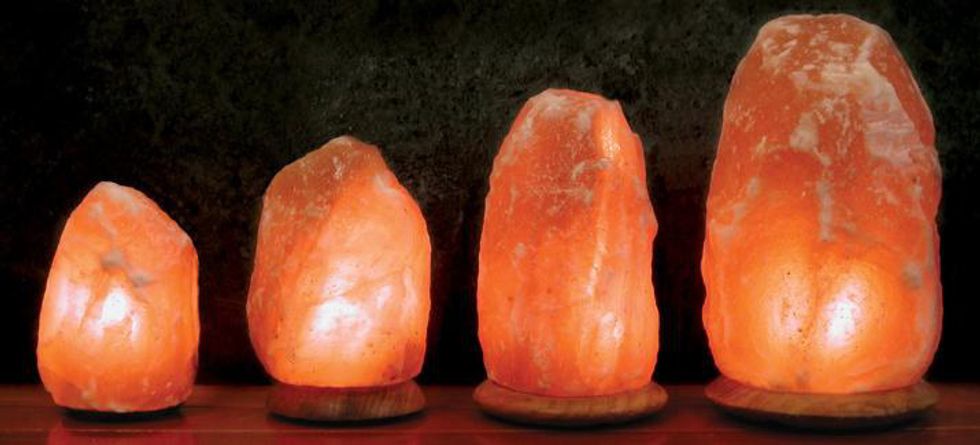 These little babies reduce anxiety by emitting healthy negative ions throughout the room. Negative ions reduce airborne bacteria, mold, viruses, and allergens. These lamps give off a really cool and tranquil ambiance, too, with their soft orange glow. It feels safe and warm.
*Also, try a string of Christmas lights- both decorative and peaceful!*
9.) Keep a journal.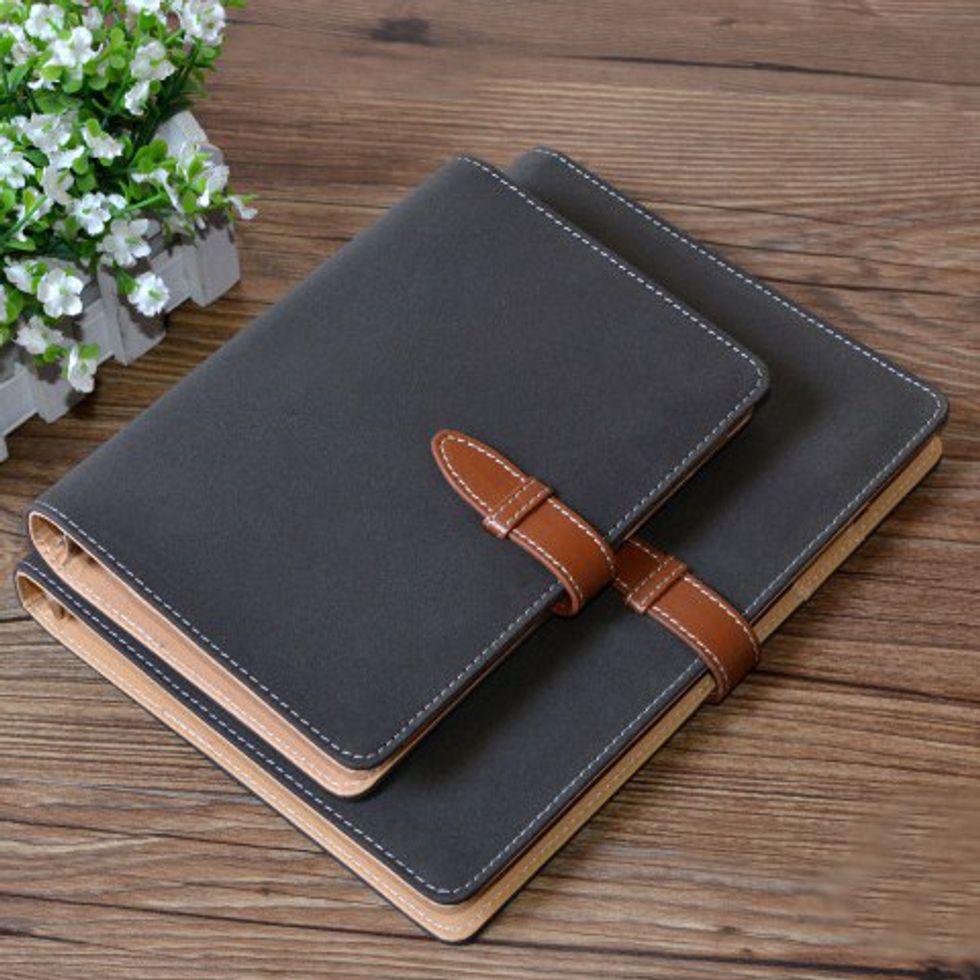 You can kick it old school with a diary. Record events of the day, what you ate (as it pertains to your mood), how you were feeling at different stages of the day, and who you involved yourself with. This way, you can keep track of stressors and "trigger" indicators. You can pinpoint what it is that may be stressing you out, or you can simply use the journal to vent.
10.) Immerse yourself in a hobby.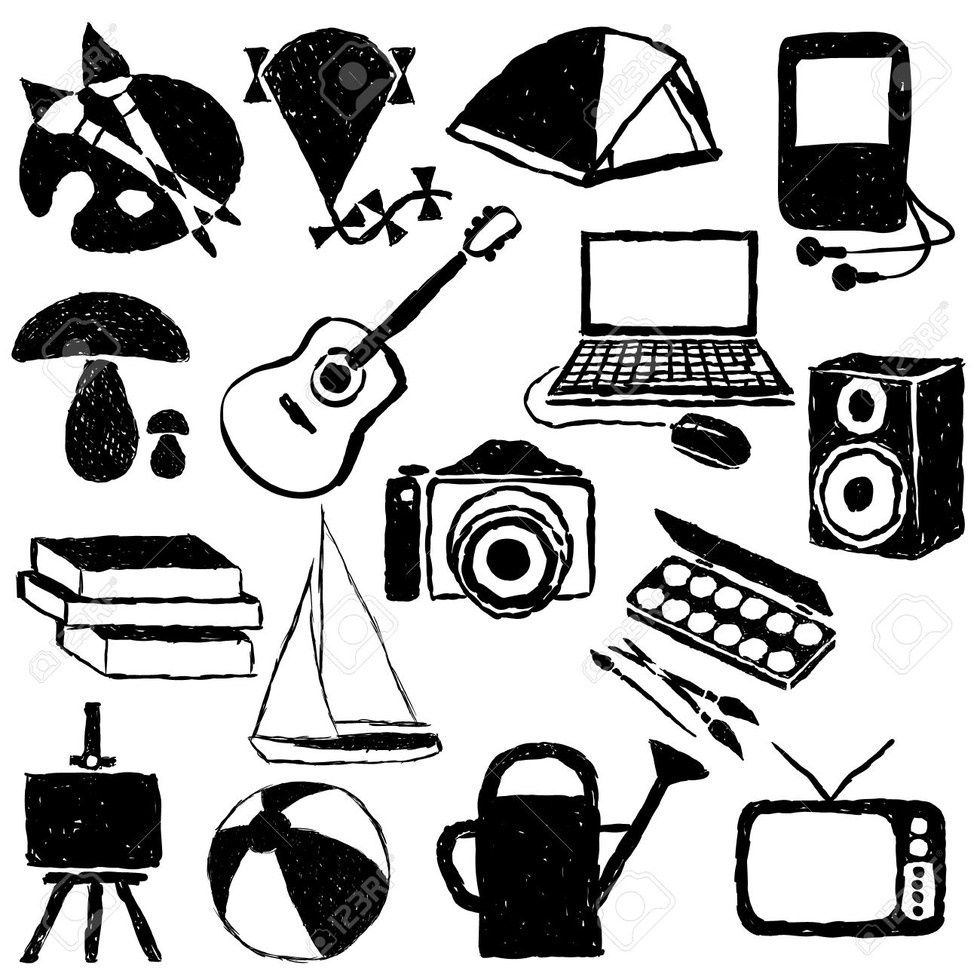 This one's important. Staying busy with things that you WANT to be doing can make you feel better about the things you are obliged to do. Also, when you are in a low mood, it's best to keep yourself occupied so that you don't slip into a depressive rut. Read a book, listen to music, paint, write, draw, play sports, shop, anything that allows for a healthy expression and will bring you joy. Find time for whatever it is that makes you happy, perhaps even a new hobby.
These are not the only nor seclusive routes to attaining better mood and health, but they are great places to start and good ideas to incorporate for those who need a break from reality.
I hope you find these tips as helpful as I did!
Happy de-stressing!